Choose from 31 fun ideas to do this Halloween season or use the calendar printable and do one a day! There are ideas here for a rainy day inside or things to do to get into the Halloween spirit! This Halloween bucket list has something for everyone on it!
RELATED: Fall Bucket List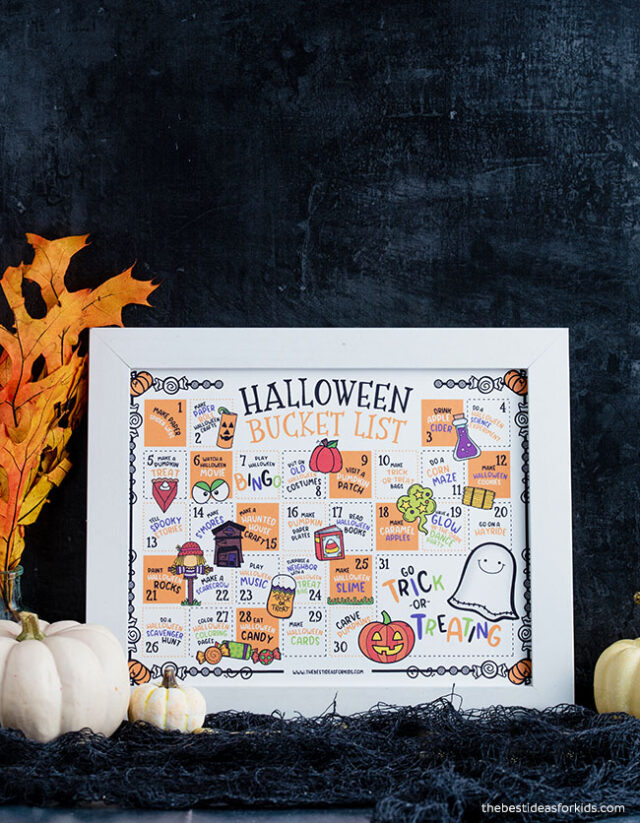 Free Printable Halloween Bucket List
To make it easier, we have turned our Halloween bucket list into a printable for you to print off and keep track of which activities you have completed.
Or check off each calendar date to do one activity a day! See details at the bottom of the post on how to get your free printable bucket list!
Note: the image below is not full print resolution so see below for how to get the printable version.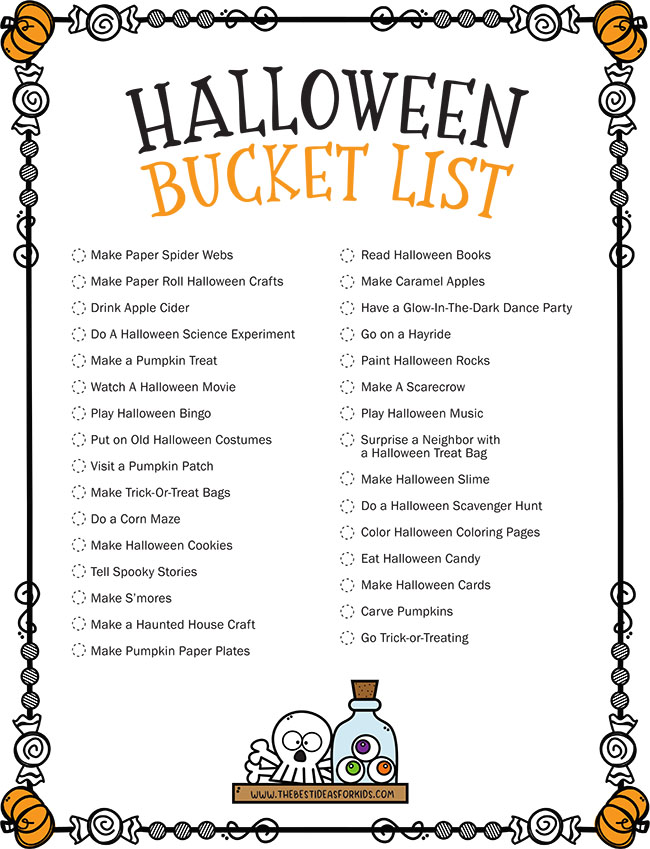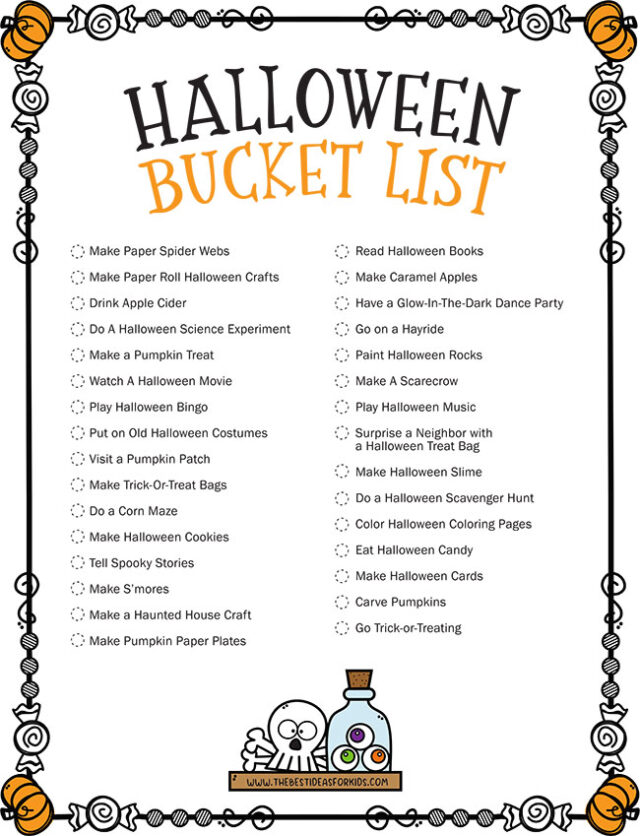 There are 2 versions of the list you can choose from!
There is a calendar version and a checklist version.
Print off both or choose your favorite! Mark off each calendar date with an X when completed or use the checklist version and see how many you can complete!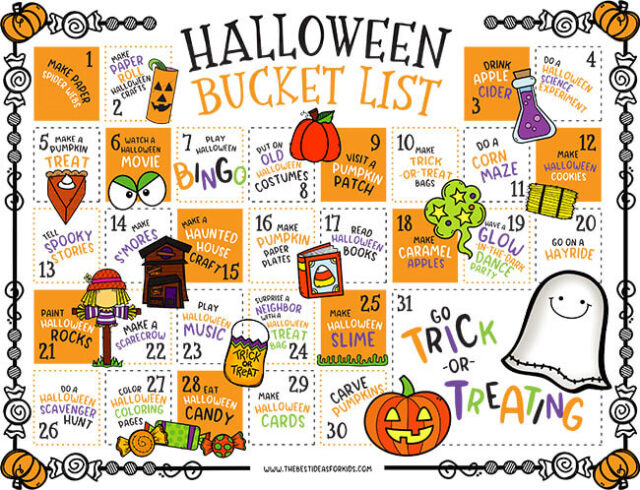 You can also use this as an opportunity to make your own Halloween bucket list and choose some of your favorite ideas from this list! Add ideas into a jar for selecting or write on popsicle sticks and select an idea to do when you're bored.
Print off the bucket list and stick it on the fridge or in a cute picture frame to display throughout October.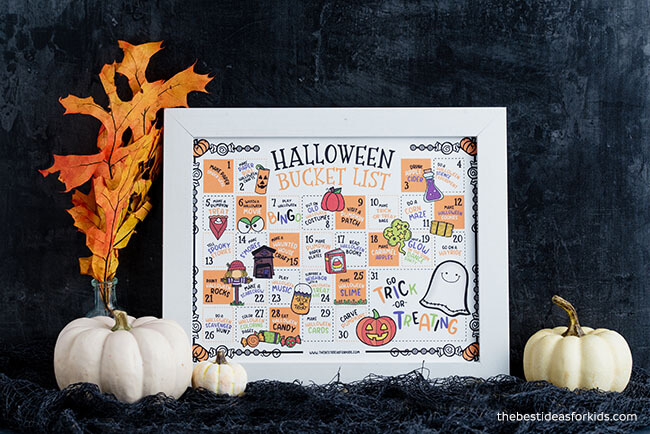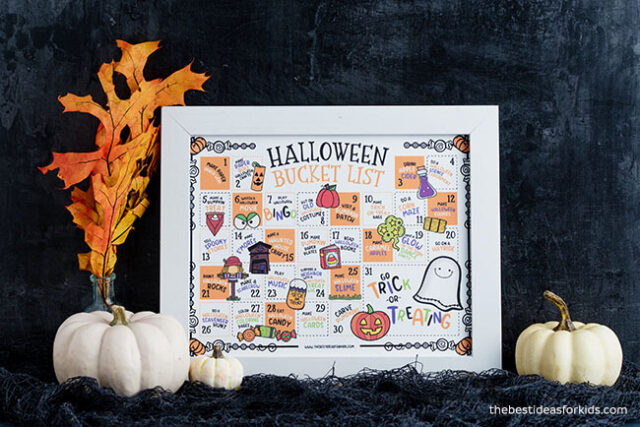 What can you expect from the Halloween bucket list? We have gathered 31 ideas for Halloween fun in all different categories. From yummy treats and family fun to outdoor activities, there is sure to be something for everyone!
To get the PDF version of the full list, see the bottom of the post!
Here is a list of the 31 ideas with some linked to free printables and instructions on how to do them!
Drink Apple Cider
Make a Pumpkin Treat
Watch A Halloween Movie
Put on Old Halloween Costumes
Visit a Pumpkin Patch
Make Trick-Or-Treat Bags
Do a Corn Maze
Tell Spooky Stories Around a Bonfire
Make S'mores
Read Halloween Books
Make Caramel Apples
Have a Glow-In-Dark Dance Party
Go on a Hayride
Play Halloween Music
Surprise a Neighbor with a Halloween Treat Bag
Eat Halloween Candy
Carve Pumpkins
Go Trick or Treating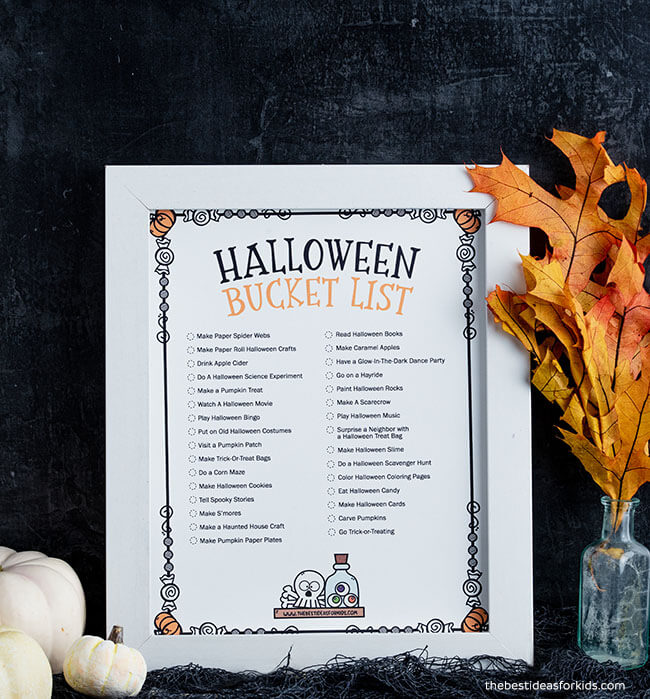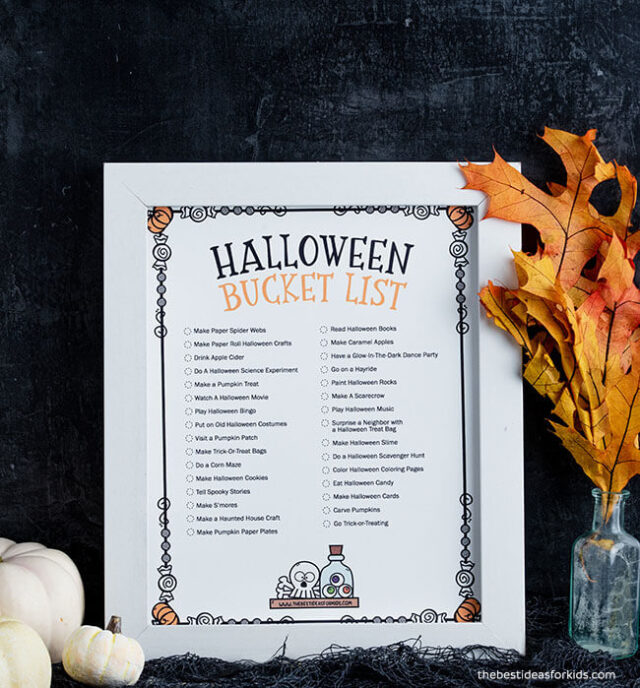 To get the 2 free printable bucket list PDF pages, sign up for our free newsletter and it will be delivered straight to your inbox!
Note – make sure you check all folders to receive your subscription confirmation. Sometimes the confirmation email can end up in "other" or "promotion" folders.