This easy homemade ice cream in a bag recipe is a must-try this summer! You only need 5 ingredients to make this homemade ice cream. Kids will love seeing how quickly they can make their own ice cream. Don't forget to add your favorite toppings like sprinkles or fruit!
RELATED: Homemade Fresh Fruit Popsicles 
How to Make Ice Cream in a Bag
This is such a fun activity for kids in the summer! And if you're low on ice cream in your freezer, it's a great way to make your own treat! Kids can help shake the bags and of course finish off the ice cream.
Ice Cream in a Bag Ingredients
You only need 5 ingredients to make ice cream in a bag:
Half and Half – OR you can use 1/2 whole milk and 1/2 cream. We have also made it with whole milk and it will still turn out but the ice cream won't be as creamy
Salt – the type of salt doesn't matter. We used regular table salt. But the chunkier the salt you use, the less chance you'll get salt mixed into your ice cream by accident.
Ice 
Vanilla
Sugar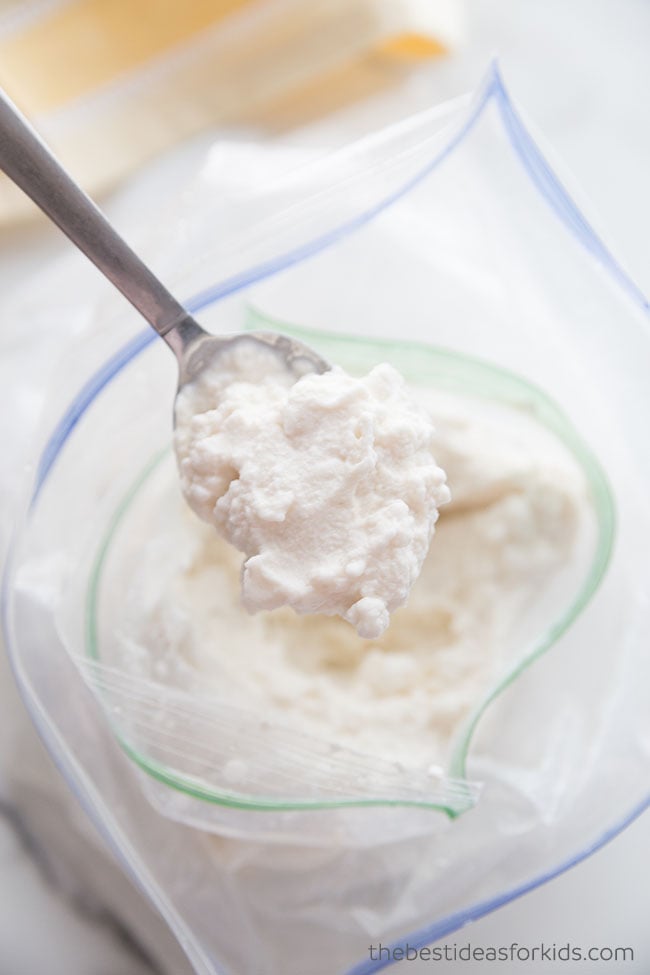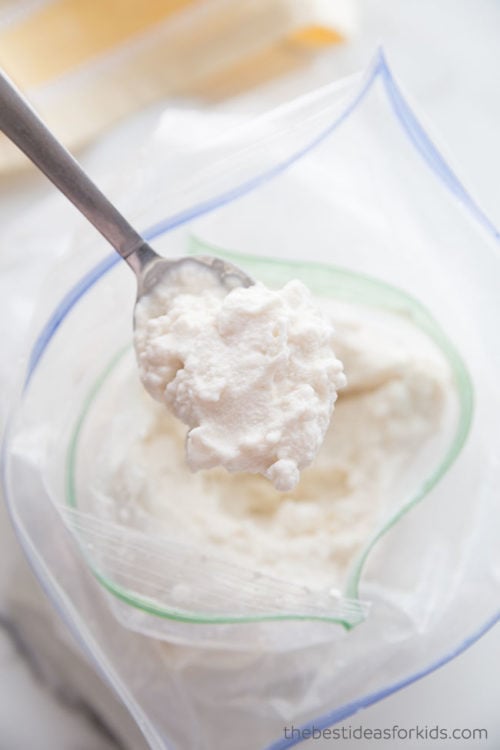 Can I use Whole Milk? 
Yes! You can still make this recipe with whole milk. The ice cream won't be as creamy but will still be tasty. For an even creamier version use cream and whole milk instead. You can experiment with different proportions until you find it to be a texture and flavor you prefer!
How to Prevent Salty Ice Cream
This is important – because there's nothing worse than shaking the bags and then having salty ice cream. You want to make sure that the bags you are using are quality bags. Typically no name brands won't give a good seal to keep the salt out.
Make sure you properly seal the bag that has the half and half mixture in it. You don't want salt accidentally getting into this bag. To be safe, you could double bag this also. Once you're done shaking, rinse off the little bag with cold water (including the top part above the seal) before opening it up to eat the ice cream. This will ensure that any salt on the outside doesn't leak in.
If you use chunkier salt, this will also help prevent the salt from getting into the little bag.
Finally, be extra careful when taking the ice cream out of the bag. If there is any salt still on the outside of the small bag, it will mix with the ice cream.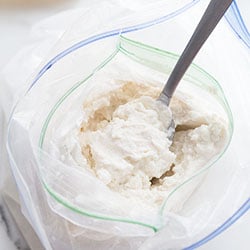 Ice Cream in a Bag
An easy step-by-step tutorial to make homemade ice cream in a bag!
Ingredients
1

cup

half and half

1.5

tsp

vanilla extract

1

tbsp

sugar

ice

1/4

cup

salt

Ziploc bags

1 Small, 1 Large
Instructions
Pour 1 cup of half and half into a small ziploc bag.

Add 1.5 teaspoons of vanilla extract and 1 tablespoon of sugar. 

Seal the bag firmly and get any excess air out. 

In the larger ziploc bag, fill it about 1/2 way with ice. Add 1/4 cup of salt.

Then add your small bag and fill with extra ice on top. Seal the large bag.

Get gloves for shaking and shake for 6 minutes. *Gloves are needed since the salt makes the ice extra cold.

Take the small bag out of the large bag and rinse the outside of the small bag with cold water. Make sure to rinse out the top part of the bag also (above the seal).

Once done rinsing, carefully open the small bag to not get any remaining salt from the outside of the bag inside the bag.

The ice cream will be a little icy looking to start. Use a spoon to mix it around and soften it up a bit. Scoop out and enjoy!
Nutrition
Calories:
190
kcal
,
Carbohydrates:
12
g
,
Protein:
4
g
,
Fat:
14
g
,
Saturated Fat:
9
g
,
Cholesterol:
45
mg
,
Sodium:
50
mg
,
Potassium:
157
mg
,
Sugar:
7
g
,
Vitamin A:
428
IU
,
Vitamin C:
1
mg
,
Calcium:
127
mg
Notes
See tips above for preventing salty ice cream: 
Properly seal the bag. 
Rinse off the little bag after shaking. 
Double bag if still salty. 
Your kids will love making their own ice cream! Mix in some chocolate syrup or add your favorite toppings to make it even more delicious!
Summer Treats for Kids
See these other favorite summer treats for kids: 
These homemade fruit roll-ups are such a hit with kids!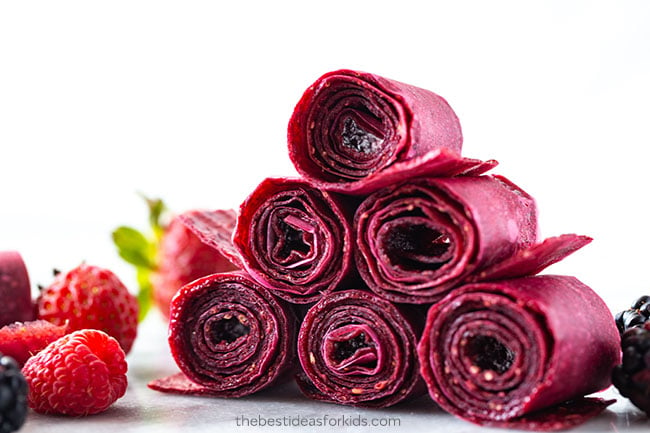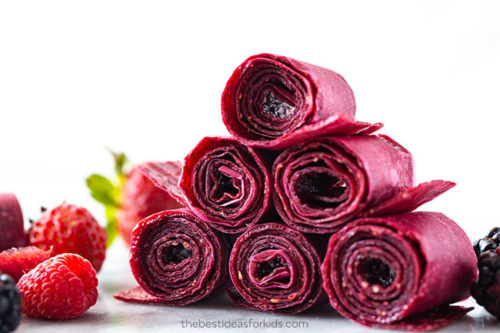 These fresh fruit popsicles are so delicious and easy to make!