December is here and we have a fun Christmas bucket list you can do with your family this year! Choose between a calendar version where you try something every day or the checklist version where you can check off the activities as you go!
RELATED: Christmas Crafts for Kids
Christmas Bucket List – Free Printables
Another way to have fun with these ideas is to write them out on a piece of paper and place them in a jar. Then when your kids are bored or you have some time and want to do something Christmas-related, select a paper from the jar!
The checklist version is perfect for placing on your fridge and checking off with a marker as you go!
Or frame it and place it in your kitchen for some daily inspiration!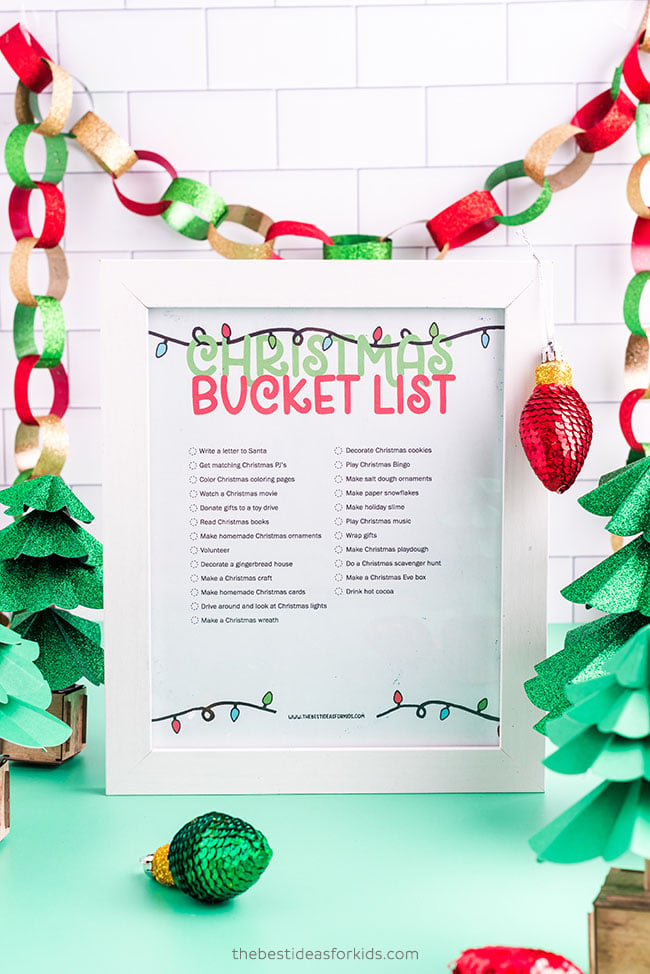 The calendar version is a fun one to cross off each day as you attempt a different Christmas activity on the list! Don't worry if you forget a day, you can always skip one or play catch up the next day!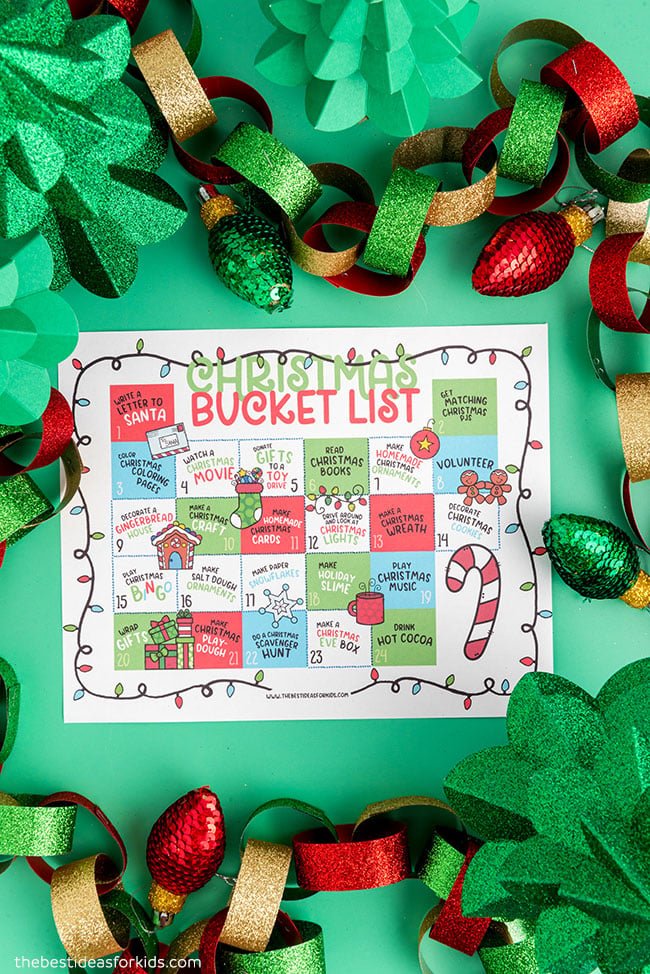 What can you expect from the Christmas bucket list? We have gathered 24 ideas to countdown to Christmas! From yummy treats and family fun to crafts and community service, this list is a fun one to complete in December!
And we have lots of free printables on our site linked down below that you can use with this list!
There are 2 versions available.
The calendar version: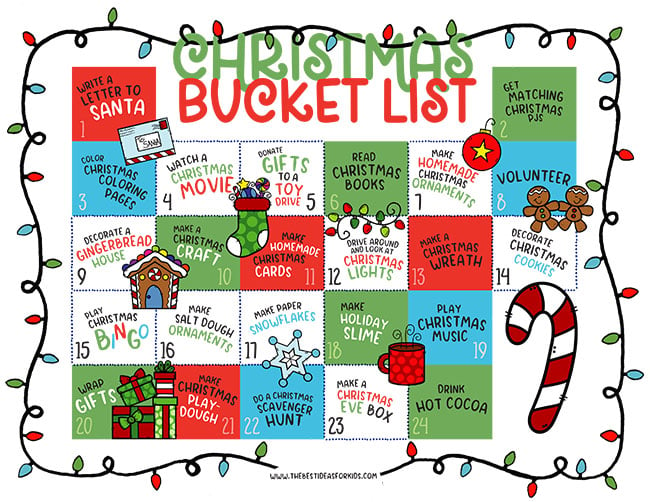 The checklist version: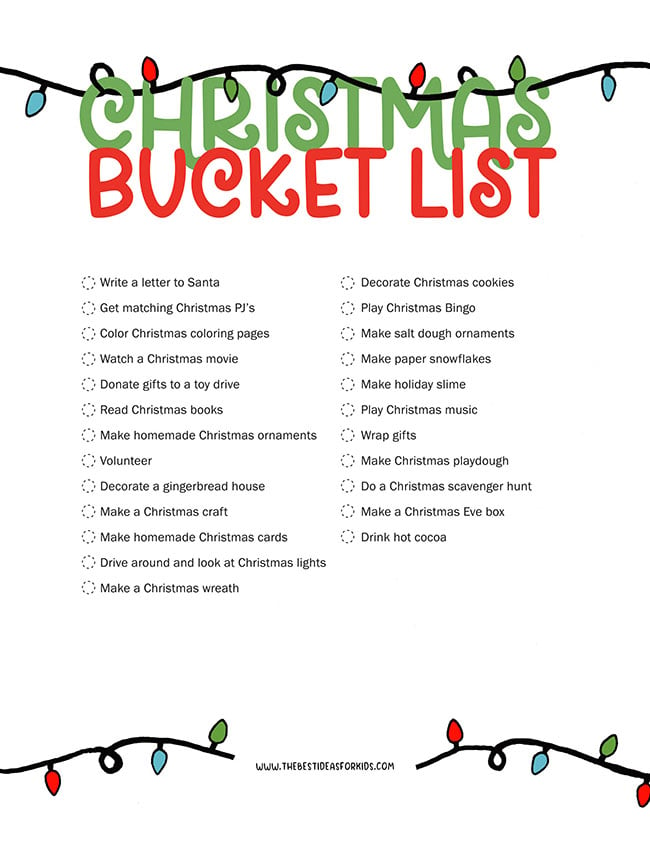 To get the PDF versions of the full list, see the bottom of the post. 
Here are the 24 ideas with some links to get you started!
1. Write a letter to Santa. Get 3 free templates here.
2. Get matching Christmas PJ's.
3. Color Christmas coloring pages.
4. Watch a Christmas movie.
5. Donate gifts to a toy drive.
6. Read Christmas books.
7. Make homemade Christmas ornaments.
8. Volunteer.
9. Decorate a gingerbread house.
10. Make a Christmas craft. Get 50+ Christmas craft ideas for kids.
11. Make homemade Christmas cards. See homemade Christmas card ideas.
12. Drive around and look at Christmas lights.
13. Make a Christmas wreath. We have directions for a pine cone wreath and handprint wreath.
14. Decorate Christmas cookies.
15. Play Christmas Bingo. Get free printable Christmas bingo cards.
16. Make salt dough ornaments.
17. Make paper snowflakes.
18. Make holiday slime.
19. Play Christmas music.
20. Wrap Christmas gifts.
21. Make Christmas playdough.
22. Do a Christmas scavenger hunt.
23. Make a Christmas Eve box. 
24. Drink hot cocoa. You can also make these fun Christmas tree waffles!
We hope you have fun trying these ideas this December! This is such a fun way to countdown to Christmas!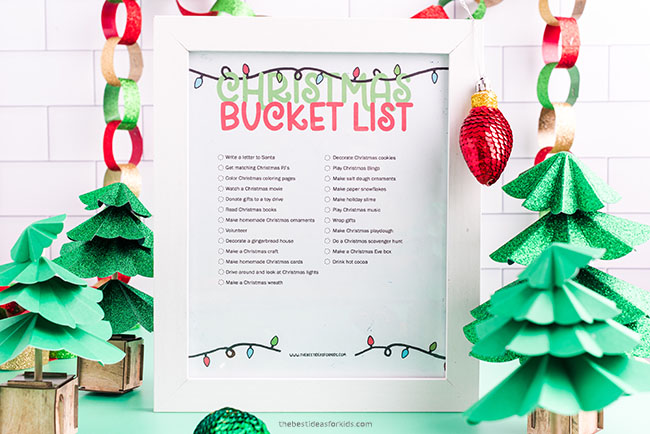 Get the Free Printable Christmas Bucket List Here
Want more fun Christmas ideas? See over 50+ Christmas Crafts for Kids!