For a fun process art activity for Halloween, try making a salt painted spiderweb! Kids will love seeing the paint run along the salt in this Halloween process art activity!
RELATED: Salt Painting Process
Salt Painted Spiderweb Craft
Salt painting is such a fun project for kids. All you need is salt, glue and watercolor paint to create these colorful spiderwebs.
Not only are the results beautiful, but the process is fun too! Kids loving seeing the paint run along the salt.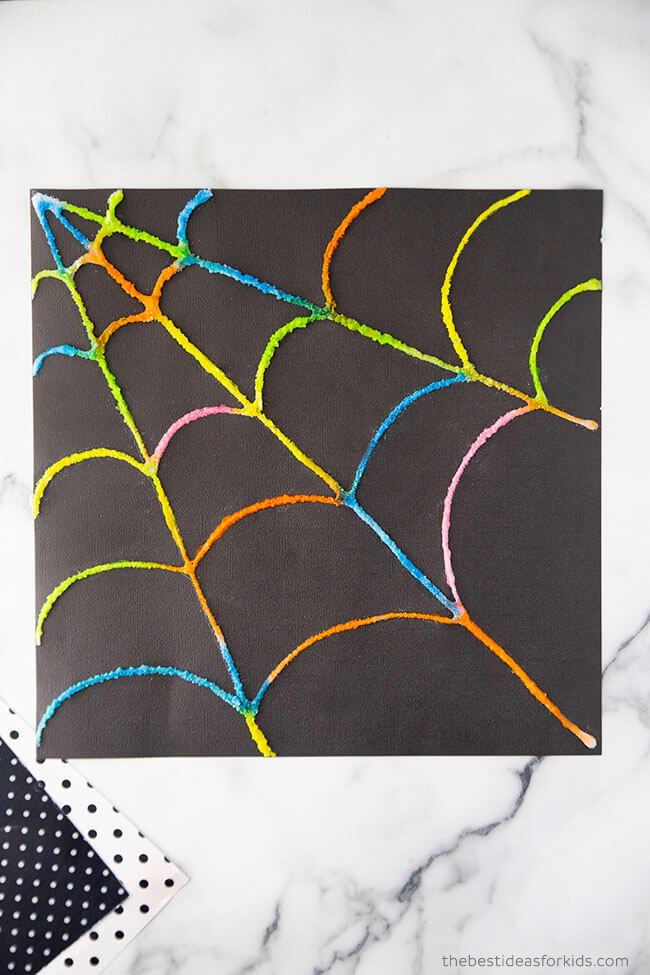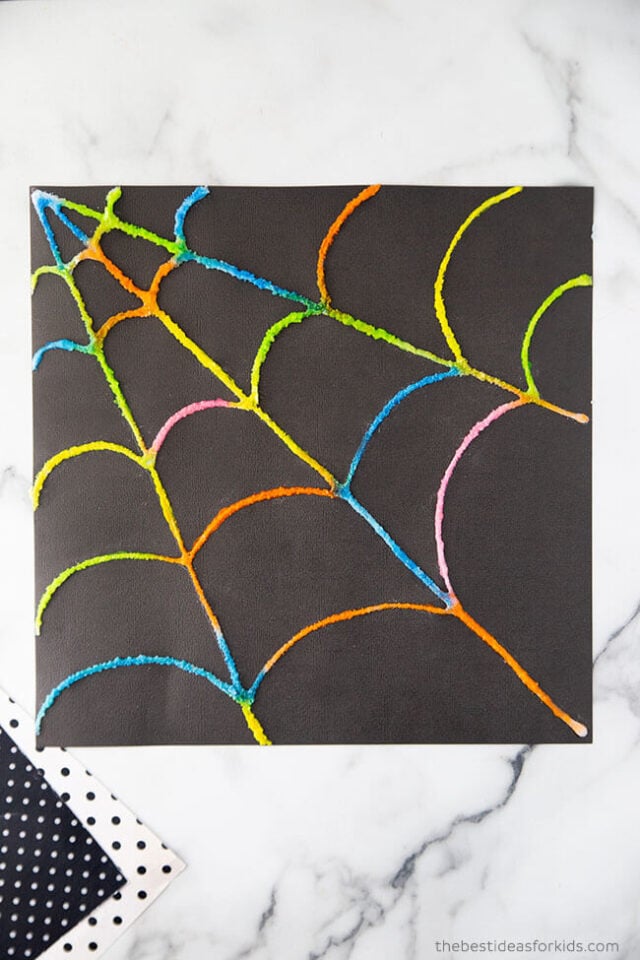 Supplies Needed to Make a Salt Painted Spiderweb
Watercolor paints – we used this kids set. You can also use liquid watercolors.

Table salt

White glue – a smaller bottle with a smaller nozzle will make a thinner glue line and this helps keep the salt not too clumpy.

Paintbrush

A little bit of water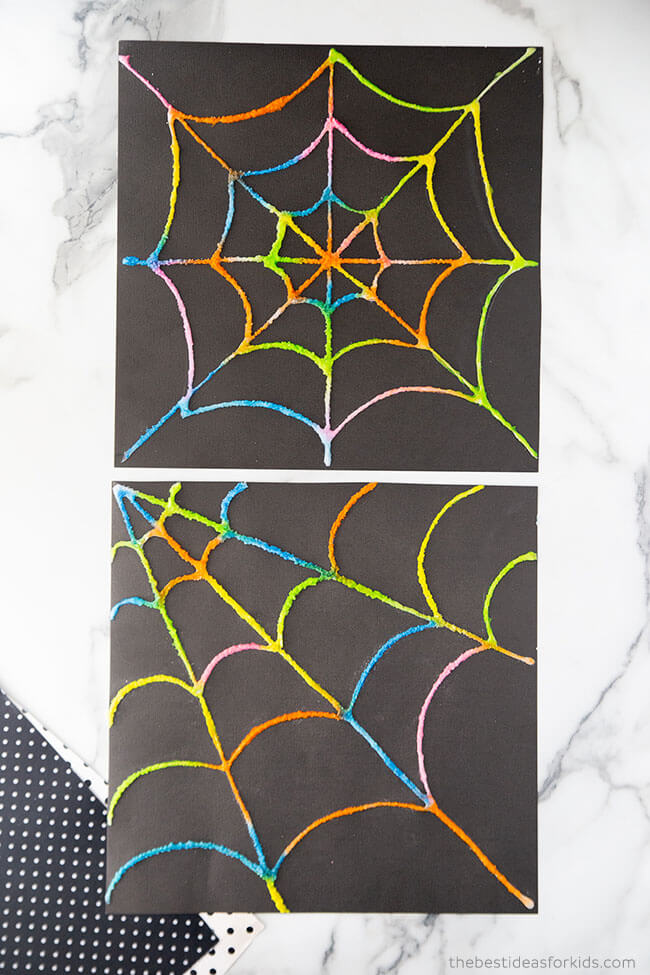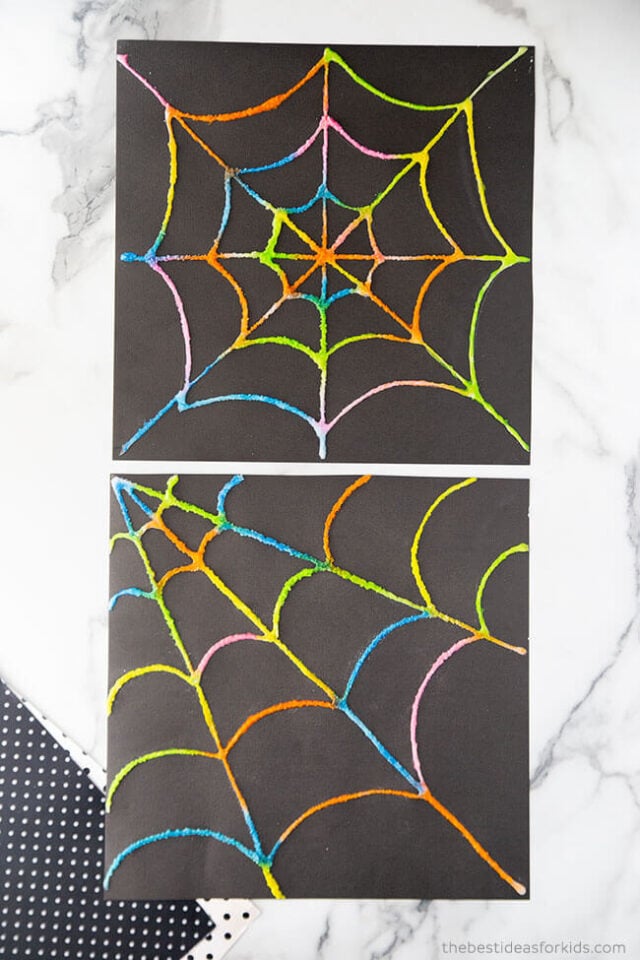 Watch the full video tutorial here before you get started!
TIPS FOR SALT PAINTING:
We recommend painting right away. The salt can start to flake off so it's best to paint as soon as you add the salt.

Use some cardboard underneath your cardstock to avoid getting your counter or table wet as the watercolor may seep through a bit.

This art will not keep. If you'd like to keep your art, paint on white cardstock instead and then you can scrape the salt off once done. Then you will have a watercolor painting underneath.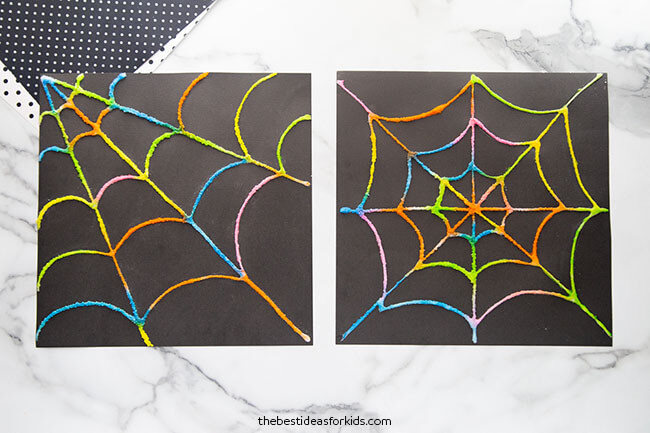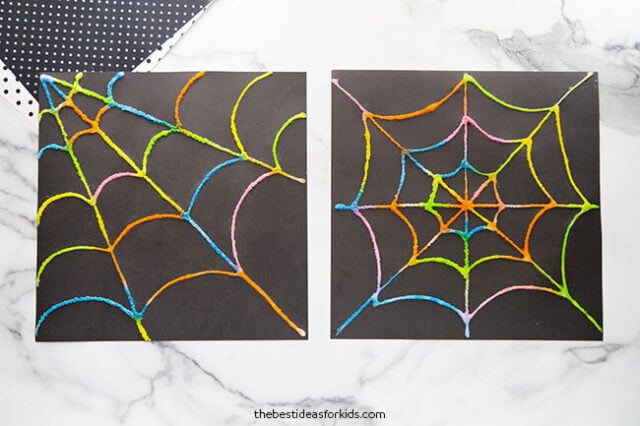 How to Make a Salt Painted Spiderweb
1. First, sketch out a spiderweb with a pencil on a black piece of cardstock.
You want to use a thick cardstock paper so that the watercolor will not seep through. You can also paint on cardboard. The paper we are using is 110lb weight.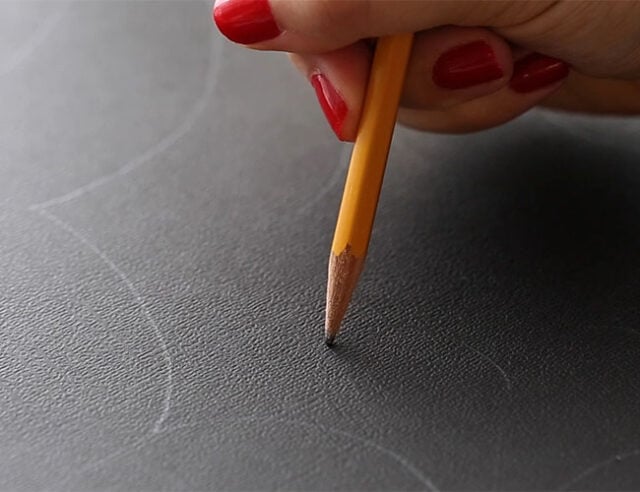 2. Add glue to your lines.
Try to make the glue lines in one motion. This is so that you do not get pools of glue in your lines.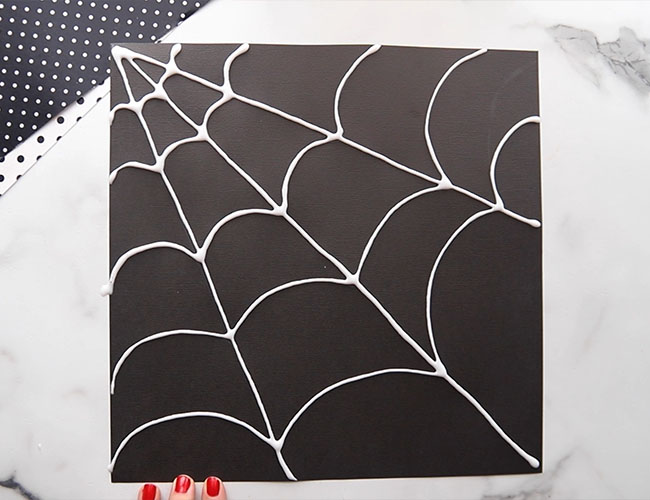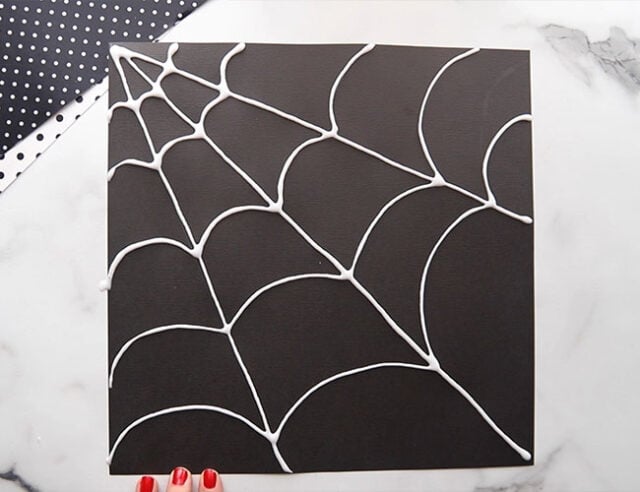 3. Sprinkle on your salt.
Pour the salt over your glue to ensure you coat every line. If you miss any spots the color won't run over that part.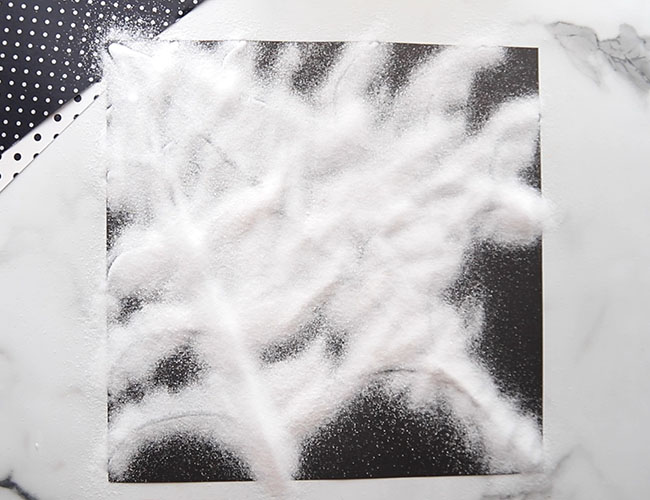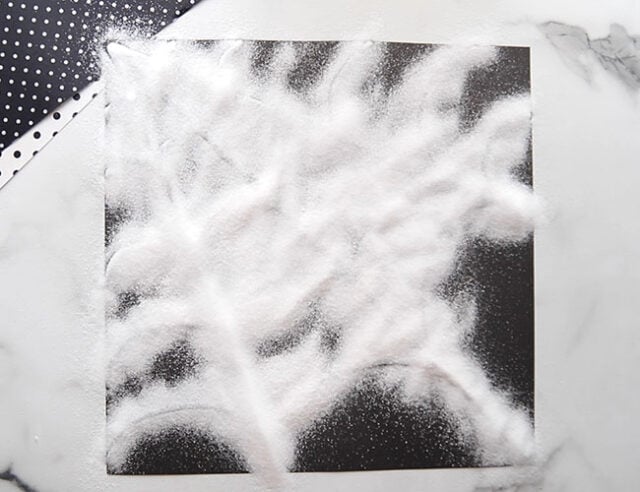 We like to keep a separate stash of salt for art activities. So when you're done you can shake off the remaining salt and store again for another salt craft.
4. Gently shake off the excess salt.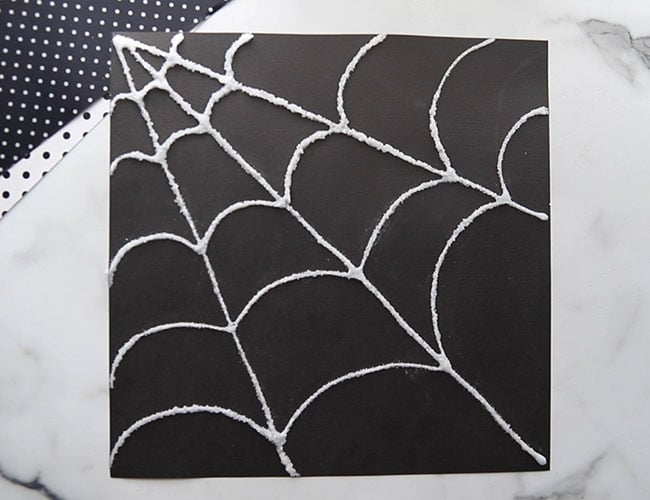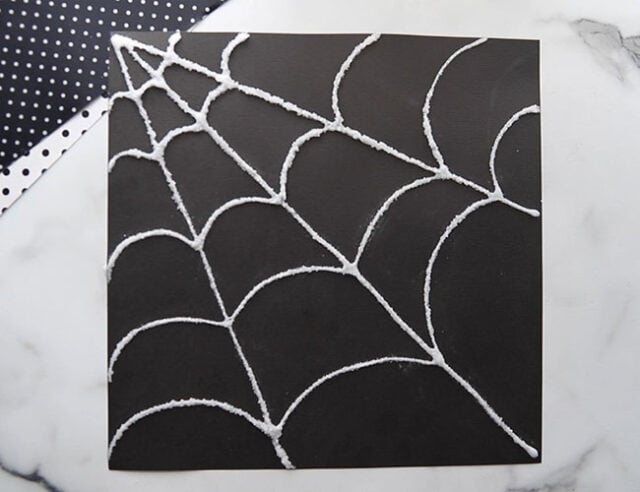 5. Now you can paint your spiderweb!
We recommend painting right away. If you're using a watercolor palette, make sure your brush has lots of water on it so that the paint spreads when painting.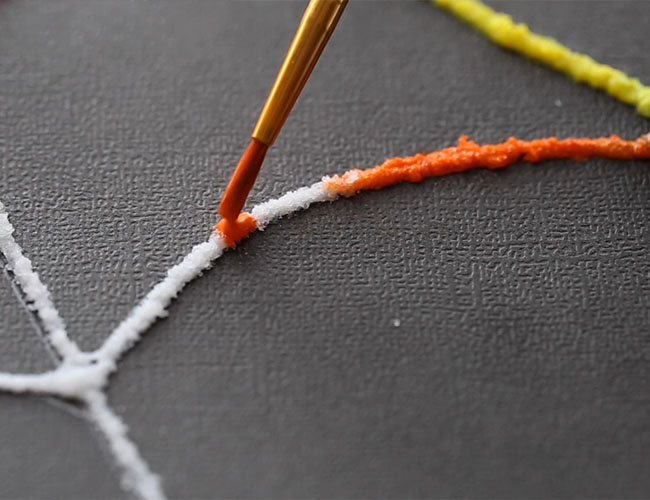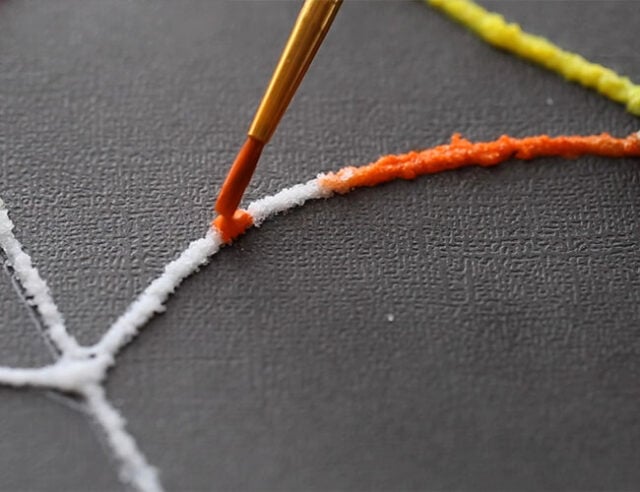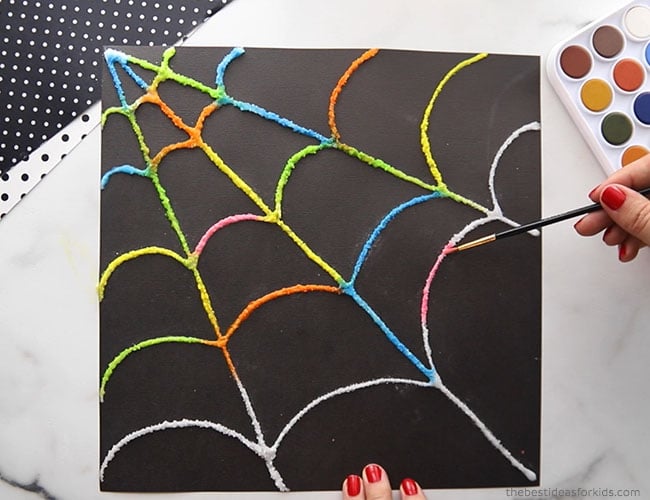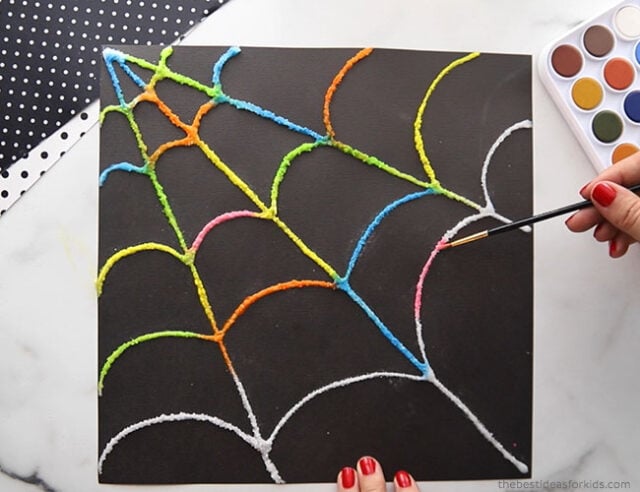 We love the neon colors used against the black paper for this Halloween craft! You can also use orange paper and paint with black watercolors.
See how many different web designs you can make!