If you're looking for an indoor Halloween idea – this Halloween scavenger hunt is a lot of fun for kids! You can do candy or non-candy treats with each clue. Or you can even do a final large prize at the end.
RELATED: Halloween Crafts for Kids
Grab the free printable cards at the bottom of the post!
Halloween Scavenger Hunt for Kids
For a fun indoor Halloween activity – try out this simple Halloween scavenger hunt! You can even do this scavenger hunt for a Halloween party.
Each card also has a number on it so you know what order to place them in. But, you can also change the order if you'd like. The only cards that matter are the first and last clues. The rest you can mix up if you want to!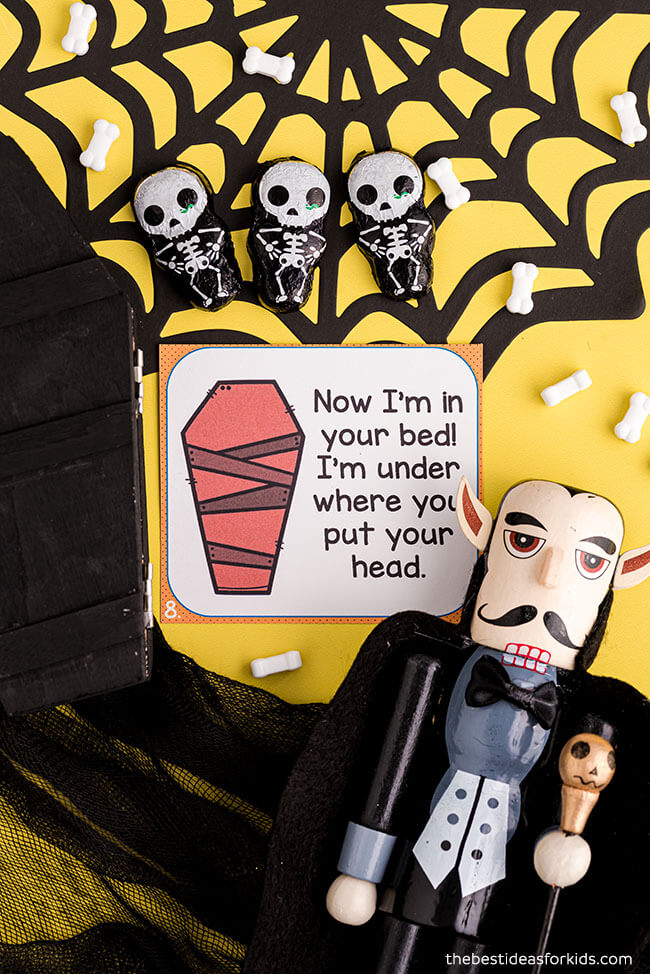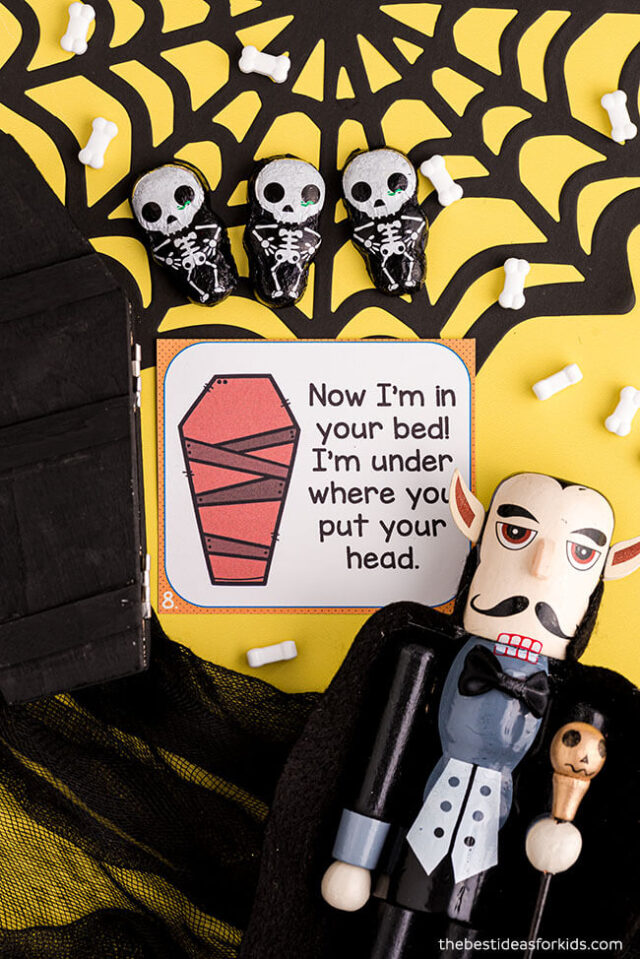 All of the clues are for indoors – so you don't have to worry about the weather on Halloween night.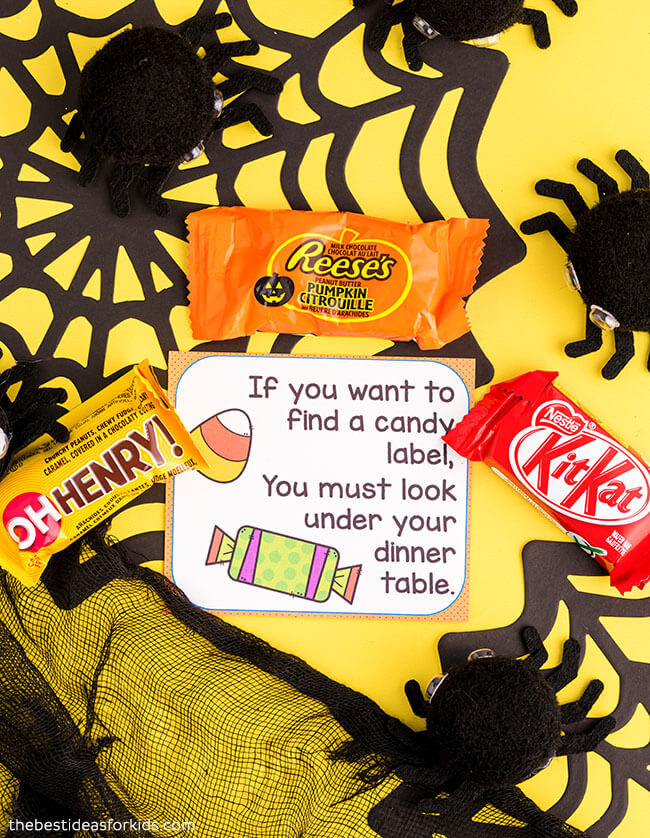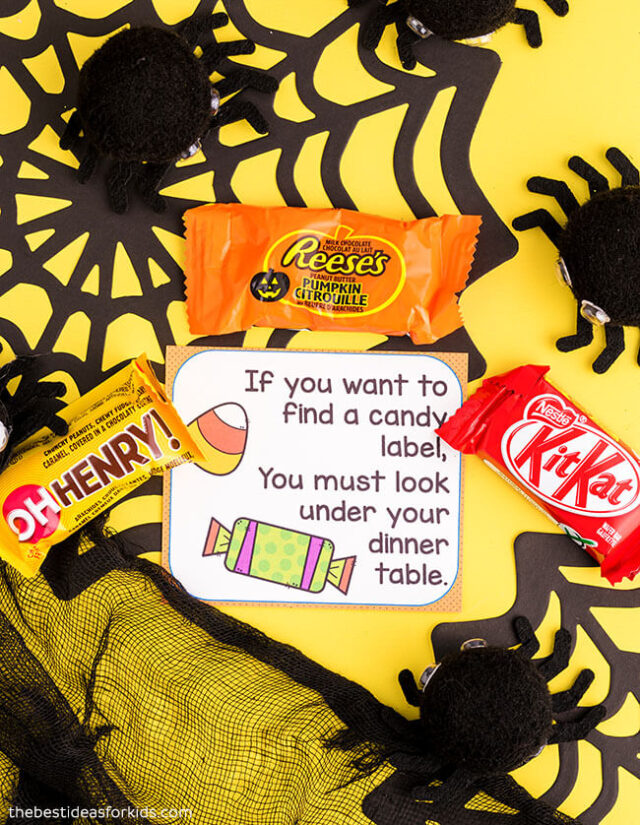 We made the clues so that you can make them hard or easy.
With words like "close to" or "by" you can put it right beside the clue hint or you can put it in a little more tricky spot.
For example, this clue card you could place the next clue inside a book if you want to make it a little more difficult! Or for younger kids, simply place on top or beside their favorite book.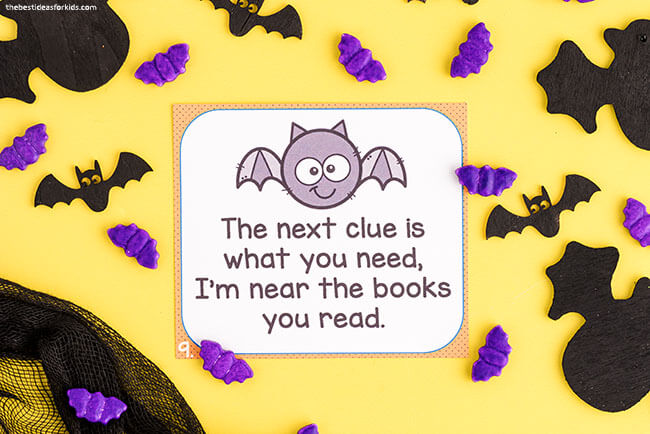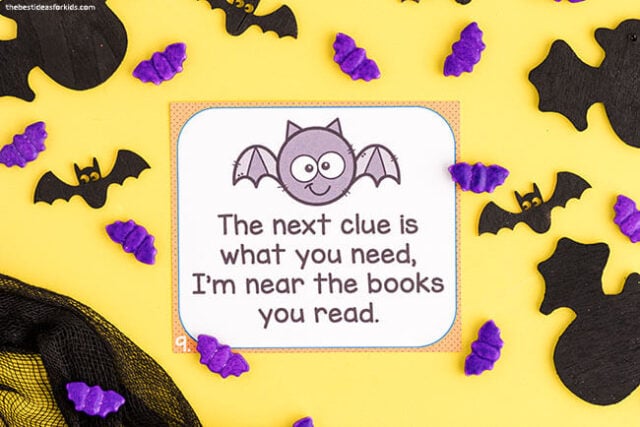 The clue cards print out on 2 pages. There are 12 clues in total.
We did the scavenger with a treat and non-candy treat at each clue but you can also do a large prize at the end instead.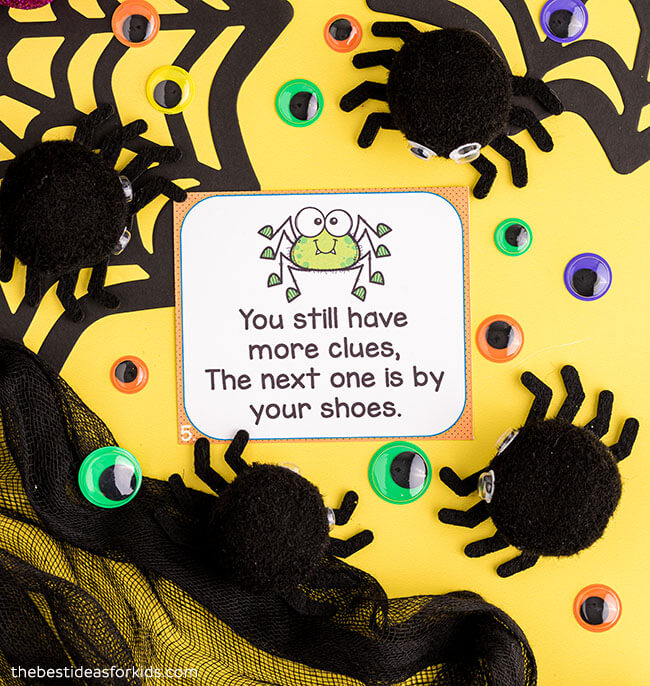 How to Set-Up the Halloween Scavenger Hunt
First print off the clue cards (link to the free printable below).
Hide the 2nd clue first, starting somewhere where the kids go to get snacks.

Hide the next clue somewhere under the dinner table.

Continue to hide all of the clue cards based on the previous clue hints until you are left with the last one.

For the last prize, hide something in front of the front door or outside the front door.

If you want to make the scavenger hunt even longer, you can add extra cards of your own before the last clue.

When you're ready to start the hunt, hand the first clue to your kids.
Free Printable Halloween Scavenger Hunt Cards
More Halloween Craft Ideas
For more Halloween ideas, see 50+ Halloween Crafts For Kids!