Summer can be filled with a lot of free time for kids being out of school. If you are planning to hear, "Mom, I'm bored" then we have the perfect summer activity for you. Here is a summer bucket list for kids with over 100 ideas to get you started! Print this off and get your kids excited to check off some of these fun ideas!
RELATED:  Indoor Activities for Kids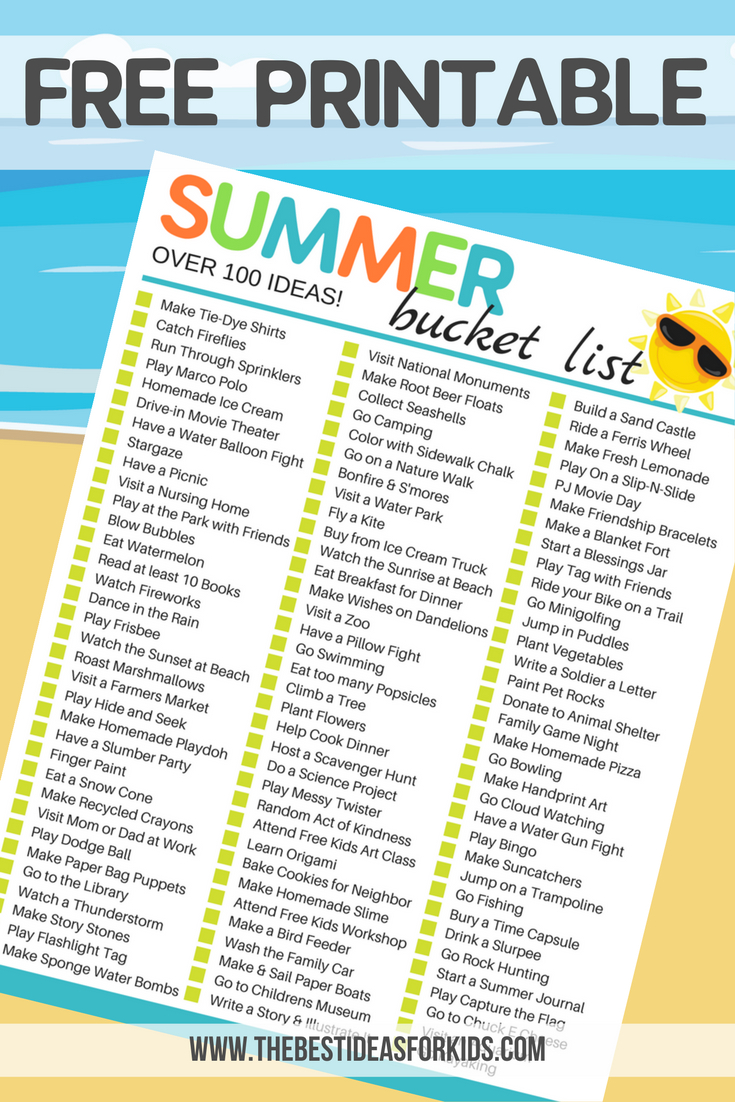 Summer Bucket List
What is a bucket list?  It's a list of experiences you want to achieve in a lifetime or in this case, during the summer.  We really love them for summer as it helps to overcome the teen or kid boredom that often arises. It can empower kids to make or plan their own fun!
A lot of these bucket list ideas are great for getting kids outdoors! Some of our favorite outdoor activities include:
Go fishing
Go rock hunting
Go on a nature walk
Blow bubbles – then make some bubble art!
Stargaze
Build a sandcastle
Fly a kite
Have a picnic
There are also so many arts and crafts ideas including:
Finger Paint
Make paper bag puppets
Make Tie-Dye Shirts
Make paper boats
Make Story Stones
Make A Bird Feeder
Write a Story and Illustrate It
Make Friendship Bracelets
There are also a lot of fun outdoor activities, including: 
Go fishing
Go rock hunting
Go on a nature walk
Stargaze
Build a sandcastle
Fly a kite
Have a picnic
Catch Fireflies (catch and release)
Play At The Park with Friends
Blow Bubbles
Watch Fireworks
Dance In The Rain
Play Frisbee
Watch The Sunset At the Beach
Watch A Thunderstorm
Collect Seashells
Bonfire and S'mores
Fly A Kite
Watch The Sunrise At the Beach
Make Wishes on Dandelions
Climb A Tree
Plant Flowers
Build A Sand Castle
Jump in Puddles
Plant Vegetables
Go Cloud Watching
Jump on A Trampoline
Go Fishing
Go Kayaking
Bury A Time Capsule
Who doesn't love a fun excursion in the summer? Have fun checking these ideas off your summer bucket list!
Drive-in Movie Theatre
Visit an aquarium
Go to a children's museum
Go to a water park
Go To the Library
Visit national monuments
Visit A Farmer's Market
Visit Mom or Dad at Work
Go Camping
Go on a Nature Walk
Visit A Water Park
Visit A Zoo
Attend A Free Kids Workshop
Go To A Children's Museum
Ride Your Bike on a Trail
Go Mini Golfing
Go Bowling
Go Rock Hunting
Go To Chuck E Cheese
Visit An Aquarium
Ride a Ferris Wheel
Summer wouldn't be summer without some fun water activities. These are all high on our to-do list!
Marco Polo
Run Through Sprinklers
Water Balloon Fight
Make Sponge Water Bombs
Go Swimming
Wash the Family Car
Make and Sail Paper Boats
Play on a Slip 'n Slide
Have a Water Fight
There's nothing better than fresh lemonade and ice cream. We had to include some treats on this list: 
Make Homemade Ice Cream
Eat Watermelon
Roast Marshmallows
Eat A Snowcone
Make Root beer Floats
Eat Breakfast For Dinner
Eat Popsicles
Help Cook Dinner
Make Fresh Lemonade
Make Homemade Pizza
Drink A Slurpee
Buy From the Ice Cream Truck
Summer is time off of school but kids will still love these learning activities and challenges: 
Read At Least 10 Books
Do A Science Project
Learn Origami
Attend a Free Kids Art Class
These are some of our favorite summer games and activities: 
Play Hide And Seek
Play Dodgeball
Play Flashlight Tag
Play Messy Twister
Play Tag with Friends
Family Game Night
Play Bingo
Play Capture the Flag
Have A Slumber Party
Have a Pillow Fight
Host A Scavenger Hunt
PJ Movie Day
Start a Blessings Jar
Make A Blanket Fort
Start A Summer Journal
And don't forget to give back to your community. We love these easy ideas to help others: 
Random Acts of Kindness
Donate To An Animal Shelter
Write a Soldier a Letter
Visit A Nursing Home
Make Cookies For A Neighbor
Over 100 ideas are included in this summer bucket list for kids free printable. Get the PDF printable delivered straight to your inbox as a gift for subscribing to our newsletter. You can sign up at the bottom of this post.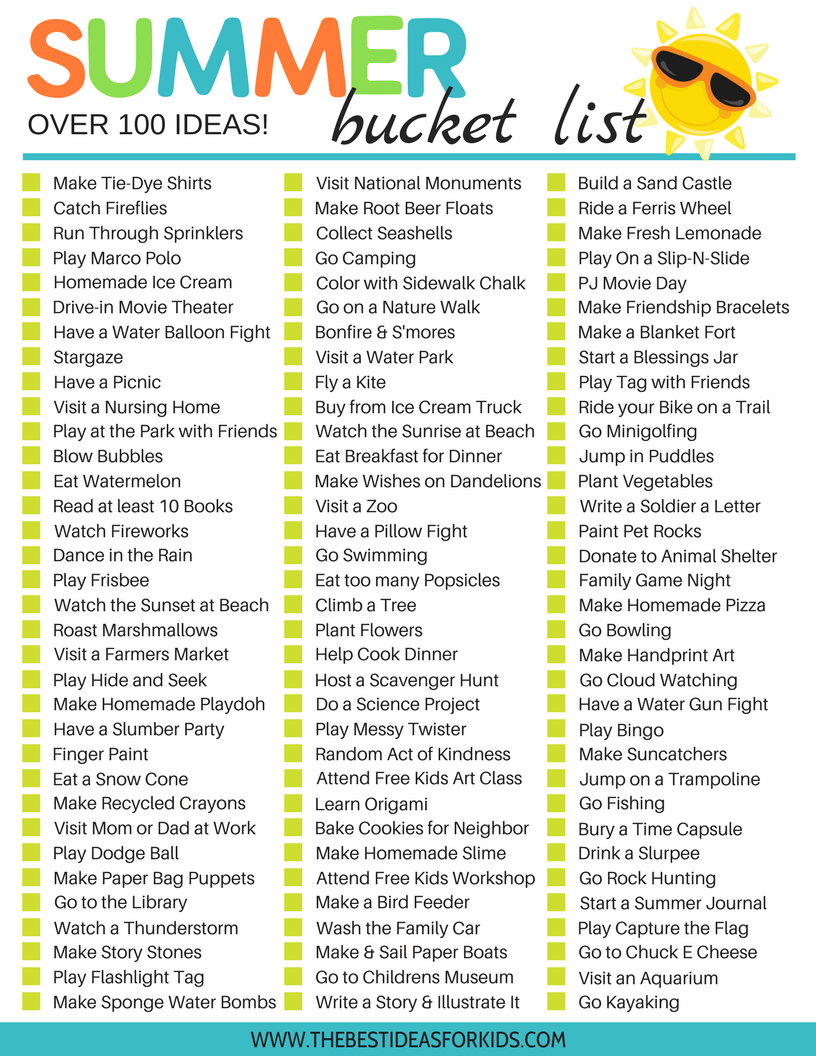 We hope you have fun checking off these fun summer bucket list ideas! We'd love to know after the summer is over, which one was your favorite?
More fun summer craft ideas and activities:
– Sidewalk chalk ideas and activities
–100 Would You Rather Questions for Kids (with printable cards which are great for road trips!)
Looking for more fun summer ideas with the kids? 
– This DIY sidewalk paint is so fun to make and play with!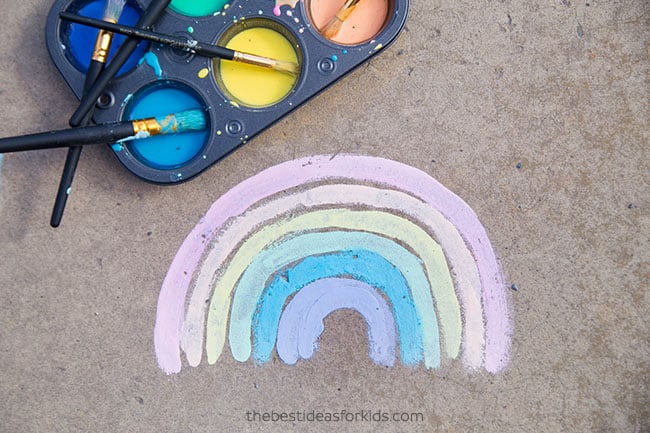 Make your own homemade playdough this summer!