These handmade Halloween cards are so fun and easy to put together! You can make them on your own or use our free printable templates. We love that you can choose between a pumpkin, witch, Frankenstein or vampire card.
RELATED: 50+ Halloween Crafts for Kids
Handmade Halloween Cards
We'll show you how to make these easy Halloween cards. They each open up so you can write your own special Halloween message inside. "Have a spook-tacular Halloween!" or even just write "Happy Halloween!" inside. All you need to make these are some paint, paper, googly eyes and you're all set!
Here are the Supplies You'll Need to Make These DIY Halloween Cards
Frankenstein
Pumpkin
Witch
Vampire
TIP: If you currently don't have any cardstock on hand – this multi-pack is perfect as it comes in all of the colors you would need for these cards!
FREE TEMPLATES – you can get the free templates to make all of these cards as a free gift by signing up for our newsletter. Just sign-up on the form with the preview of the template at the bottom of this post.
And don't forget to check out our NEW book – Fun and Easy Crafting with Recycled Materials is bursting with easy crafts for kids like this one. But not only that, it is all recycled crafts for kids too – paper rolls, egg cartons, cardboard, popsicle sticks, jars and more!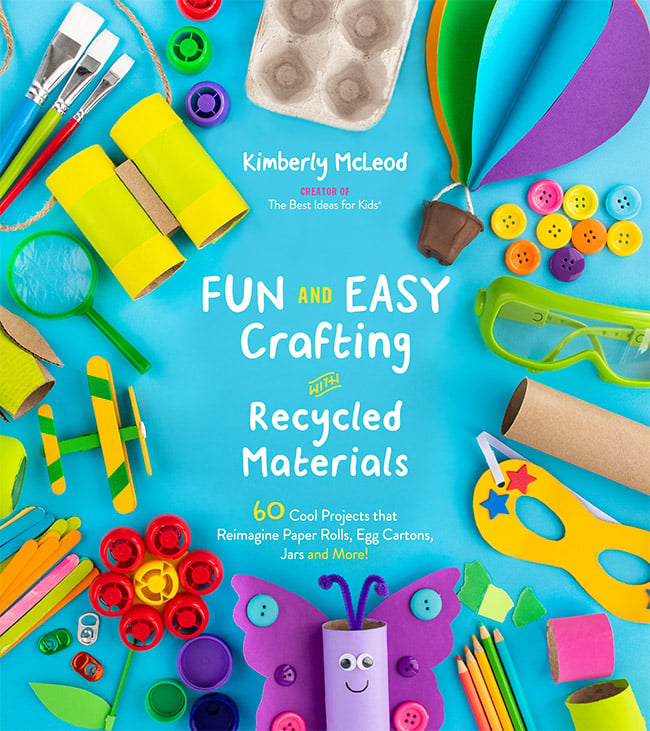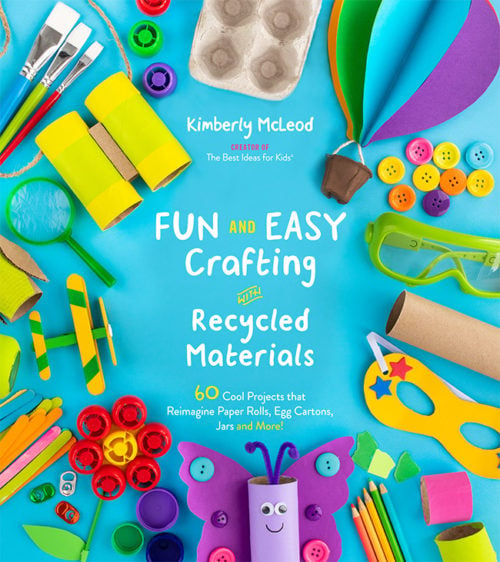 Watch the full tutorial video here!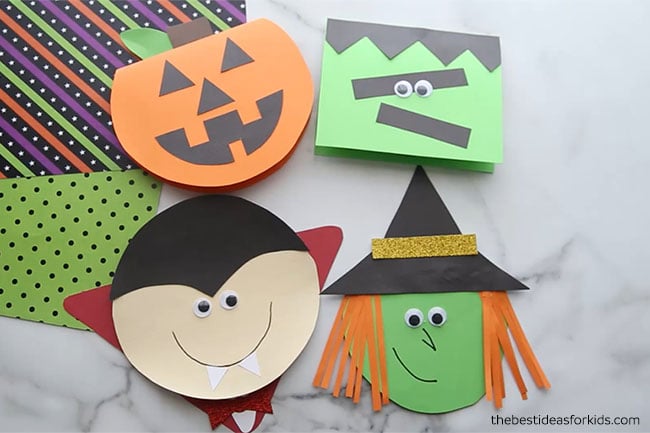 Directions to Make DIY Halloween Cards
First make sure you trace around the head templates so that the cards open up – then you'll be able to write a message inside. See our video tutorial above for a sample!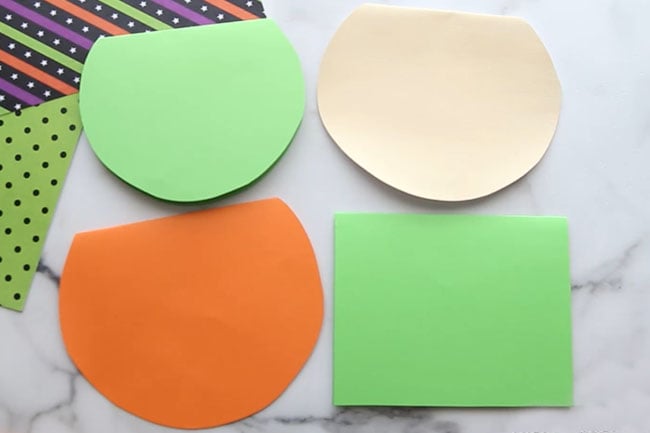 Frankenstein 
1. First, fold over a large piece of green cardstock and trace around the square template to make the head.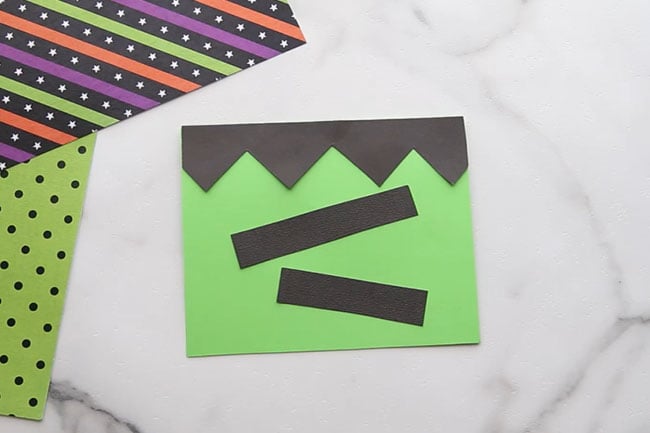 2. Trace around the hair, eyebrow and mouth templates on black paper. Glue to the card. Glue googly eyes on top.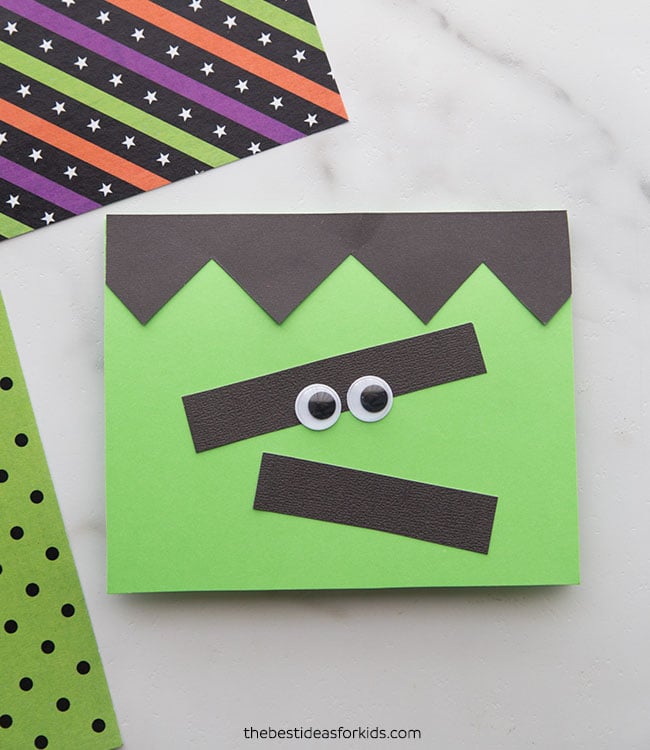 Pumpkin
1. First, fold over a large piece of orange cardstock and trace around the template to make the head.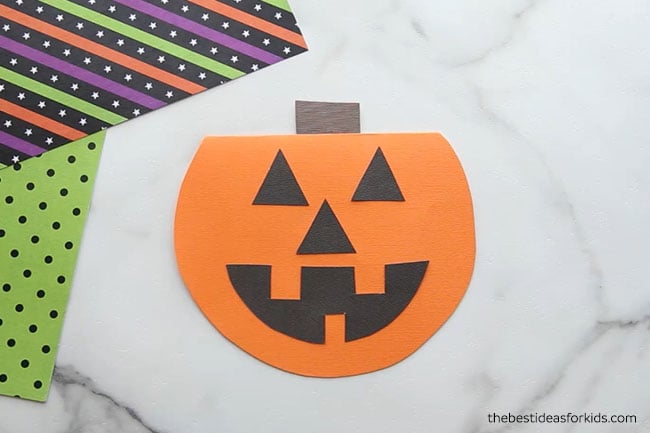 2. Cut out the face pieces from black cardstock. You can use the template or create your own face! Then add the leaf from green cardstock and stem from brown cardstock. Glue to the back of the card.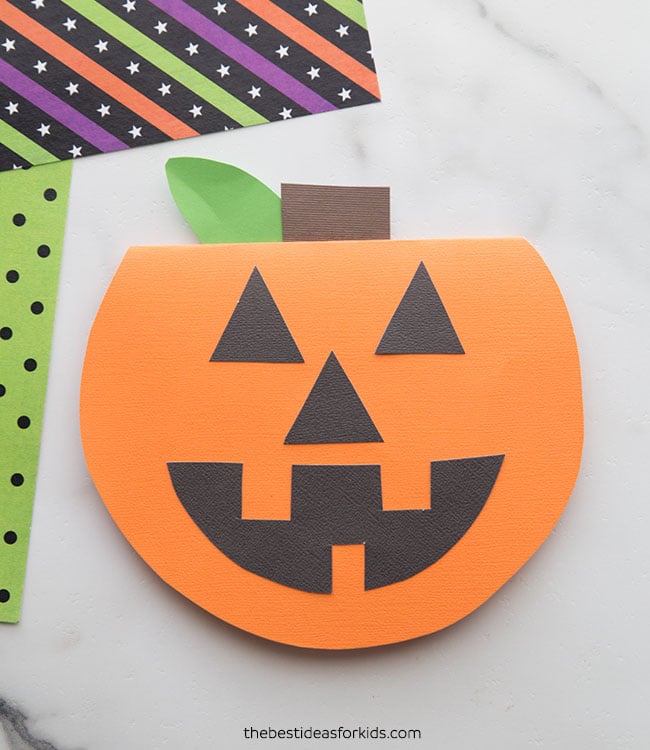 Witch
1. Fold over a piece of green cardstock and trace around the head template for the face.
Cut strips of orange paper for the hair and glue to the sides. Glue the hat on top made from black cardstock.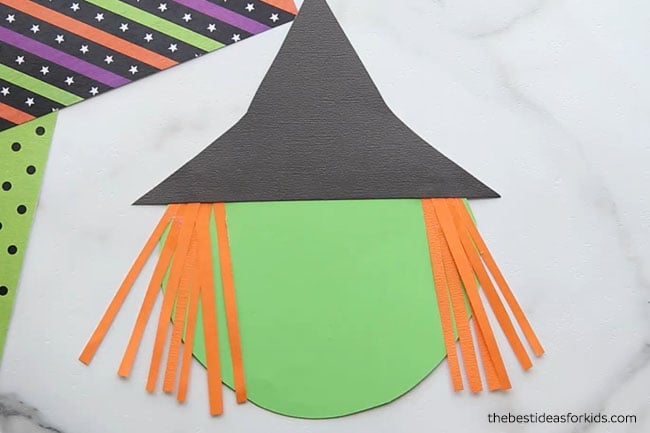 2. Add the brim for the hat with gold glitter paper. Glue the googly eyes on. Draw on the nose and mouth with a sharpie.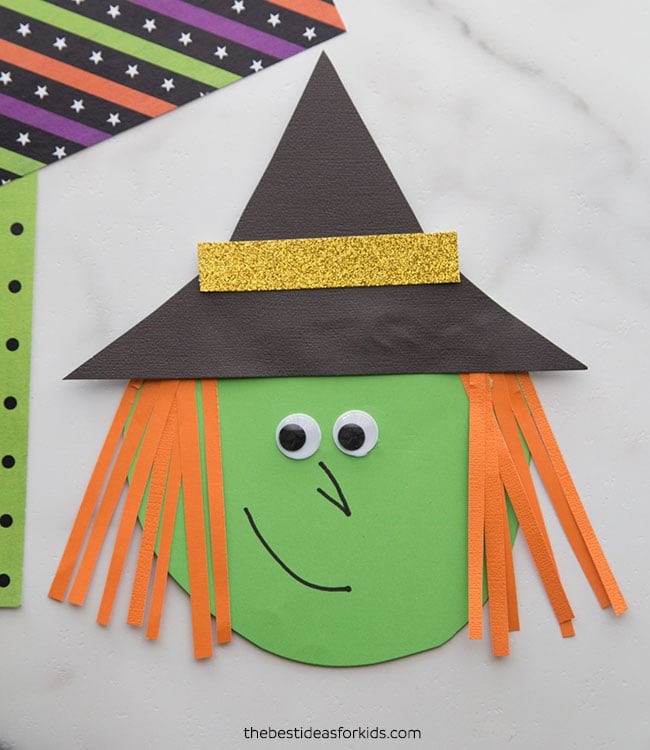 Vampire
1. Fold over a piece of white cardstock and trace the head template to make the face. Paint the face and let it dry (you can also use beige paper instead).
Glue the hair on the top with black cardstock.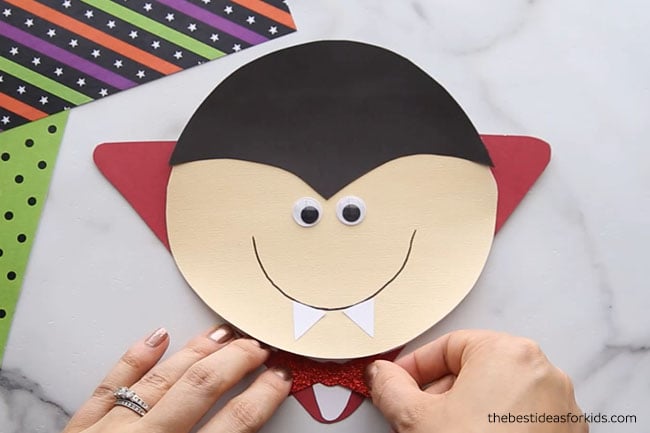 2. Glue the white template strip to the red triangle cape.
Glue the cape to the back of the card.
Glue a red glitter bow on top. Glue on the googly eyes. Draw a mouth with a sharpie and then glue on the teeth.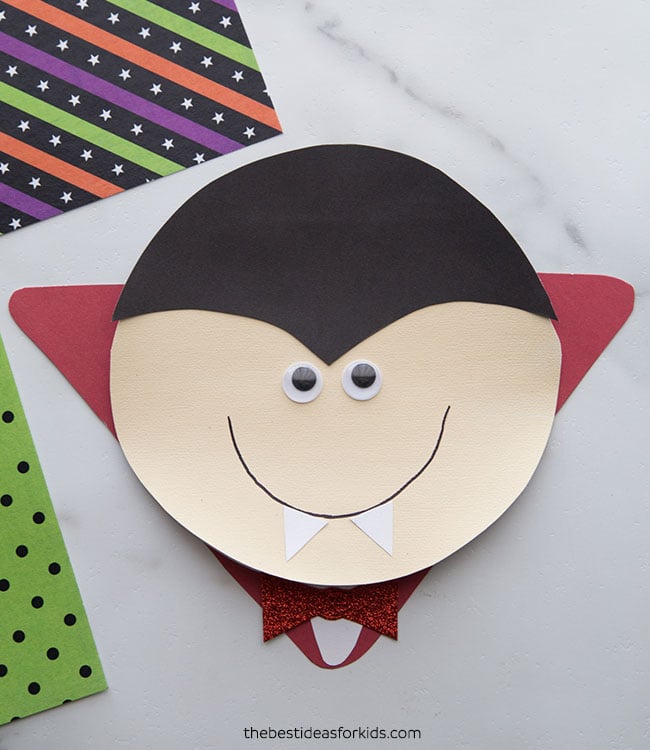 Don't forget to write your special Halloween message inside when you're done!
To get the Halloween card templates, subscribe below and it will be delivered to your inbox as a free gift. Please make sure to check ALL folders for the confirmation email. 
Love these handmade Halloween cards? See our handprint cards too!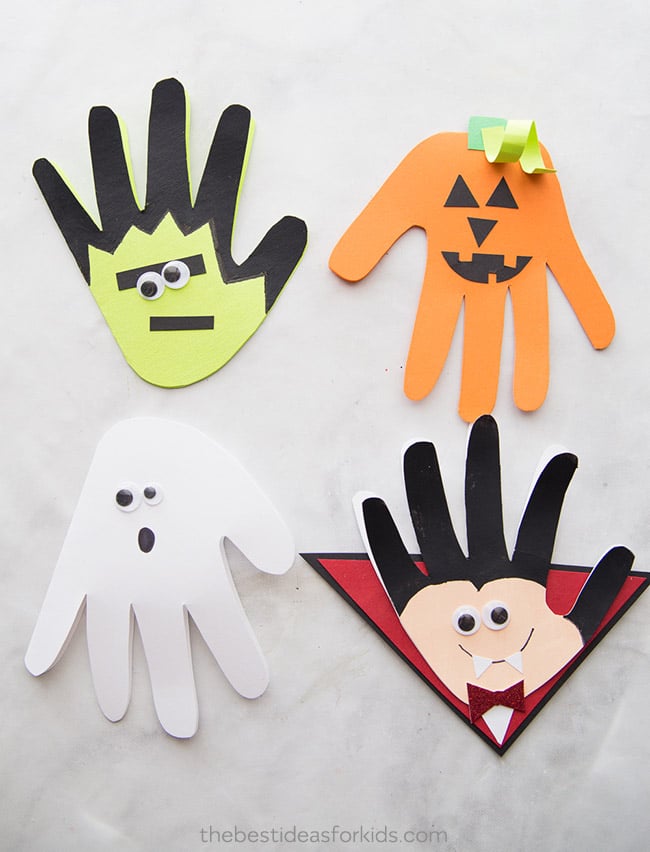 More Halloween Ideas – see 50+ Halloween Crafts for Kids!