This fun scarecrow craft is so easy to make! You can use our free printable template or you can just cut the shapes out yourself to make your own! We love that they are made from simple shapes for easy cutting! And kids will love decorating and personalizing their own scarecrow too!
RELATED: Fall Crafts for Kids
Scarecrow Craft for Kids
Put together this easy and fun scarecrow craft for kids! This is the perfect fall activity for kids. They will love making them but will also love playing with them after too!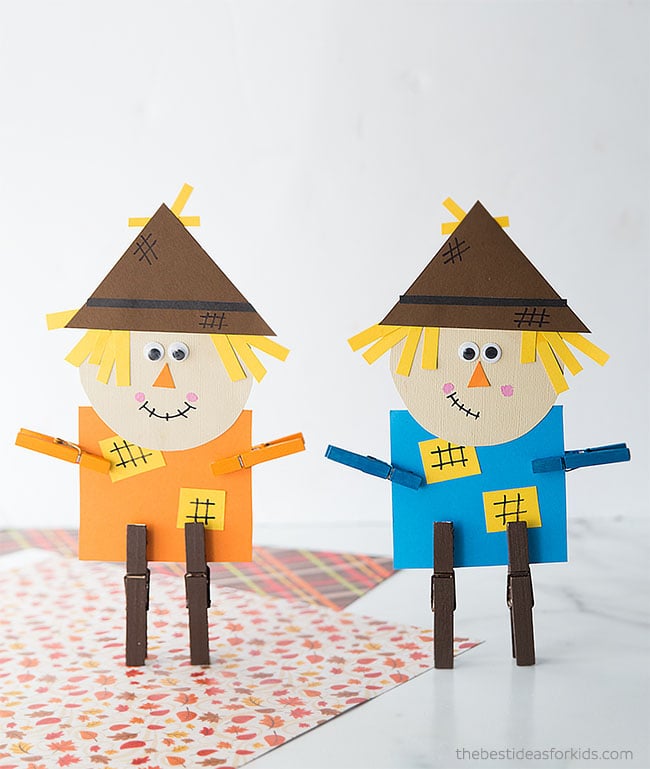 Here are the Supplies You'll Need to Make These Clothespins
Blue cardstock (optional for the scarecrow shirt)
Yellow cardstock
Light beige cardstock
Pink paint
Orange, brown and blue paint
Black marker or ultra-fine sharpie
Clothespins – small and regular
TIP: If you currently don't have any cardstock on hand – this multi-pack is perfect as it comes in all of the colors you would need to make these scarecrows!
FREE TEMPLATE – you can get the free template to make these scarecrows as a free gift by signing up for our newsletter. Just sign-up on the form with the preview of the template at the bottom of this post.
And don't forget to check out our NEW book – Fun and Easy Crafting with Recycled Materials is bursting with easy crafts for kids like this one. But not only that, it is all recycled crafts for kids too – paper rolls, egg cartons, cardboard, popsicle sticks, jars and more!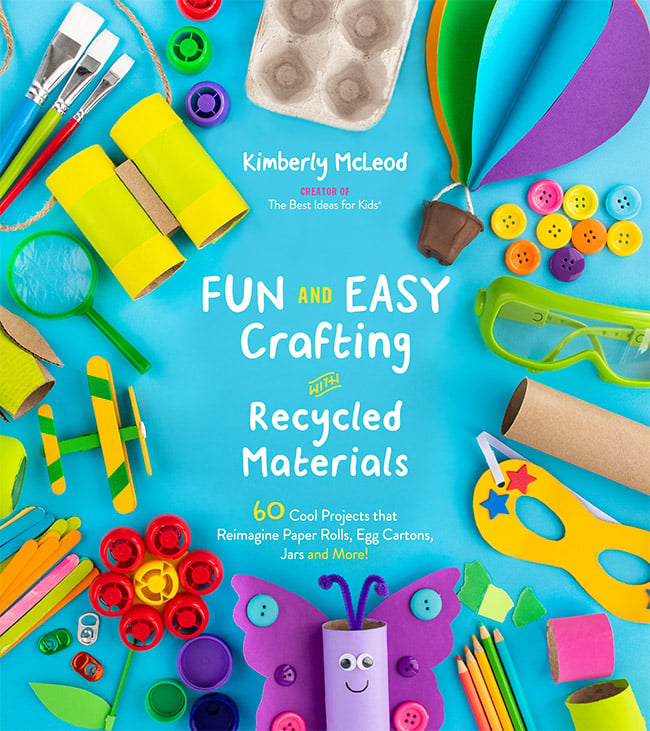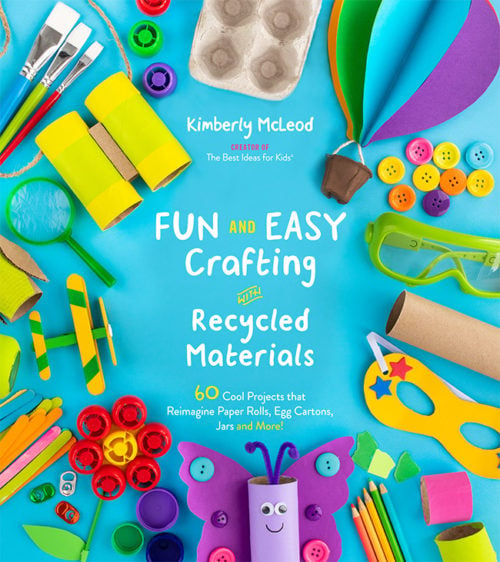 Watch the full tutorial video here!
Directions to Make Scarecrow Clothespin Characters
1. Paint 4 clothespins dark brown. Then paint 2 small ones blue and 2 small ones orange. Set them aside to dry.
2. Trace around the head template on beige-colored cardstock.
Then trace around the triangle shape template for the hat around dark brown cardstock.
Cut strips of yellow cardstock to make the straw hair.
Glue them to the top sides of the face. Then glue the triangle shaped-hat on top.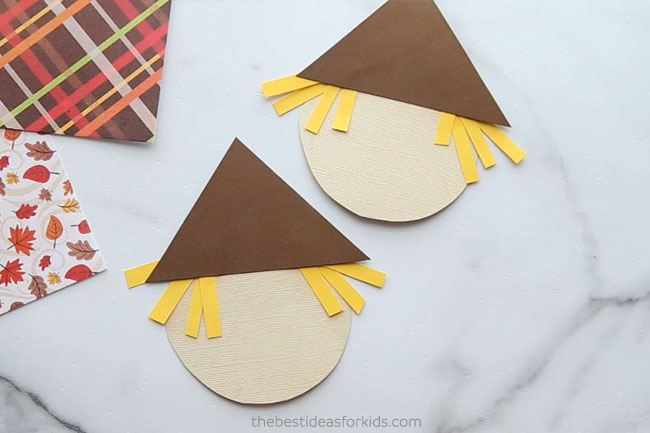 3. Glue a strip of black paper to the hat. Glue the hat on top of the head.
Add a few small yellow strips of paper to the back tip of the hat.
Then make patch marks on the hat with a black marker or sharpie.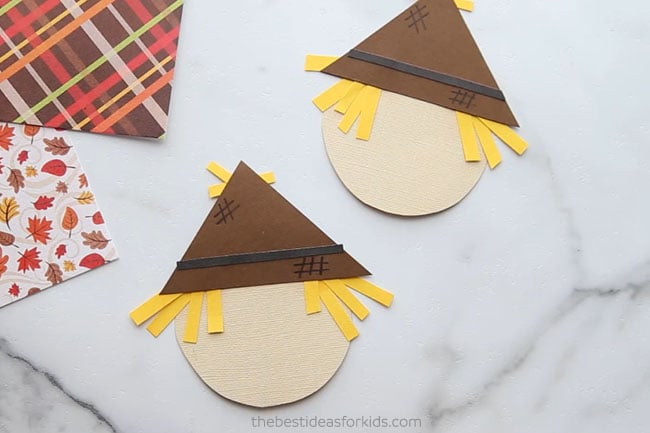 4. Glue googly eyes and a triangle nose to the face.
Add two pink cheek marks to the side of the nose by dipping the back of a pencil or paintbrush in light pink paint. Then dab it onto the face.
Then draw on a mouth.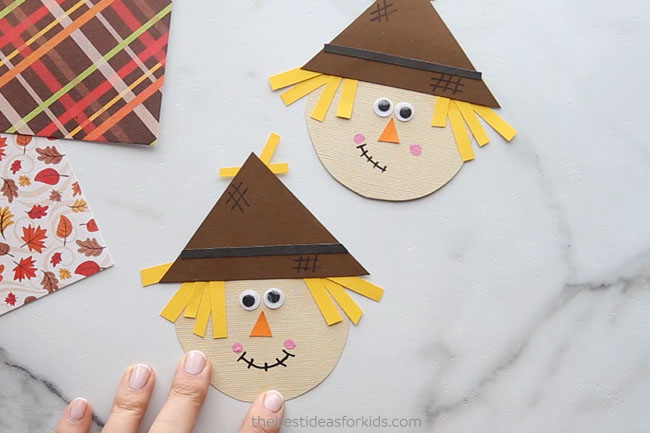 5. Trace around the square template to make the body in blue and orange.
Cut out 2 yellow squares for patches and glue to the body. Add patch marks on top of the yellow squares with a black marker or sharpie.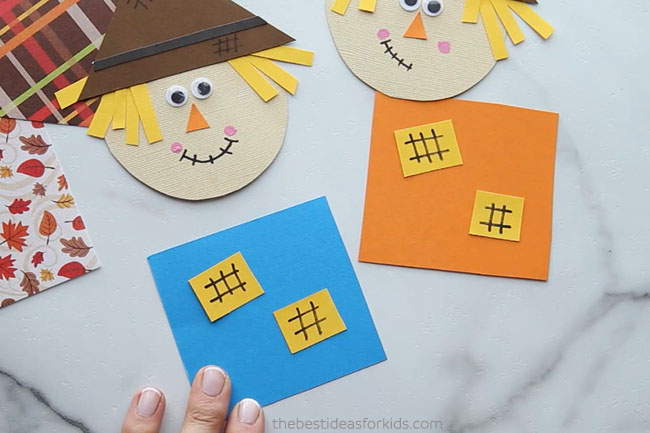 6. Glue the head to the square body.
Then attach the clothespin arms and legs.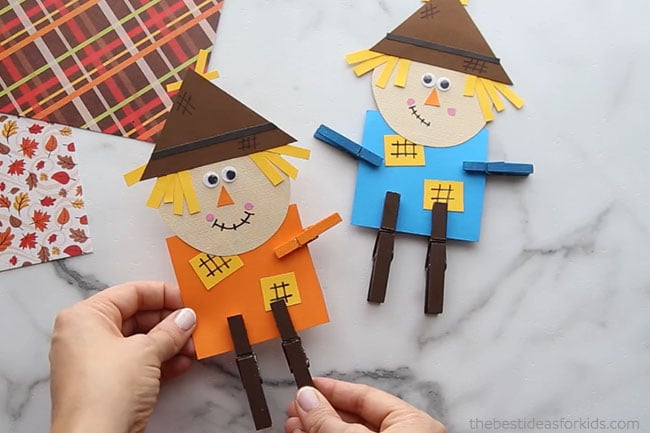 Your scarecrows are now complete!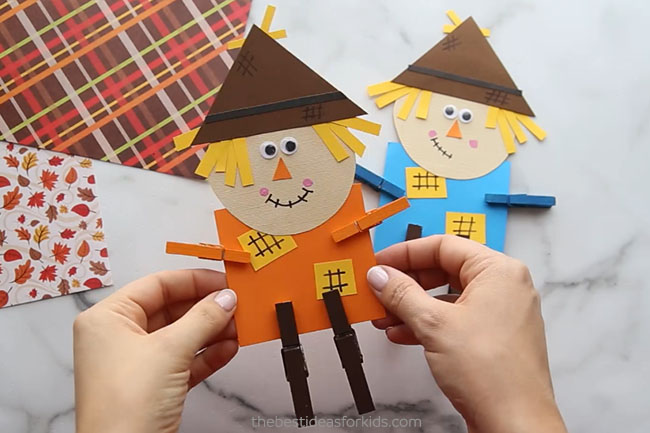 This easy scarecrow craft would be great for a classroom. And every scarecrow could be unique! You can put them on display or hang them up too!
To get the scarecrow template, subscribe below and it will be delivered to your inbox as a free gift. Please make sure to check ALL folders for the confirmation email. 
See more of our favorite fall crafts.