If you are looking for an easy Halloween craft to do with kids, then you will love this popsicle stick haunted house craft! These haunted houses are so much fun to put together and decorate. This would be a great craft for a school Halloween party. Or adults can put the houses together and let kids decorate and paint them. We know you will enjoy making your own version of these haunted houses!
RELATED: 50+ Halloween Crafts for Kids
Popsicle Stick Haunted House Craft
Our book – Fun and Easy Crafting with Recycled Materials is bursting with popsicle stick crafts like this one. We have a whole section of popsicle stick crafts. But not only that, there are other recycled crafts for kids too – egg cartons, cardboard, newspaper, paper rolls, jars and more!
This craft requires a few different sizes of popsicle sticks. We used large craft sticks for the base but you could use smaller popsicle sticks to make your house a smaller size. You can customize the house however you'd like!
You can even add a "KEEP OUT" sign to the side of the house or turn the whole house into a 3D haunted house.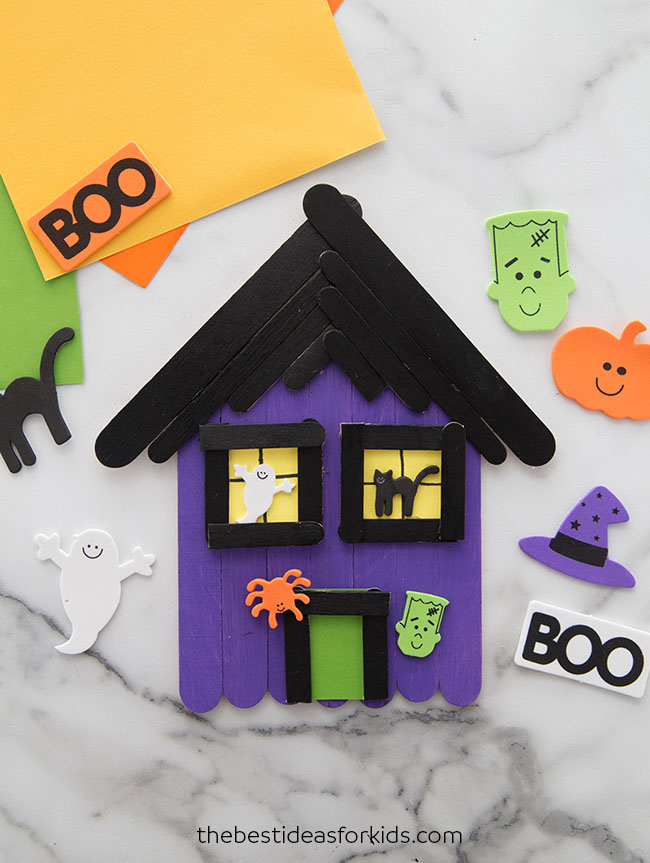 Supplies Needed To Make A Popsicle Stick Haunted House
Here is what you will need to make your haunted house:
Watch the full tutorial video here!
How To Make A Popsicle Stick Haunted House Craft
1. First you will need to take your largest popsicle sticks and line 6-7 beside each other. Take 2 more sticks and glue them horizontally onto the back of the lined-up sticks. This will create a base for the haunted house. Note: Adults should do the hot gluing.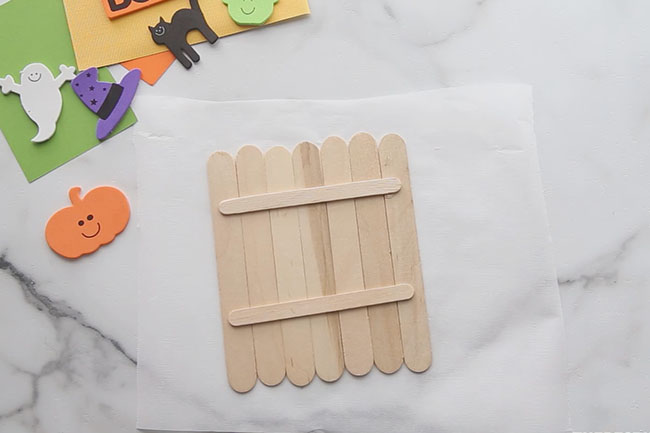 2. Next, paint the house purple. Then paint smaller popsicle sticks black for the roof, windows and door.
You'll need"
2 black jumbo popsicle sticks for the roof
5 regular popsicle sticks painted black for the roof, window and door
2 mini popsicle sticks painted black for the roof (you can also cut regular ones up)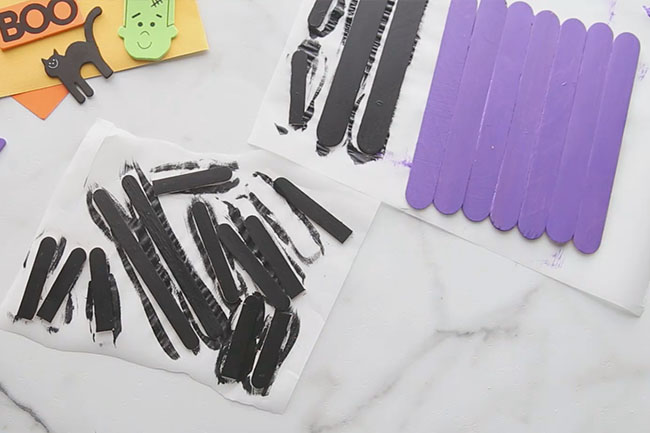 3. Glue 2 popsicle sticks, overlapping at a point onto the purple base to form a roof. Continue with smaller-sized popsicle sticks until you are happy with the size of the roof. You can cut pieces of regular popsicle sticks to make them fit.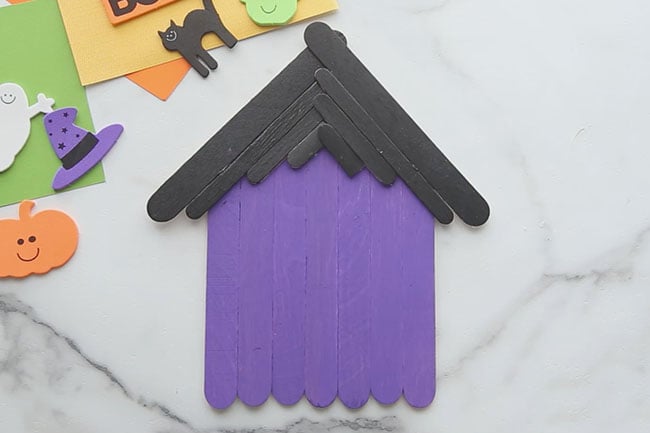 4. Cut out 2 squares from the yellow card stock for the windows. With a black sharpie, add lines for the window panes. Glue 4 pieces of popsicle sticks around the outside edge of the yellow paper, overlapping them at the corners.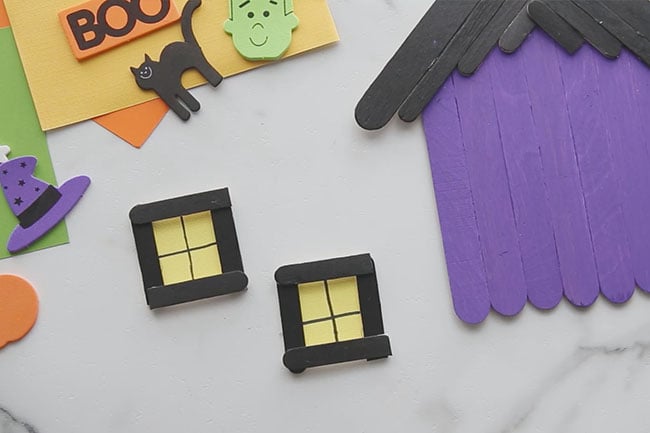 5. Glue the windows onto the purple house. Using the same method as the windows, glue small black popsicle sticks to a green cardstock rectangle for the door. Leave the bottom of the door without a popsicle stick. Attach it to the house with hot glue.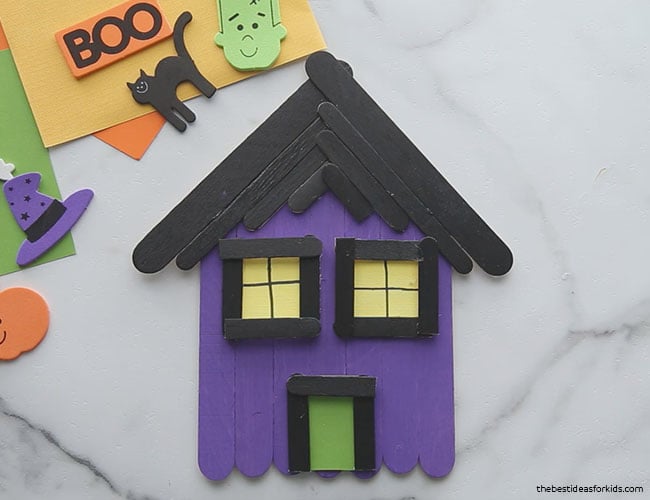 6. Add foam Halloween stickers or create your own Halloween characters from drawings or cardstock to glue on. You can even make your own 'KEEP OUT' sign to add to the side.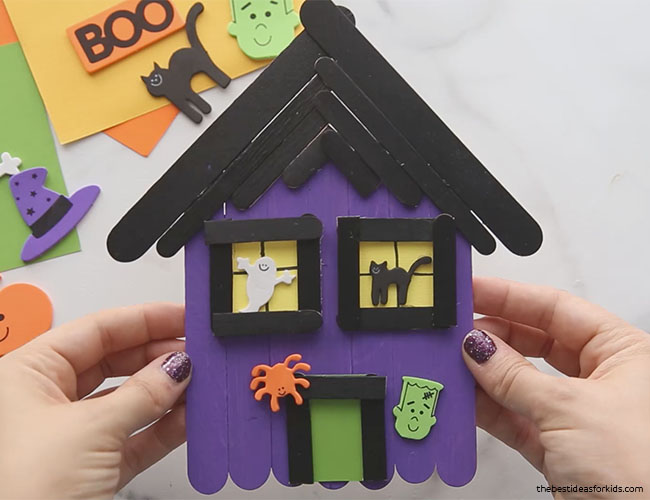 Now are you done and ready to display your amazing haunted house just in time for Halloween! Add a magnet to the back and you can turn it into a fridge magnet. And if you're up for a challenge, make a 3D version of this haunted house craft!
More Halloween Craft Ideas
This Halloween slime is perfect to make for party favors or as a craft activity at a Halloween party!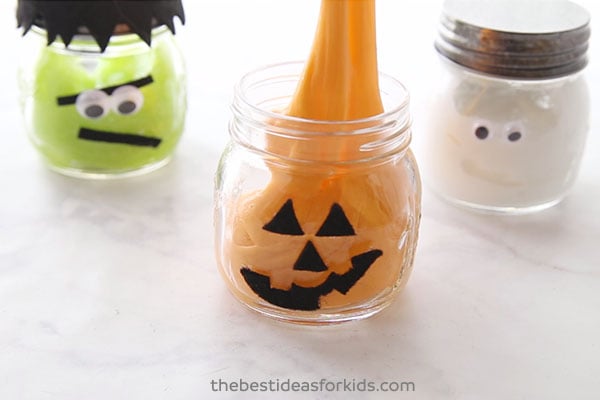 See over 50+ other Halloween Crafts for kids. There is something for everyone in this list!