There are so many fun winter activities for kids during the colder months. We have compiled a list of over 60 kid-friendly ideas to make your winter extra special this year! This winter bucket list surely has something for everyone to enjoy on it!
RELATED: Summer Bucket List
Free Printable Winter Bucket List
To make it easier, we have turned our winter bucket list into a printable for you to print off and keep track of which activities you have completed. See details at the bottom of the post on how to get your free printable bucket list!
Note: the image below is not full print resolution so see below for how to get the printable version.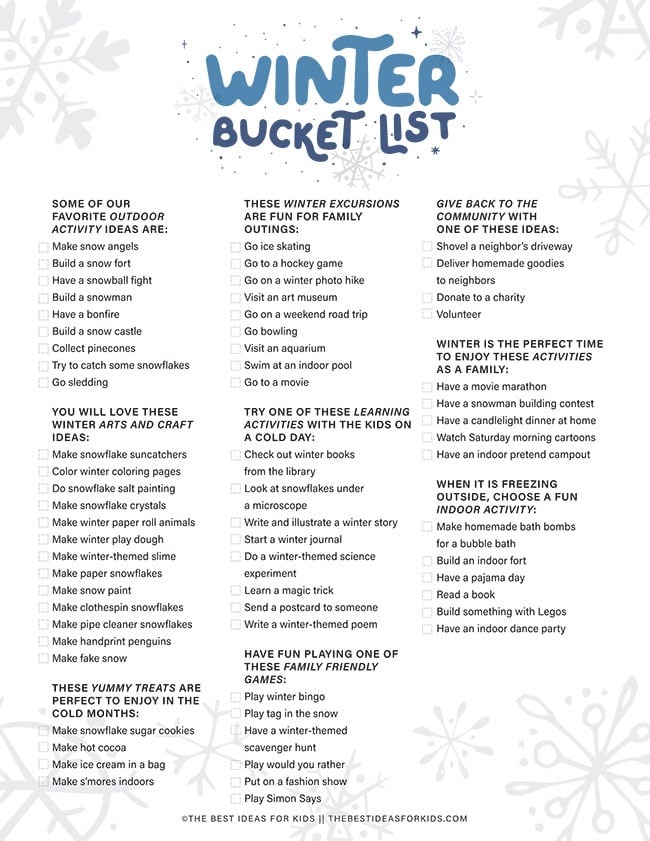 There are 3 versions of the list you can choose from!
A colored version, a coloring page bucket list and a full checklist.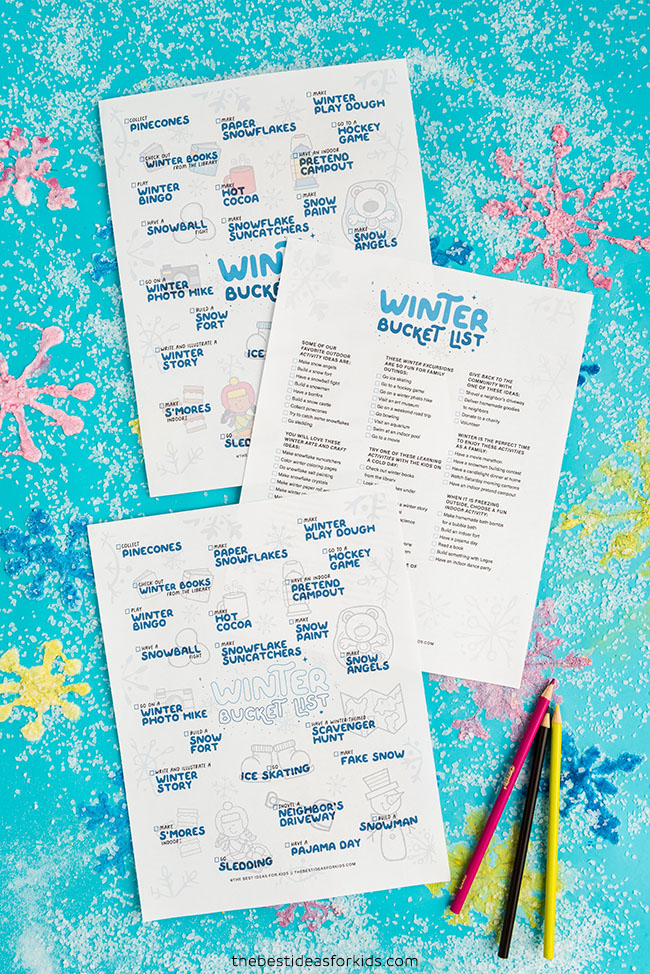 Print off the coloring page version and have kids color it before starting to check off items on the list!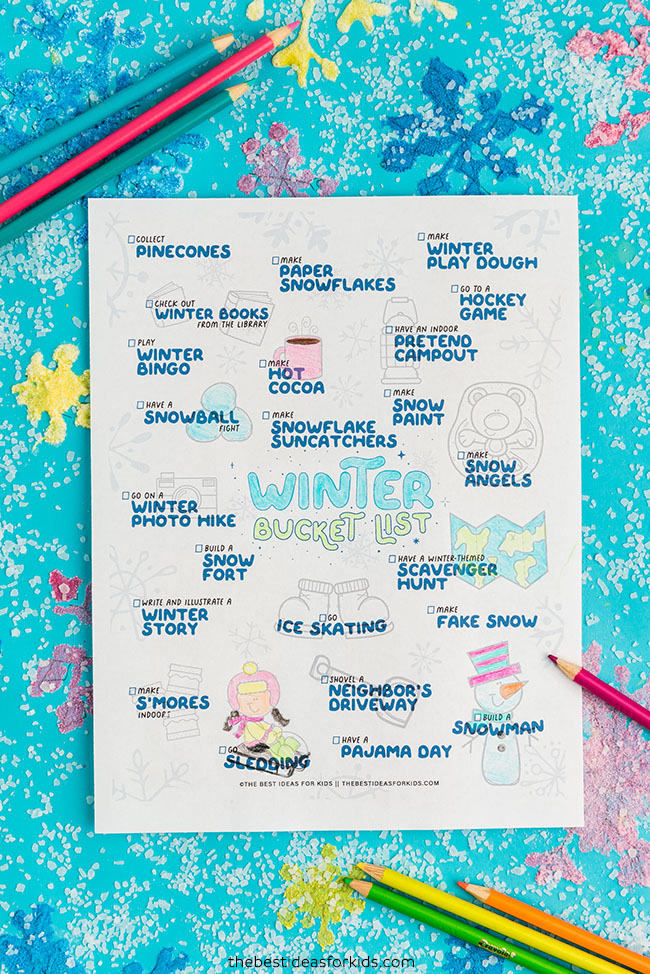 You can also make a DIY winter bucket list jar. First, paint some popsicle sticks blue. Then using some of the ideas on this list (or make up some of your own) write them on the popsicle sticks with a permanent marker. Then place them in a mason jar for selecting an item to do on a cold, wintery day.
When you need an idea for a cold day, choose a category and pull a stick out and see what fun idea you have chosen!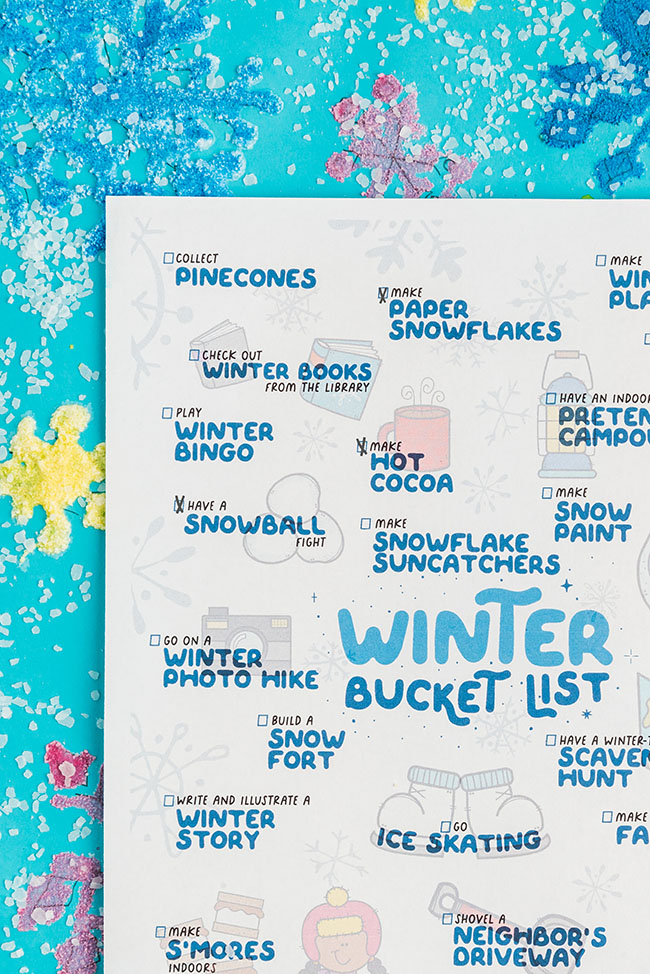 You will just love how easy it is to print off the winter bucket list and stick it on the fridge or in a cute picture frame to display throughout the winter.
Winter Bucket List Ideas
What can you expect from the winter bucket list? We have gathered over 60 ideas for winter fun in all different categories. From yummy treats and family fun to outdoor activities and community service, there is sure to be something for everyone!
To get the PDF version of the full list, subscribe to our mailing list at the bottom of this post.
Some of our favorite outdoor activity ideas are:
• Make snow angels
• Build a snow fort
• Have a snowball fight
• Build a snowman
• Have a bonfire
• Build a snow castle
• Collect pinecones
• Try to catch some snowflakes
• Go sledding
You will love these winter arts and craft ideas:
• Make snowflake suncatchers
• Color winter coloring pages
• Do snowflake salt painting
• Make snowflake crystals
• Make winter paper roll animals
• Make winter play dough
• Make winter-themed slime
• Make paper snowflakes
• Make snow paint
• Make clothespin snowflakes
• Make pipe cleaner snowflakes
• Make handprint penguins
• Make fake snow
These yummy treats are perfect to enjoy in the cold months:
• Make snowflake sugar cookies
• Make hot cocoa
• Make ice cream in a bag
• Make s'mores indoors
These winter excursions are fun for family outings:
• Go ice skating
• Go to a hockey game
• Go on a winter photo hike
• Visit an art museum
• Go on a weekend road trip
• Go bowling
• Visit an aquarium
• Swim at an indoor pool
• Go to a movie
Try one of these learning activities with the kids on a cold day:
• Check out winter books from the library
• Look at snowflakes under a microscope
• Write and illustrate a winter story
• Start a winter journal
• Do a winter-themed science experiment
• Learn a magic trick
• Send a postcard to someone
• Write a winter-themed poem
Have fun playing one of these family friendly games:
• Play winter bingo
• Play tag in the snow
• Have a winter-themed scavenger hunt
• Play would you rather
• Put on a fashion show
• Play Simon says
Give back to the community with one of these ideas:
• Shovel a neighbor's driveway
• Deliver homemade goodies to neighbors
• Donate to a charity
• Volunteer
Winter is the perfect time to enjoy these activities as a family:
• Have a movie marathon
• Have a snowman building contest
• Have a candlelight dinner at home
• Watch Saturday morning cartoons
• Have an indoor pretend campout
When it is freezing outside, choose a fun indoor activity:
• Make homemade bath bombs for a bubble bath
• Build an indoor fort
• Have a pajama day
• Read a book
• Build something with Legos
• Have an indoor dance party
For more indoor activities, see our list of 100+ indoor activities for kids. 
To get the 3 free printable bucket list PDF pages, sign up for our free newsletter and it will be delivered straight to your inbox!
Note – make sure you check all folders to receive your subscription confirmation. Sometimes the confirmation email can end up in "other" or "promotion" folders. 
More Winter Activities
See these 100+ Indoor Activities for Kids  for more fun winter ideas for kids.
Also try this Winter Bingo – get the free printable bingo cards on the post!