If you have some pipe cleaners lying around, these pipe cleaner snowflakes have to be one of the easiest ornaments you can make! And we love how there are so many different ways to make them too! You can even turn this into a STEM Christmas project by putting out different snowflake designs and seeing which ones kids can recreate. We'll show you 4 easy designs but the possibilities are endless!
RELATED: Popsicle Stick Snowflakes
Pipe Cleaner Snowflake Ornaments
You can keep these pipe cleaner snowflake ornaments plain like we made them, or you can add some beads to them to dress them up a bit more. We love the simplicity of the plain pipe cleaners ourselves. It's also fun to try different snowflake patterns to see which ones you can make!
Watch the full tutorial video here before you get started!
You can make white and iridescent snowflakes or you can do colors too! Bright bold colors would look great on a Christmas tree too!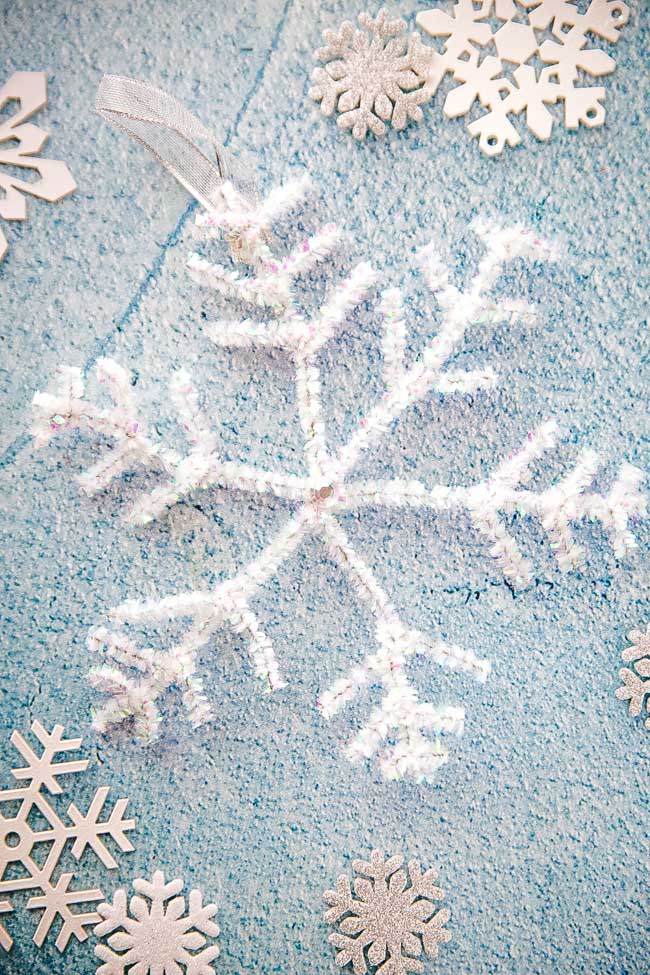 Supplies Needed to Make Pipe Cleaner Snowflakes
– Pipe cleaners – we used white and iridescent white pipe cleaners
– Small clear rhinestones for embellishment
– Scissors
– Hot glue (adults only)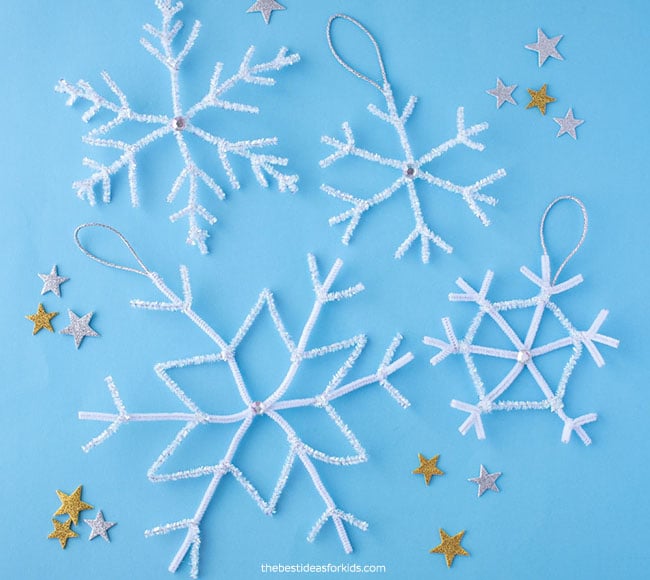 Directions to Make Pipe Cleaner Snowflakes
1. First take 3 pipe cleaners and twist them around each other in the center so you have something like this:
2.  Depending on your design, start adding on smaller pieces. If you want to create the design below you'll need to cut to size the middle piece with a little extra on the ends. Then twist around the main snowflake stems.
If you want to make the extra large snowflake we have, you'll need to make 6 'V' shapes with a little extra on the ends to twist around the main snowflake stems. It is easiest to do this by measuring out one for size and then measuring and cutting the remaining 5.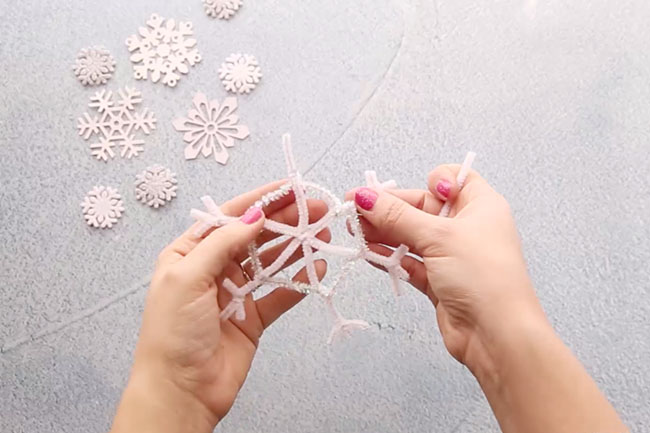 3. For the other snowflakes get various sizes of pipe cleaners and twist around the ends of the snowflake stems. You can twist around and them trim off with scissors. Or you can cut and measure all of them beforehand and then twist them on.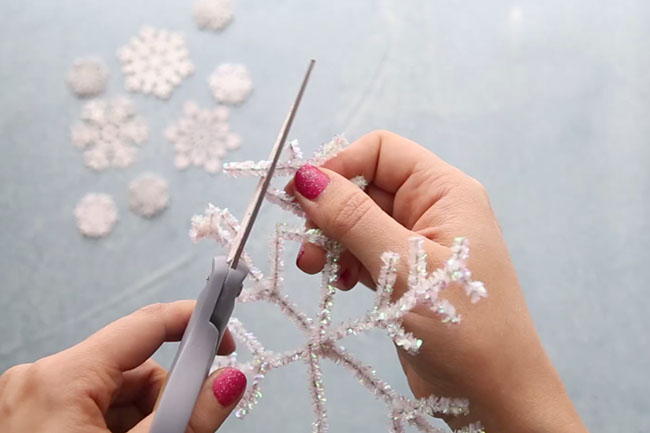 4. Hot glue a clear rhinestone to the middle of the snowflake and a ribbon to one of the snowflake stems for hanging. Adults should do this part.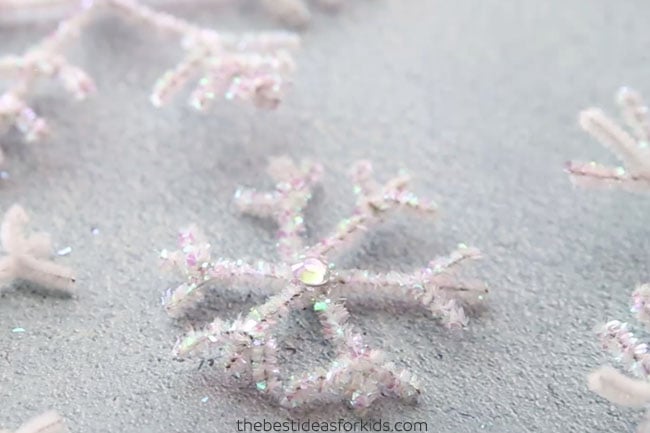 We love how easy this Christmas craft ornament is to make! You can make this into a STEM Christmas activity by printing off different snowflake designs and challenging kids to see which ones they can make! You can also just make them for fun and give as gifts. We love that this project doesn't require too many supplies!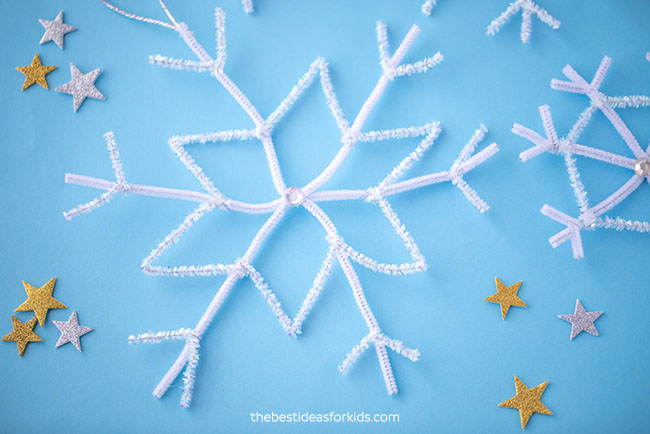 More Christmas Crafts
See over 50+ Christmas Crafts for kids – lots of easy crafts for kids.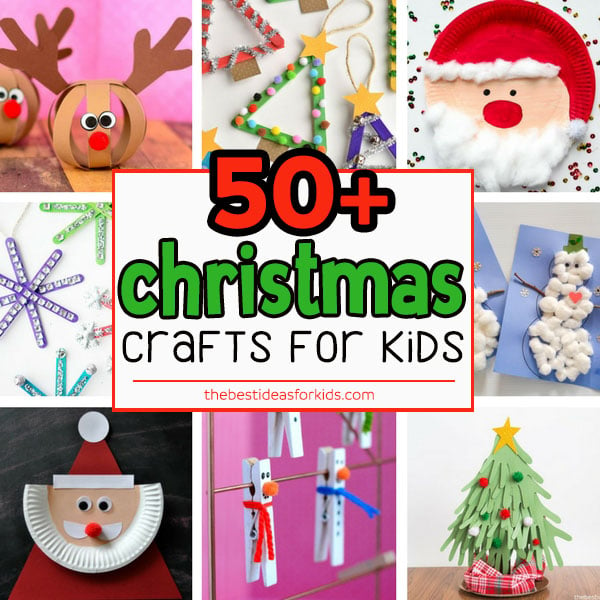 For more fun Christmas crafts, see these easy to make popsicle stick snowflakes! These are so fun to make, and we show you step-by-step in a video too!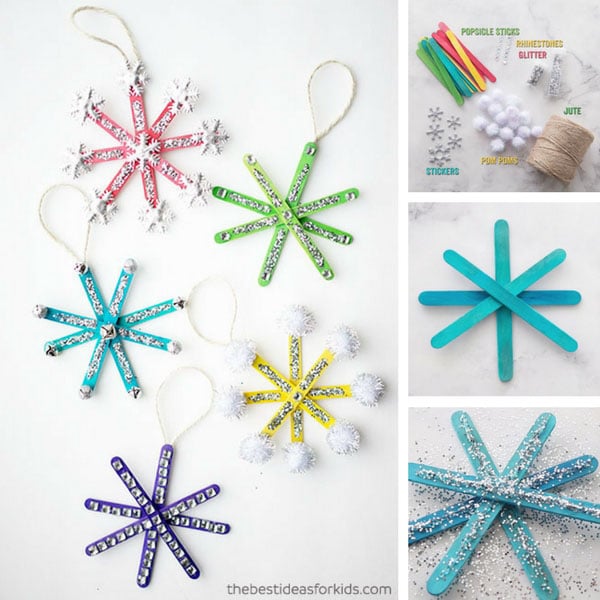 We have over 25+ salt dough ornaments featured here which make great keepsakes for Christmas!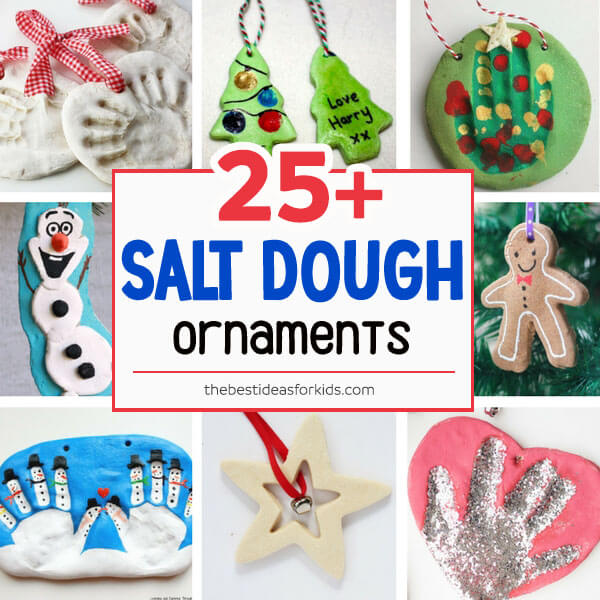 Pin this for later!