This clothespin snowflake craft is a really easy and low cost Christmas ornament craft! These were Frozen inspired with blue and white designs but you can decorate them in any color to match your Christmas tree!
RELATED: Popsicle Stick Snowflakes
These are a little harder to glue together, so if you're looking to make a snowflake ornament for younger kids, we'd recommend our popsicle stick snowflakes instead.
Younger kids can easily glue the clothespin pieces together and then adults can help hot glue the whole snowflake together.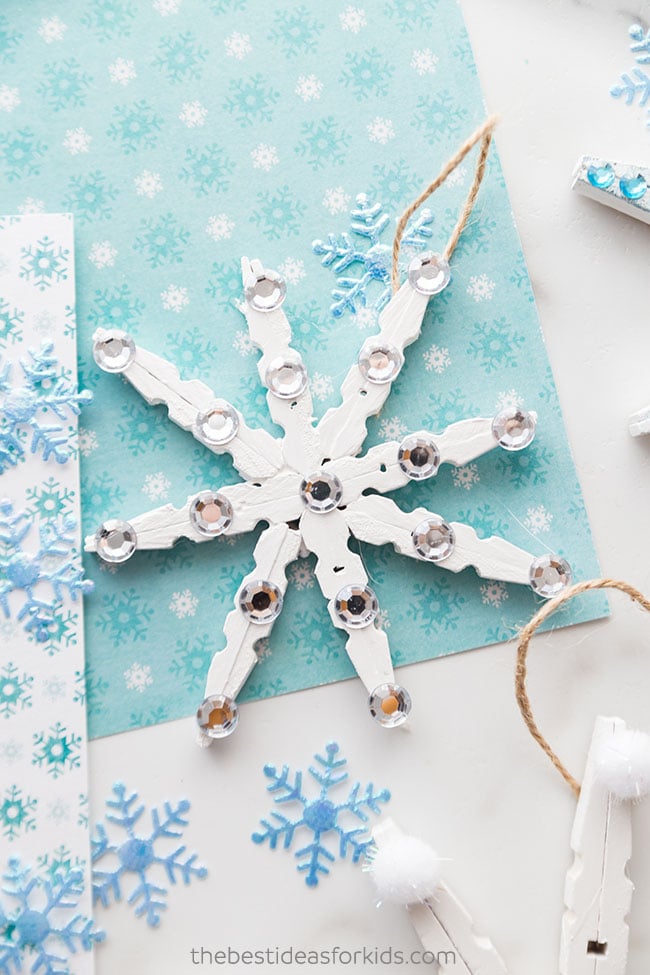 We love that these clothespin snowflakes can be decorated in so many ways! Use pom poms, rhinestone stickers, gems, glitter or sequins. You can even just paint them different colors.
Supplies Needed to Make a Clothespin Snowflake
Large and medium-sized clothespins
White acrylic paint
Glitter paint – fine blue
Snowflake confetti or fabric snowflakes
Small white pom poms
Blue or silver rhinestones
Tacky or extra-strong craft glue
Hot glue
Twine
Watch the full tutorial video here!
These are a low cost ornament you can make with kids. And we love how beautiful they are!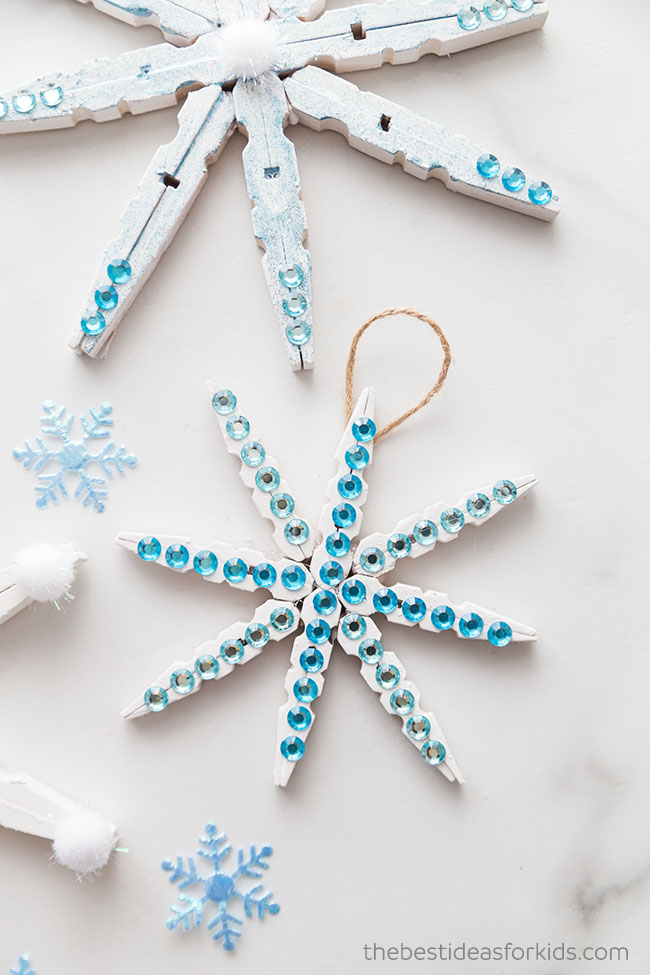 How to Make a Clothespin Snowflake
1. Break apart the clothespins and set aside the spring (adults only should do this part).
2. Add some extra-strong craft glue or tacky glue on one piece of the clothespin and place another piece on top.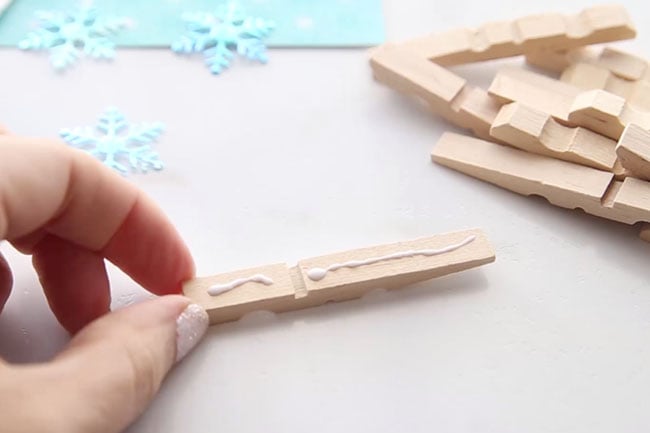 3. Press the pieces together firmly and allow the individual pieces time to dry. You'll need 8 clothespins to make 1 snowflake. We made some large ones and some medium-sized ones.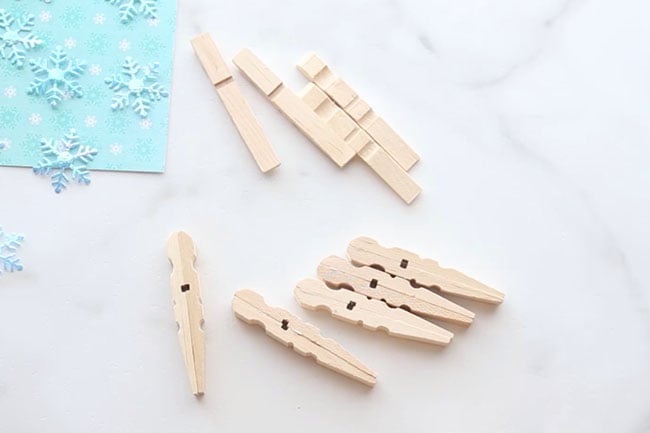 4. Glue the clothespin pieces together to form a snowflake. Start by gluing 4 pieces together first. You'll need to use hot glue for a stronger hold on this step. Adults should do this part for younger kids who cannot properly use a glue gun.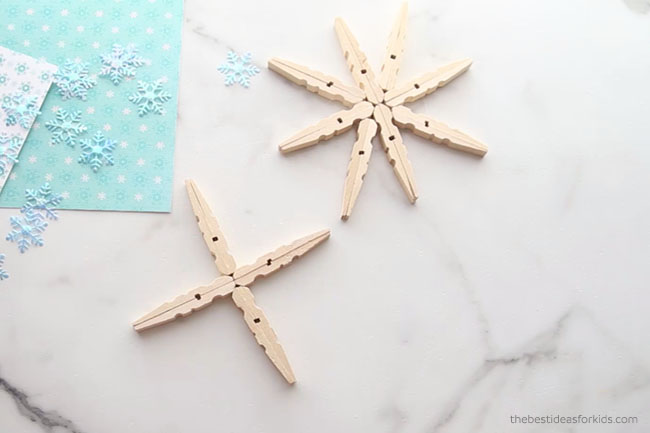 For the hot glue, try to only use a very small amount. A small amount goes a long way. If you use too much it will drip and create some hot glue bumps on the ornament.
5. Then glue the 4 remaining clothespin pieces in the open areas.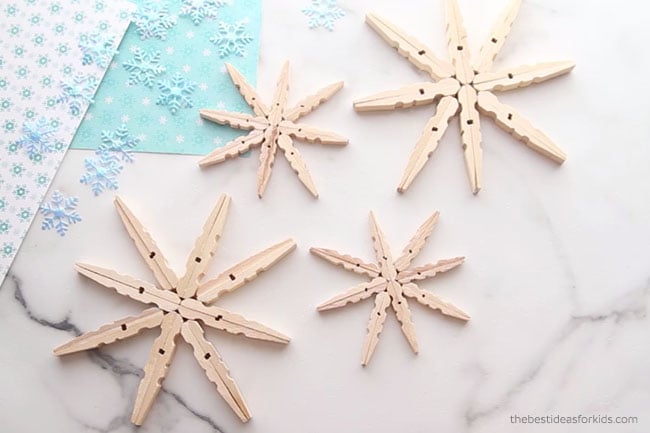 6. Once dry, paint the whole snowflake white. You can also paint them any color you'd like! Make them match your Christmas tree with red, green, silver or gold.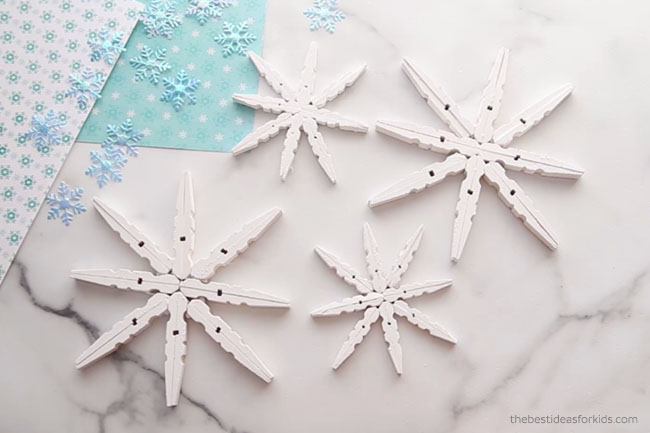 7. Now is the fun part! You can decorate the snowflakes with pom poms, rhinestone stickers, glitter, confetti, fabric snowflakes and more! We were inspired to make these look Frozen-themed with blue and white.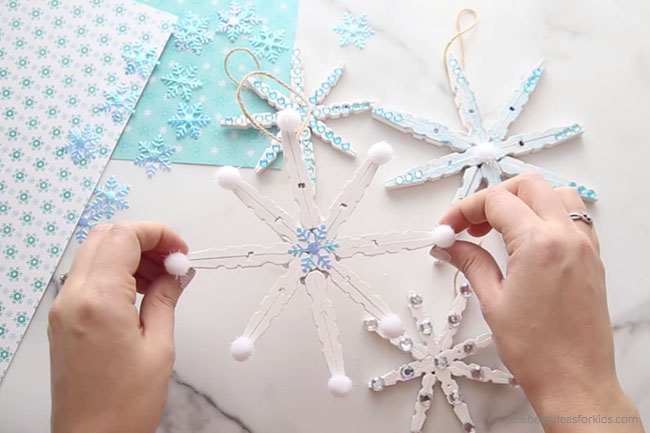 8. Finally, glue a piece of twine to the back for hanging.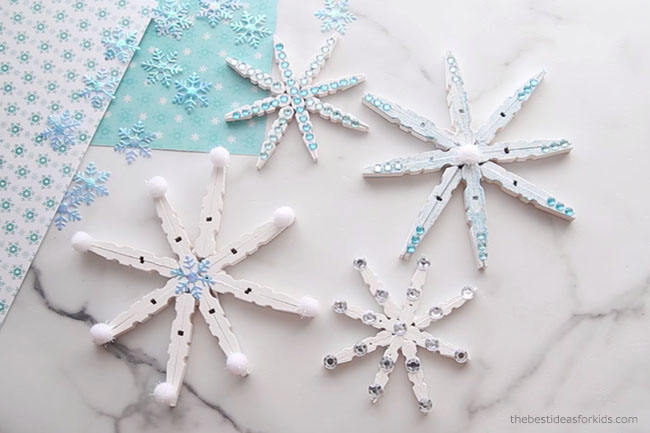 More Christmas Crafts
Try making these popsicle stick snowflakes too!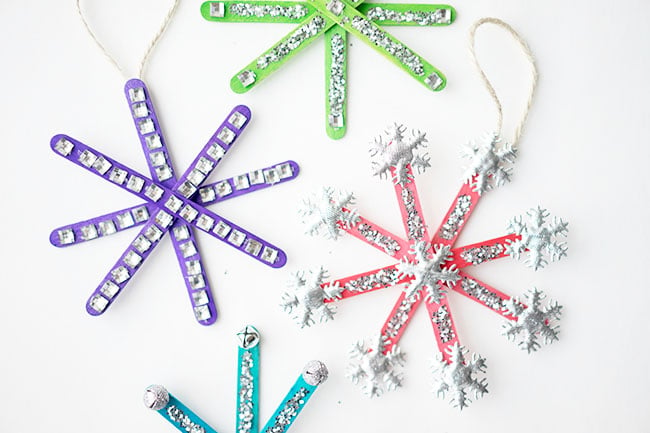 Or try these easy pipe cleaner snowflakes. No glue required!