This Winter has been surprisingly mild and there hasn't been a lot of snow outside. Whether you're in a climate with snow or not – sometimes it's too cold to venture outside to play with the snow! We're sharing 3 ways you can make your own fake snow for sensory play and crafts. You only need a few ingredients to make them. Or you can buy instant snow and just add water! We have two recipes that only require 2 ingredients – things you probably already have on hand! Kids will love playing with this fake snow or creating their own puffy painted snowman.
RELATED: Salt Painting Snowflakes
How to Make Fake Snow – 3 Ways
We're going to show you 3 ways you can make fake snow:
1. Snow that can be used in a sensory bin to create your own small world play scene
2. Snow you can paint with! We call this puffy paint and you can create your own puffy painted snowman
3. Instant snow – you can buy this and re-use it. Kids love it!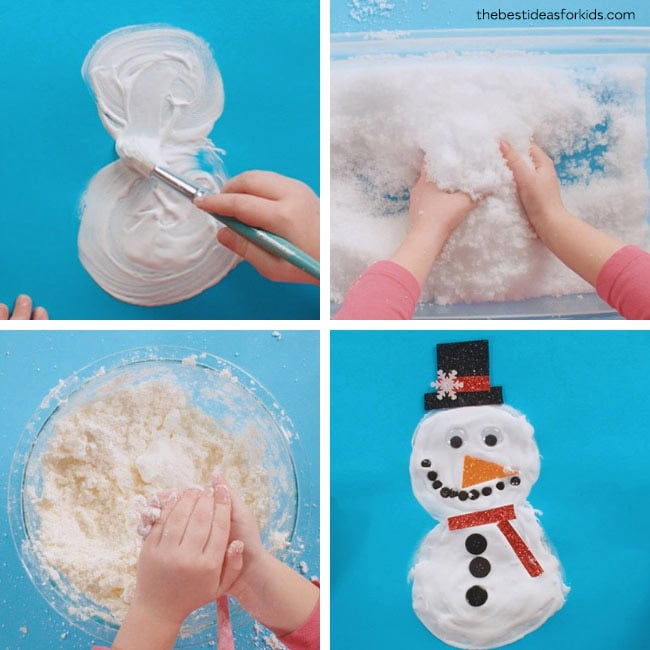 Watch the full tutorial video here before you get started!
How to Make Snow for a Sensory Bin
The first kind of snow you can make is really simple – you only need 2 ingredients: 
Cornstarch (or cornflour it's called in the UK)
You can also substitute the conditioner for lotion.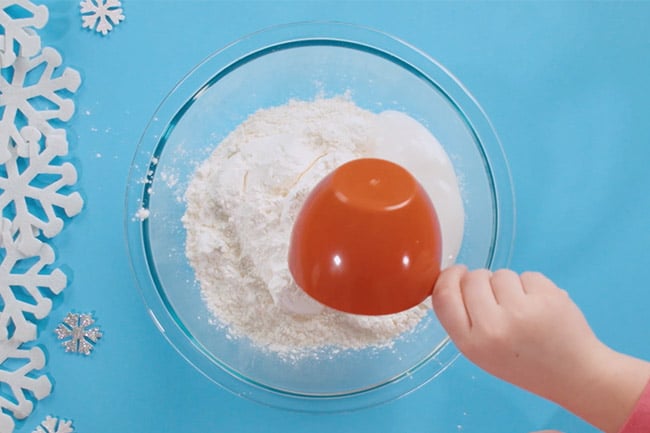 Add 1 bag of cornstarch (ours was 454 grams/ 16 ounces) with 1 cup of conditioner. We used unscented but a lavender or light scented version would also work.
If you find it's a little too sticky, just add more cornstarch and if you find it's too dry, add a little more conditioner.
You want the consistency to not be sticky. It should let you form it into little balls to make your own snowman!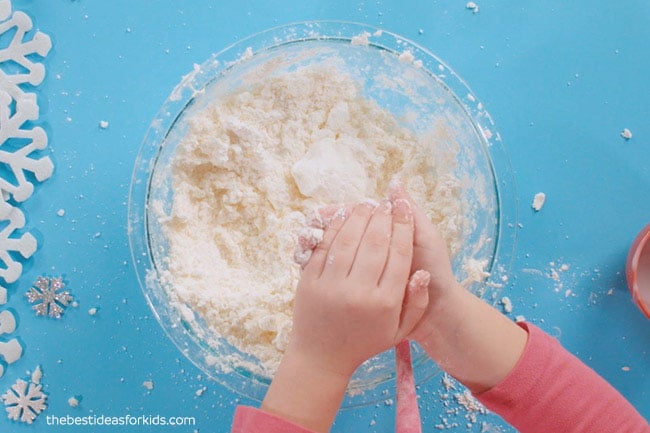 Now that your "snow" is made, you can place it into a bin to create your own small world play scene!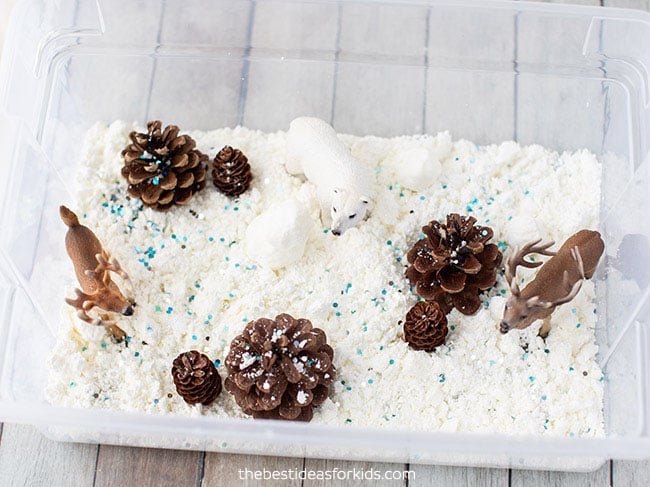 We added pine cones and small animals like a polar bear and deer to make our own Winter sensory bin. We added a little bit of glitter in as well.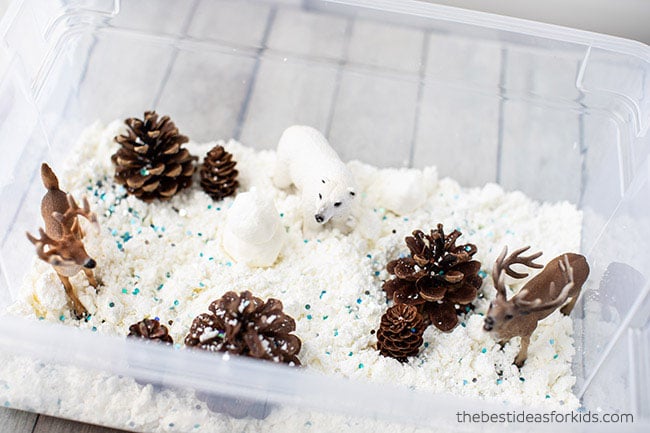 Store your fake snow so that it does not get exposed to air. This will help it from drying out. You can place some saran wrap on top. If it becomes really dry, add a little bit more conditioner and some extra water into it.
Puffy Paint Snow Recipe
Now we'll show you how to make an easy 2 ingredient puffy paint recipe. Use this "snow" paint to create your own snowman. Toddlers and preschoolers can make a melted snowman version by just painting the paper and adding their snowman face features.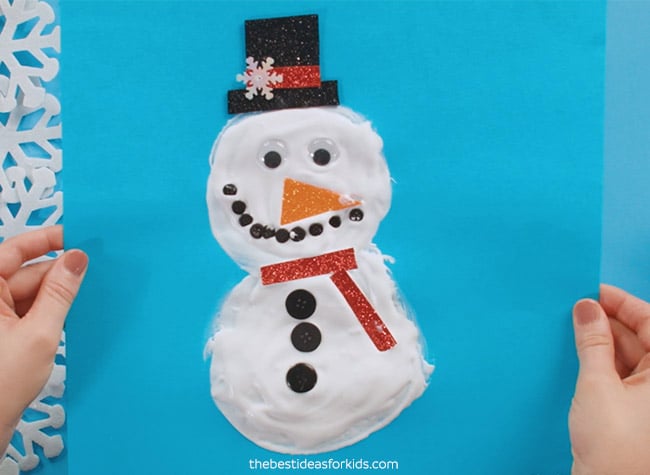 To make the puffy paint, add 1 cup of shaving cream and 1 cup of white glue. Mix together.
If you don't need as much, cut the recipe in half and do 1/2 cup of shaving cream and 1/2 cup of white glue. One cup will give you enough for 2-3 kids to make snowmen with. If you only have 1 child, cut the recipe in half.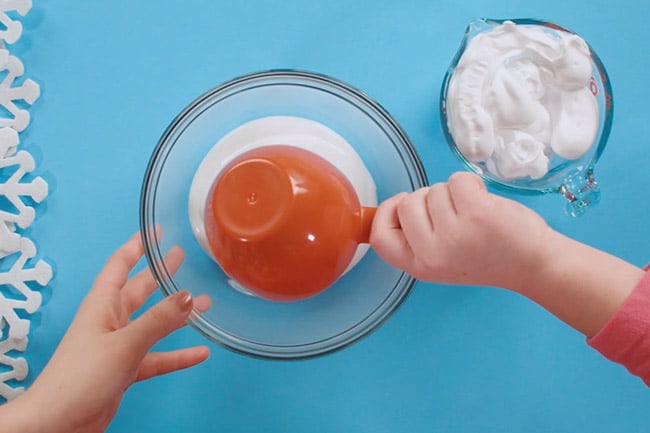 Now paint your snowman and add all of your snowman features! We used googly eyes, small buttons and glitter paper (red and black) to make the hat. We also used an orange foam glitter sheet to make the nose.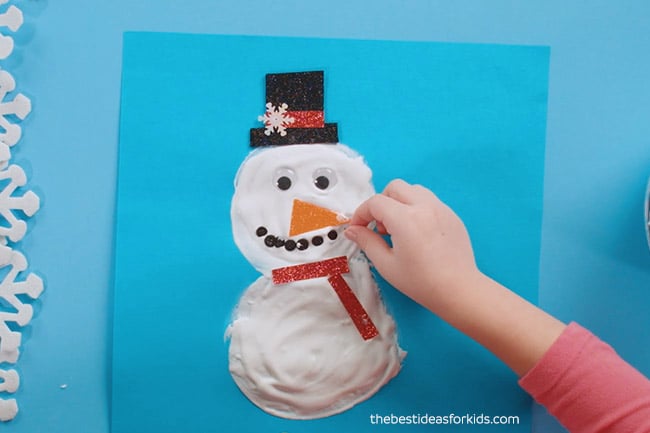 Instant Snow
Finally, if you'd rather not make your own fake snow you can buy instant snow! Instant snow is great for sensory bins and kids love playing with it and watching it grow. You just need to add water!
You can buy Insta-Snow here.  We recommend the brand Insta-snow since it's non-toxic and safety tested. The best part about Insta-snow is it's reusable. Just let it dry out and then you can add water back to it again and again! Always make sure to read the instructions and supervise while using.
The Insta Snow also includes an activity guide that explains the science behind the fake snow. And it's easy to turn into snow – just add water and watch it erupt in seconds. Kids are always amazed at this!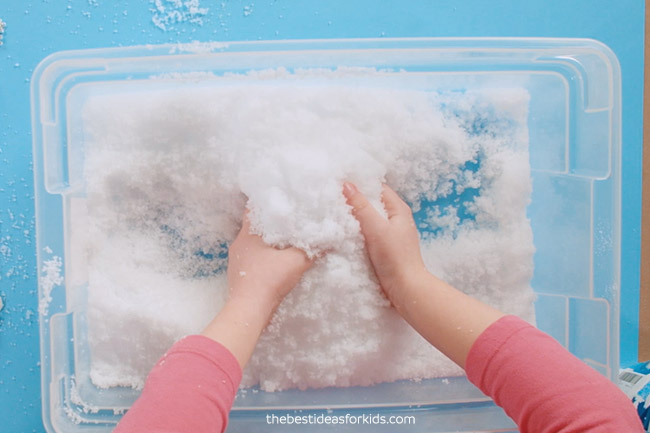 Have fun playing with all kinds of fake snow this Winter! Let us know which sensory activity your kids loved the best!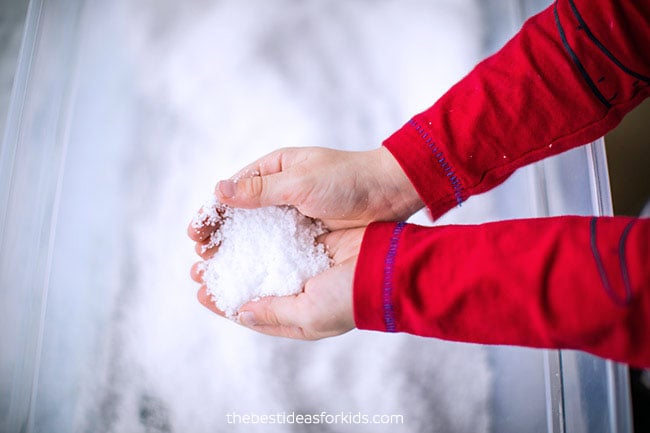 More Winter Sensory Activities
These salt painted snowflakes are really fun to make! You just need glue and salt and there is a free snowflake template available.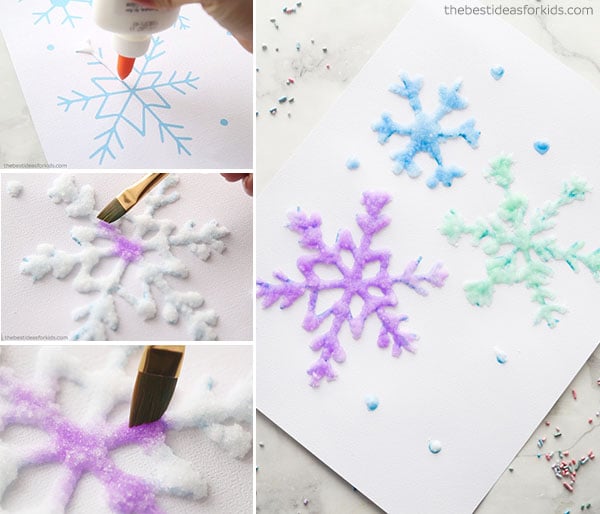 Make your own fluffy snowman slime!