If you're looking for an easy Easter craft for kids then you'll love this Popsicle Stick Easter Craft. Kids will love making these adorable bunnies. And you can customize them to be any color you'd like!
RELATED: Easter Crafts for Kids
Popsicle Stick Easter Crafts
Grab some popsicle sticks and you can create these adorable Easter bunnies! Make these with a handful of popsicle sticks or make a single popsicle stick bunny.
If you love popsicle stick crafts, see our recycled craft book for kids which has a whole chapter of popsicle stick crafts!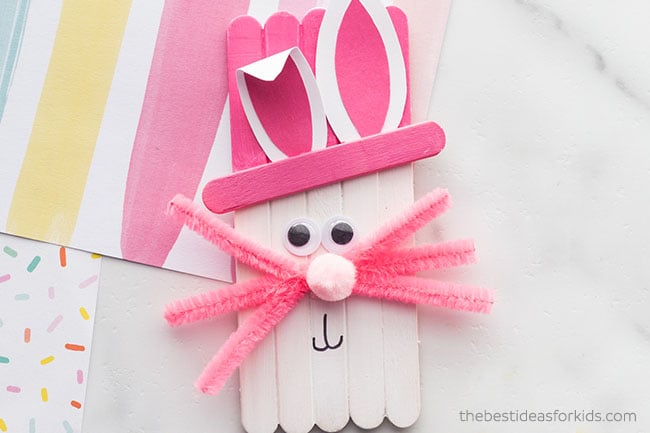 These popsicle stick Easter crafts are a breeze to make and a lot of fun to put together too. You can even turn these into ornaments for an Easter tree by adding some twine to the back.
Supplies Needed to Make Popsicle Stick Bunnies
Pipe Cleaners
Small pom poms
Fine point sharpie
Acrylic Paint – a color for the hat and white
Cardstock – white and a color for the inside ear
Extra Strong Non-toxic Glue – we like this brand. It works really well for gluing foam paper, buttons and pom poms. You can use this glue for the popsicle sticks as well just make sure you allow ample time for them to dry.
Watch the full video tutorial here!
How to Make a Popsicle Stick Easter Bunny Craft
1. First paint 5 popsicle sticks white and glue them together. You can add 2 mini craft sticks to the back to help glue them together.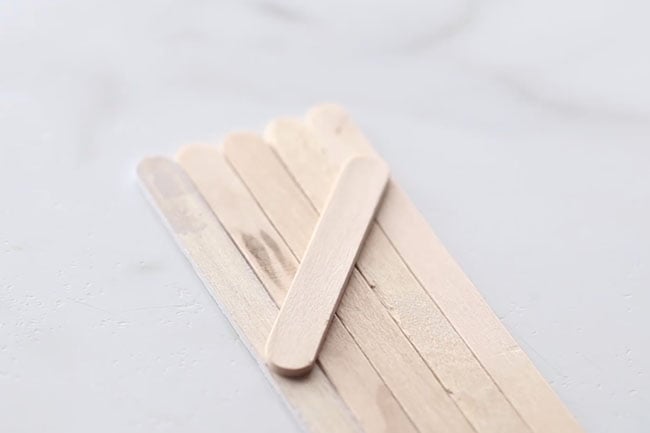 2. Paint a mini popsicle stick in blue, yellow or pink. Glue this to the front at an angle to make the brim of the hat.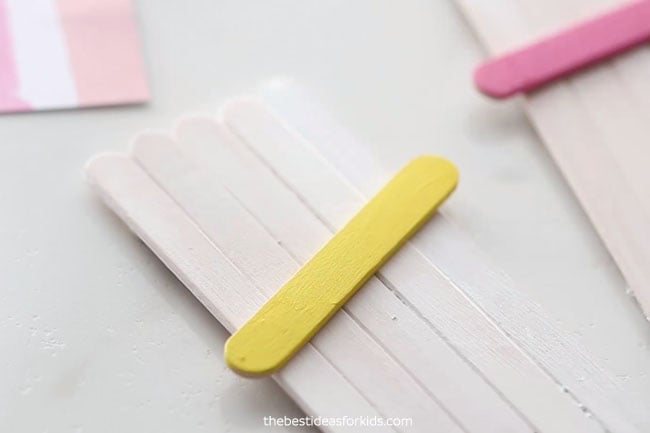 3. Paint the top part of the hat to match the color of the mini popsicle stick.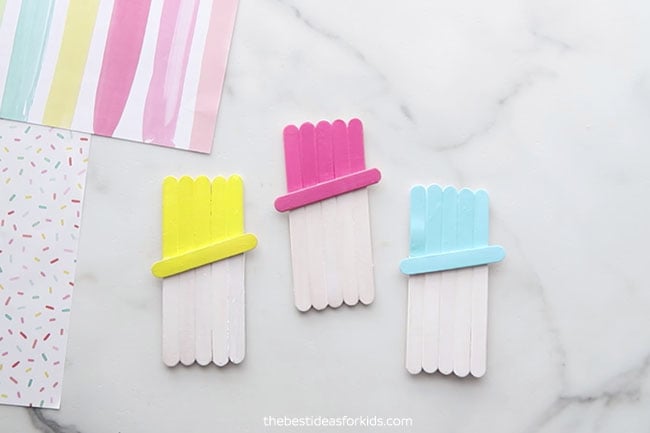 4. Make the ears.
Cut out 2 ear shapes from white cardstock. Then cut out 2 inside ear pieces from colored cardstock to match the hat color.
Glue the 2 ear pieces together.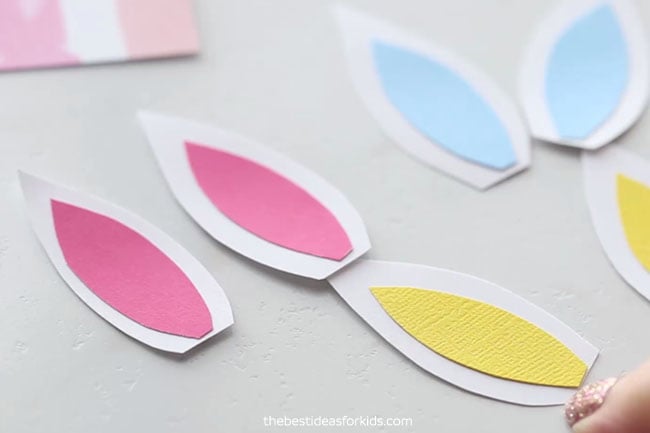 5. Glue the ears to the popsicle stick. You may need to trim the bottom of the ear on an angle to fit at the angle of the hat brim.
Curl one of the ears down.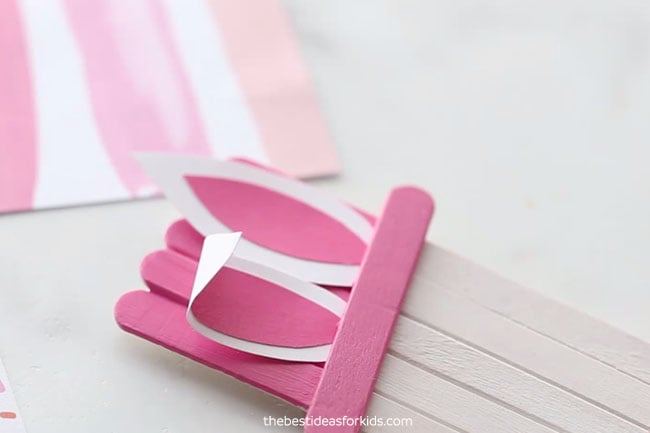 6. Glue 2 googly eyes on.
Twist 3 pipe cleaners together and glue under the eyes. Trim if needed to fit.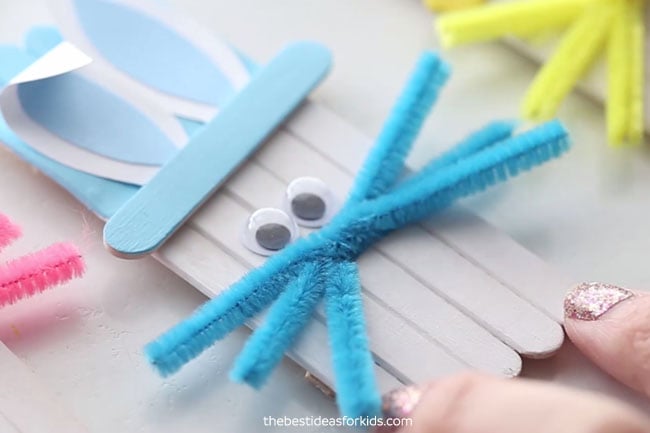 7. Glue a small pom pom to match on top of the pipe cleaner.
Finally, with a fine point sharpie, draw on the mouth.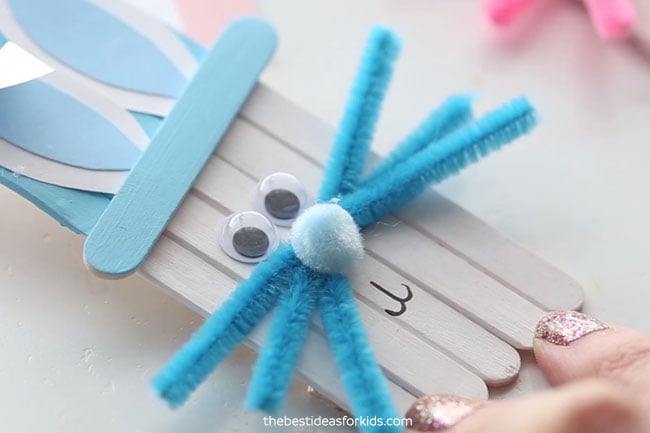 Your popsicle stick Easter bunny is done! Make one color or make a bunch of different colors and hand them out as gifts for Easter this year!
These would also look great on an Easter tree. To hang them, glue some twine to the back with hot glue.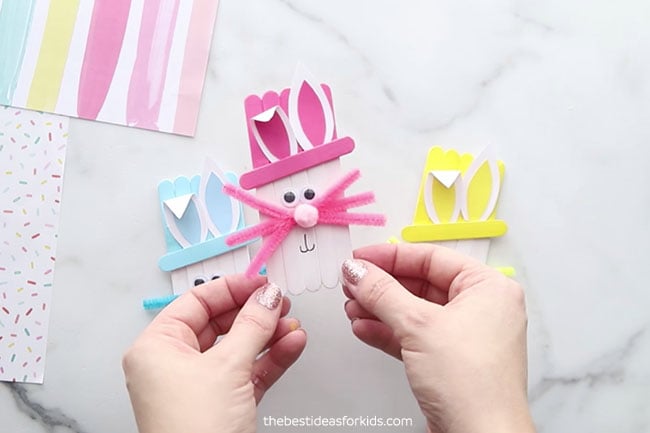 More Easter Crafts
See 25+ Easter Crafts for Kids – there is something for everyone in this list!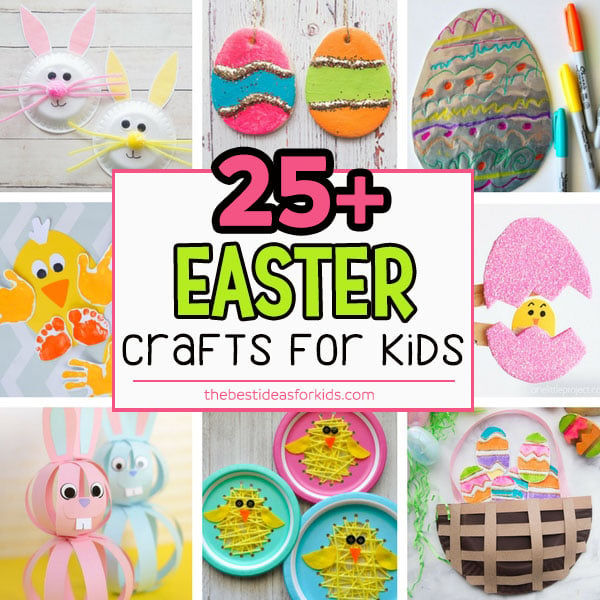 Get the free template to make this adorable Easter bunny card too!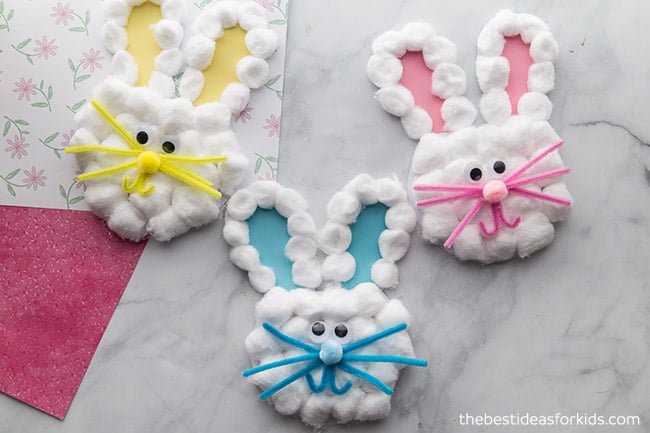 These pasta Easter eggs are great for kids to design their own Easter egg!