Popsicle Stick Easter Bunny Craft
All activities should be supervised by an adult. As an Amazon Associate I earn from qualifying purchases. This post may contain affiliate links.
Can you believe that Easter is just around the corner? It sneaks up on me every single year! Where I live, it's still usually pretty chilly outside on Easter. Sometimes it's difficult to come up with Spring activities when it still feels like Winter outside! This popsicle stick Easter Bunny craft is the perfect way to celebrate Spring coming with a fun activity to do indoors.
RELATED: Paper Plate Easter Bunny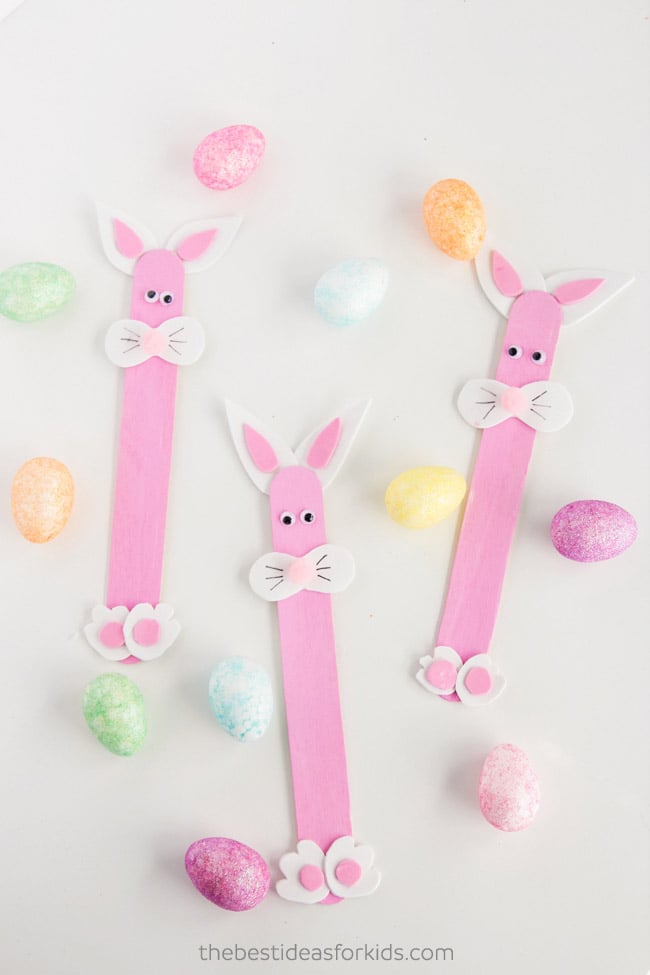 Popsicle Stick Easter Bunny
Kids of all ages will love helping to make these adorable bunnies and handing them out to friends, or using as a bookmark. Stick them in Easter baskets or use them as name cards on your Easter table! You will love how easy these are to create!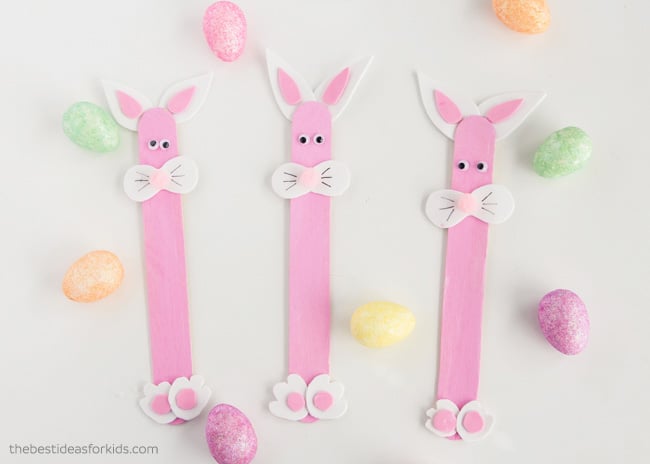 Our Easter Craft Videos
Watch some of our favorite Easter craft videos here for more great Easter craft ideas!
Supplies Needed to Make a Craft Stick Easter Bunny
Scissors
Craft glue  – we like this glue because it's stronger and better for gluing on pom poms and foam sheets
Black marker
Directions to Make Popsicle Stick Easter Bunnies
1.Paint one side of the popsicle stick pink and allow it to dry.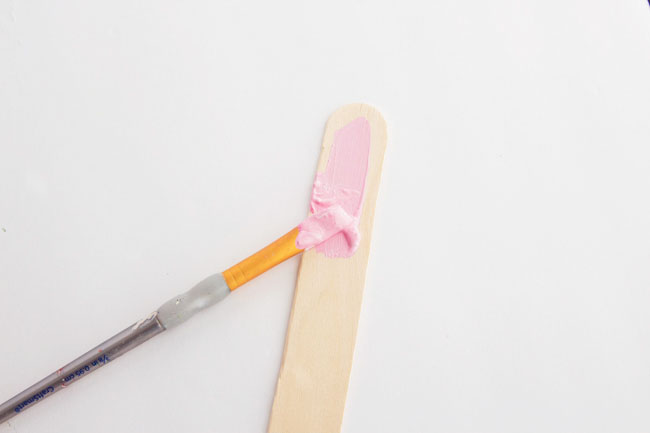 2. Cut the following shapes out of the white and pink foam sheets :
– 2 white ears
– 2 small pink shapes for the insides of the ears
– 2 white feet
– 2 pink circles for the feet
– 1 white shape for the cheeks.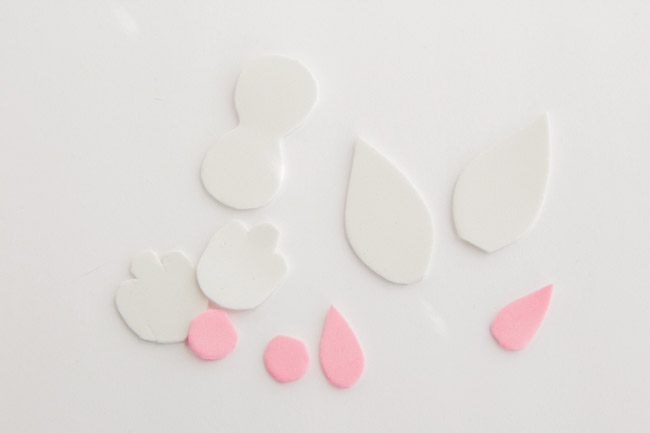 3.  Using the extra strong craft glue, begin gluing the shapes onto the craft stick. We like this glue because it's stronger and better for gluing pom poms and foam sheets.
Glue the ears behind the top of the head portion, the feet on the bottom and the cheeks near the top 1/3 of the craft stick. Glue the pink pom pom onto the cheeks for the nose.
4. Add the googly eyes as well as some whiskers onto the cheeks with a thin black marker.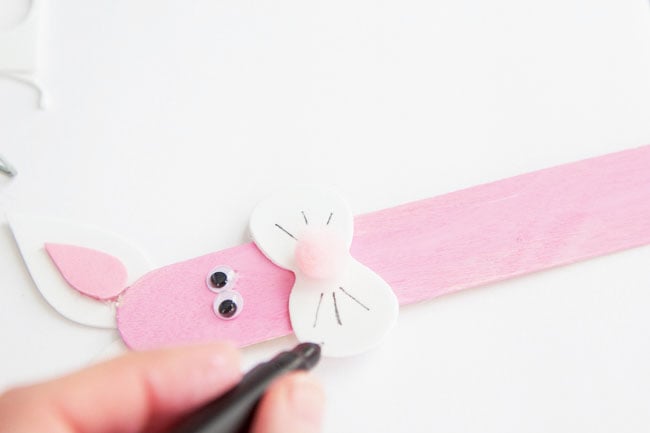 Each one will turn out slightly different with it's own little personality! You can even paint them different Easter colors – like baby blue, green and orange!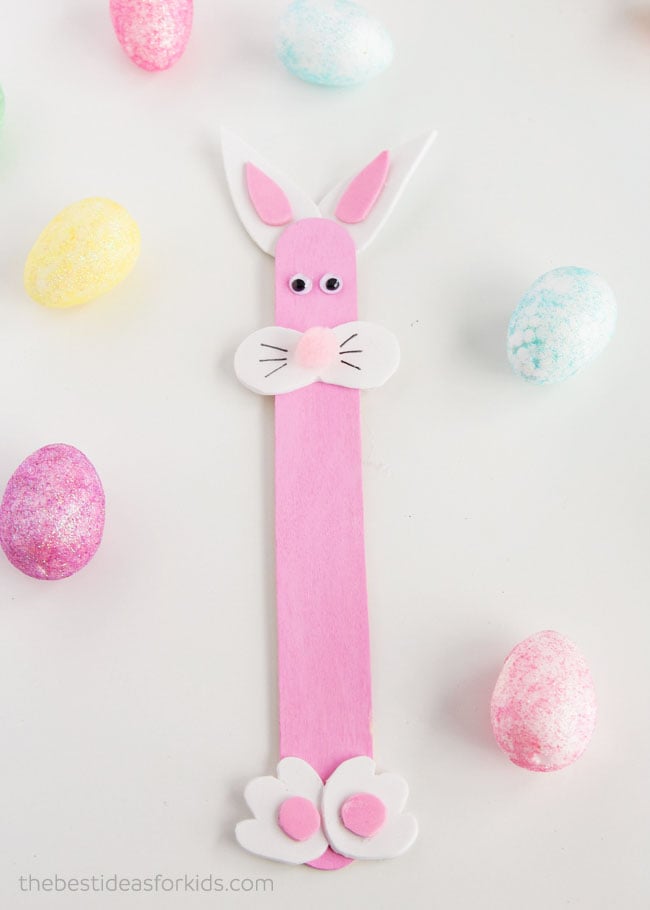 You will love making this popsicle stick Easter Bunny craft with your kids as spring approaches! This is just the thing to get you out of those Winter blues and in the mood for a new season!
To see more Easter crafts see our Easter crafts for preschooler page.
More Easter Bunny Crafts for Kids
See over 25+ easy Easter Craft Ideas for Kids.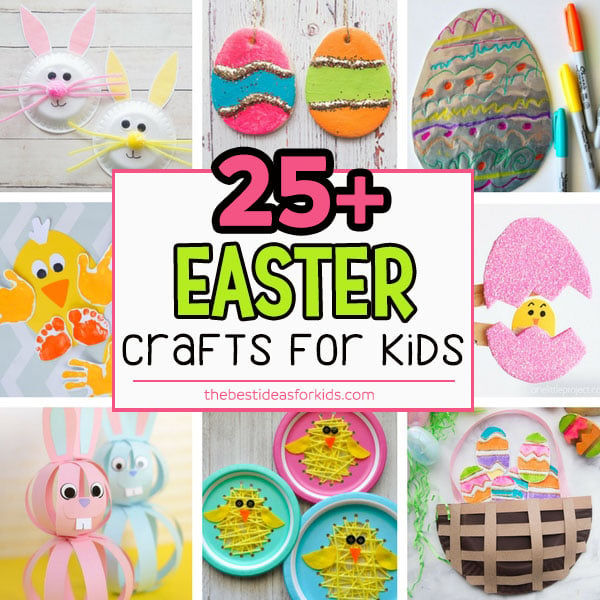 See these adorable Easter Bunny Paper Plates – these are so easy and fun to make!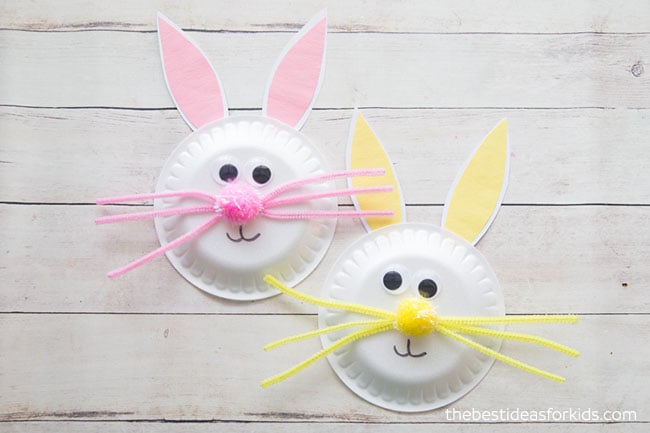 These Egg Carton Easter Bunnies are great for hiding in your Easter egg hunt. Kids will love making them too!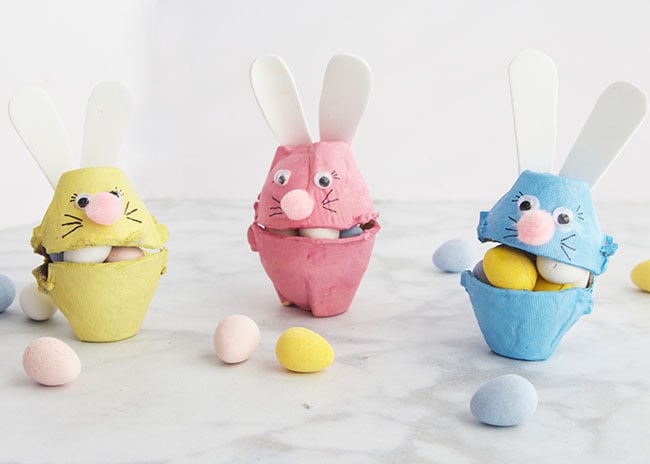 More from The Best Ideas for Kids