If you're looking for a fun way to do an Easter egg hunt – this Easter Day scavenger hunt is perfect for kids! We have both an indoor and an outdoor scavenger hunt to choose from! So even if the weather is not favorable, you can do a scavenger hunt on Easter morning!
RELATED: Christmas Scavenger Hunt
Easter Scavenger Hunt For Kids
Your kids will love doing this scavenger hunt for Easter! Grab the free printable scavenger hunt clue cards at the bottom of the post! No printer? You can still write out the clues on paper! Then add some stickers or drawings to them.
The clue cards print out on 2 pages. There are 12 clues in total.
Each card has a number on it so you know what order to place them in, but you can also change the order if you'd like.
The only cards that matter are the first and last clues. The rest you can mix up if you want to!
You can also add extra ones that you make on your own before the final clue if you want to make it longer.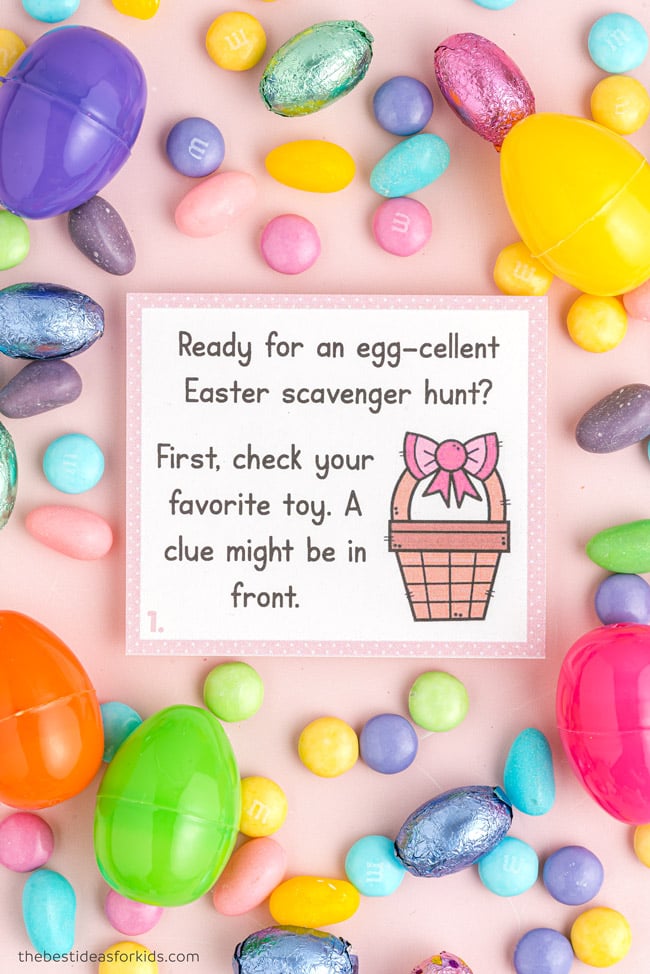 Indoor Scavenger Hunt Tips: 
You can make the indoor hunt more challenging for older kids by making the hiding spot a little trickier. For example, "look by the laundry hamper" you can place inside the hamper. But for younger kids you can place it on top or beside it.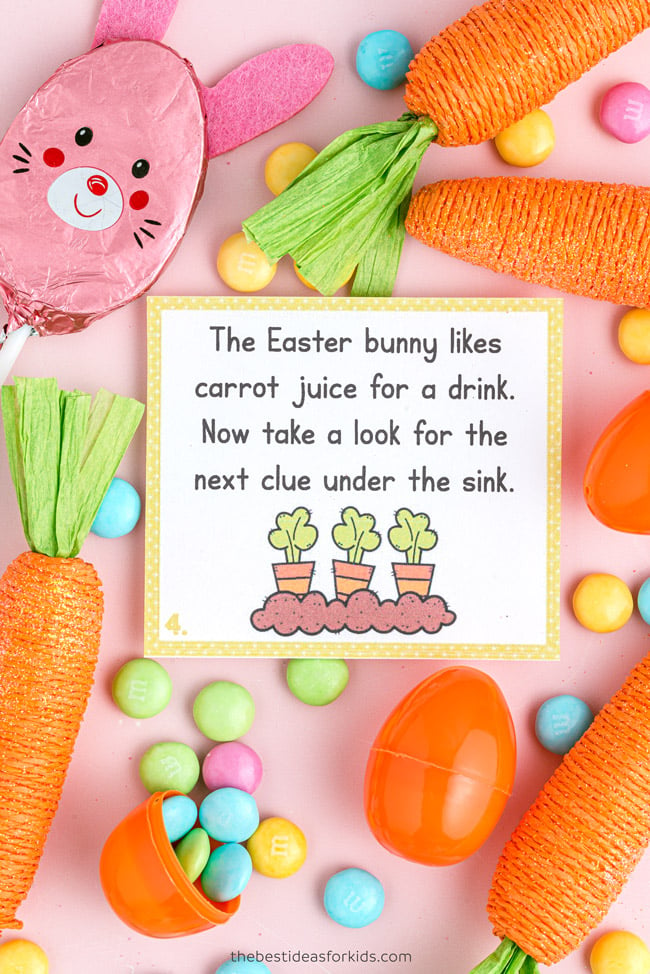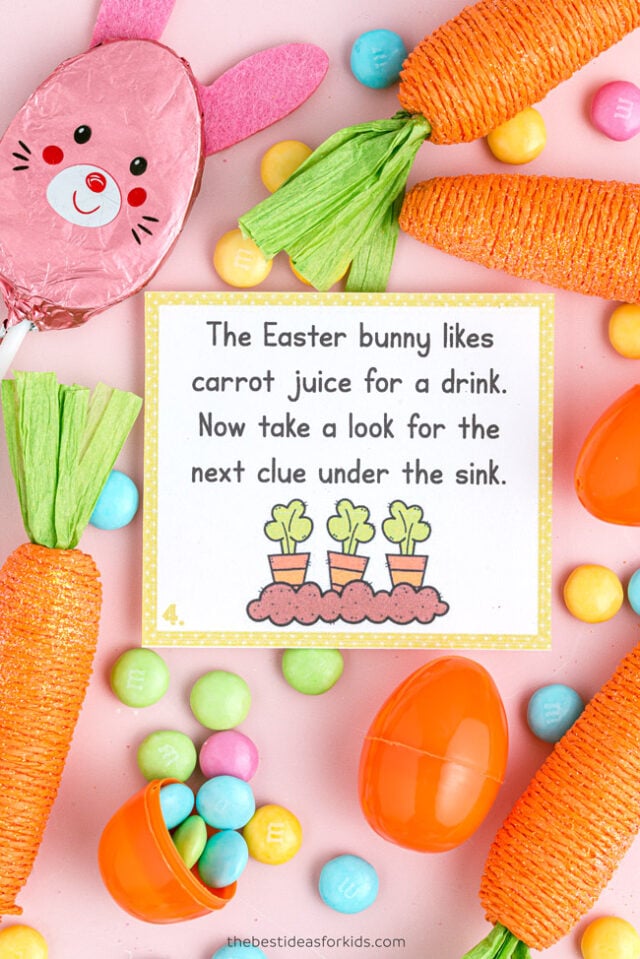 Outdoor Easter Scavenger Hunt Tips:
We have 2 fill in the blank cards as part of our outdoor scavenger hunt. Because outdoor spaces can vary quite a bit, I wanted to leave a few clue cards open. That way you can add your own unique things you may have in your backyard.
Some options can include:
basketball net
vegetable garden
deck
fountain
shed
toy storage bin
sand pit
If there is a card that does not apply to you, you can simply remove this card from the set and do 11 cards, or you can cover up the location with some white-out or paper and add a new location to it. I tried to keep the locations as generic and broadly applicable as possible.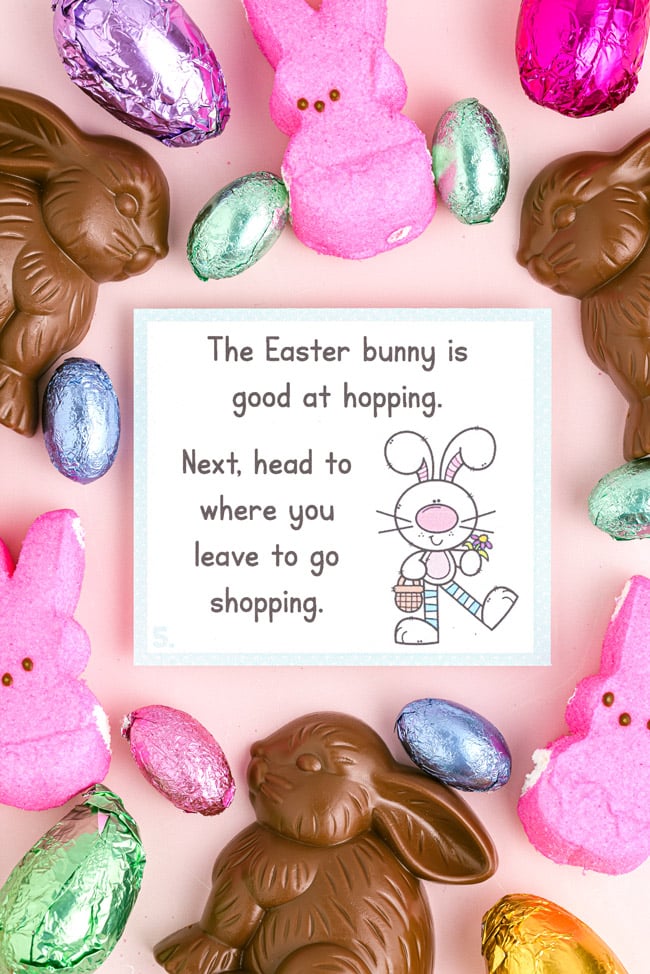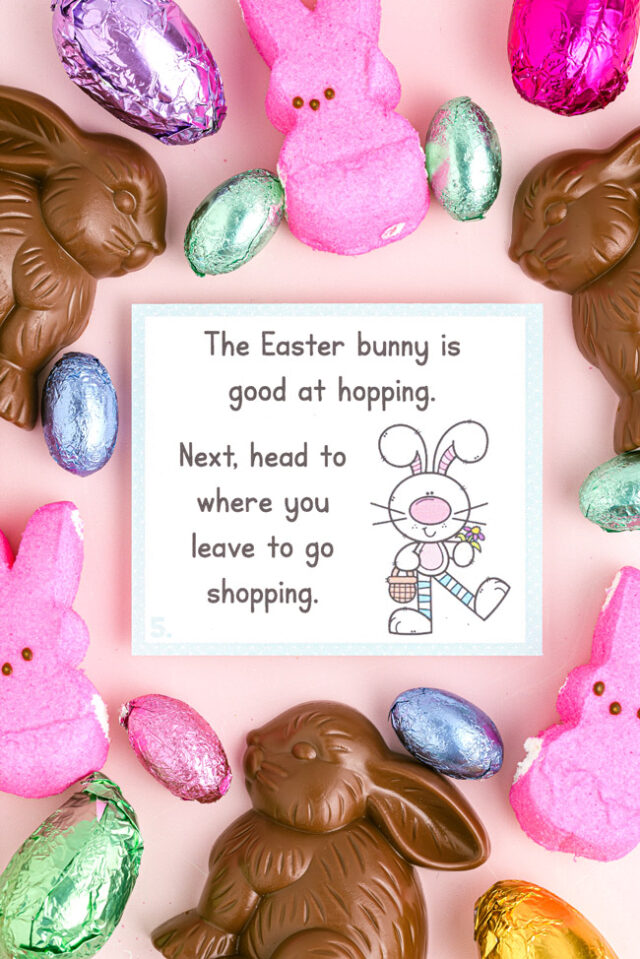 Additional information for a few of the hiding locations for outdoors:
Card #2: Put on a chair or bench you have outside.
Card #10: Place near your child's bike. If they don't have a bike you could also do a scooter, wagon, or stroller.
Card #11: Place near the garden hose or outdoor faucet.
At each clue card you can put a small prize with the card and then do a bigger prize at the end. Alternatively, you can just do a large Easter basket prize at the end. Either way, kids will love doing these scavenger hunts!
If you're looking for a fun prize for the end – see our craft books for kids! They make the perfect Easter gift.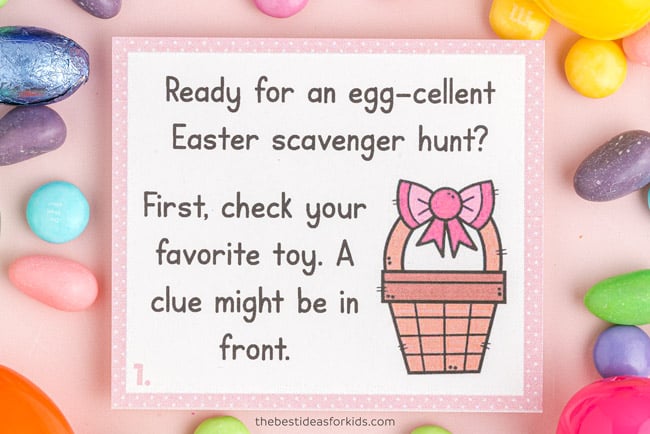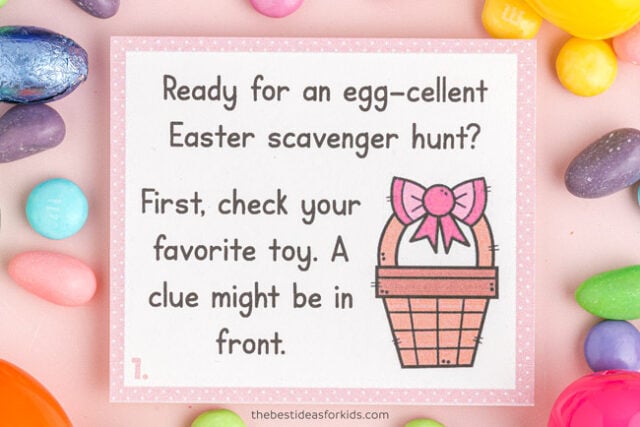 How to Set-Up the Easter Scavenger Hunt
First print off the clue cards (the link to the clue cards is below)
1. Hide the 2nd clue first based on the 1st clue details.
2. Continue to hide all of the clue cards based on the previous clue hints until you are left with the last one.
3. If you want to make the scavenger hunt longer, you can add extra cards of your own before the last clue.
4. When you're ready to start the hunt, hand the first clue to your kids.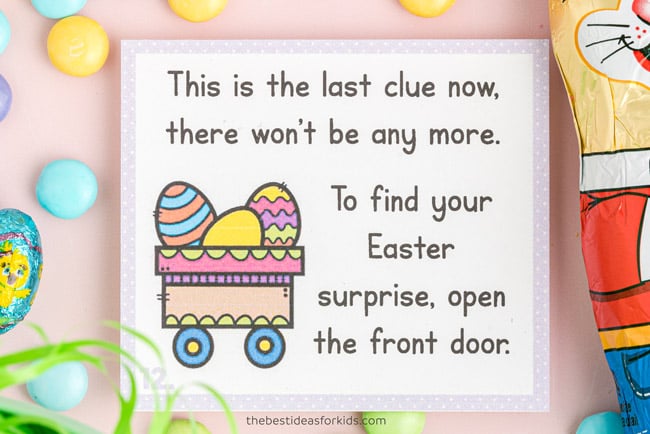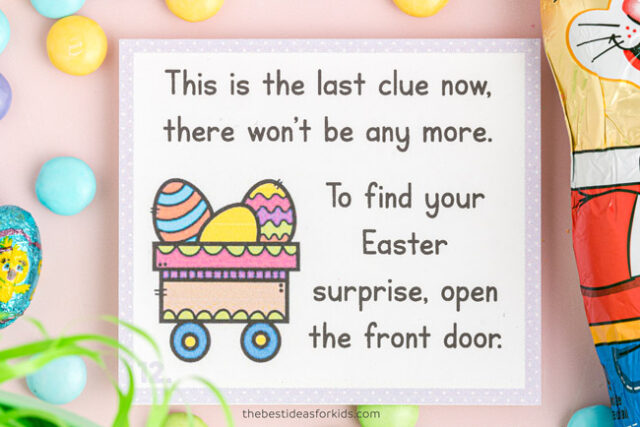 Free Printable Easter Scavenger Hunt Clue Cards
Grab Your FREE Indoor Scavenger Hunt Clue Cards Here!
Grab the FREE Outdoor Scavenger Hunt Clue Cards Here!
And for the perfect Easter gift to add to baskets, see our craft books for kids!
If you love our scavenger hunts, then also check out our free printable Easter BINGO! It's another fun activity you can do on Easter morning!
More Easter Activities
See over 25+ easy Easter Craft Ideas for Kids.