Just in time for Christmas – this is a really easy and fun craft for the kids. Learn how to make this pretty and glittery Salt Dough Handprint Ornament to place on your Christmas Tree! What I love most about these salt dough ornaments is that they're made from all ingredients you have in your kitchen! And because of this it's completely safe for the little ones to work with.
If you're looking for another ornament to make with the kids – also check out our Popsicle Stick Snowflake Ornaments. They are so easy and fun to make!
 Be sure to watch the video tutorial here before getting started!

Salt Dough Handprint Ornaments
With Christmas coming up, We love focusing our crafts on the holiday season. We have always seen Salt Dough Handprint Ornaments before and thought they were a really nice way to make a memory of your little one's hand to cherish on the Christmas tree. You could easily make a new one every year and have a nice memento for the Christmas tree you can compare to each year! Simply add the year on the back of the salt dough ornament to keep track of the different years.
My little one especially liked helping to make this salt dough recipe. Part of the fun is them being able to stamp their hand into the salt dough! This was one of the best parts. My son also had fun decorating the salt dough ornaments by painting it. Of course if you want a really nice keepsake – you may want to make a few extras to paint one that is fully painted (my son's only got half painted).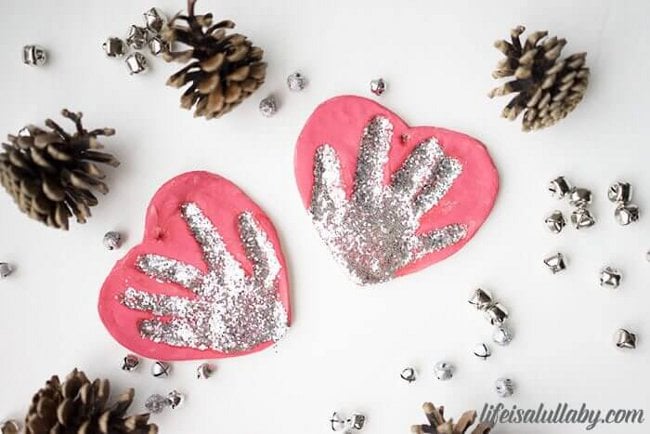 The sky is really the limit for decorating this Salt Dough Handprint Ornament. We decided to paint it red using acrylic red paint but you could choose green or even silver or gold. Then you can decide to leave the handprint portion of the salt dough ornament either natural, or you could paint this a different colour or use glue and add glitter to it like we did. There's so many different ways to decorate this ornament! Another idea is you could apply some glitter stickers around the outside of the handprint also.
Once you are done, don't forget to seal with either mod podge or a clear glaze spray. We like this spray for a durable finish. Adults should do the spraying and always follow directions of the product chosen. Sealing the final ornaments will help stop them from cracking in a few years.
Finally, just a friendly reminder to keep these out of reach of pets (they can be toxic to dogs especially) and small children that would want to put them in their mouths.
How to Make a Salt Dough Handprint Ornament – Easy Salt Dough Recipe!
Salt Dough Handprint Ornament
Ingredients
4 cups all purpose flour
1 cup salt
1.5 cups warm water
Instructions
Preheat your oven to 200 degrees F.
Combine all of your ingredients and knead for 10 minutes. If your dough is too dry add a little bit more water in and continue to knead.
Roll out the dough to a thickness that you'd like your salt dough ornament to be.
Using a large cookie cutter, cut out different shapes for your salt dough ornament.
Have your child place their hand into the salt dough ornament. If the dough is too hard to get an imprint it may be too dry and you can continue to knead by adding in a little bit more water.
Using a straw, make a hole in the top for where you want to hang your salt dough ornament.
Bake for 1-2 hours. If your ornaments are still doughy, put back in for another hour. (It will depend on your thickness how long you need to bake for. The thinner ornaments will take less time but thicker may take more).
If you encounter too much puffing, roll out thinner ornaments and this will help reduce the puffing. If the ornament is still a bit doughy, bake for longer or let sit out a few days to harden before decorating.
Once cool, you can decorate by painting with acrylic or kids paint.
To make the hand glittery, fill the handprint with glue then sprinkle glitter on top of the glue, shake off the excess and let it dry.
Spray with a clear glaze finish or finish with mod podge.
https://www.thebestideasforkids.com/salt-dough-handprint-ornament/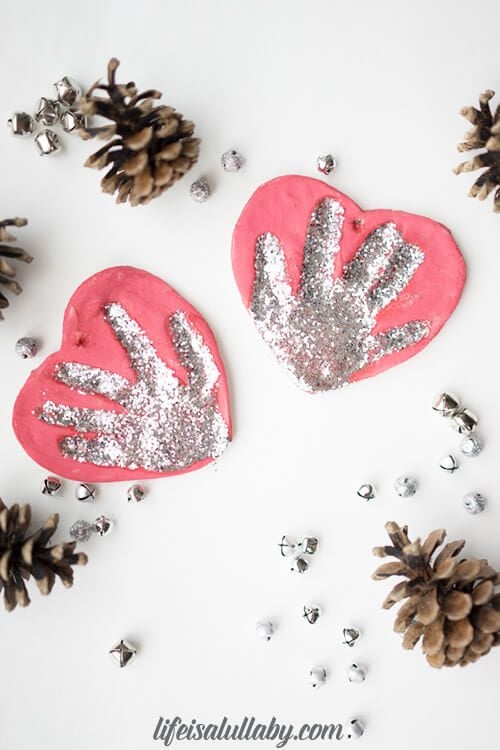 There you go – that's all it takes to make your very own Salt Dough Handprint Ornament. Pretty easy, right?
Looking for more Christmas fun activities and crafts for the kids? 
See over 25+ of the best Salt Dough Ornaments here for more great ideas!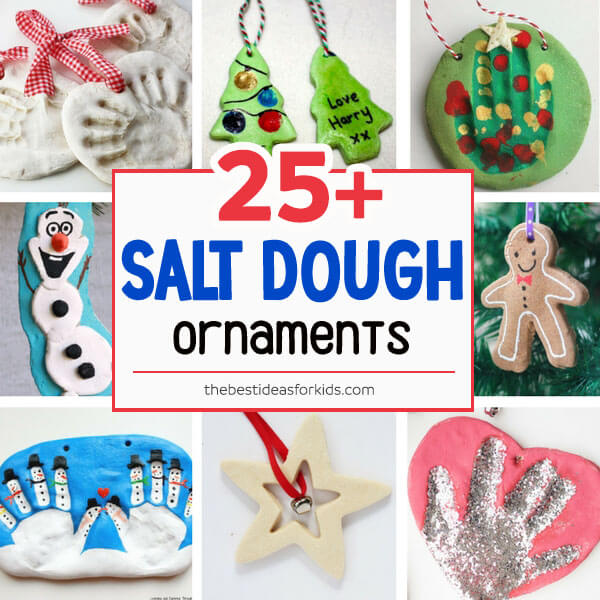 These star salt dough christmas decorations are the perfect gift idea for kids to make for Christmas too!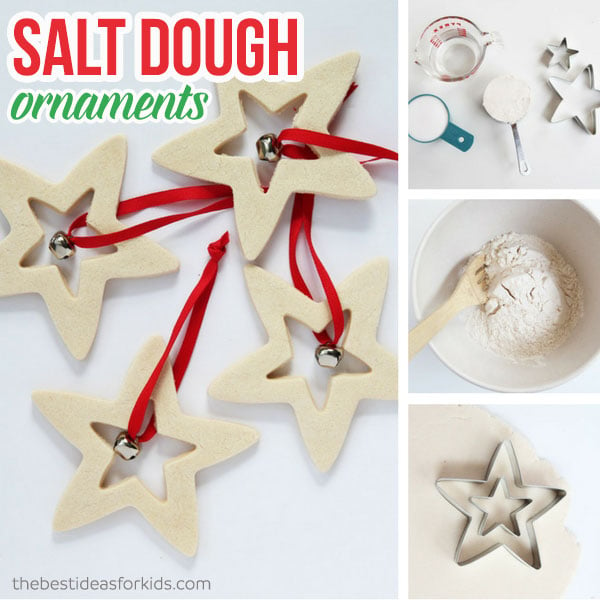 Let's get social! Follow The Best Ideas for Kids on Facebook, Pinterest or Instagram
This post may contain affiliate links, read our Disclosure Policy for more information.
All activities should be supervised by an adult. Please read our Site Terms for more information.