Do you have any Christmas traditions? Making a Christmas Eve Box can be a fun Christmas tradition for your family. This post will cover what a Christmas Eve Box is and what items you can include inside your box.
RELATED: Letter to Santa Templates
Have you had fun trying some of our Christmas crafts? If you're looking for some fun and easy craft ideas be sure to see our post which has over 50+ Christmas Crafts for Kids.
Christmas Eve Box
When we first learned about this tradition we thought it was such a fun idea we wanted to do a tutorial on how to make your own personalized Christmas Eve box. We have also included free printables of a Santa Letter, Reindeer Food and Snowman Soup for you to print out and make your box extra special!
See the bottom of the post to get the free printables.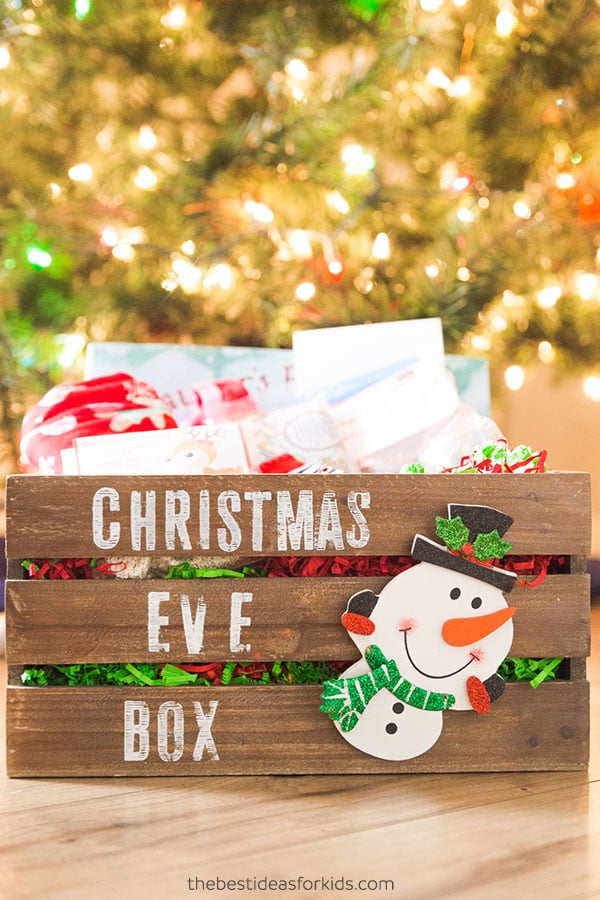 What is a Christmas Eve Box?
A Christmas Eve Box is a small box or crate gifted to your children the day before Christmas. It can also be given the day after Thanksgiving or the first day of December.
It can be filled with whatever goodies you like! This often becomes a yearly tradition and makes the night before Christmas something special to look forward to! We love how this makes Christmas even more magical and fun for your little ones.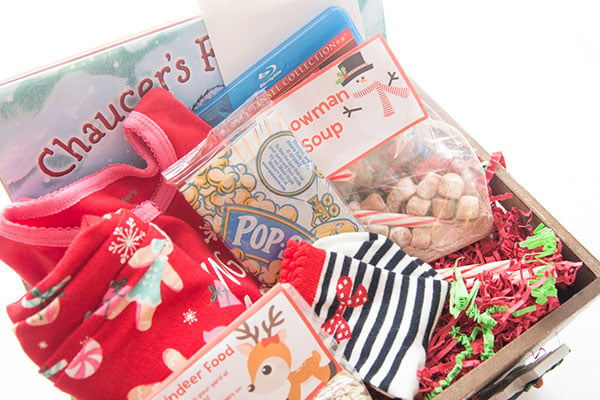 What To Put In A Christmas Eve Box
The options are endless on what you can put in your box, but here are just a few of our favorite ideas:
Reindeer Food (you can grab the Reindeer Food, Snowman Soup & Letter from Santa free printables by subscribing to the form that has the free printable preview at the bottom of this post.)
Snowman Soup
Letter from Santa
A Craft Kit – or grab the supplies from one of these easy and fun Christmas Crafts for Kids
An Ornament – or make one of these easy Salt Dough Ornaments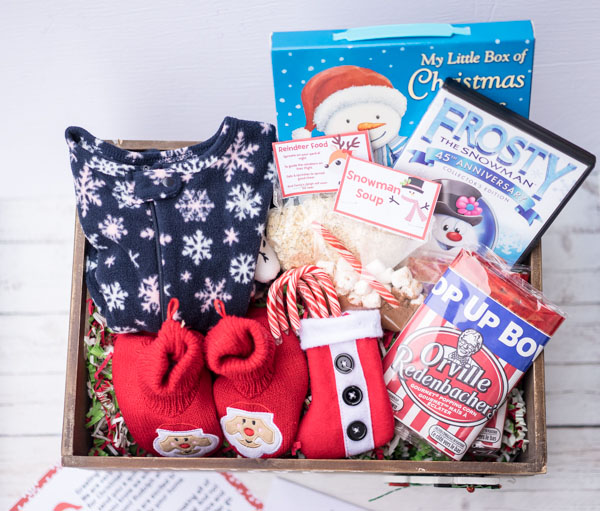 Here are some ideas from our readers:
"I put in Christmas PJ's, a Christmas book and DVD, a Christmas cup, popcorn and coloring book or dot to dot. I keep the same box every year and stick a photo of that year inside the lid. Then after Christmas, I use the boxes for decorations. This year I'm also putting in a little decoration each so they can start their own collection." – Daniela
"We've started doing this the last few years. They get new pajamas, a film and they get some Christmas crafts to do. Also a little Christmas cuddly to have to cuddle with during the film and a new tree decoration." – Jodie
Supplies for a Christmas Eve Box
Here are the supplies you'll need to make your own Christmas Eve Crate:
Ornament or Embellishment for the Box
Items to put inside your box like PJ's, movie, book, popcorn, and our free printables
Clear Treat Tags for your reindeer food and snowman soup
For the Santa letter: envelope & paper
Free Printables – You can grab the Reindeer Food, Snowman Soup & Letter from Santa free printables at the bottom of this post.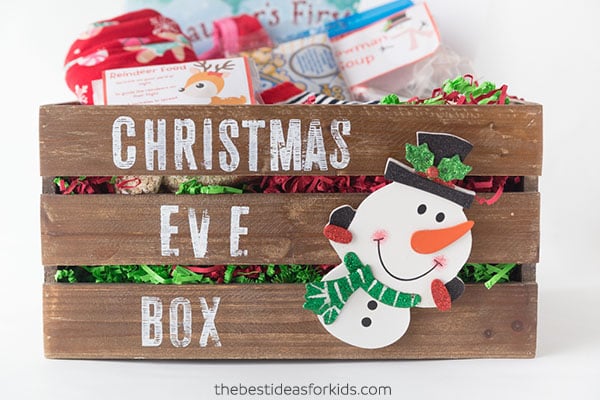 How To Make a Christmas Eve Box
If you'd rather not make your own you can get lots of personalized Christmas Eve boxes here.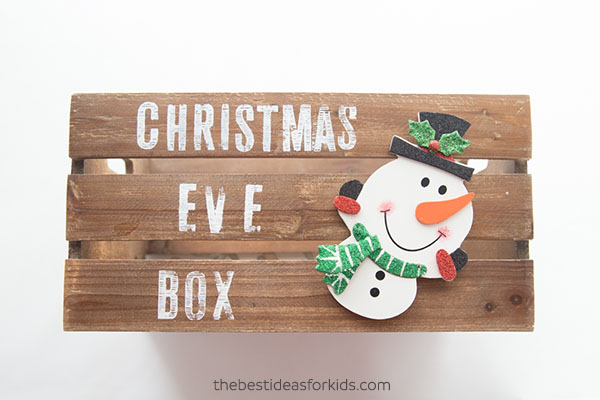 1. Using your stencils (we purchased ones like these), paint on the words "CHRISTMAS EVE BOX" to your crate.
Use very little paint and dab very lightly to avoid bleeding through the stencil. We love that the crate is rustic looking so the letters don't have to look perfect!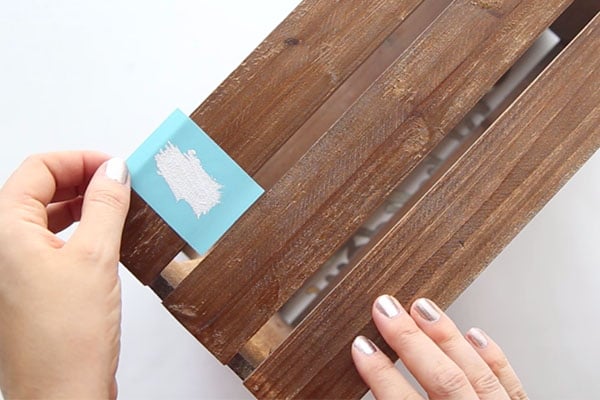 2. Glue on your ornament decoration to the box.
We found this snowman ornament from Michaels but you could use a large ribbon or any other Christmas embellishment.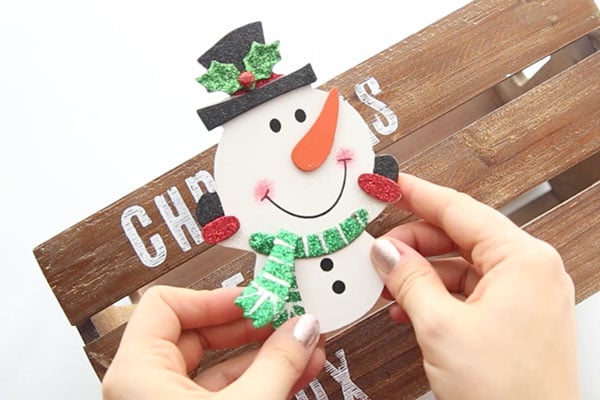 3. Make your reindeer food and snowman soup!
Skip down to the bottom of this post to grab your free printables.
To make the reindeer food: Mix oats and red & green sprinkles and add to a treat bag. Staple your free printable treat tag on top.
Note: when sprinkling outside, be sure to sprinkle on a deck or patio so you can sweep up afterwards. This ensures no wildlife accidentally eat the reindeer food.
To make the snowman soup: Add in your hot cocoa mix, handful of mini marshmallows and a candy cane to your bag and staple your treat tag on top.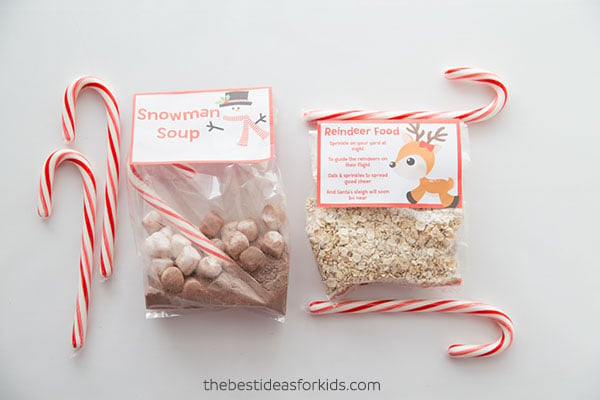 4. Fold your letter from Santa and place in an envelope.
Grab the free printable letter from Santa at the bottom of this post.
If you need templates for kids to write their own letter to Santa, you can grab our free letter to Santa templates.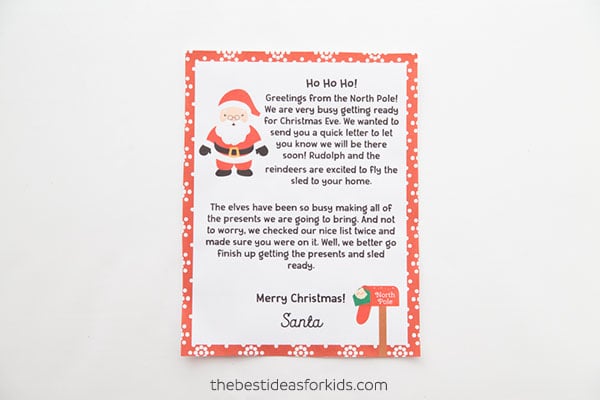 5. Now add all of your elements into your crate!
PJs, movie, book, snowman soup, reindeer food, etc
Free Printables for a Christmas Eve Box
More Christmas Crafts
Want more fun Christmas ideas? See over 50+ Christmas Crafts for Kids!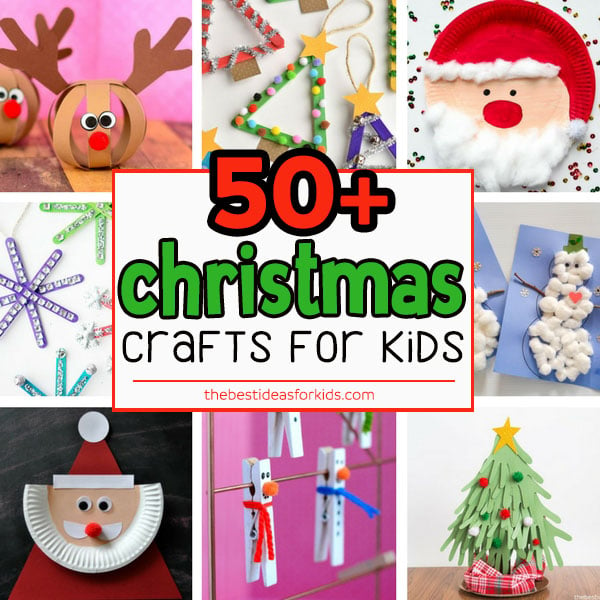 And for adorable keepsakes to make with kids, make this salt dough recipe this year!