We love creating crafts that also double as a keepsake. You can have fun making them and then cherishing them for years to come! This handprint wreath is no exception. It's perfect to make as a Christmas gift or even just to do with your kids to make as a wreath for your home. This would also be fun for students to do in a class and you can make a large version and place it on a bulletin board. Swap out the colors and decoration and you can make a Winter, Spring, and Fall version too!
RELATED: Christmas Handprint Tree
Handprint Wreath
This handprint wreath would be perfect to make as a gift to give at Christmas. What parent or grandparent would not love to receive it? You can even make a family handprint wreath by using the handprints from all of your kids (and parents too!) to give to grandparents.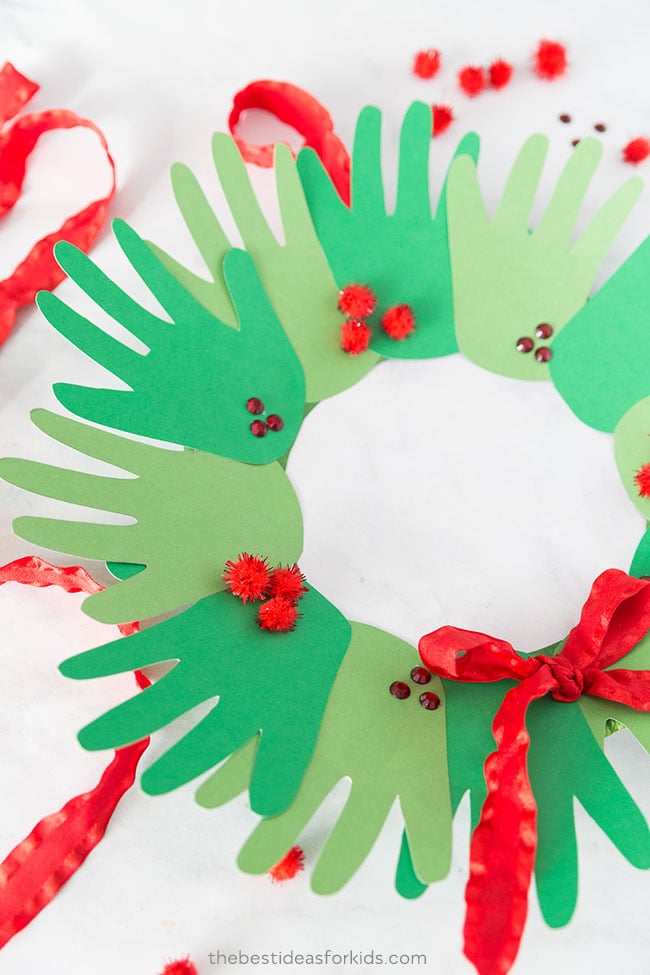 If you love this handprint wreath, then be sure to see this Christmas Handprint tree. This handprint tree is so fun to make and you can use it as a Christmas centerpiece!
Supplies Needed to Make a Handprint Wreath
You only need a few supplies to make this beautiful keepsake wreath:
Green cardstock – this package is great since it comes in a few different colors
Paper plate
Green paint (optional)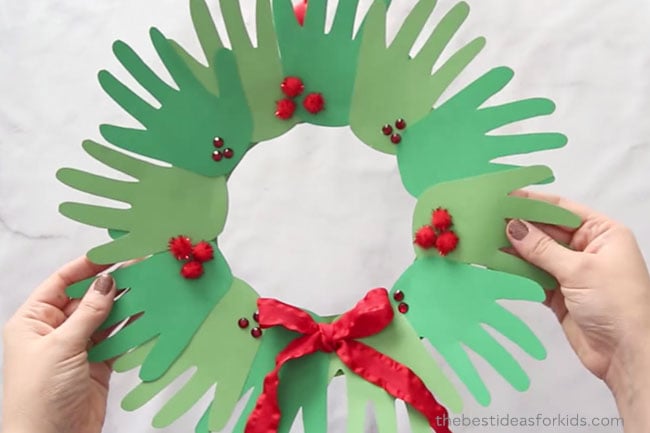 Steps to Make a Handprint Wreath
1. First cut out the circle center of your paper plate. Then paint it green. This is optional as most of the paper plate won't be shown but a few small pieces may peak through.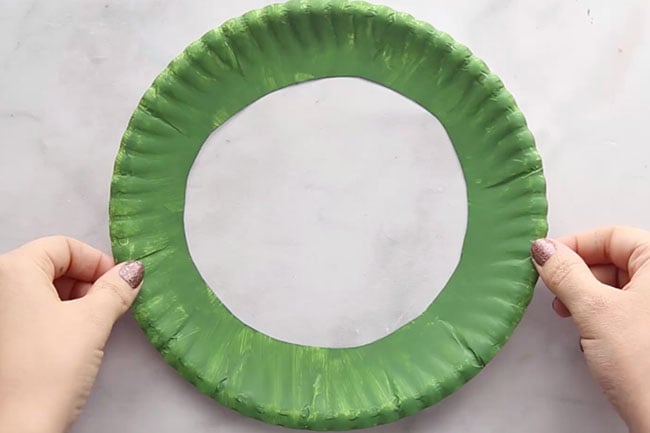 2. Now cut out your handprints. Because you need quite a few, you can trace one and then use that to trace the rest. You can also fold over the cardstock 4 times so that when you're cutting you get 4 handprints. We used 12 handprints – 6 lighter green and 6 Christmas tree colored handprints.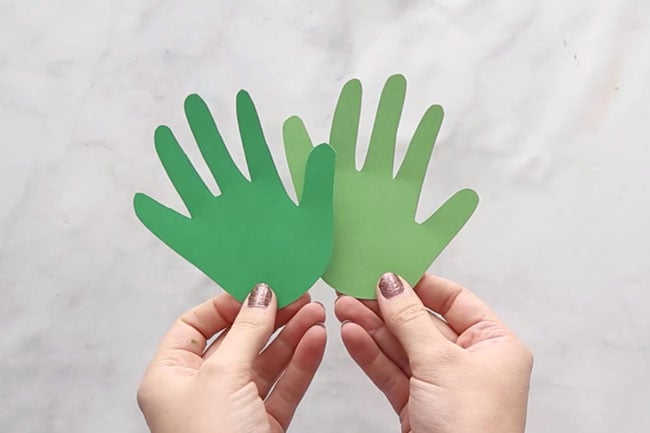 3. Now glue to your paper plate. Alternate the different green handprints when gluing down.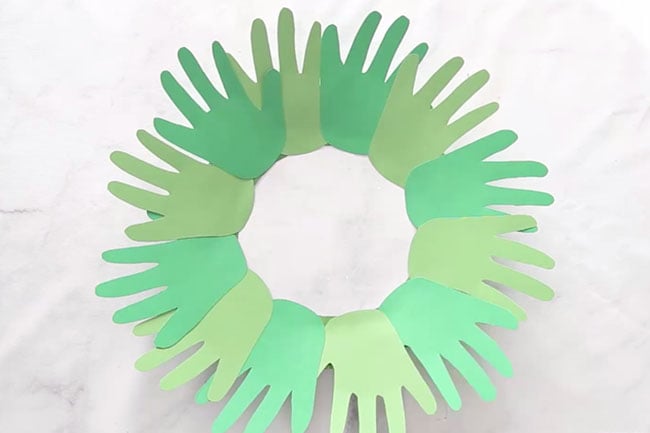 4. Glue on your pom poms and rhinestones. We put 3 together to make them look like holly.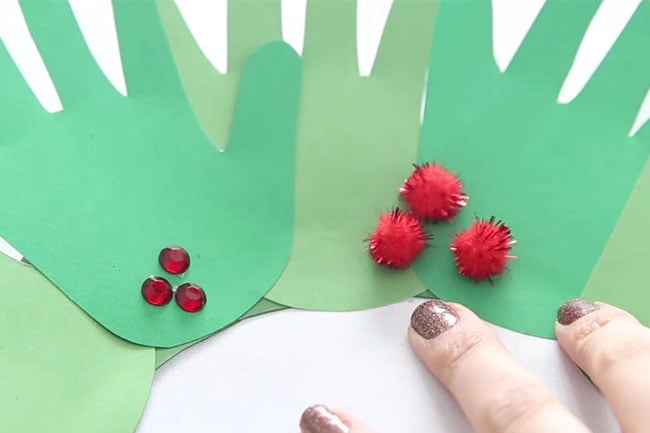 5. Finally add a red ribbon bow to the front and a loop of ribbon to the back for hanging.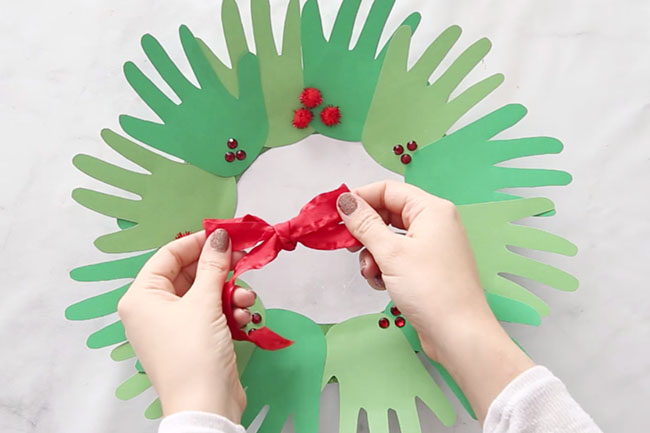 We know you will love the end result of this homemade wreath! If you want to be sure that the handprints will last the test of time you could also laminate them to keep them from getting wrinkled.
Watch the full video tutorial here before you get started!
More Christmas Handprint Ideas
This handprint tree would also make the perfect family Christmas decoration!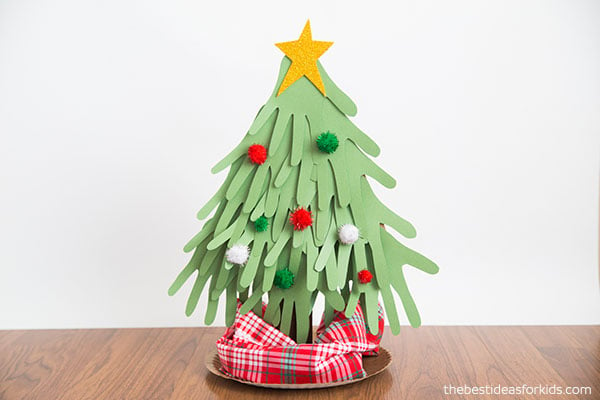 This fingerprint and handprint Christmas card is one of our favorite handmade Christmas cards!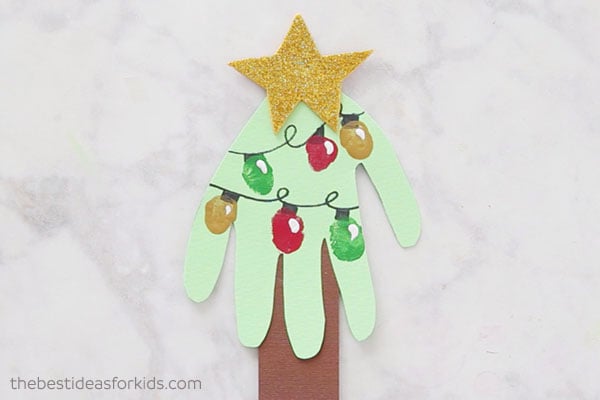 These handprint Christmas cards are so cute! We know you will love making them!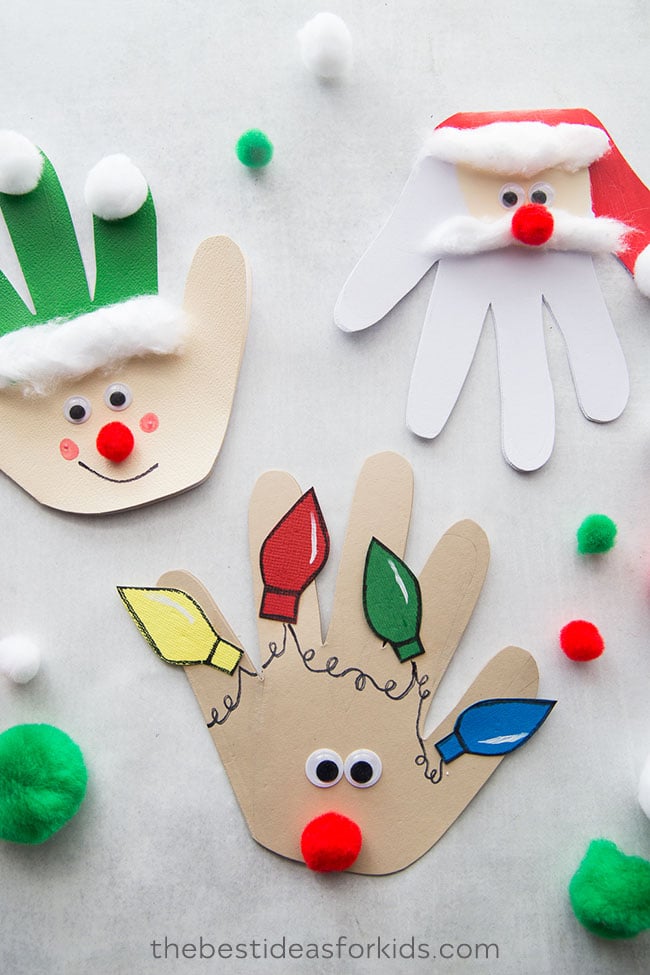 Pin this for later!