With Valentine's Day just around the corner we are switching gears here now and focusing on Easter! We love Easter bunny crafts and this one is one of our favorites! The best part is that this cute paper plate Easter bunny only requires a few supplies. Kids will love making their own Easter Bunny and playing with it after!
RELATED: Egg Carton Easter Bunny
Easter Paper Plate Craft
This paper Easter Bunny craft is so simple and perfect for toddlers or preschoolers to make! Kids can help cut out the bunny ears and do all the gluing. All you need to do is gather the supplies.
We like to keep a supply of googly eyes on hand for all of our crafts so we do recommend you get a multi-pack of those. You can also find multi-packs of pipe cleaners and pom poms which is great since you can use them for so many other things!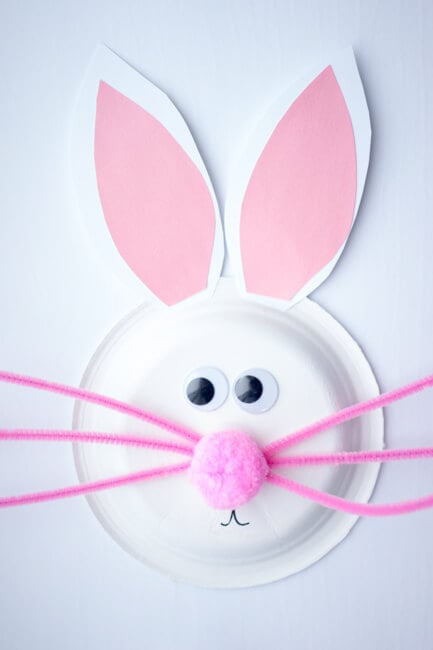 Here's what you'll need to make the paper plate Easter Bunny: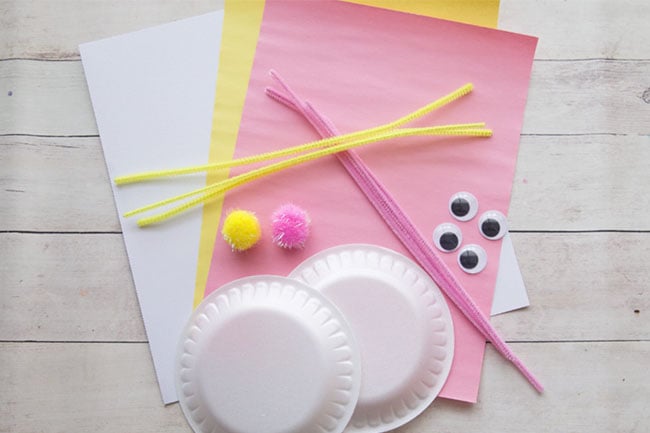 -Construction Paper
-Pom Poms – this multi-pack actually includes most of the supplies with pom poms, pipe cleaners and googly eyes!
-Pipe Cleaners
-Googly Eyes
-Glue – we recommend this kind which is stronger and better for gluing on pom poms and pipe cleaners which can be tricky to stay sometimes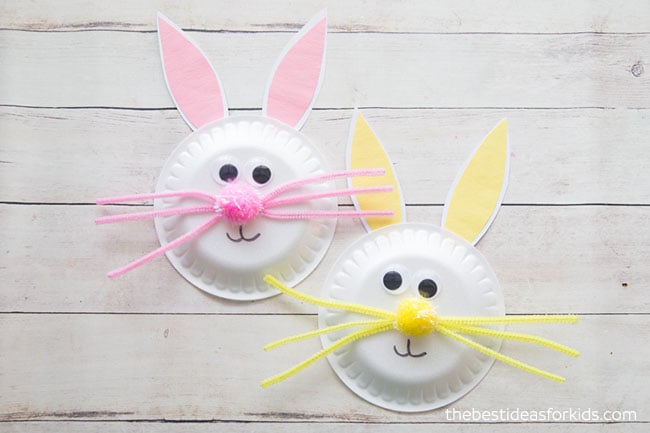 Directions to Make a Paper Plate Easter Bunny
These are pretty simple to do and are a perfect Easter craft for your toddler to do because of the simplicity!
For the nose: take 3 pipe cleaners and twist them around each other in the center so that they are connected/stuck together. The part you twist is the hidden part that will go under the nose (pom pom) and will be hidden. This will leave you with the whiskers sticking out on both sides.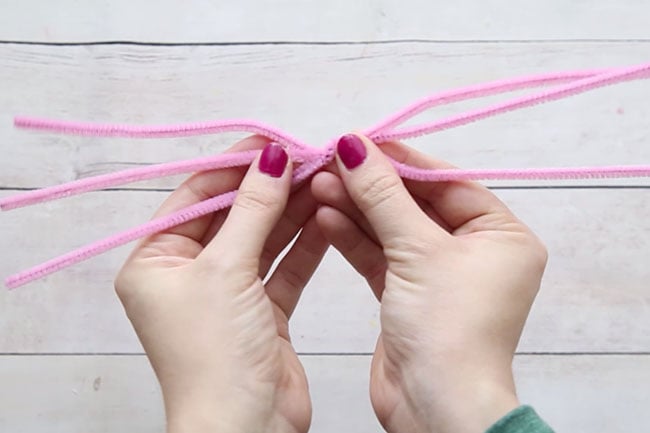 Then glue to the paper plate. Leave time to let dry as this step will require it to be glued well or the pipe cleaners will fall off.
You can also glue with hot glue (which will stay better) but make sure adults do this part and then let the kids glue the pom pom on once the hot glue has dried and cooled.
Once glue is dry from the pipe cleaners, now glue on your nose (pom pom).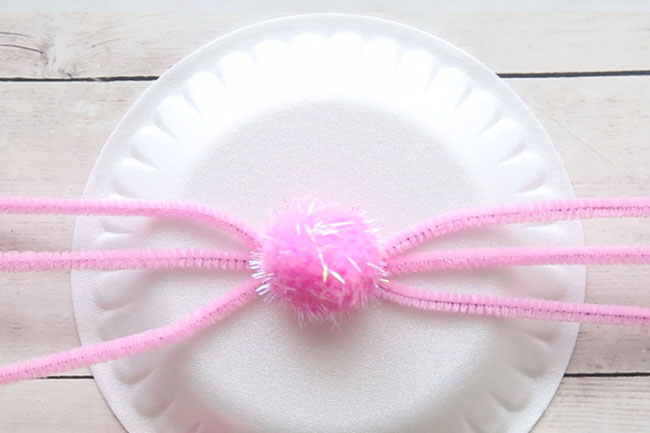 For the ears: Really all you need to do is cut out some ears from white construction paper and then cut out a smaller inside ear with a different color. We chose pink and yellow.
For the eyes: We used googly eyes and just glued them on but you could also use construction paper and make the eyes yourself.
For the mouth: We simply just drew on the mouth with a black marker.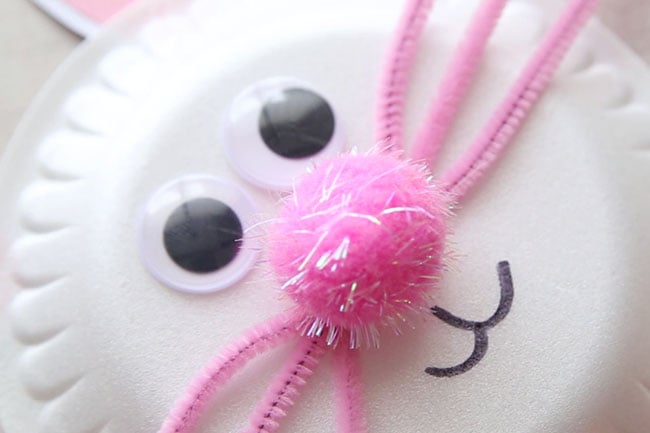 That's it! We hope you have fun making this simple and easy Easter Bunny craft for kids!
Watch the full tutorial video here before you get started!
Other Easter Craft Ideas for Kids
See over 25+ easy Easter Craft Ideas for Kids.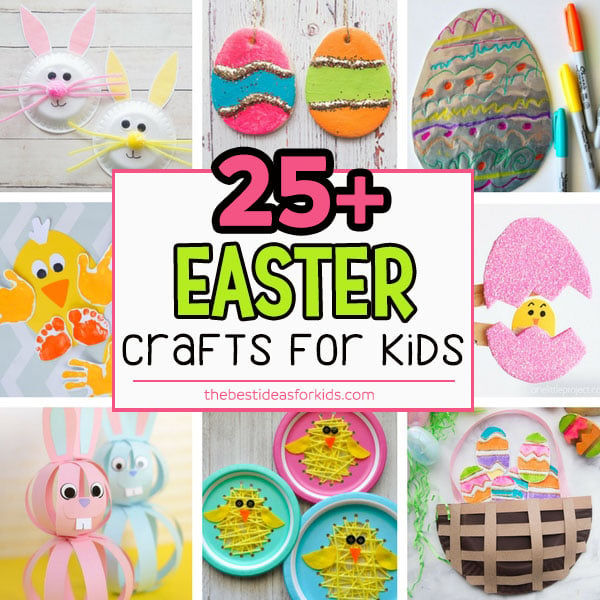 These Egg Carton Easter bunnies are so fun to make! You can use them to hide around with other chocolates for your Easter hunt.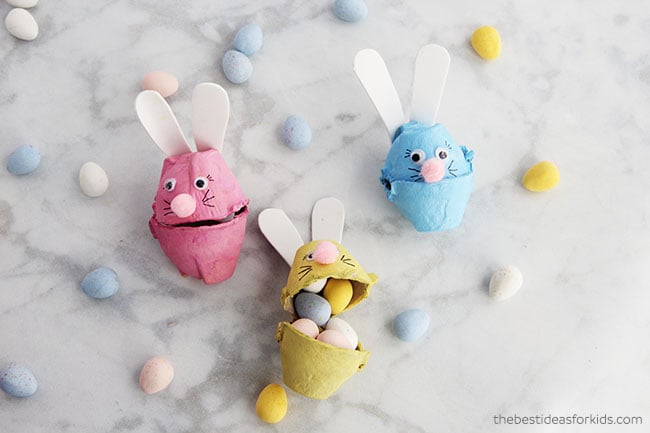 Create your own Felt Easter Eggs! This is a great invitation to create activity for kids.