We love how easy this popsicle stick penguin bookmark is to make. It is such a fun winter craft for kids of all ages to create and enjoy all winter long! Make this a fun craft or to give to friends this winter!
RELATED: Penguin Crafts for Kids
Craft Stick Penguin Bookmark
Popsicle stick crafts are a favorite around here because the options are endless! There are so many fun and easy things you can make using popsicle sticks and these sweet little penguin bookmarks are no different. They only require a handful of supplies!
And if you love crafting with popsicle sticks – see these popsicle stick penguins.
Our recycled-themed craft books also include chapters of crafts made with popsicle sticks! See both books.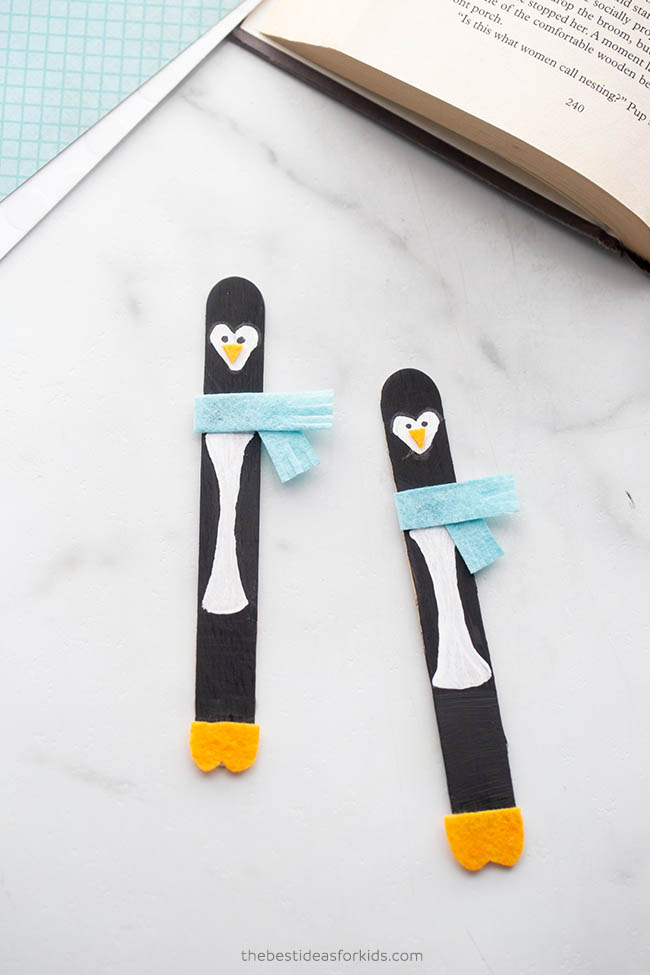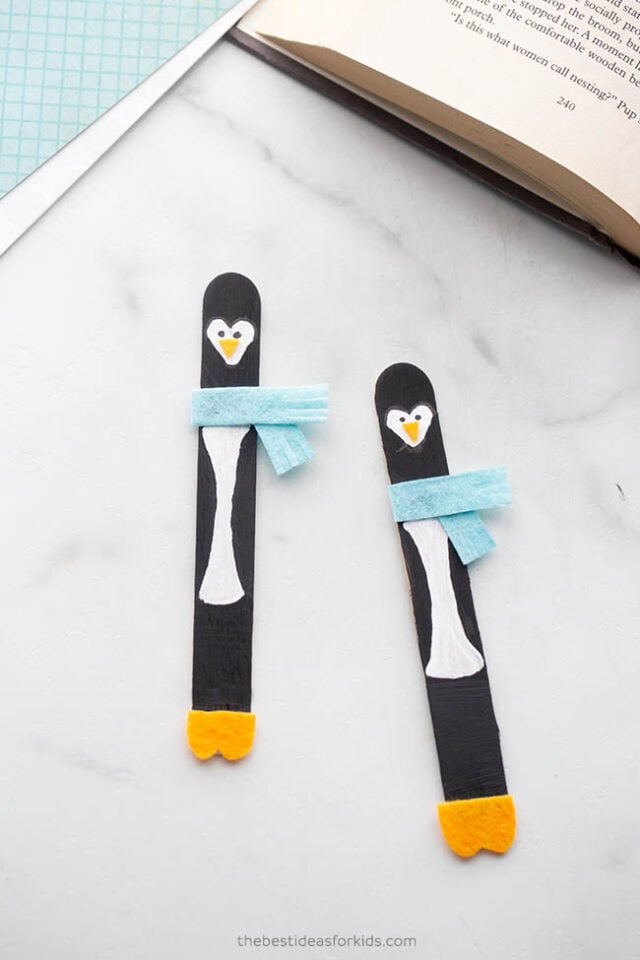 Supplies Needed
Scissors

Glue – we like this craft glue that is stronger and works well with gluing felt on.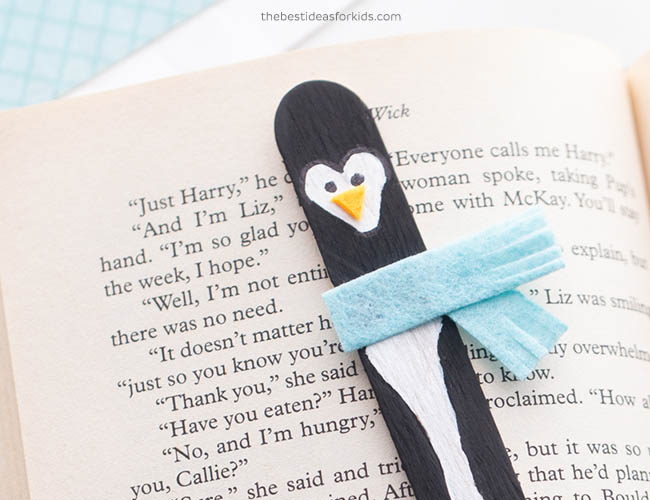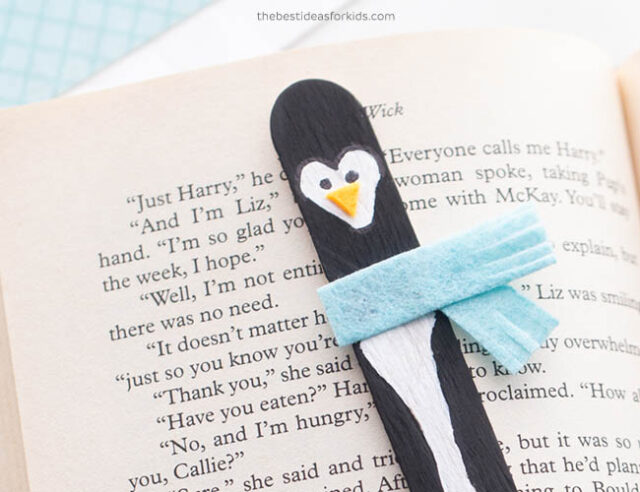 Watch the Video Tutorial
Directions to Make a Popsicle Stick Penguin Bookmark
1. Using the sharpie, draw a heart shape for the face.
You can also do this with a pencil or free hand paint the penguin shape on.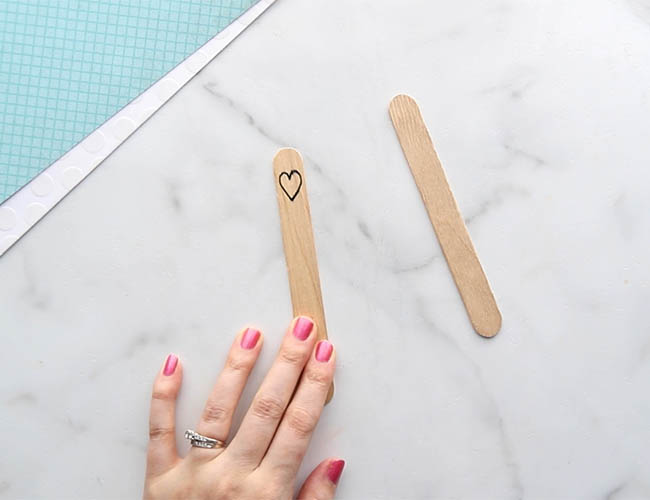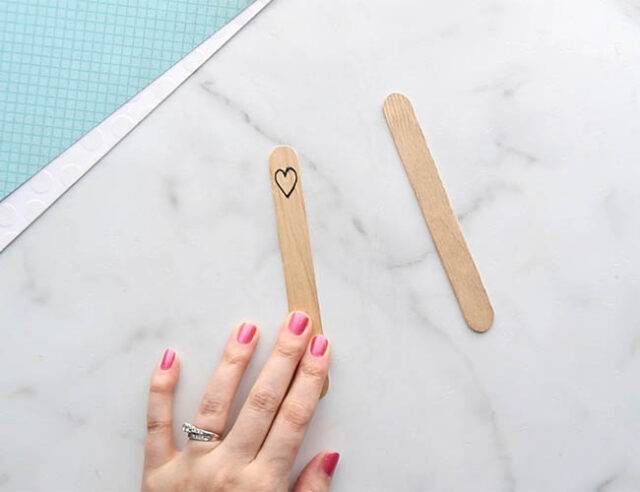 2. Also draw two lines for the side of the penguin and a straight line on the bottom.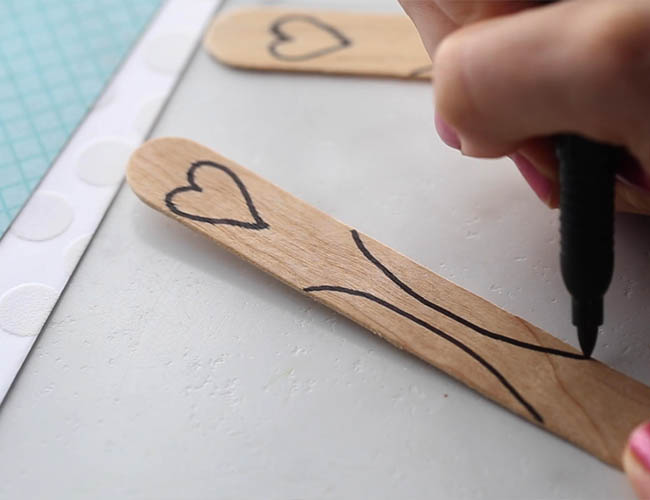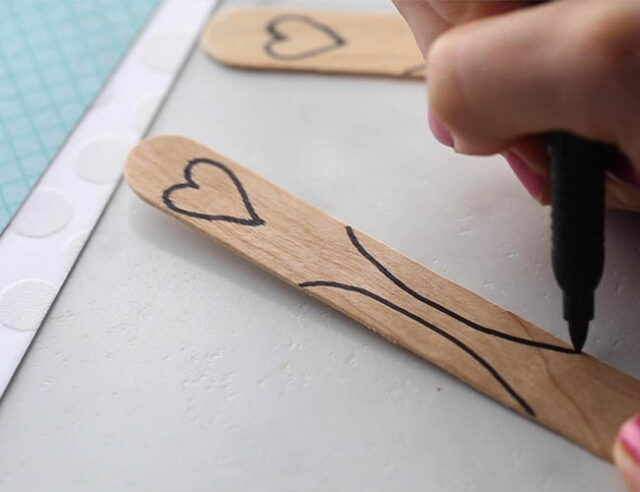 3. Next, carefully paint the popsicle stick black.
Leave the face shape, chest and feet portions unpainted.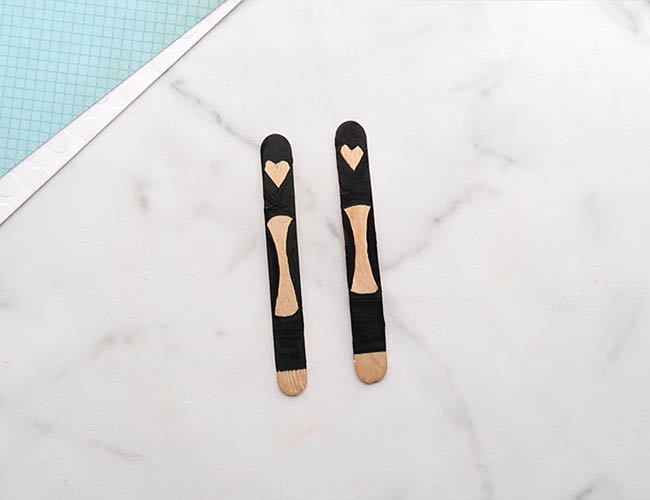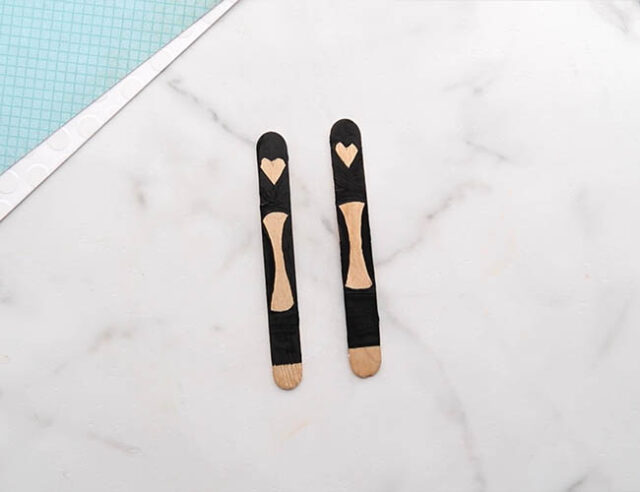 4. Paint inside the chest and the face area with white paint.
After the paint has dried, you can use a sharpie to outline the shapes that you painted to clean up any messy edges.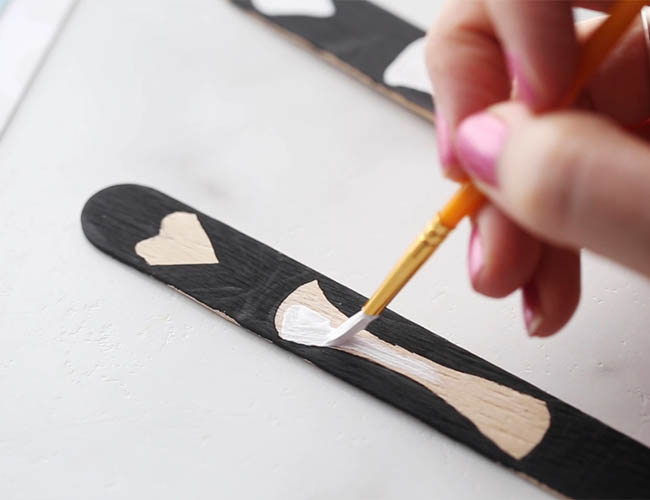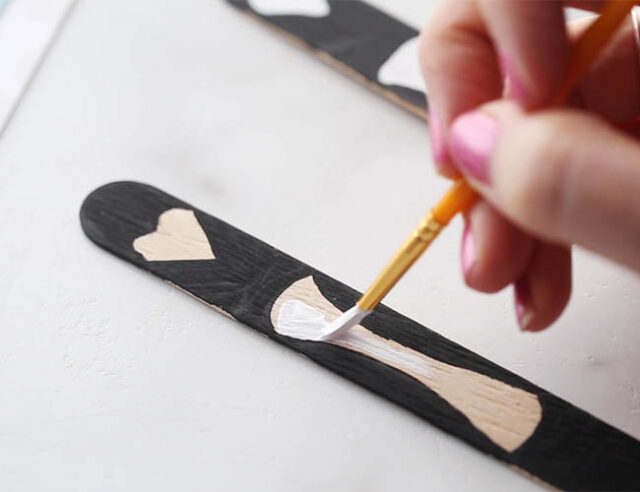 5. Cut out felt feet and glue to the bottom.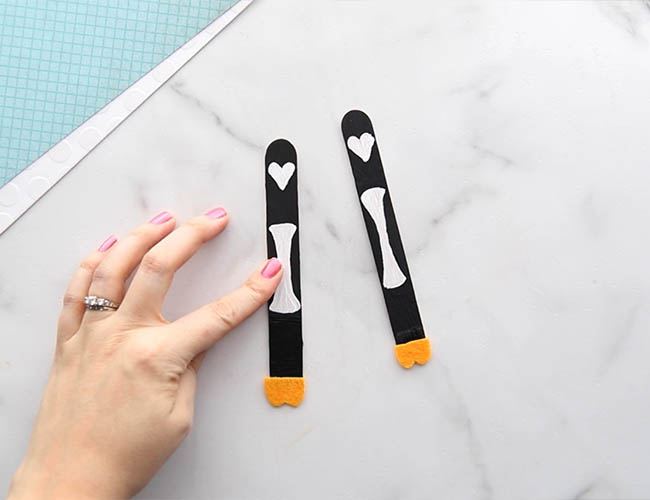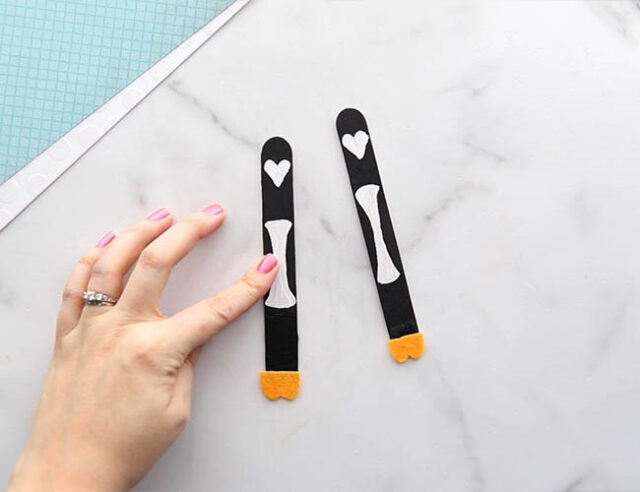 6. Cut out two scarf pieces and glue on.
To make the scarf pieces, cut 2 rectangular strips and then use scissors to cut the fringe out of one side.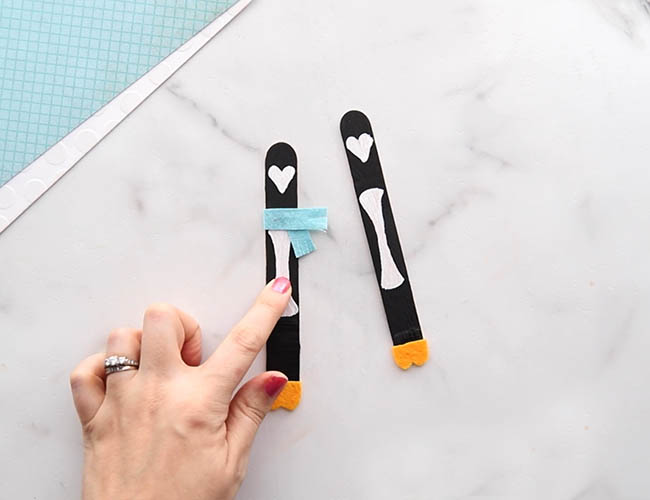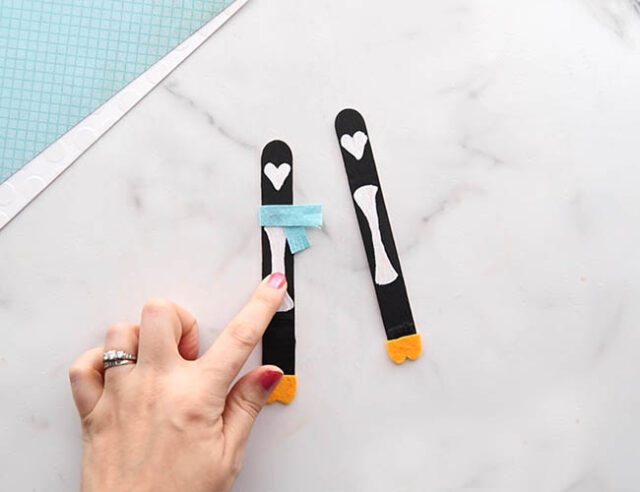 7. Draw 2 eyes on the face with a sharpie.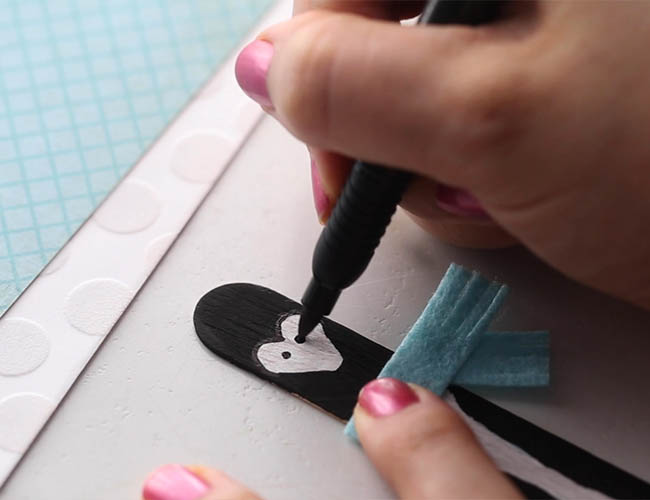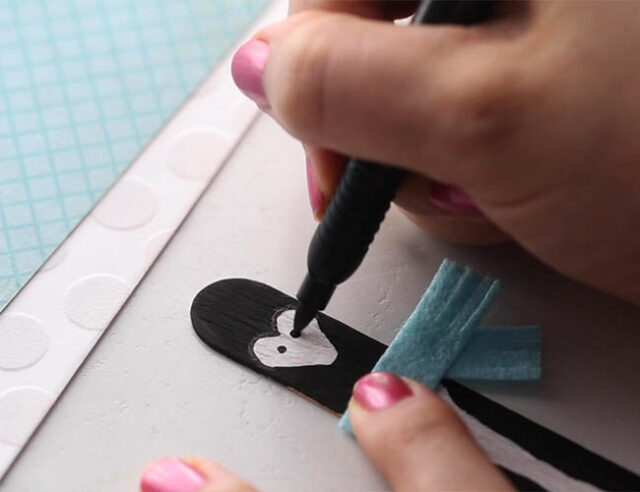 8. Lastly, cut out a small triangle for the nose and glue on.
You can also draw or paint the nose on.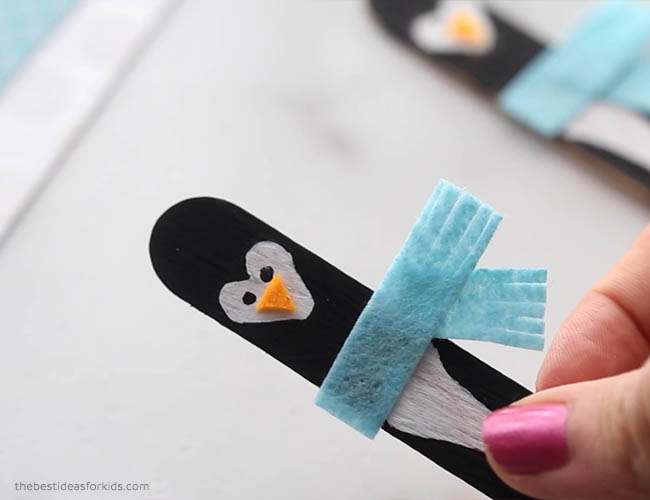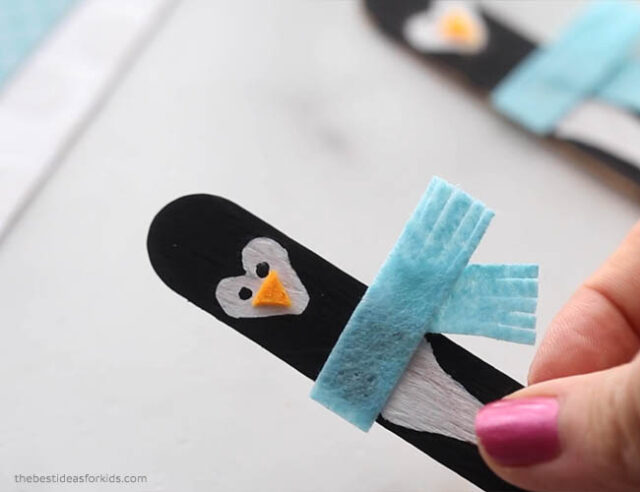 And your penguins are ready to be the perfect winter bookmark! Your kids will have a blast making these on a cold winter day. Grab your supplies and some cups of hot cocoa and have fun crafting!
More Winter Craft Ideas
Want more fun Winter Crafts for Kids? We have lots of fun craft ideas to keep you busy while you're indoors this winter!
For another fun penguin craft, see these Handprint Penguins – we love how cute these are!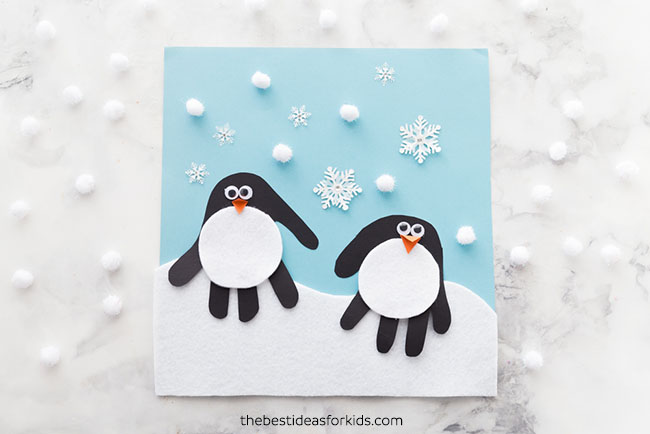 And if you're looking for a process art activity, these Salt Painted Snowflakes make a fun afternoon activity!