This adorable polar bear handprint craft is fun to make in the winter!  You can make this as a winter scene or turn the polar bear into a handprint card.
RELATED: Handprint Penguins
Polar Bear Handprint Craft
Turn any handprint animal into a card! See more winter animal handprints HERE.
I love this polar bear craft because you can make just the handprint or turn it into a winter scene!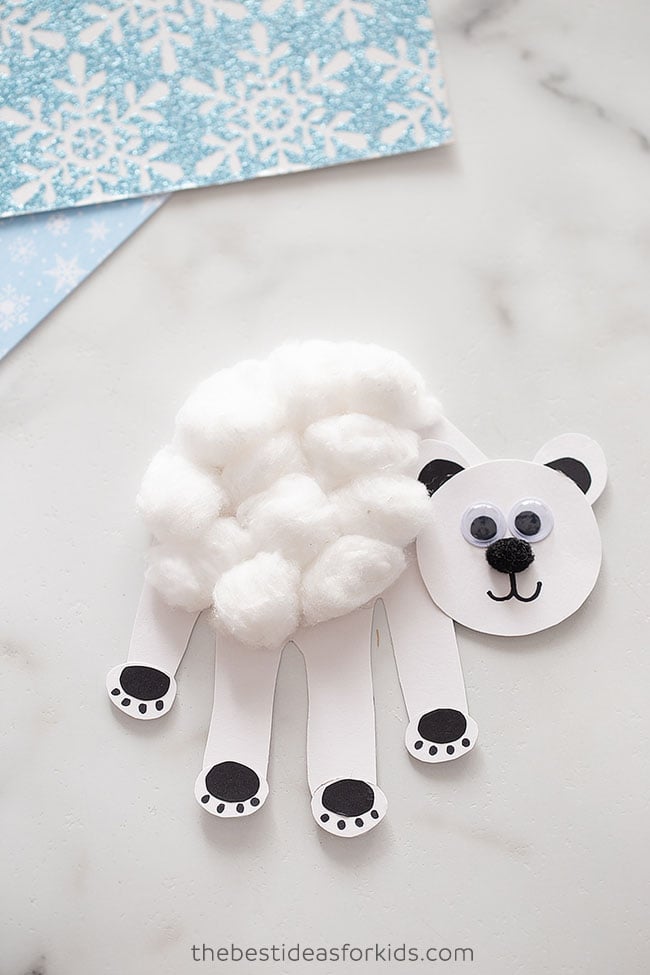 You only need a few supplies to make this adorable polar bear! If you don't have black paper or a black pom pom, you can draw these parts on with a black marker.
If you don't have googly eyes you can draw on your own eyes too!
Watch the full tutorial video here before you get started!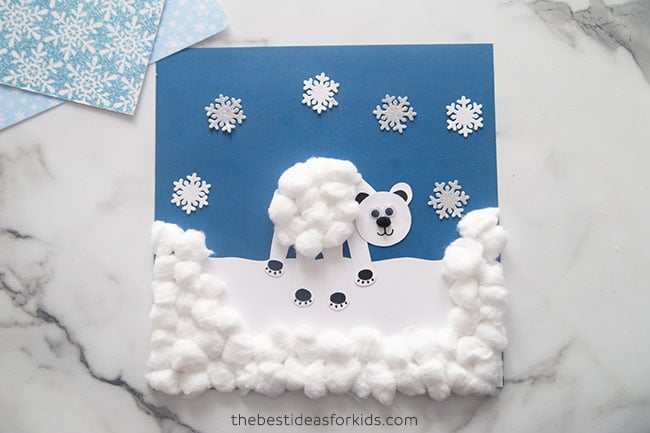 Supplies to Make a Polar Bear Handprint
Cardstock – white, black
12×12 dark blue cardstock
Cotton Balls
Snowflake foam stickers
Small black pom pom
Googly eyes
Black marker
We like to use this glue for gluing on googly eyes and pom poms which tend to be a little harder to glue. You can also use hot glue (with adult supervision or help).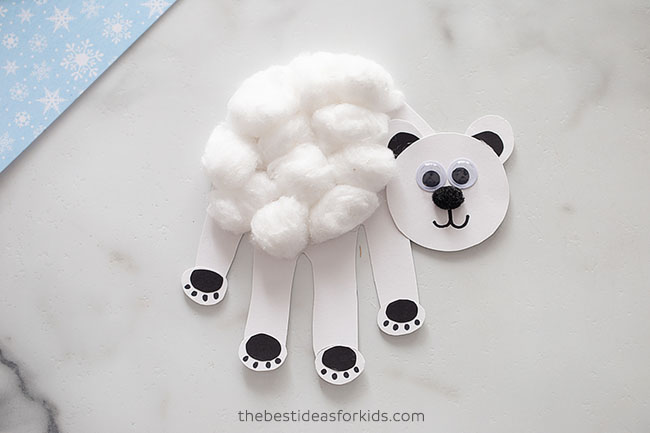 Directions to Make a Polar Bear Handprint
1. Trace around a hand with a pencil on white cardstock and then cut out the handprint.
Trace around something that is circle shaped (like a small bowl or bottle lid)  for the polar bear head to make the head shape on white cardstock. Cut it out.
Draw one ear and use it as a template to cut out another one.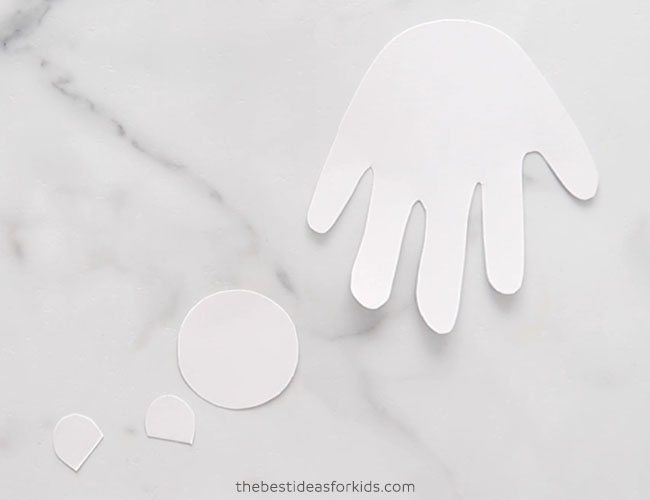 2.  Draw an inner ear on black cardstock and use it as a template to draw another one. Glue to the white outer ear pieces.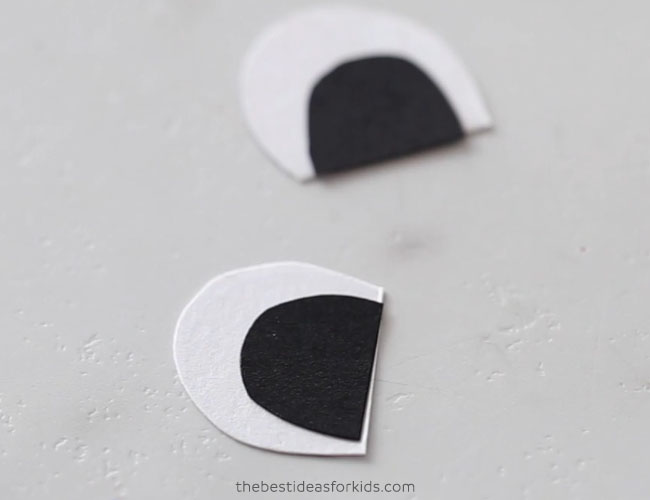 3. Glue the ears to the back of the head.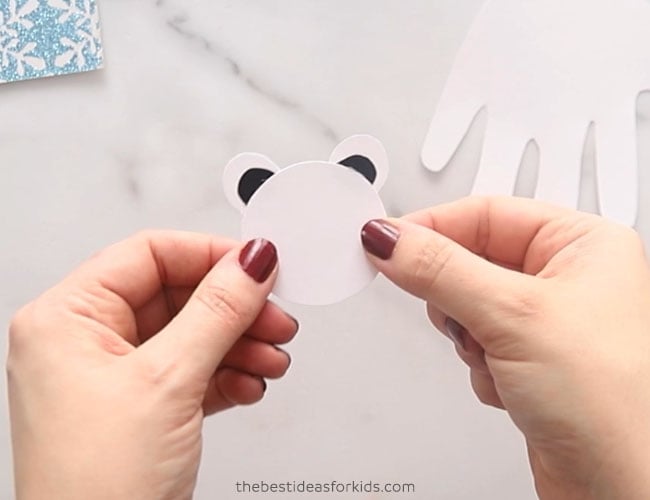 4. Glue on the googly eyes.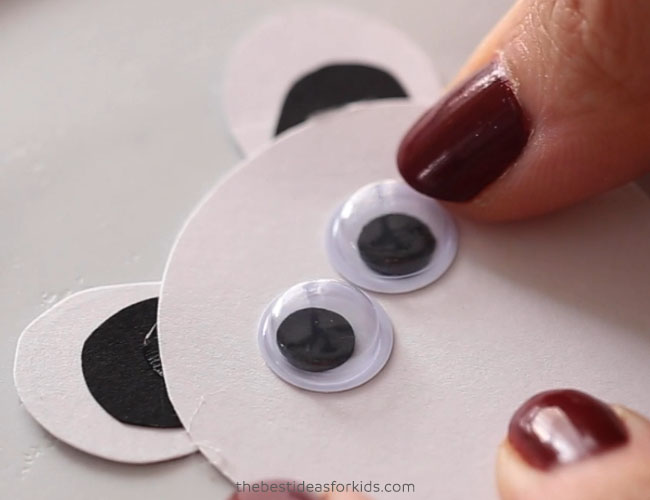 5. Glue on the pom pom nose.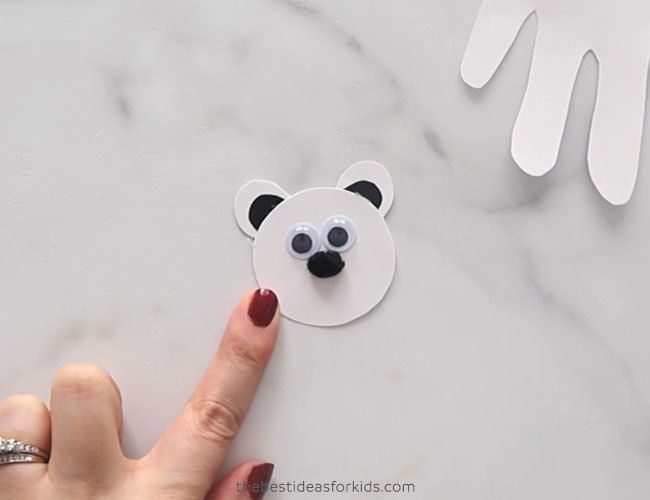 6. Draw on the mouth with a black marker.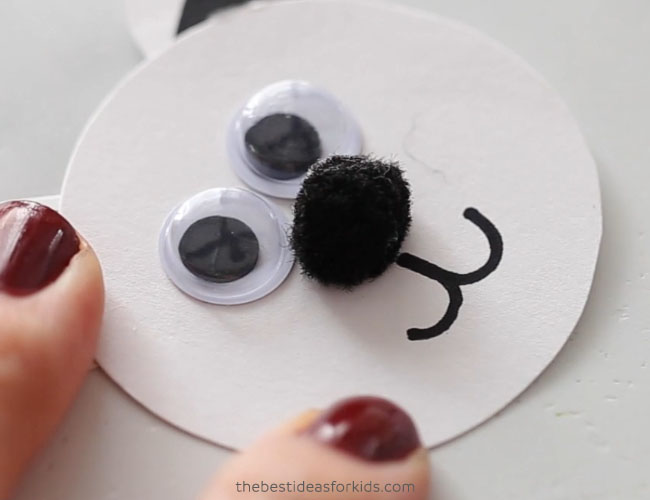 7. Glue the polar bear head to the handprint body.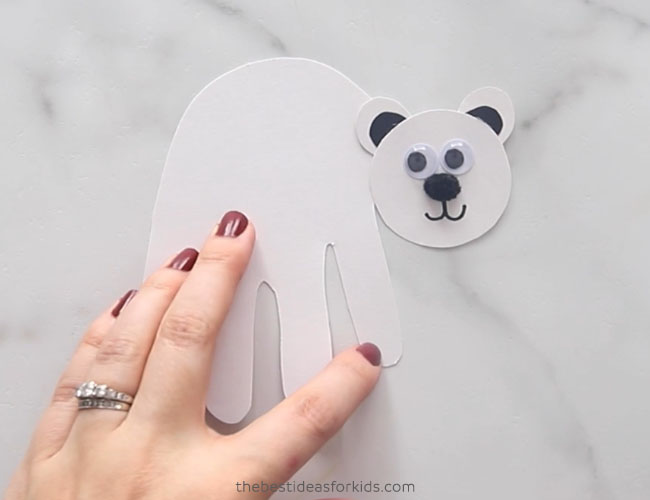 8. Cut out 1 paw and use it as a template to cut out 3 more the same size.
Cut out the inner black pieces of the paws with black cardstock and glue on. You can also draw this part on with a black marker.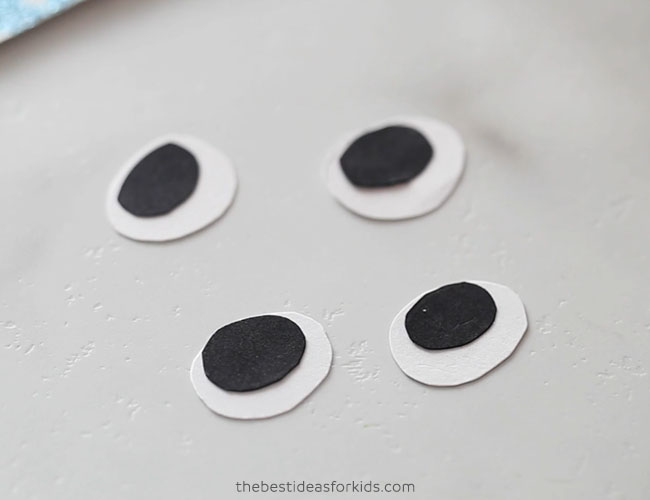 9. Draw the dots on the paws with a black marker.
Glue the paws to the fingers.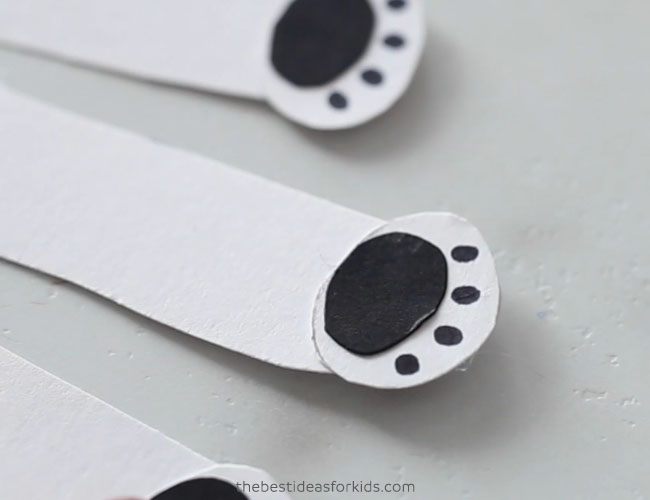 10. Glue on cotton balls to the polar bear body.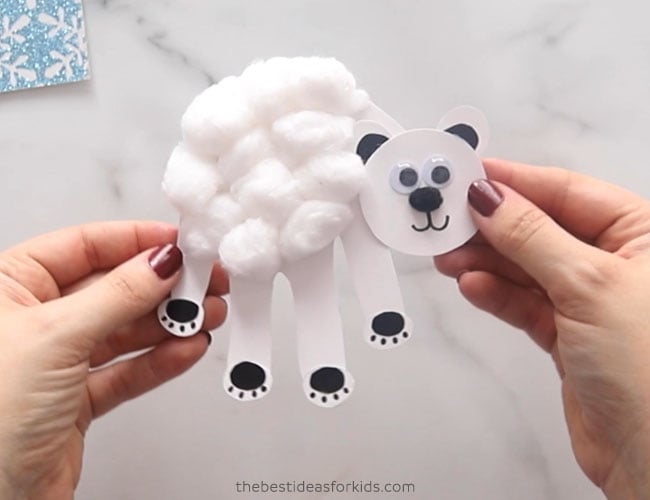 11. Make the scenery by cutting out a slightly waved piece of 12×12 white cardstock and glue on top of the 12×12 blue cardstock. Or you can use a smaller paper and fit to that size.
Add cotton balls along the bottom and sides.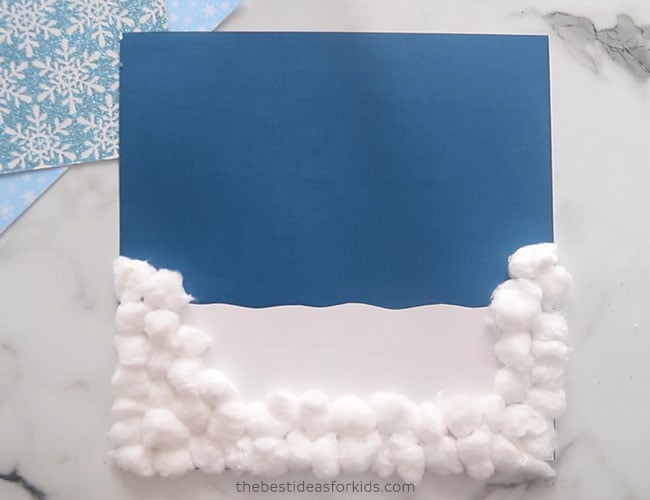 12. Glue the polar bear to the scenery.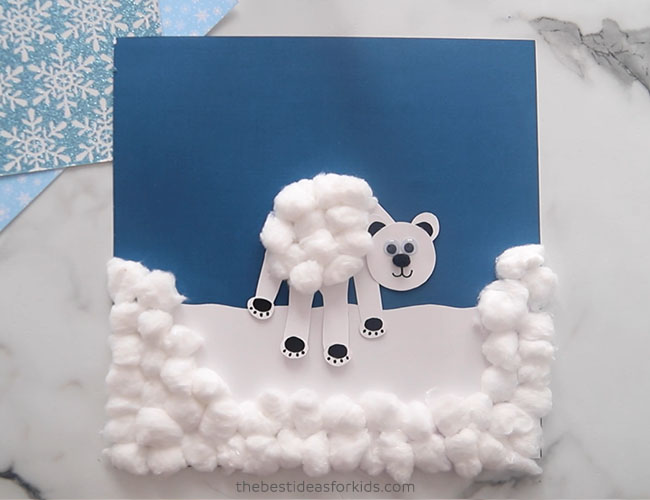 13. For a finishing touch, add foam snowflakes to the sky.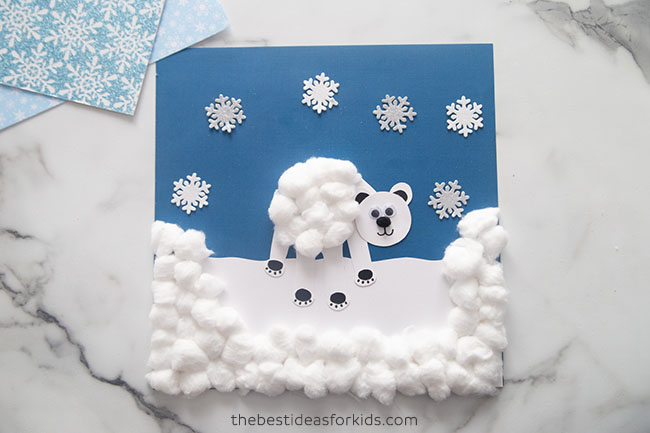 More Winter Crafts
Another favorite winter handprint craft are these handprint penguins!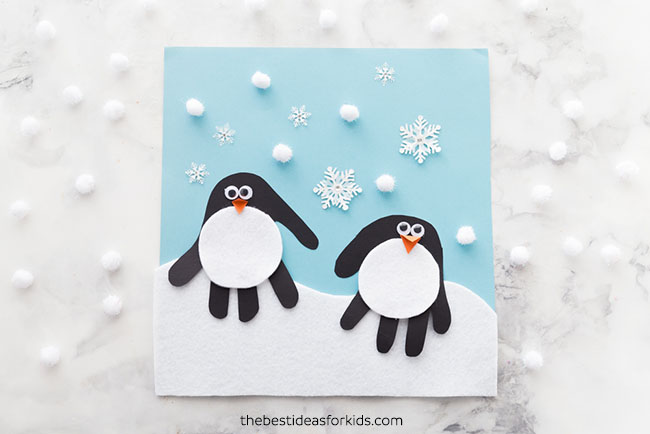 See these other winter animal handprints!