This Toy Story craft is perfect to make for back to school! Just grab some paper, glue and our free printable template and you'll be on your way making a Woody, Forky, and alien bookmark. These would be fun to make for a Toy Story party too!
RELATED:  Trolls Bookmarks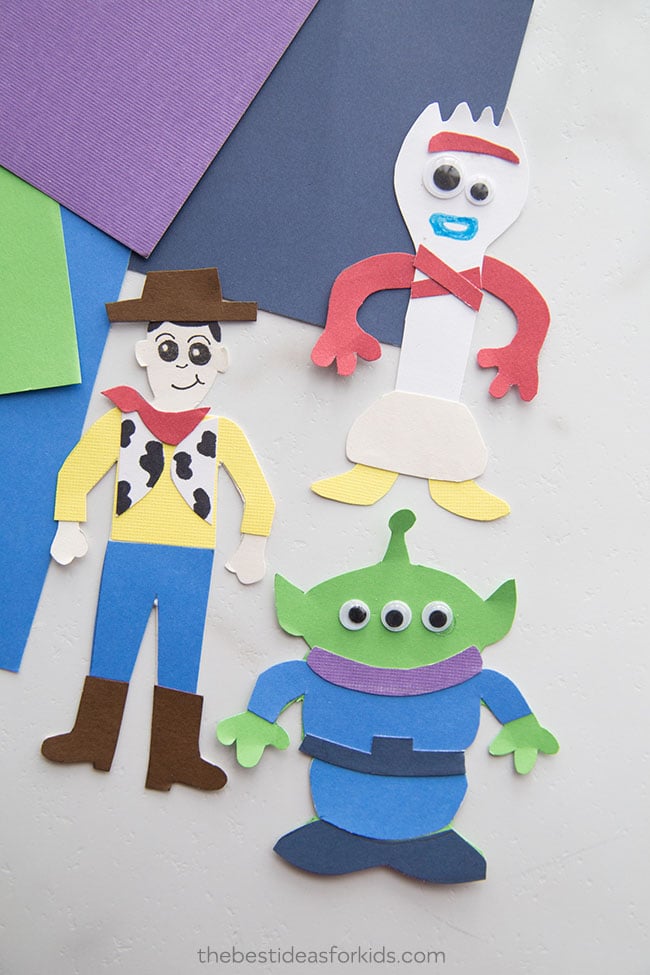 Toy Story Craft Bookmarks
We love how easy these are to make with our printable templates! Just print off the template, trace, cut and glue! You can make quite a few in no time and give them away to friends and family. You can even make matching minion bookmarks to go with them.
Here are the supplies you'll need to make the bookmarks: 
Cardstock
Woody – light beige, brown, blue, red, yellow, white
Alien – Neon green, purple, blue, darker blue
Forky – white, light beige, yellow, red
Googly eyes – 2 sizes for Forky
Extra-strong glue
Blue marker or sharpie for forky's mouth
Black pen and sharpie for Woody
Scissors
Templates – you can get the template at the bottom of the post (on the form with the preview of the template)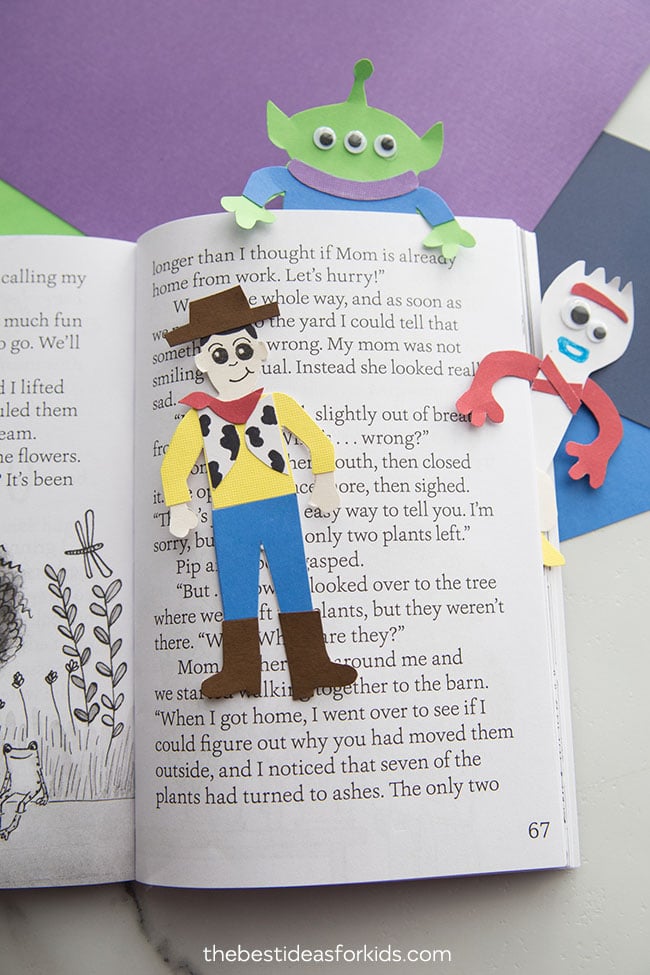 Watch the full tutorial video here!
Steps to Make These Toy Story Bookmarks
1. First, print off the template. You can get the template emailed to you as a free gift for subscribing to our newsletter at the bottom of the post (on the form with the preview of the template).
2. Cut out the templates and trace around colored cardstock for each piece. Glue them together starting with the body and then gluing the clothes on top.
See the list of supplies and colors needed above in the post.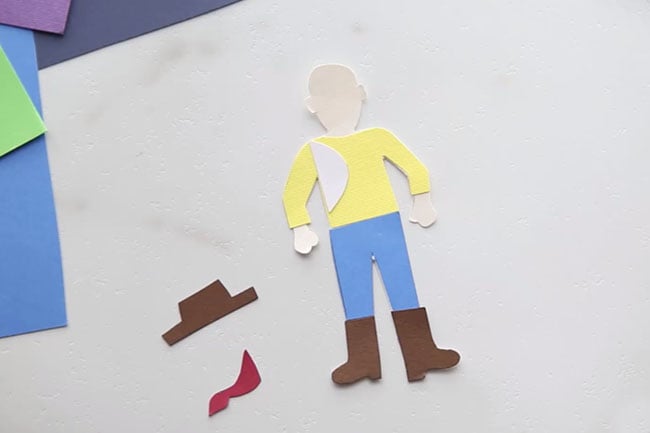 3. Using a sharpie, draw cow spots on Woody's vest and draw on his hair.
Draw on Woody's face with a black pen. First sketch out the eyes with a pencil and then color in with the pen.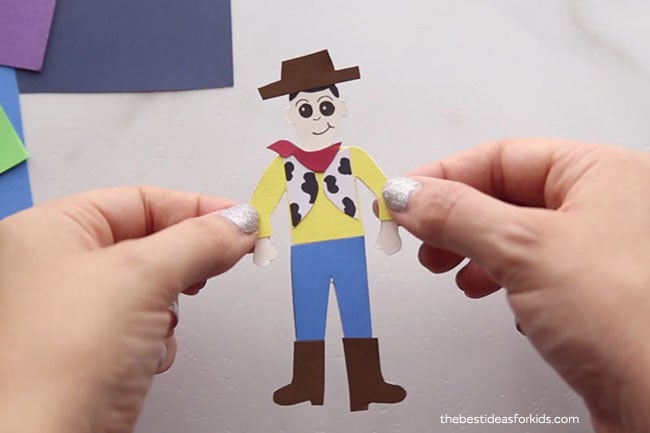 5. For Forky, glue all of the pieces together. Then add two different sizes of googly eyes. Finally, draw on the mouth with a blue pen.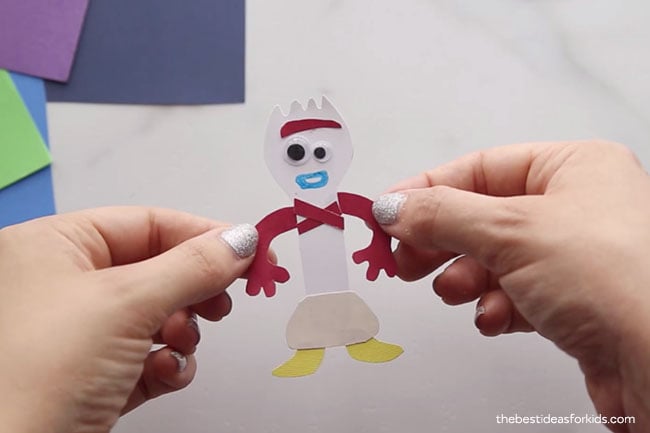 6. For the alien, glue all of the pieces together. Then glue on 3 googly eyes that are the same size. Add a mouth with a sharpie if you'd like.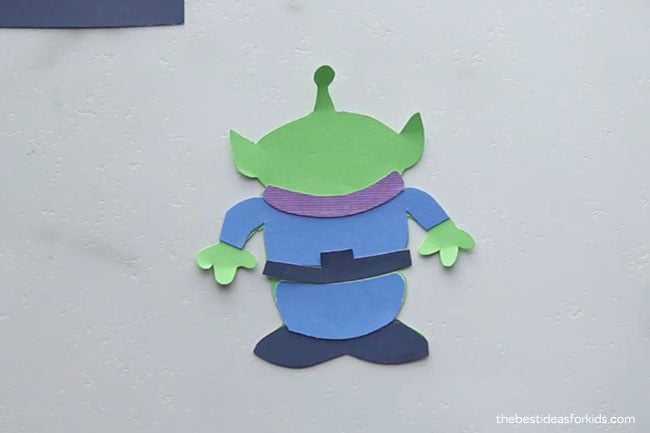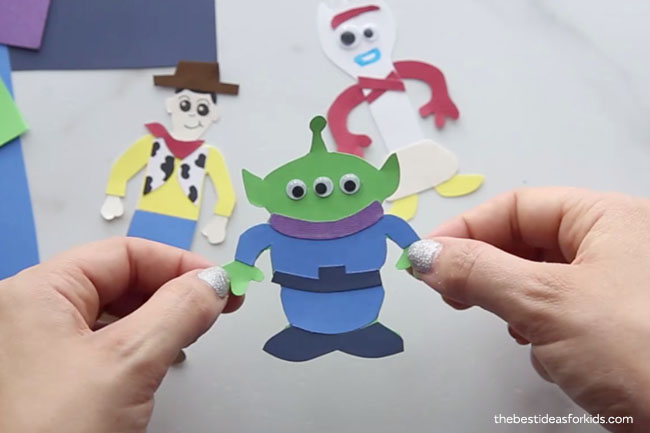 Now your Toy Story bookmarks are done! Make a whole bunch to hand out extras to friends and family!
To get the Toy Story templates, subscribe below and it will be delivered to your inbox as a free gift. Please make sure to check ALL folders for the confirmation email. 
More Paper Crafts for Kids