If you're looking for an easy spring craft for kids this toilet paper roll bee craft is the perfect activity. These bees are so simple to make and the best part is that they are a low mess craft!
RELATED: Toilet Paper Roll Butterfly
Toilet Paper Roll Bee Craft
There are so many different crafts that you can make with toilet paper rolls or paper towel rolls, so save them for a rainy day craft!
We have lots of different ideas that use paper rolls for spring crafts, such as flowers, bunnies, butterflies and of course these bees!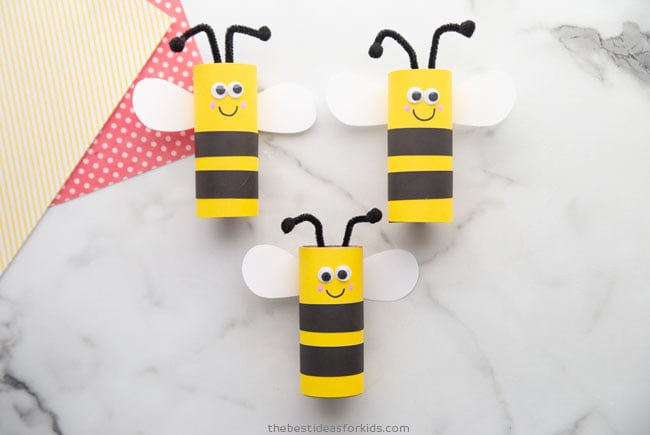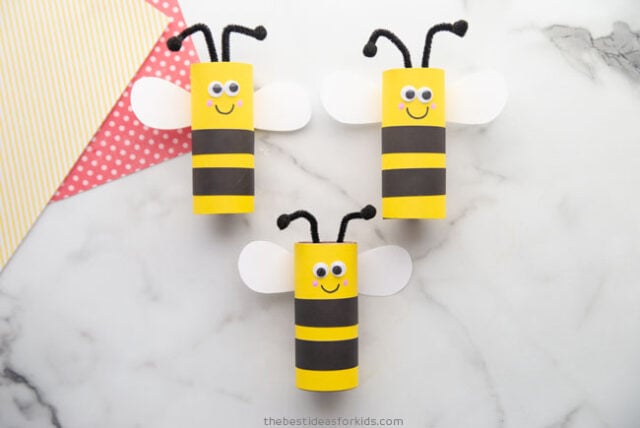 Supplies Needed To Make Toilet Paper Roll Bees
– Toilet paper rolls or paper towel roll cut in half
– Pink paint
– Black marker
– Cardstock – white, black and yellow
– Small googly eyes
– Black pipe cleaner
– Small black pom poms
– Glue – we like this glue for pom poms and pipe cleaners. Hot glue always works best but please supervise during use.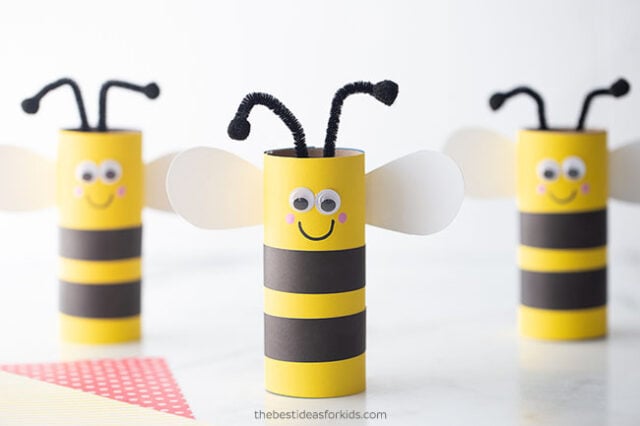 Watch the Video Tutorial Here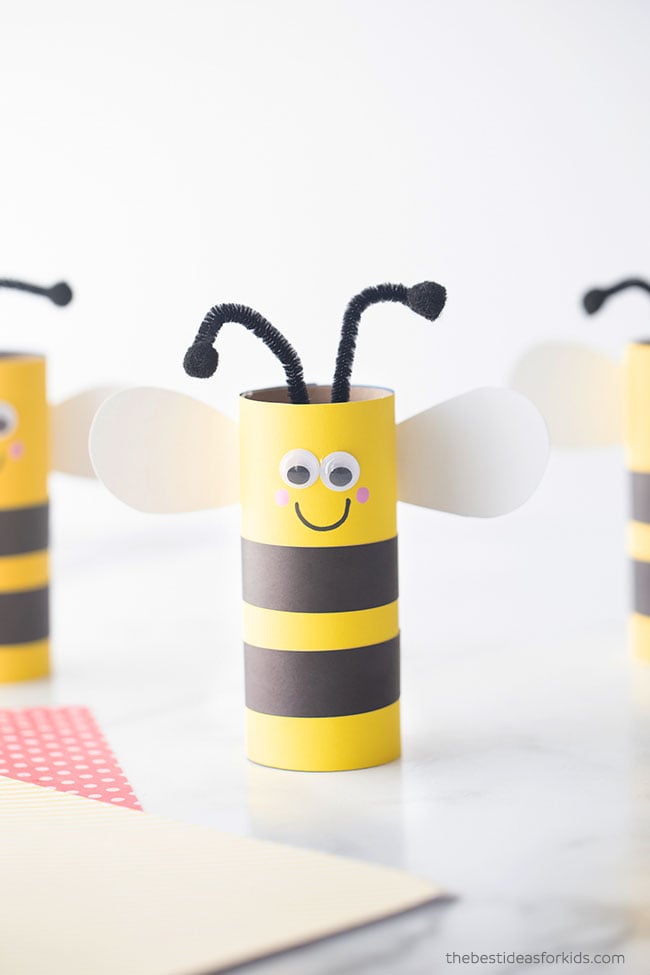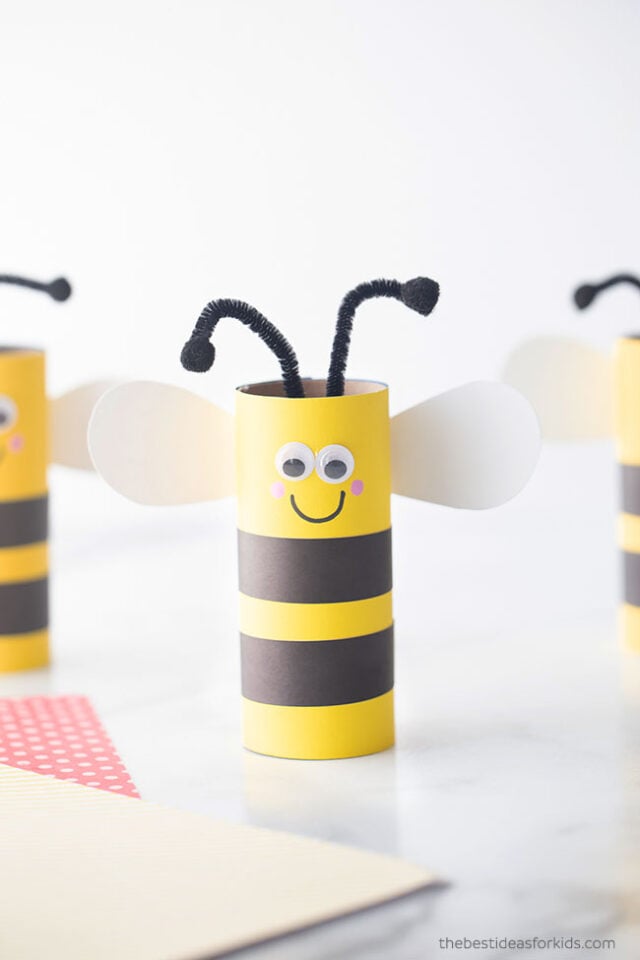 How To Make A Toilet Paper Roll Bee
1. Cut a rectangular piece of yellow cardstock to fit around the paper roll. Overlap the edges of the paper slightly and glue or tape along the seam.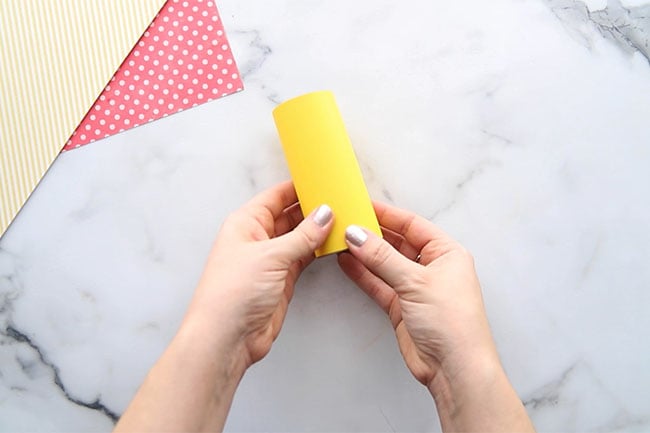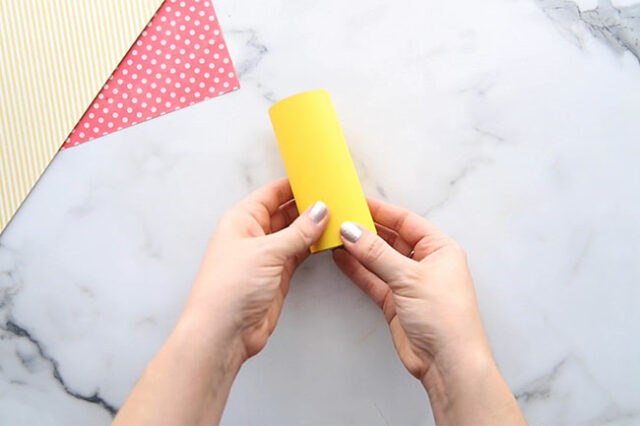 2. Cut 2 narrow strips of black cardstock. Glue around the paper roll to make stripes, leaving a space on top for the bee's face.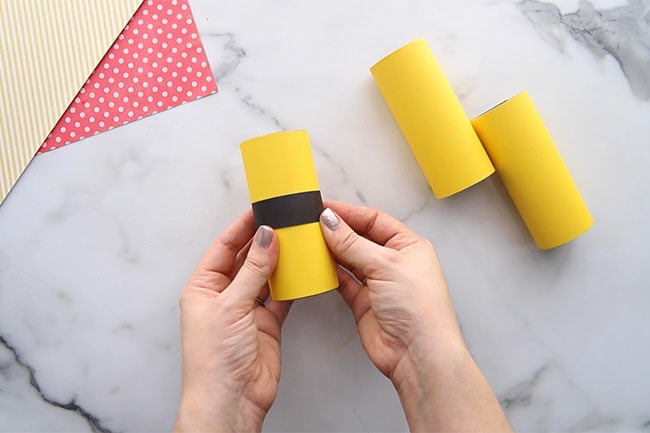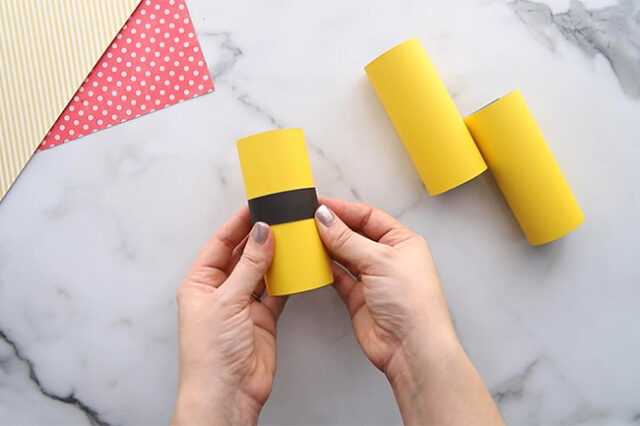 3. Add 2 googly eyes to the front of the paper roll.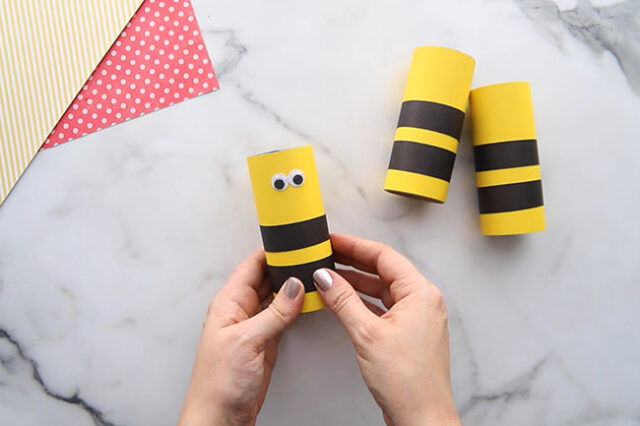 4. Draw the mouth on with a black sharpie or marker.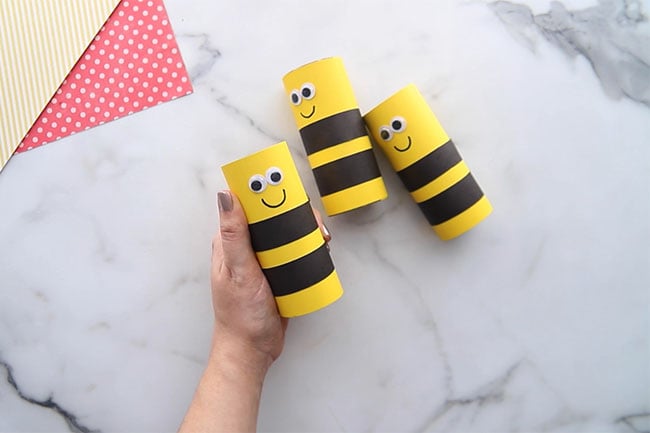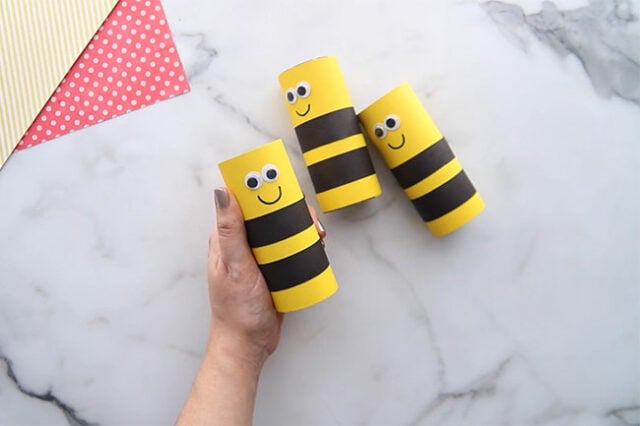 5. Dip the end of a paint brush in pink paint and add 2 dots of paint on either side of the mouth to make cheeks.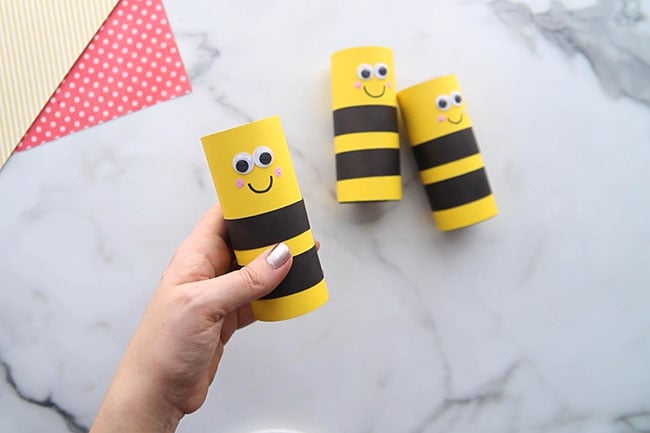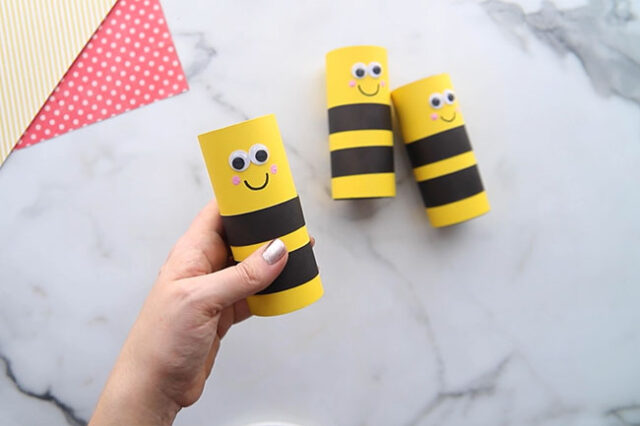 6. Bend a black pipe cleaner into a "V" shape.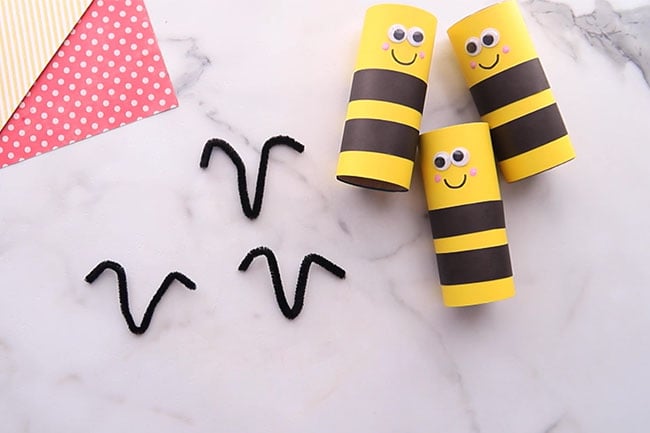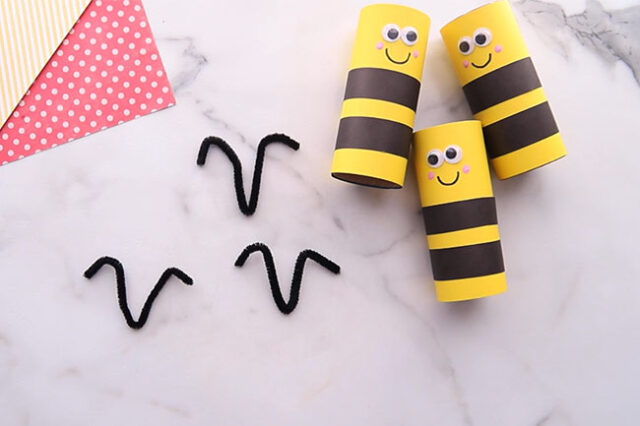 7. Glue 2 pom poms onto each end. Glue the pipe cleaner to the inside top of the paper roll.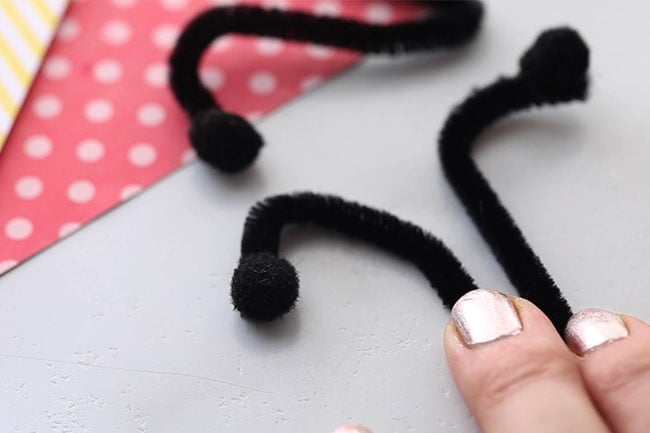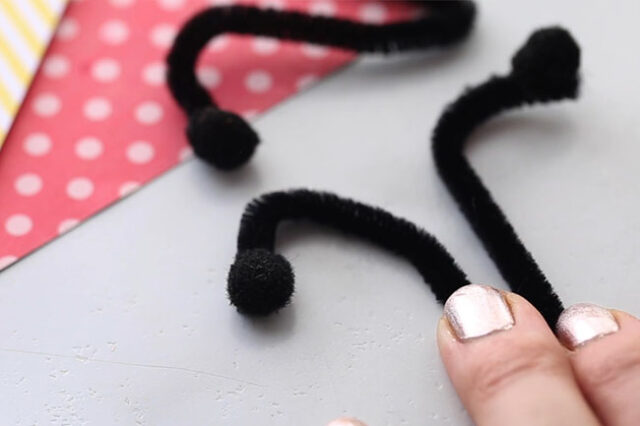 8. Cut out two wings from white cardstock. Glue or tape to the back of the paper.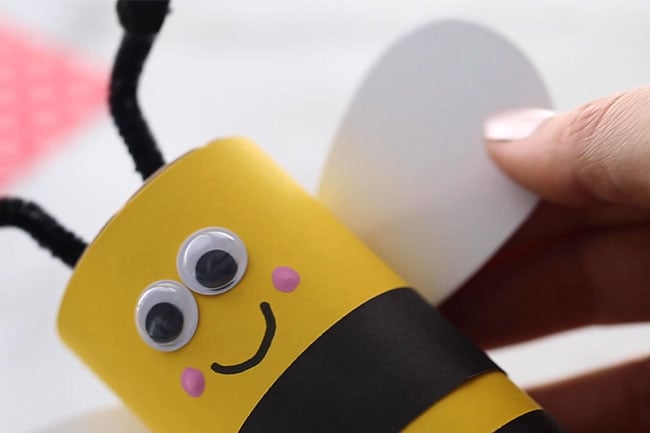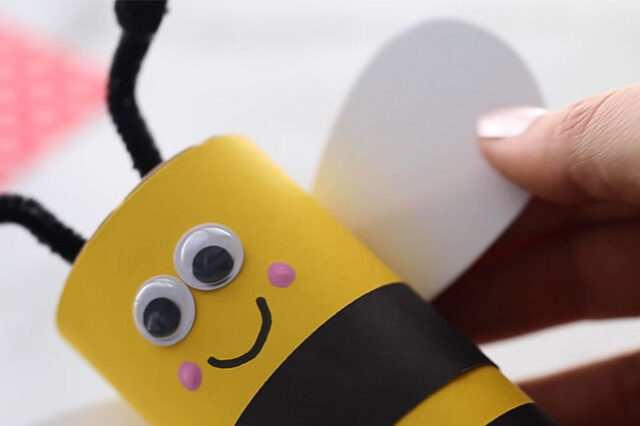 Now your toilet paper roll bee is done. We love how easy this is to make!
They turn out so cute too! Kids can decorate them any way they like too. Use paint or markers to draw on the face or stripes if you don't have all of the same supplies.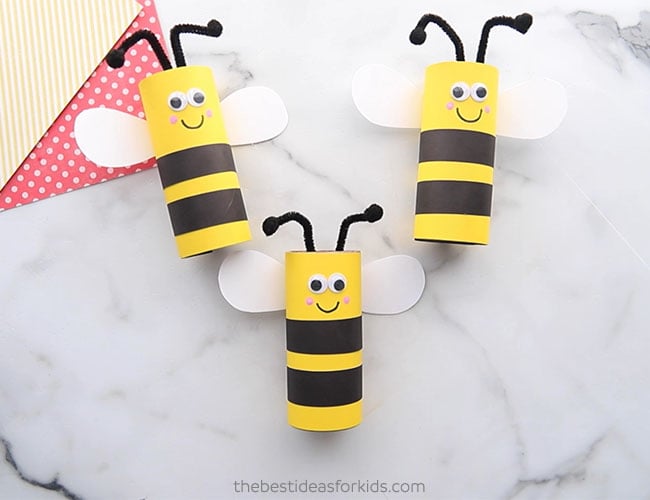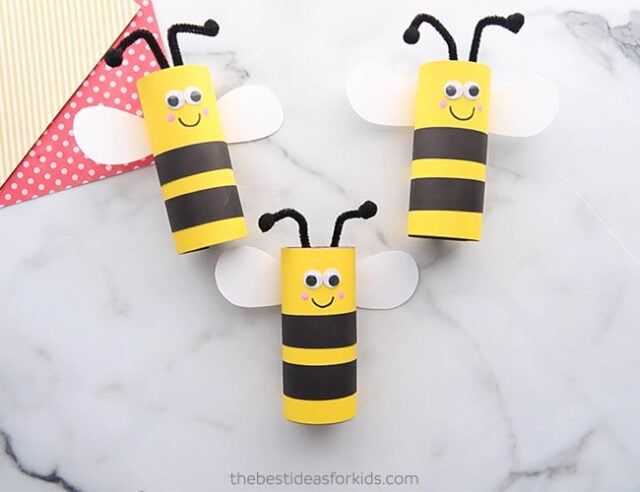 For more paper roll crafts, see our book – Fun and Easy Crafting with Recycled Materials. The book has a whole chapter of paper roll crafts.