This adorable toilet paper roll butterfly craft is so fun and easy to make! You can get the printable template to make the wings in our new book. You can even have kids draw their own wings and make different designs.
RELATED: Toilet Roll Flowers
Toilet Paper Roll Butterfly Craft
Our book – Fun and Easy Crafting with Recycled Materials is bursting with toilet paper roll crafts like this one. We have a whole section of toilet paper roll crafts. But not only that, there are other recycled crafts for kids too – egg cartons, cardboard, newspaper, popsicle sticks, jars and more!
This butterfly project is in our book and includes the butterfly wing template.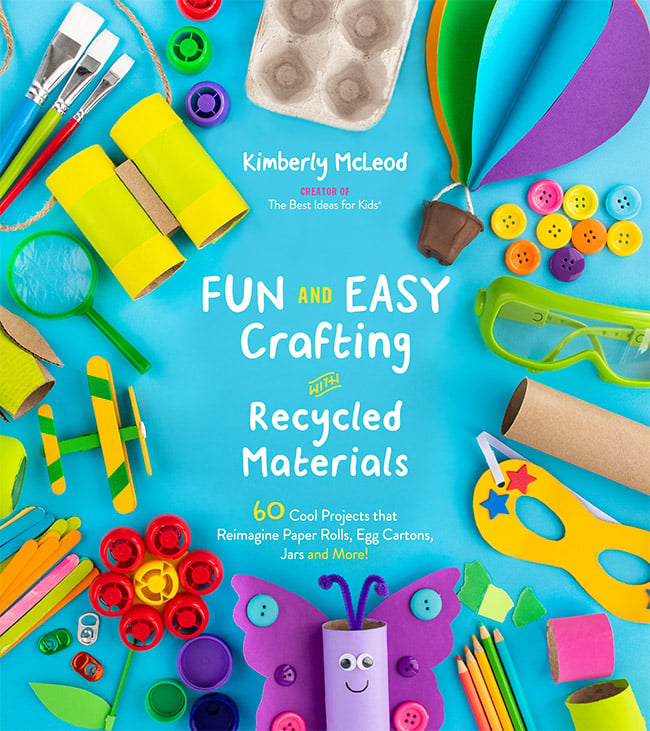 I love that kids can customize this craft however they'd like! They can add buttons, decorate with markers, pom poms, gems or any other craft supplies you have on hand.
It's also really easy to make the butterfly wings with the template in my book!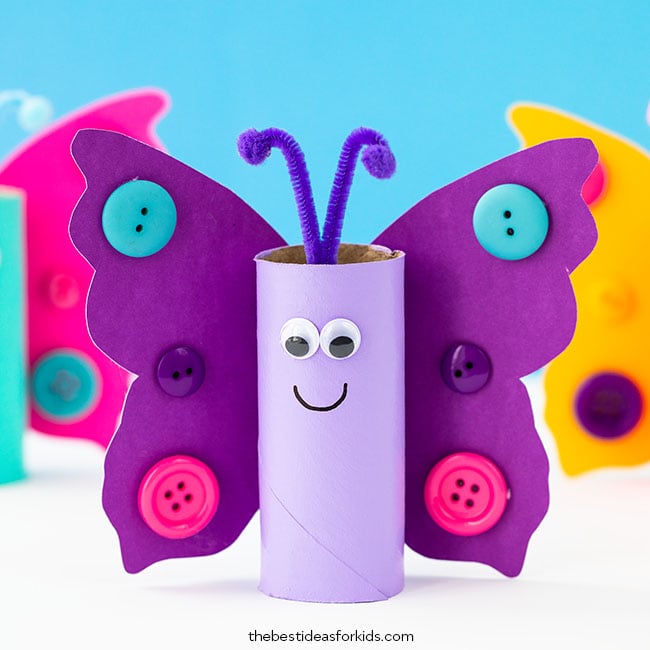 Supplies to Make a Paper Roll Butterfly 
– Toilet paper roll
– Cardstock – pink, purple, yellow or any color you want your wings to be
– Butterfly wing template – Note: To get the butterfly wing template, ORDER our book.
Steps to Make These Toilet Paper Roll Butterflies
1. Paint the paper roll a color of your choice and let it dry. You may need to paint a few coats for lighter colors.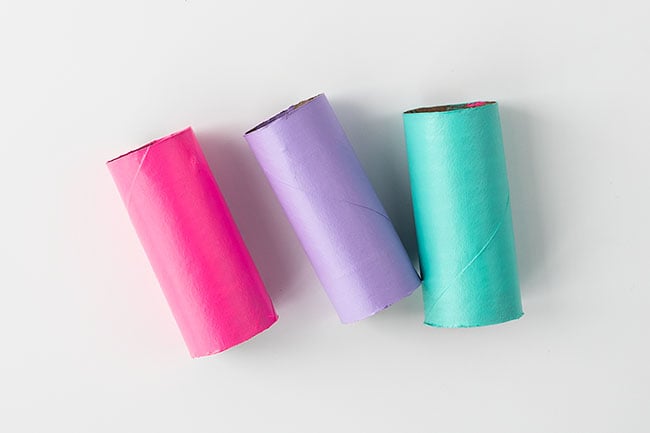 2. For the wings, fold a piece of cardstock in half. Trace the template from our new book or draw your own wings.
Note: To get the butterfly wing template, ORDER our book.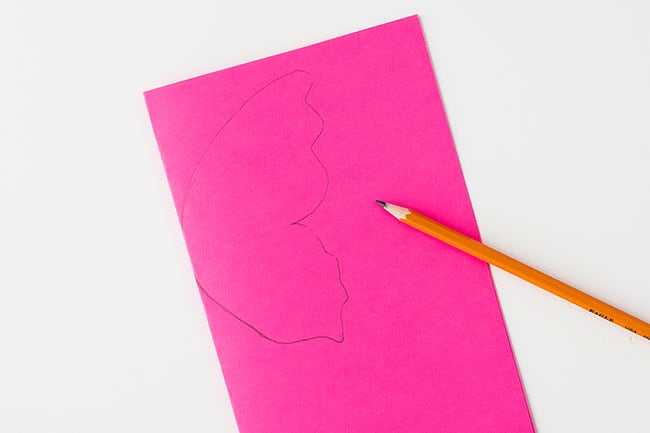 3. Cut out the wings.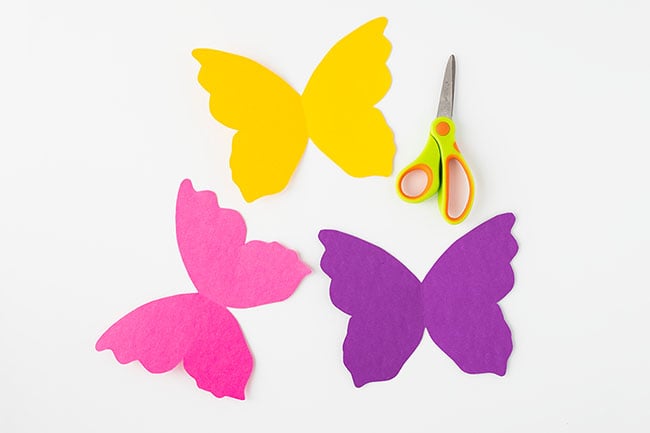 4. Glue colored buttons to the butterfly wings. Or have fun decorating the wings however you'd like! You can use pom poms, craft gems or even just color on your own designs.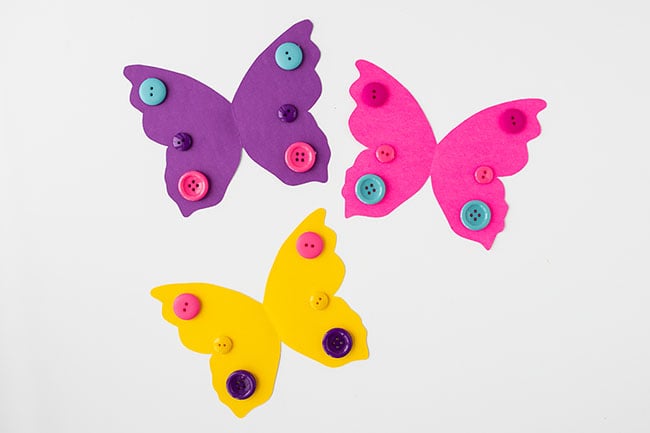 5. To make the antennae, bend the pipe cleaner into the shape of a "V". Curl the tips of the "V" down. Glue two small pom-poms to the tips.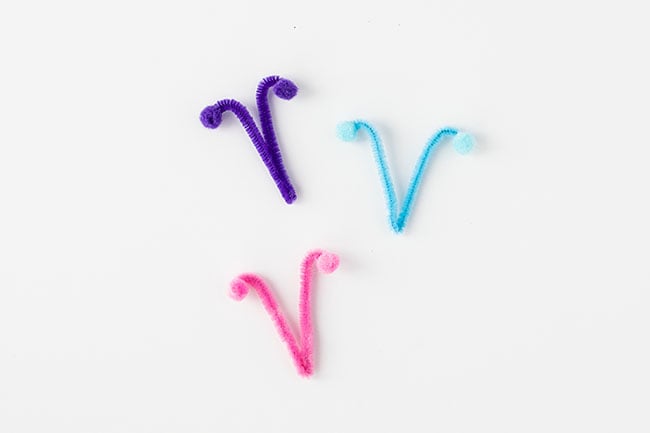 6. Glue the antennae to the inside top of the paper roll. Glue the googly eyes near the top of the paper roll and draw a mouth with the black marker.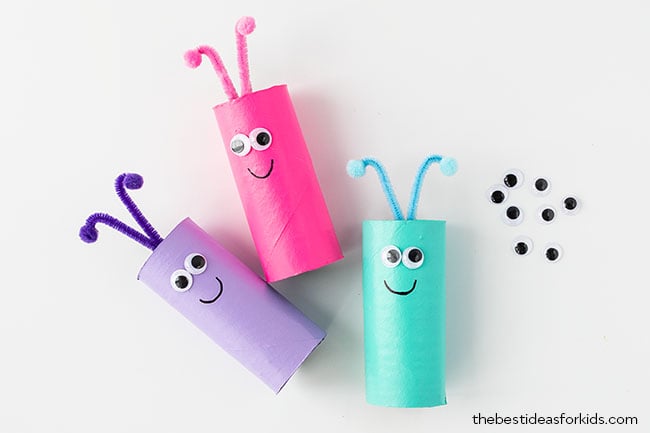 7. Finally, glue the wings to the back of the paper roll.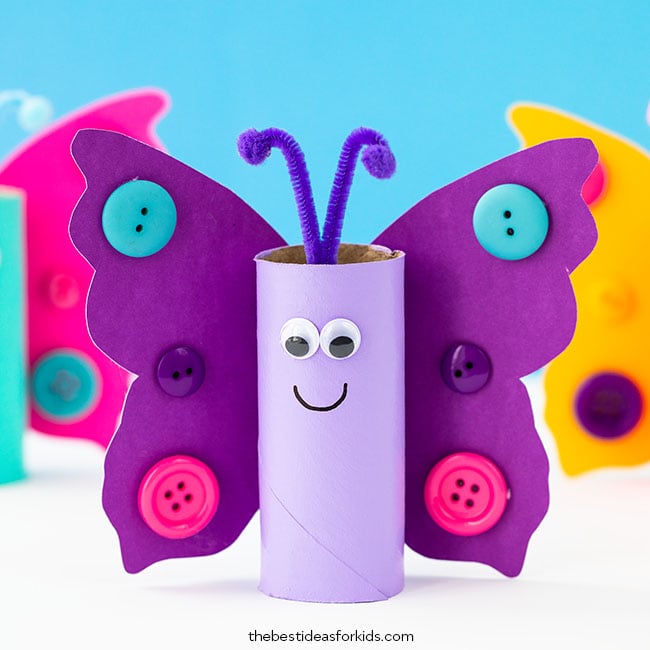 More Butterfly Crafts