Puffy Sidewalk Paint
All activities should be supervised by an adult. By using this site, you agree to our Terms of Use. This post may contain affiliate links. Read our disclosure policy here.
The days are getting warmer which means that the kids will be outside more. We love sidewalk chalk because it's a fun activity for kids (and adults) of all ages to do outside. This puffy sidewalk paint recipe only requires a few materials and it's such a clever spin on the traditional store bought sidewalk chalk. Kids will love painting with this diy sidewalk paint this summer!
RELATED: Sidewalk Chalk Ideas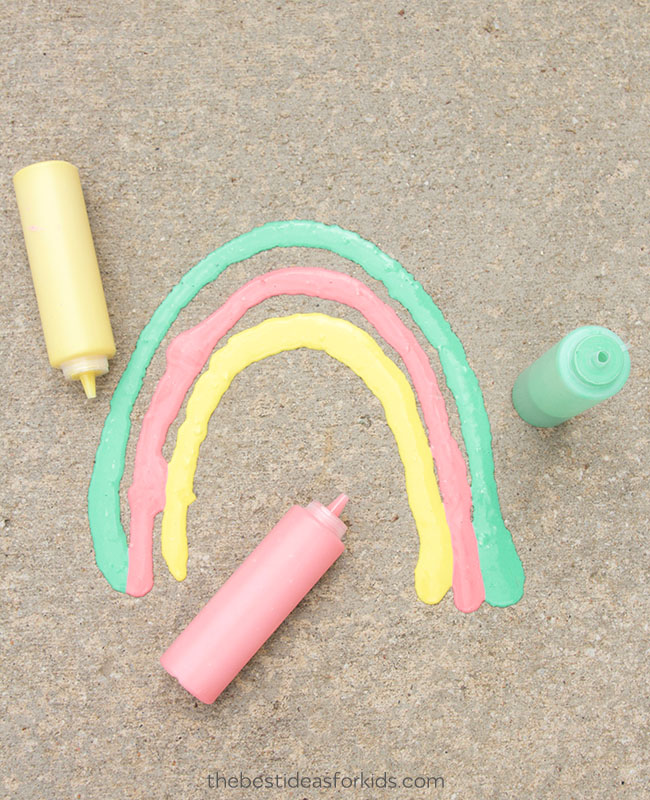 Puffy Sidewalk Paint
This sidewalk chalk paint squirts out easily and stays "puffy" when it hits the concrete. Kids can easily draw pictures or write words with this liquid chalk! You can make the chalk any color you'd like, or make a whole rainbow of colors! Dish soap is added to this recipe to make clean-up super easy.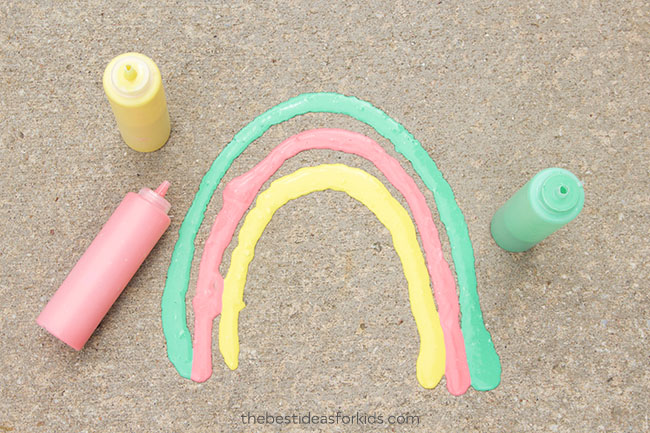 Supplies Needed To Make Puffy Sidewalk Paint
1 Cup Flour
1 Cup Water
1 TBSP Dish Soap – we like this brand which is a bio-based formula and does not contain any triclosan
Washable Kids Paint or Food Coloring. Note: while we did test it with food coloring and it did not stain the concrete when washed while still wet, we recommend using the washable kids paint if you are worried about staining.
This recipe will fill up about 1 large bottle of sidewalk chalk paint. If you want to make multiple colors, double or triple the recipe and just divide the mixture before adding the food coloring.
Steps To Make Puffy Sidewalk Paint
1. Begin by mixing the flour and water together until there are no lumps left.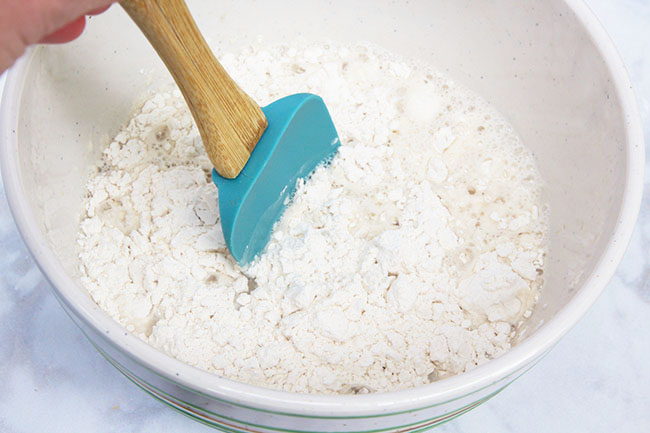 2. Add the dish soap and mix well. The dish soap will help make the clean-up much easier.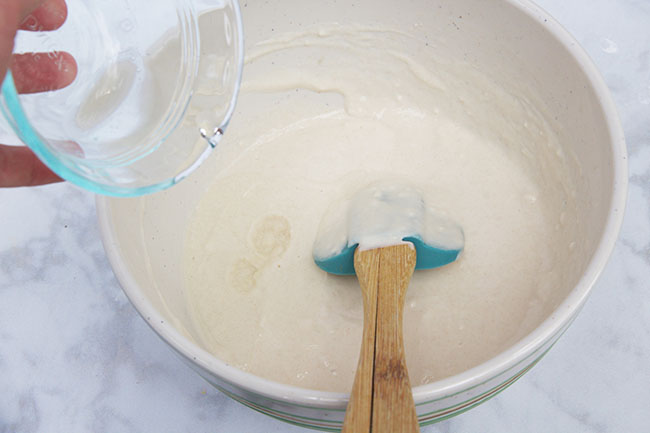 3. If making multiple colors, divide the mixture into separate bowls and mix in a little bit of washable kids paint until you get the color you want.
If using food coloring, add about 8-10 drops but no more or it may cause staining on your concrete.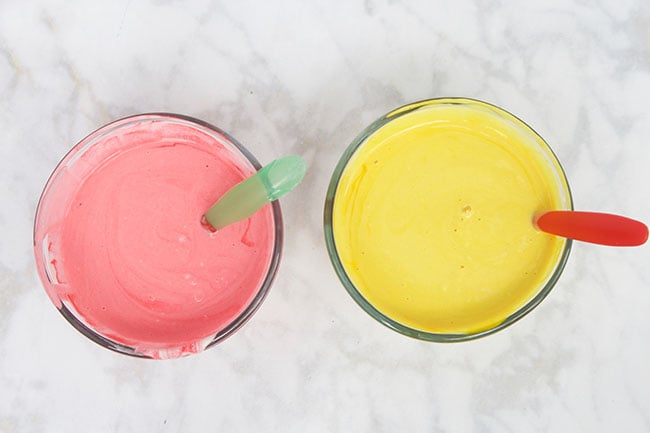 4. Use a funnel to fill up a plastic bottle. You may need to snip off the tip of the plastic bottle so that the puffy chalk paint can squirt out more easily. If you want the paint to be less thick and more like regular paint, you can substitute the flour for corn starch.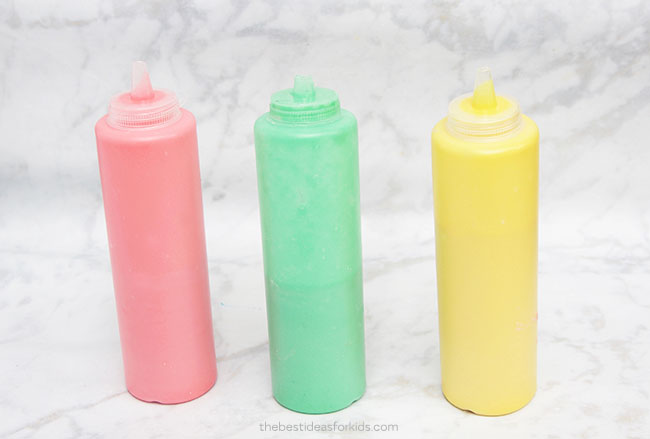 5. Have fun creating outside with your puffy sidewalk chalk!
Tip: To avoid getting clothes stained if using food coloring, we recommend kids wear old clothes or painting clothes while doing this activity.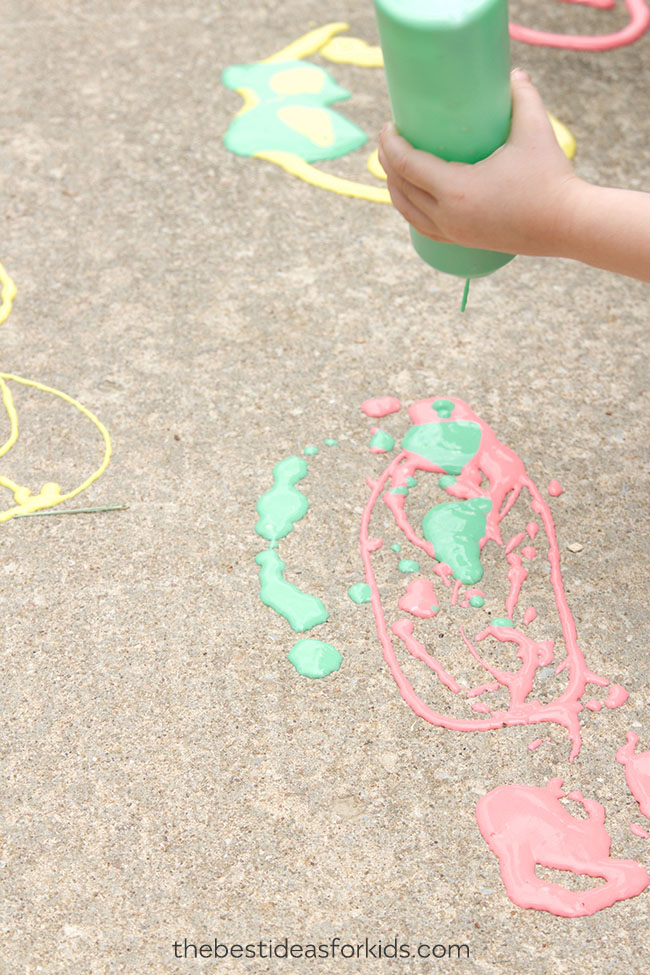 6. Clean-up time! When you are finished, simply spray it down with a garden hose. The dish soap should help make the clean-up easier. We recommend you spray while the paint is still wet and do not let it dry for too long in the sun. If this happens, get a brush broom to help scrub some of the paint off while spraying with water.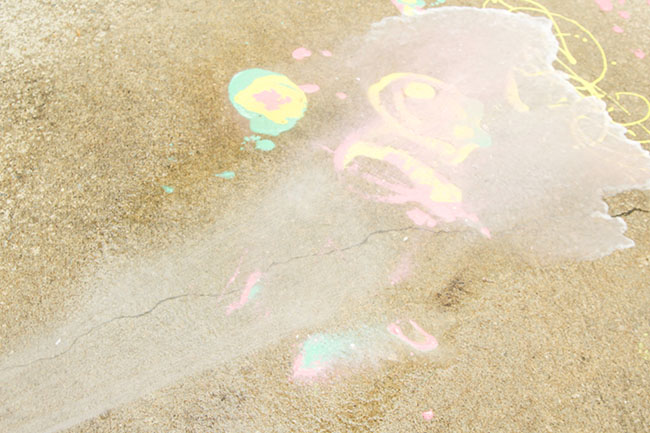 Once you make this fun sidewalk chalk paint, you won't want to buy any store-bought sidewalk paint! Kids will love that they can get involved with both mixing it up in the kitchen and playing with it outside!
If you are interested in trying a store-bought sidewalk paint, we recommend this kind by Crayola. To make it puffy you can mix the flour and water to this paint too.
Pin this image for later!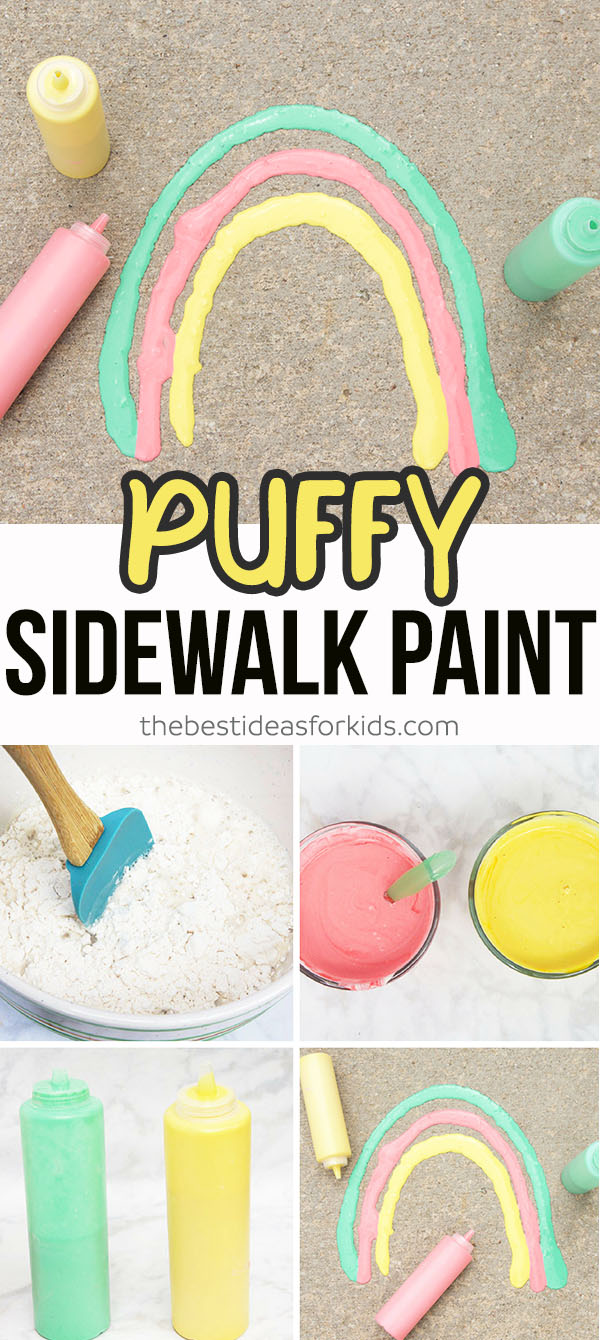 More Summer Ideas
See this list of over 100 summer bucket list ideas – check off each item this summer with your kids.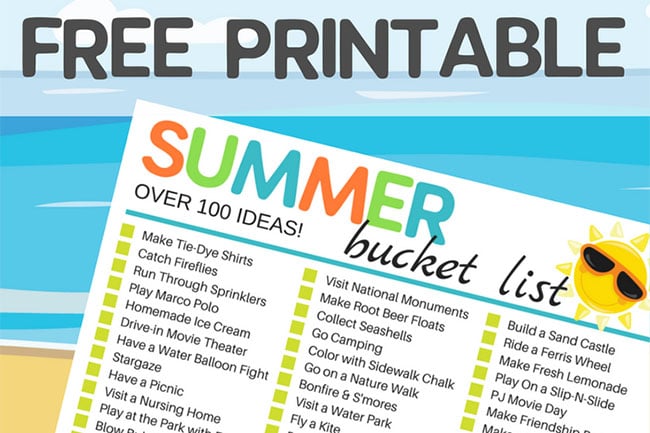 See more sidewalk chalk ideas – these are all so much fun to do!