This toilet paper roll frog craft is a fun spring activity using recycled materials. Kids will love making their own frog and you can even make a paper plate lily pad for the frog to hop onto!
RELATED:  Handprint Frog
Toilet Paper Roll Frog Craft
If you're looking for an easy frog craft – this one is easy and fun to make! The frog doesn't have to be painted green either – when we made these we had a blue and rainbow frog to go along with our green frog.
Our book – Fun and Easy Crafting with Recycled Materials is bursting with toilet paper roll crafts like this one. We have a whole section of toilet paper roll crafts. But not only that, there are other recycled crafts for kids too – egg cartons, cardboard, newspaper, popsicle sticks, jars and more!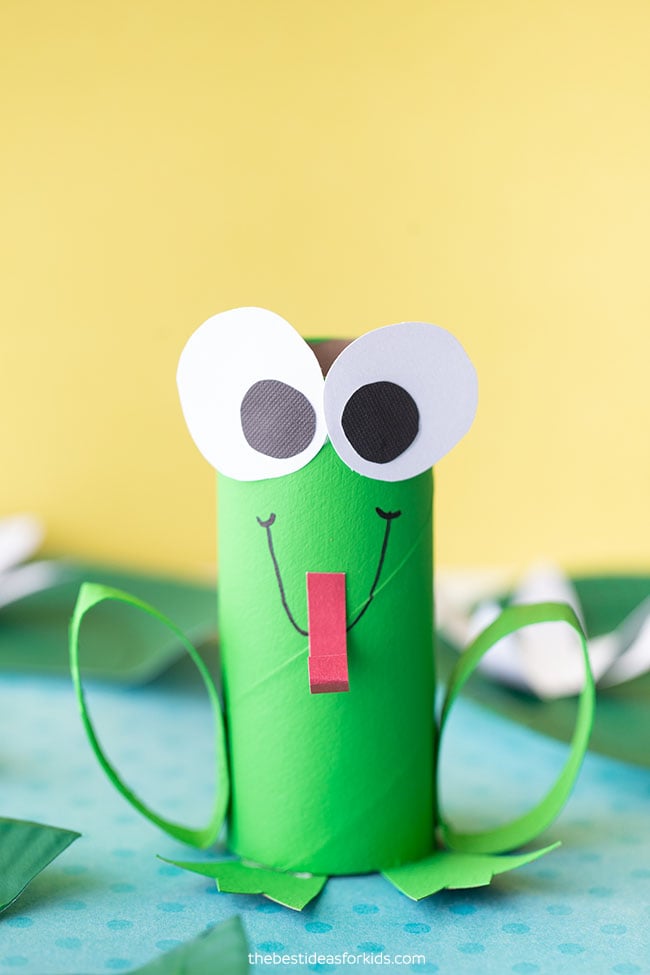 Supplies Needed to Make a Paper Roll Frog
– 2 toilet paper rolls or 1 paper roll towel
– Cardstock – white, black and red
– Glue – extra strong glue or hot glue
Watch the Video Tutorial Here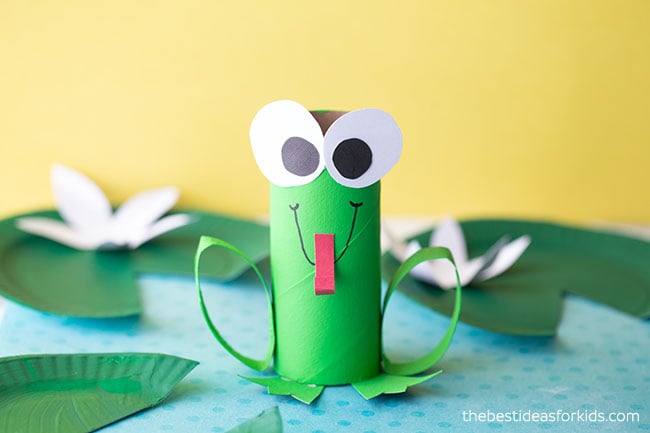 How to Make a Toilet Paper Roll Frog
1. First paint 2 toilet paper rolls with green paint.
You can also paint a paper towel roll and trim it down instead. Keep the trimmed part if you use a paper towel roll (it will be used later for the feet and legs).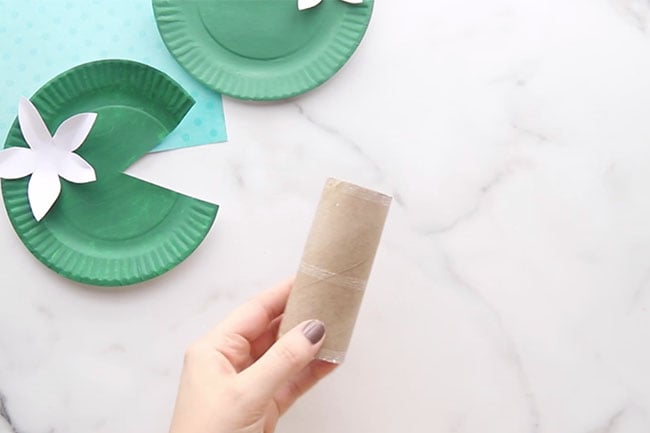 2. Make the frog eyes.
Trace around a small glue stick or another object that is a similar size for the white part of the eyes on white cardstock.
Trace around another smaller circle for the black part of the eyes on black cardstock.
Glue the black circles to the white circles.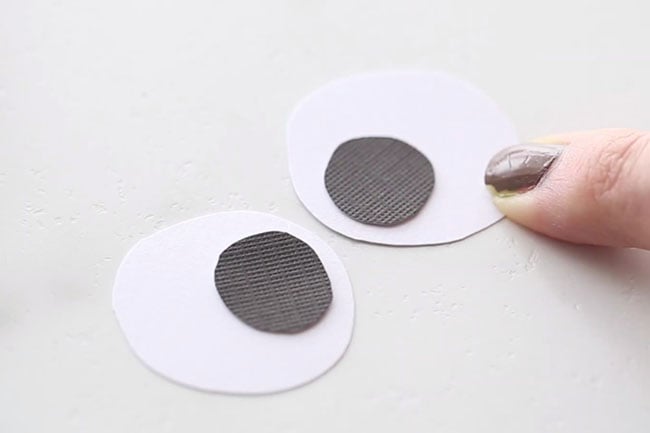 3. Glue the eyes to the toilet paper roll.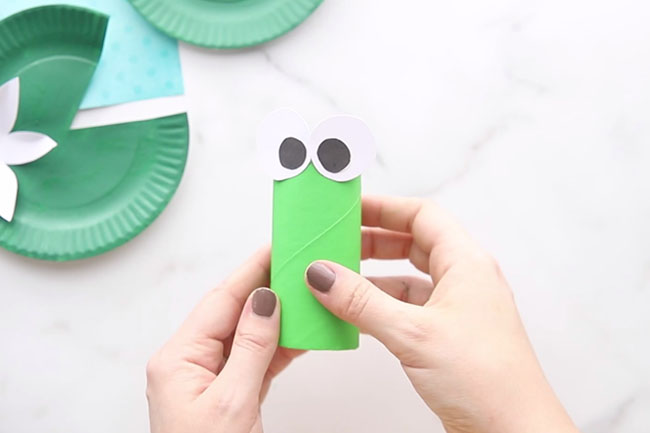 4. Draw the mouth on with a black sharpie or marker.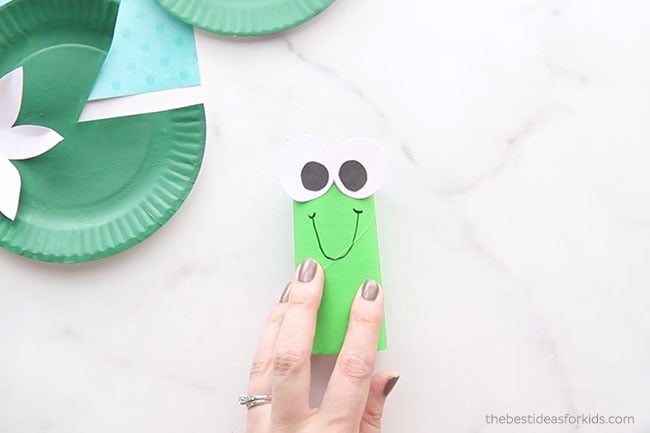 5. Cut a small strip for the tongue out of red cardstock.
Curl the end around a pencil to make the tongue.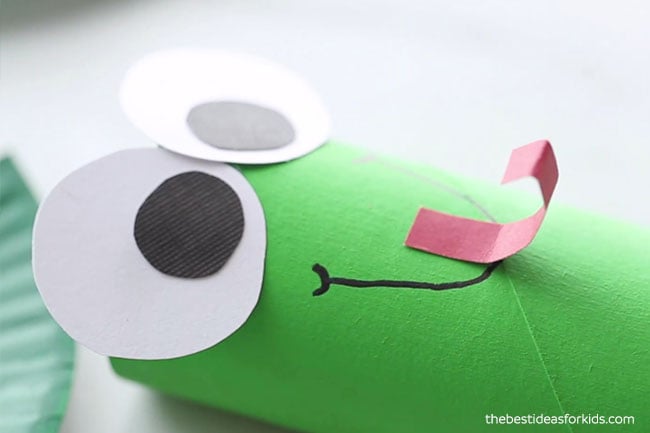 6. Make the frog legs by cutting 2 strips off of the other toilet paper roll or extra paper towel piece.
Paint the insides of the strips.
Then glue one strip to each side of the toilet paper roll.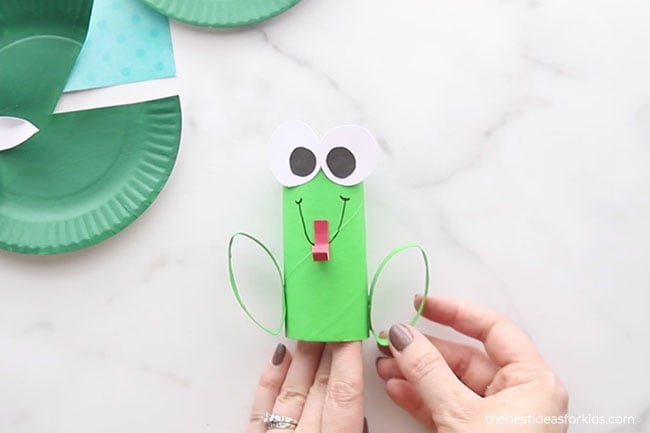 7. Make the frog feet. Draw the shape on the remaining leftover toilet paper roll or paper towel. Cut them out.
Glue the feet to under the toilet paper roll body.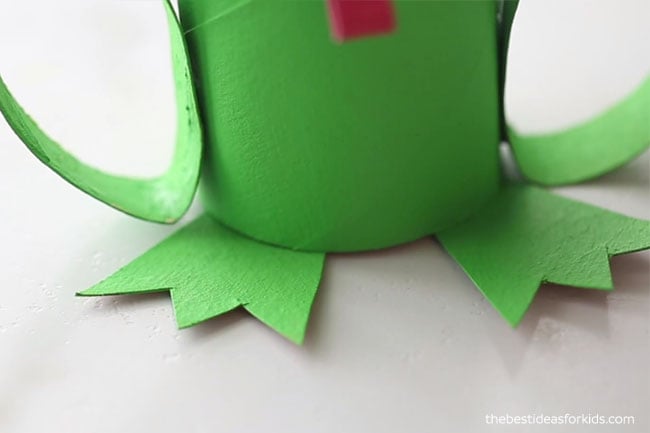 Now your toilet paper roll frog is done. We love how easy this is to make!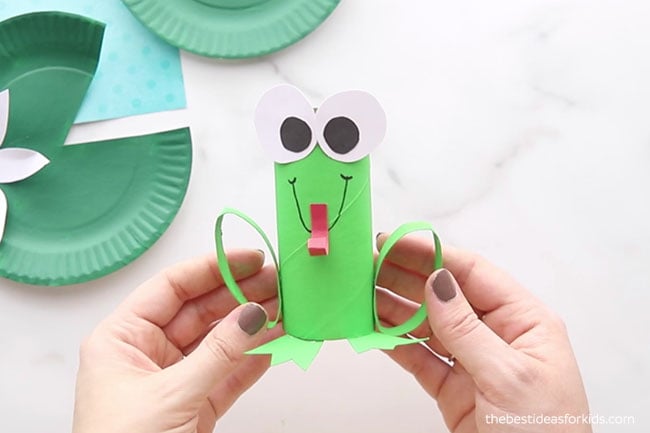 For more paper roll crafts, see our book – Fun and Easy Crafting with Recycled Materials. The book has a whole chapter of paper roll crafts.
And you love this frog toilet paper roll, see our handprint frog with paper plate craft.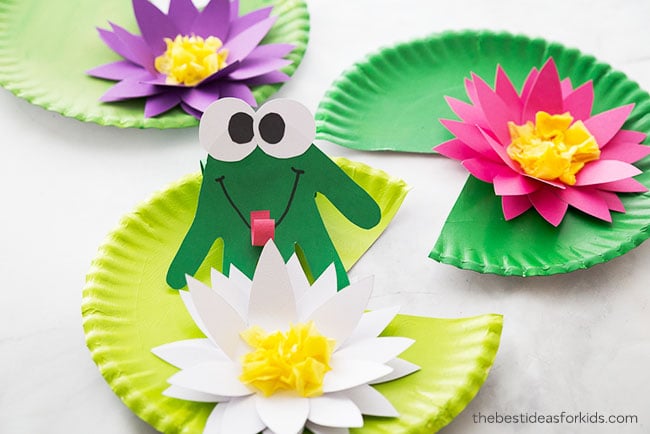 Don't miss this fun toilet paper roll butterfly craft too.