Toilet Paper Roll Flowers Craft
All activities should be supervised by an adult. By using this site, you agree to our Terms of Use. This post may contain affiliate links. Read our disclosure policy here.
With Spring now in full swing we have switched gears to focus on bright and colorful Spring activities. These Toilet Paper Roll flowers are perfect to welcome Spring! And we love all the colors and options you can do with these!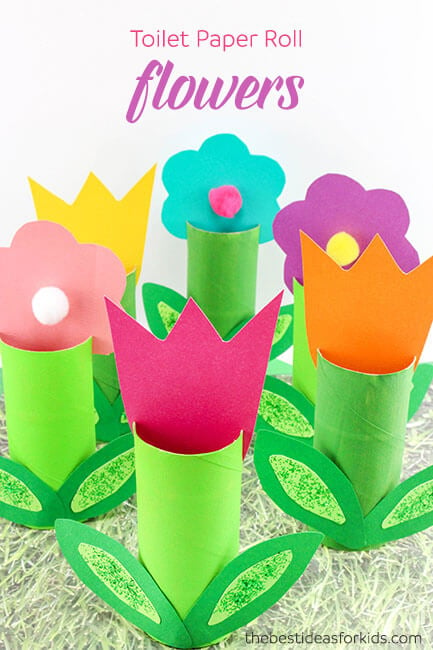 Which spring flower is your favorite? I have to say I love a good bunch of tulips in a clear jug. It's such a welcoming way to brighten up your space or room to have fresh flowers. Of course, these aren't fresh flowers but they are fun, bright and colorful and who doesn't love that?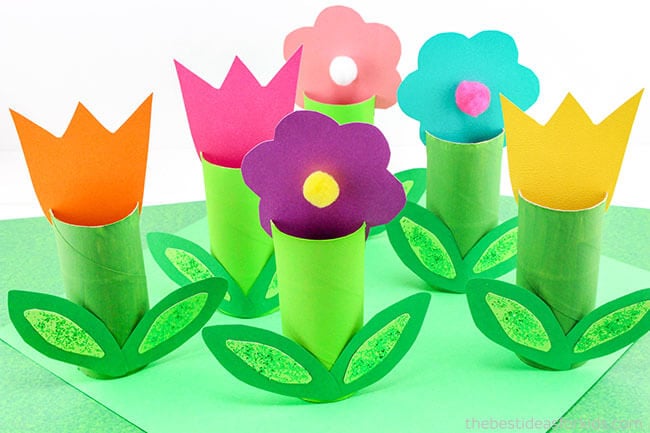 April showers bring May flowers and we're getting close to May coming! Trees are starting to bud here and I can see the flowers starting to come through. Before the flowers actually bloom, we hope you give this craft a try with your kids! They will love putting these beautiful toilet paper roll flowers on display!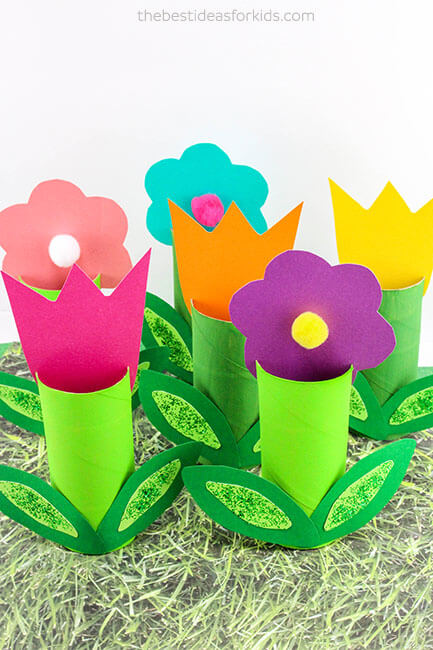 Now let's get into how you create this fun craft!
Here are the materials you'll need to make these Toilet Paper Roll Flowers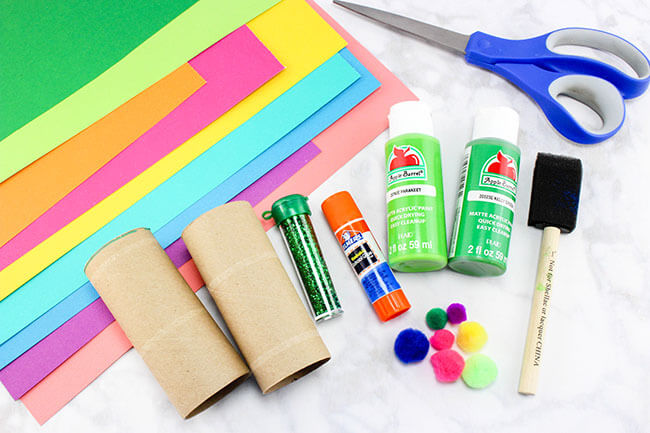 Steps to Make the Toilet Paper Roll Flowers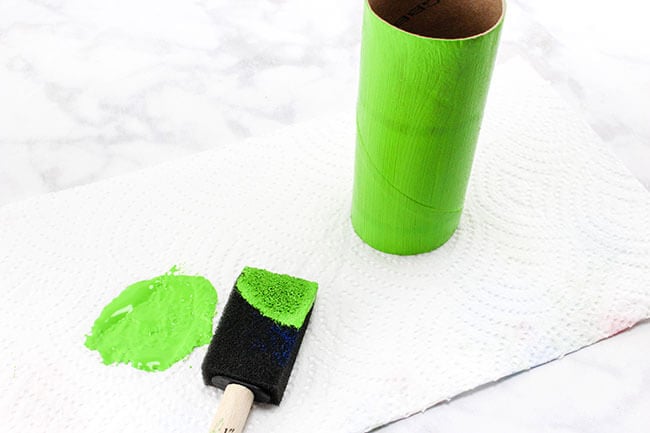 1. Paint the toilet paper rolls using green paint. Allow rolls to dry.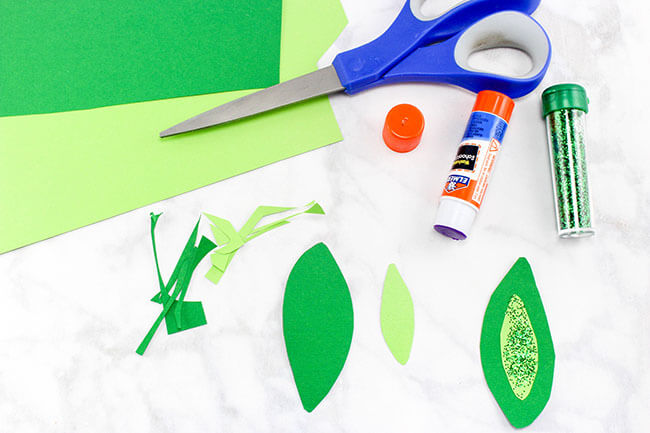 2. Cut out your leaves, approximately 4" long using green construction paper. And cut out a smaller center using a lighter green paper. Put some glue on the small leaves and sprinkle with glitter. Glue these smaller leaves onto the larger ones.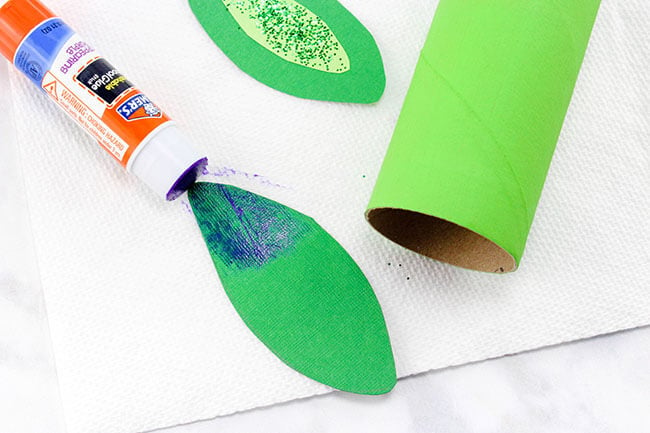 3. Glue the leaves to the front of the toilet paper rolls.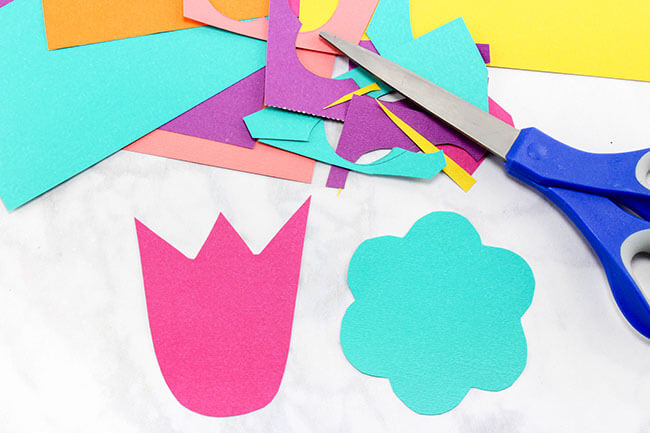 4. Using different colored paper, cut out different flower shapes like tulips and daisies.  If you have flower cookie cutters you can trace with those or you can print off flower templates and trace around those. You can also freehand like we did!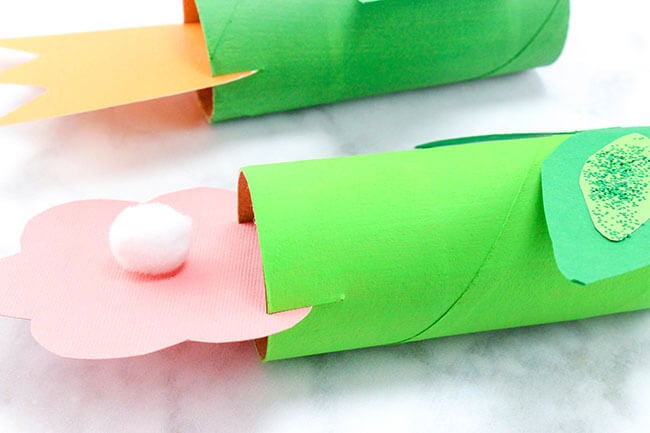 5. Glue little pom poms onto the daisy shaped flowers.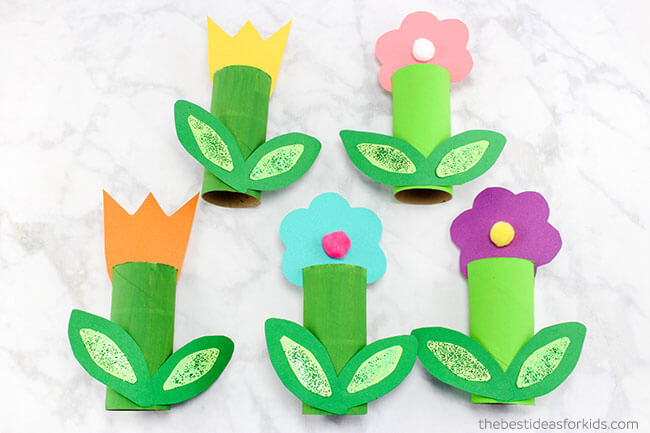 6. Cut a half inch slit on each side of the toilet paper roll to slide the flower into.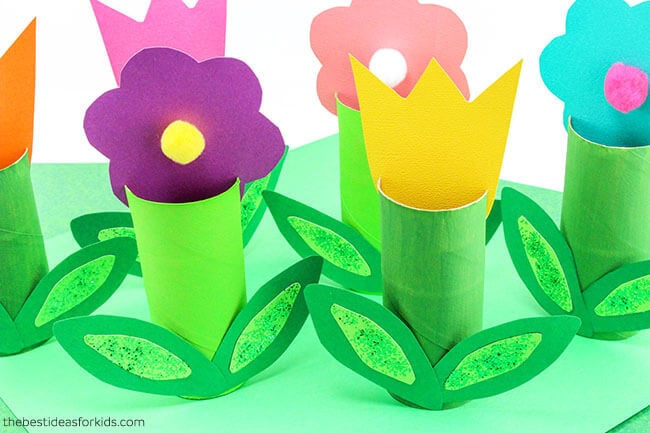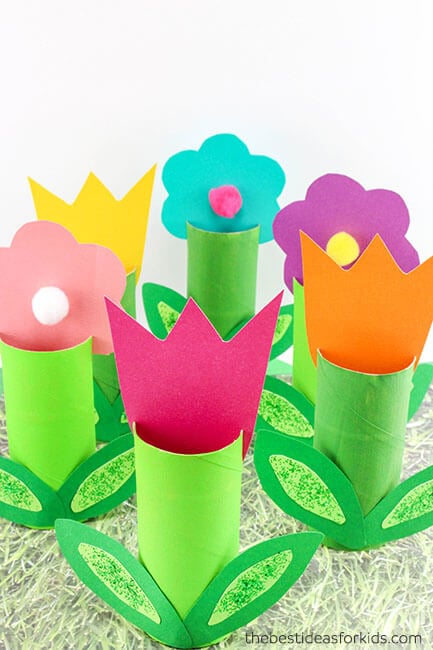 And that's it! Aren't they so cute?
Want another fun Spring craft? Try these adorable Butterfly Footprint Keychains. These are perfect for a gift or just a lovely keepsake!