Easter is coming up quickly and one tradition most people do with their kids is decorate Easter Eggs! Today we're showing you a really simple way to decorate your Easter Eggs with stickers! The fun part about these Silhouette Easter Eggs is the kids will have a lot of fun picking out the stickers to use! And the options and designs to make these are endless!


Watch the full tutorial video here before you get started!
Here are the materials you'll need to make these Silhouette Easter Eggs
Eggs
Stickers
Paper Towel – to clean up any spilled dye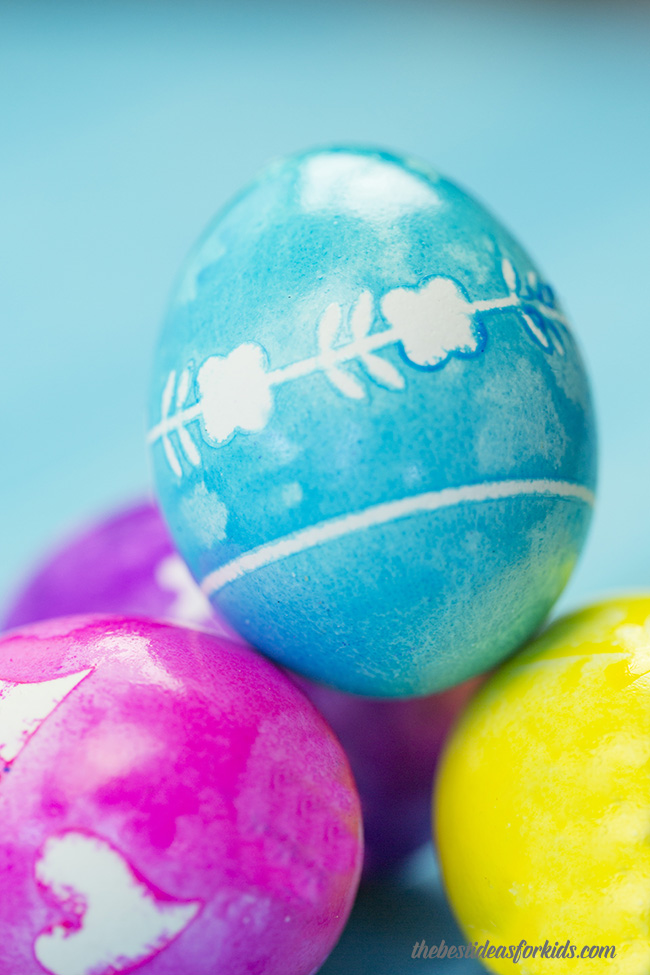 When looking for a selection of eggs – find either 1 large sticker that could act as a neat silhouette or smaller stickers you can create a silhouette out of. We chose small hearts and flowers and vine sticker to wrap around the egg. For the larger stickers, you'll want to make sure you can recognize the shape when the sticker is removed.
For the smaller stickers – these are easier to stick to the egg so you'll likely have less bleeding on these so I highly recommend picking smaller stickers and using them to make a mosaic design!
Decorating your eggs with stickers to make silhouettes is so simple anyone in the family can help!
Directions to Make The Silhouette Easter Eggs
1. First hard boil your eggs. Rinse them with cool water and allow to dry.  Make sure the eggs are dry so the stickers will adhere to them.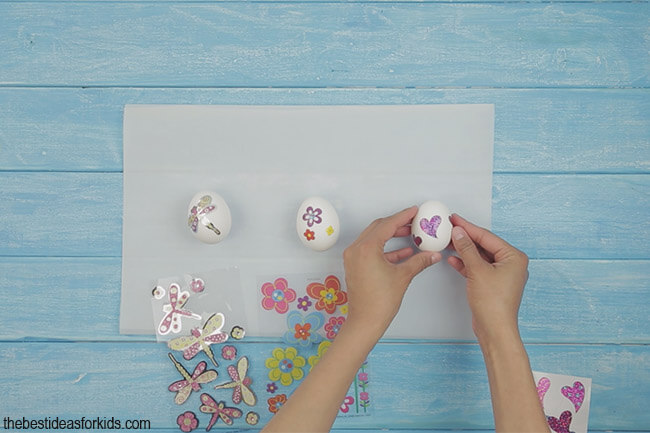 2. Now apply your stickers! Really make sure all the edges are pressed down tightly and no part of the sticker is sticking up. Even with doing this we had a bit of bleeding through from the dye, but we still think the design turned out nicely. 🙂  Pick a variety of different stickers to try out as some may stick and pop better on the eggs.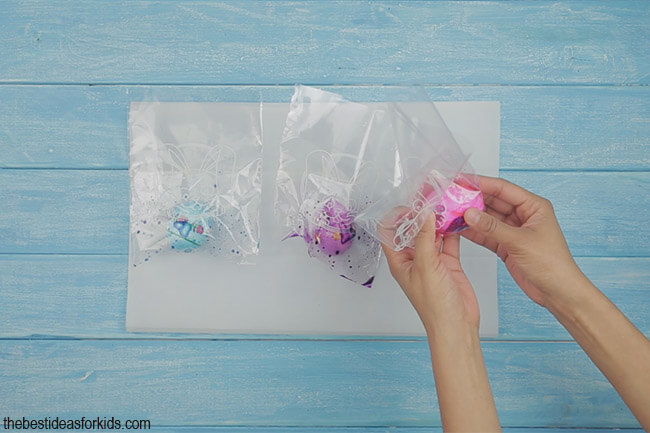 3. Follow your dye kit directions on how to dye your eggs.  We used a kit that included the dye you place inside a bag, but there are also kits that dissolve colored tablets and you let the egg soak in the water. Follow the directions for your dye kit.
4. Let your eggs dry completely before removing the stickers. Once dry, gently remove the stickers.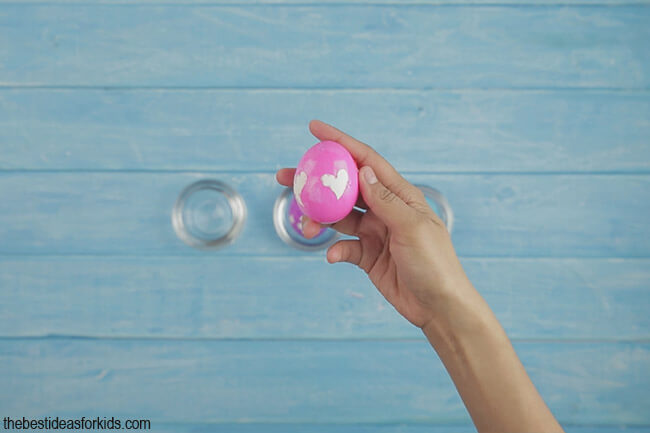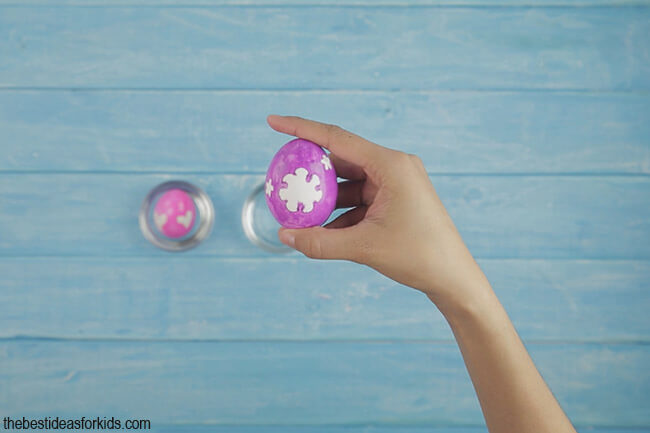 Now enjoy your fun silhouette Easter Eggs! I'd love to see the different patterns and designs you make using this simple decorating tutorial!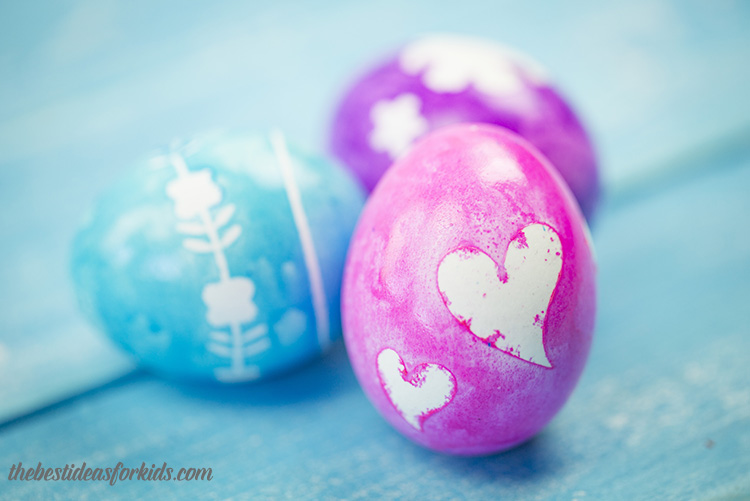 Want more Easter fun? This Paper Plate Easter Bunny is so cute and easy to make!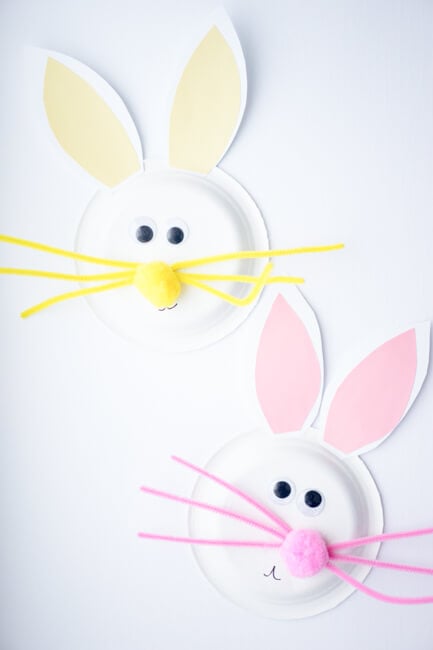 Don't want to get messy with dyed eggs? These Felt Easter Eggs are such a fun "invitation to create" activity where each child can pick the items they want to decorate their felt Easter eggs with!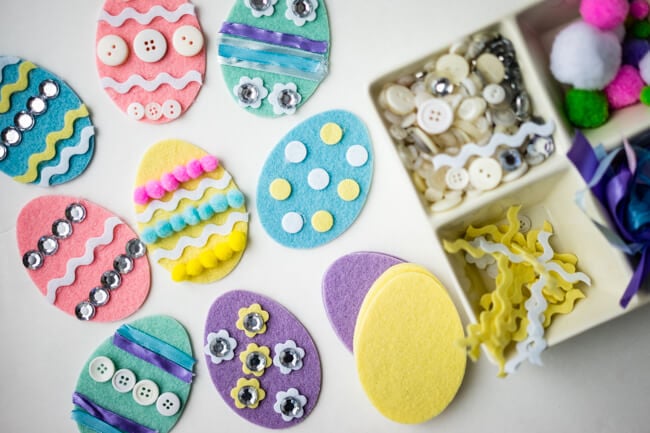 Looking for a fun treat to make for Easter? These cadbury mini egg cupcakes are so simple to make and are the perfect Easter dessert with the kids!