Leaf Suncatcher Craft
All activities should be supervised by an adult. By using this site, you agree to our Terms of Use. This post may contain affiliate links. Read our disclosure policy here.
Fall is the perfect time to brighten up your windows with some beautiful suncatchers. This fall leaf suncatcher is so easy to make and we've made it even easier for you by providing free leaf templates. All you need to do is print the template out and grab some simple supplies to make these beautiful suncatchers.
RELATED: Leaf Silhouette Art
Fall Leaf Suncatcher
These suncatchers only require a few materials and you might already have them on hand. To make it super easy, we've provided these free fall leaf templates!  Grab you free leaf templates here.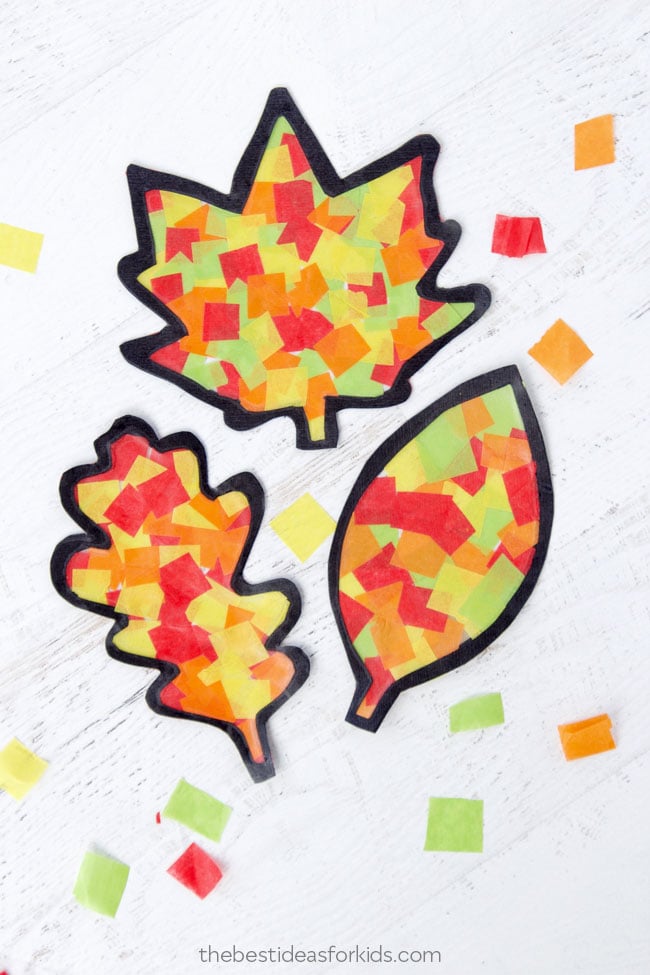 You can also make this craft without the template and cut out the leaves to whatever size and shape you want. It's easy to customize this project to however you want it to be!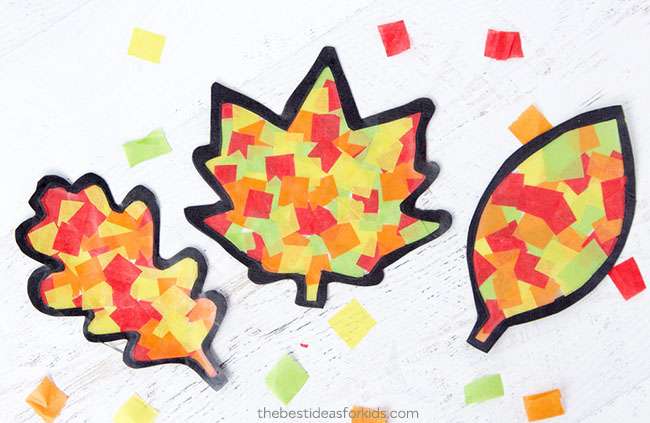 Supplies Needed To Make Fall Leaf Suncatchers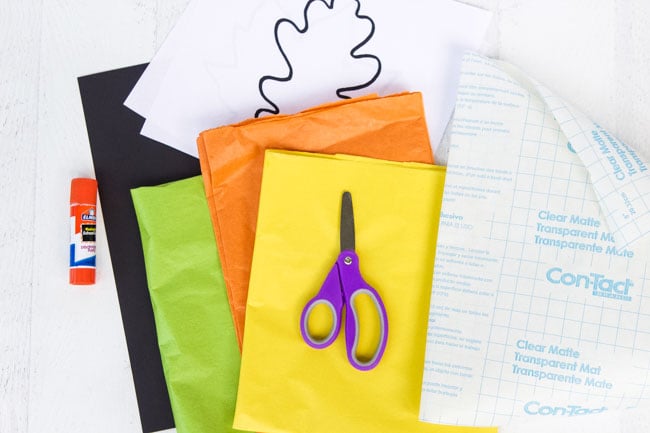 Instructions For Making a Fall Leaf Suncatcher
1. First, print the fall leaf templates on white card stock and cut them out. You want to cut out the center as well, just leaving a black outline. You could also trace the templates onto black construction paper if you want a thicker outline for your leaves.
You will need 2 identical leaf outlines for each suncatcher.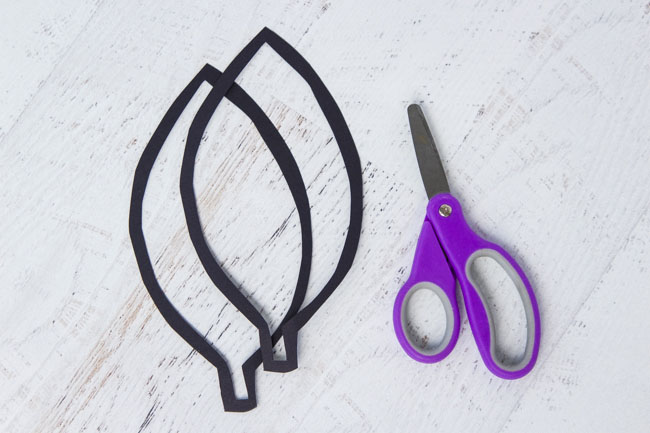 2. Cut up your tissue paper into small squares. Then place one leaf outline onto the sticky side of a piece of contact paper.
Layer the tissue paper squares onto the contact paper. Don't worry if you go outside of the outline, this will get trimmed off later!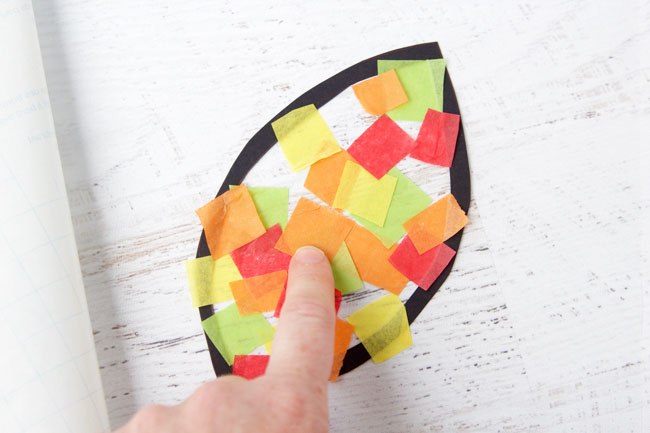 3. Using a glue stick, glue around the back side of the second leaf outline.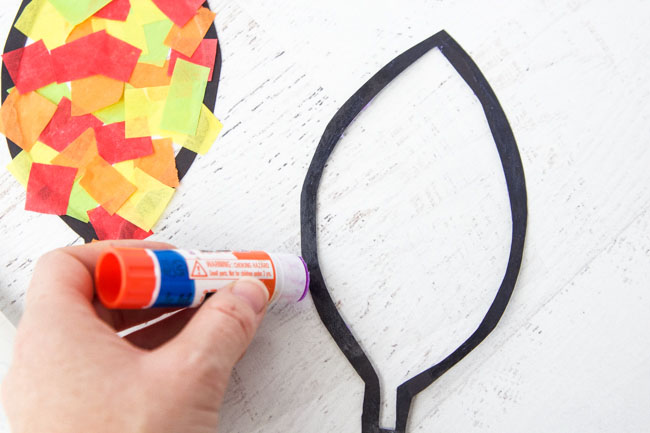 4. Place the second leaf outline on top of the tissue paper, lining it up with the first leaf. Place another piece of clear contact paper on top and press down to smooth out any bubbles. Trim the excess contact paper with scissors.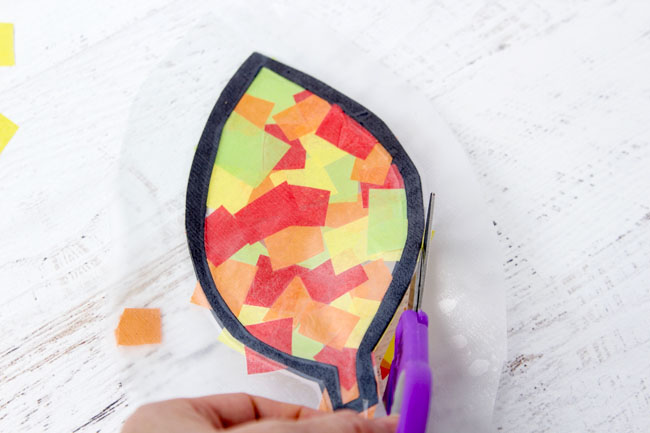 5. Stick your suncatchers onto a window with double sided tape and enjoy the beautiful fall colors as the sun shines through the tissue paper!
We love how easy this fall craft is! To make a slightly different spin, use your contact paper to preserve fall leaves you find outside and display them on your window!
More Fall Kids Crafts
– Fall Bucket List with Leaf Garland
See more ideas for Fall in these videos:
Use the same maple leaf template to create some leaf silhouette art! We'll show you how to use paint, washi tape, yarn and paper to create this art!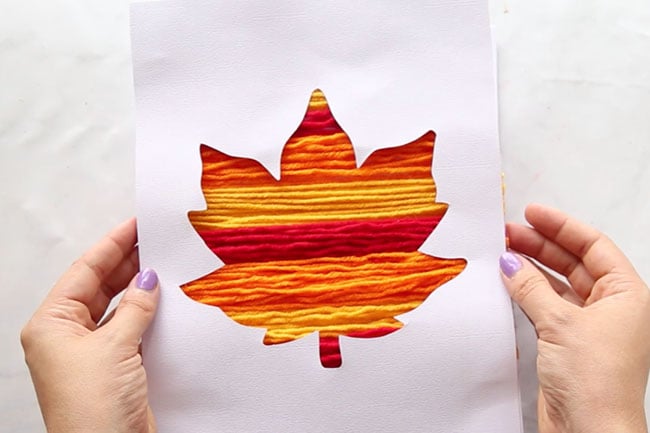 If you love this suncatcher idea, see how to make these handprint suncatchers. We love how they have a little heart in between the hands!