If you're looking for a fun fall art activity – you will love this leaf salt painting craft! You can even trace leaves you collect outside and use that as your template. We also have a free printable template you can use.
RELATED: Salt Painted Snowflakes
Fall Leaf Salt Painting
We love salt painting. And it's a really easy activity to set up for kids.
If you're looking for a winter version – see our salt painted snowflakes.
Or for spring – see this spring salt painting post with a butterfly, rainbow and flowers.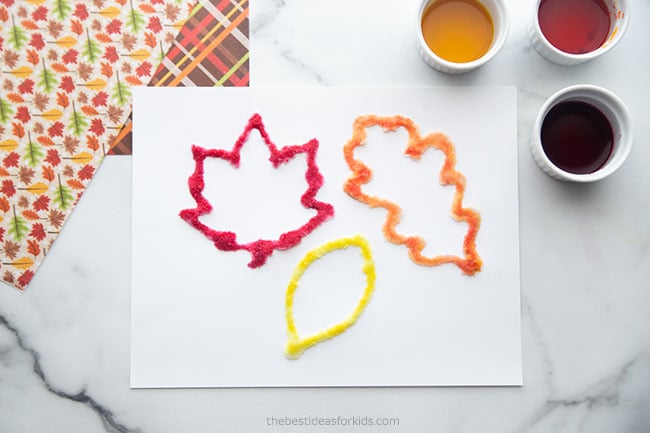 We love how vibrant and crystallized this salt painted art turns out. Kids also love to see the paint run along the salt as they do this activity too!
Supplies Needed for Raised Salt Painting
– Liquid watercolors – we like this brand
Note: you can use regular watercolors too, we recommend that you do not add too much water to them as you paint to keep the colors vibrant.
– Salt (any fine salt will work)
– White glue – use a regular bottle size so the amount of glue coming out isn't too thick
– Paintbrush
– A little bit of water
– Leaf template – get the free printable templates by subscribing to our newsletter on the form with the preview of the template at the bottom of this post. You can also trace your own leaves too!
Watch the full tutorial video here before you get started!
TIPS FOR SALT PAINTING: 
Use a highly concentrated solution of your liquid watercolors. Only add a small amount of water to your solution to keep the color vibrant. You can also use regular watercolors. We recommend to add just a little bit of water if you use regular watercolors.
Dip your paintbrush gently into your liquid watercolors to get only a little bit of watercolor at a time. If you have too much water when you're painting the water will spill over and get your paper wet.
You can paint after the glue dries or right away – it shouldn't make a difference!
Use some cardboard or place the paper in an art tray when painting to keep your counter or table from getting wet.
If you want to keep your art afterwards, the salt will eventually fall off. What we like to do is scrape off the salt and then you will be left with a beautiful watercolor painting underneath.
Leaf Salt Painting Directions
1. First, print off our template on white cardstock paper (you can grab the template by subscribing to our newsletter on the form with the preview of the template at the bottom of this post).
Alternatively, you can print off any image to trace or free-hand draw your own! You can even have kids go outside to find leaves and trace around the leaves that they find.
You want to use a thick cardstock paper so that the watercolor will not seep through the paper.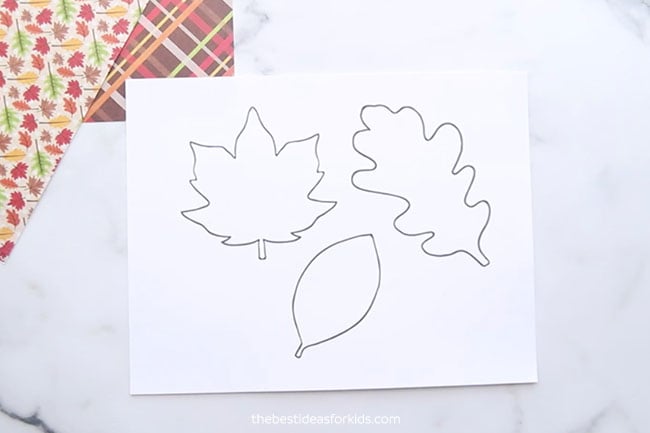 We also have large leaf templates you can get here.
2. Begin by tracing the templates with your glue.
We like to use a regular bottle of glue. The larger bottles will let out more glue when you use them making the lines a little bigger.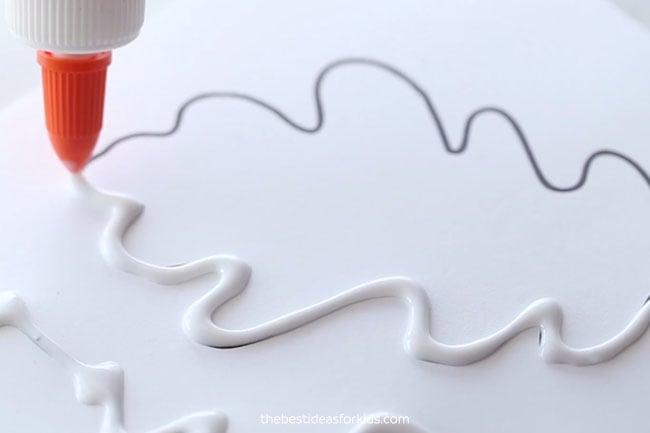 Finish tracing every line before adding your salt.
3. Now you can sprinkle on your salt!
We like to keep a separate stash of salt for art activities. So when you're done you can scoop off the remainder and store again for another salt craft.
Make sure to cover all of the glue with salt. If you miss any spots the color won't run over that part.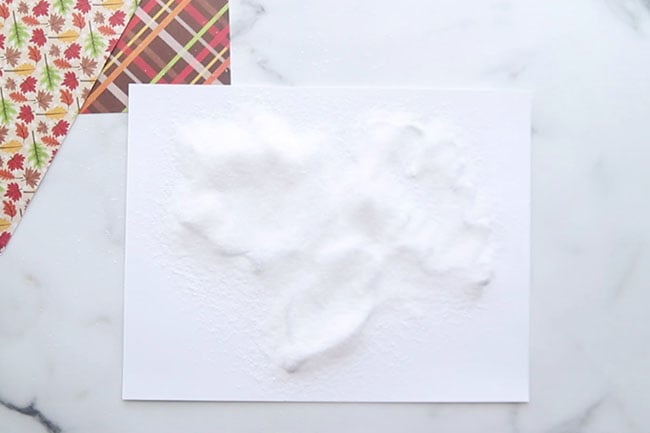 4. Now shake off your excess salt from your page and you should have something that looks like this:
5. Now you can begin to paint with your watercolors! We like to use liquid watercolors as they are easy to use and more vibrant than food coloring, but food coloring would also work. If you're looking for a low cost brand of liquid watercolors we like these ones.
You can also use regular watercolors but don't add too much water to them to keep the colors vibrant.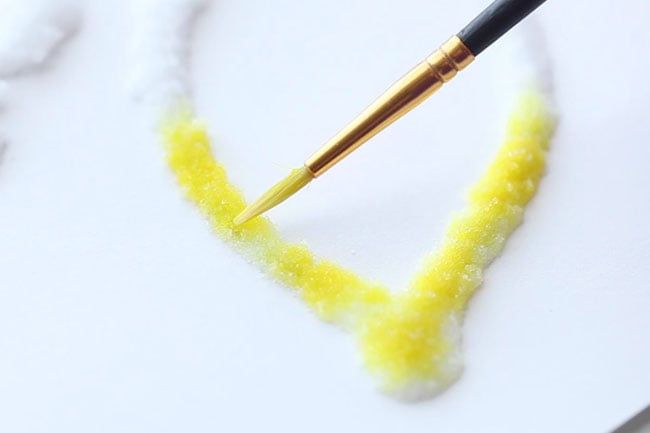 Now watch the magic! As you gently tap your salt with the paintbrush, the salt will soak up the watercolor from your brush and spread like magic!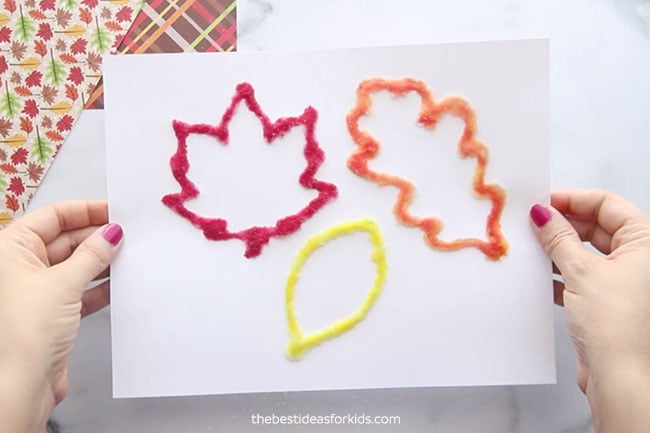 6. Once you're done, let your painting dry.
Eventually the salt will flake off of the paper. When this happens we scrape off the remaining salt and you are left with a beautiful water color painting underneath.
Sign up for our Newsletter and get these as a thank you!
If you are having trouble getting the email confirmation, make sure you check all folders as it can sometimes land in the promotion and junk folders.
More Painting Activities
Try a different kind of paint by making your own puffy paint!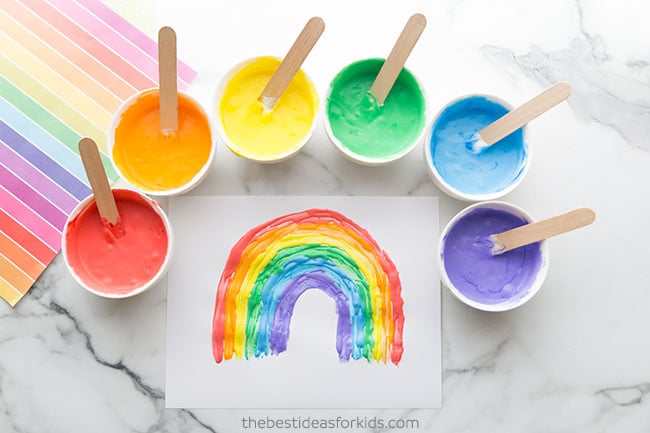 See also this these spring salt painting templates.