Decorate your own felt Easter eggs for an easy Easter activity for kids. The best part about this activity is you can set out all of the materials and let kids create on their own with little assistance. Glue some ribbon to the back and you can hang these felt Easter eggs on an Easter tree. You can also give them out as gifts at Easter or use them to decorate your placemat settings. Don't forget to grab the free printable Easter egg template at the bottom of this post too.
RELATED: 25+ Easter Crafts for Kids
We love easy crafts and this one is no exception. The best part is that kids can create their own unique designs. Set up an "invitation to create" station by putting out all of the materials you need and then let the kids get to work! They will love choosing from a selection of supplies. Buttons, pom poms and rhinestones are some of our favorite supplies!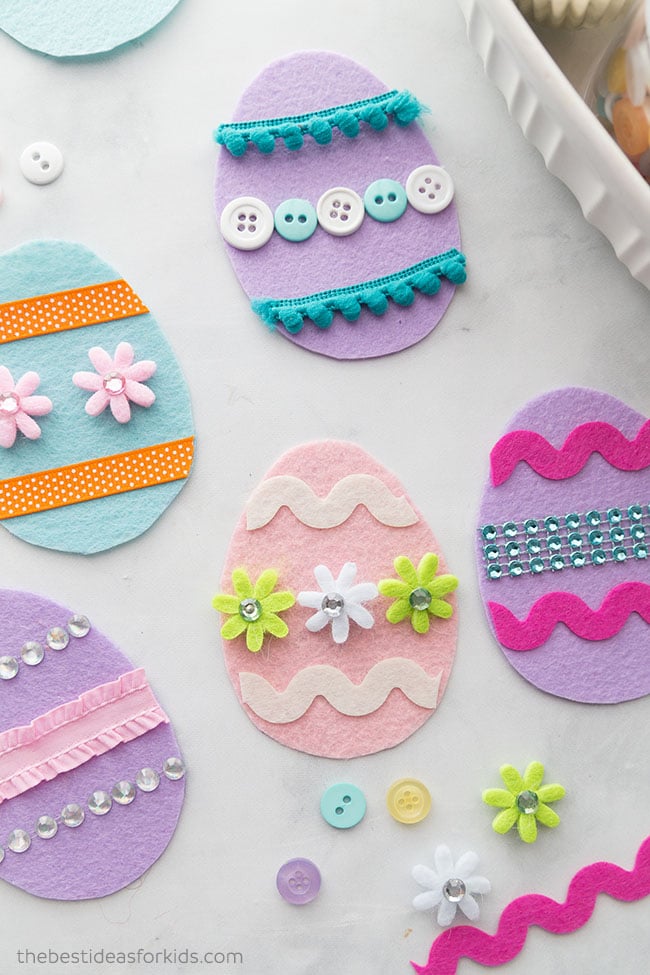 Supplies to Make Felt Easter Eggs
Set out a bunch of supplies for kids and let them decide what they want to place on their Easter eggs. You don't need to include all of these and you can get creative with what supplies you put out to use.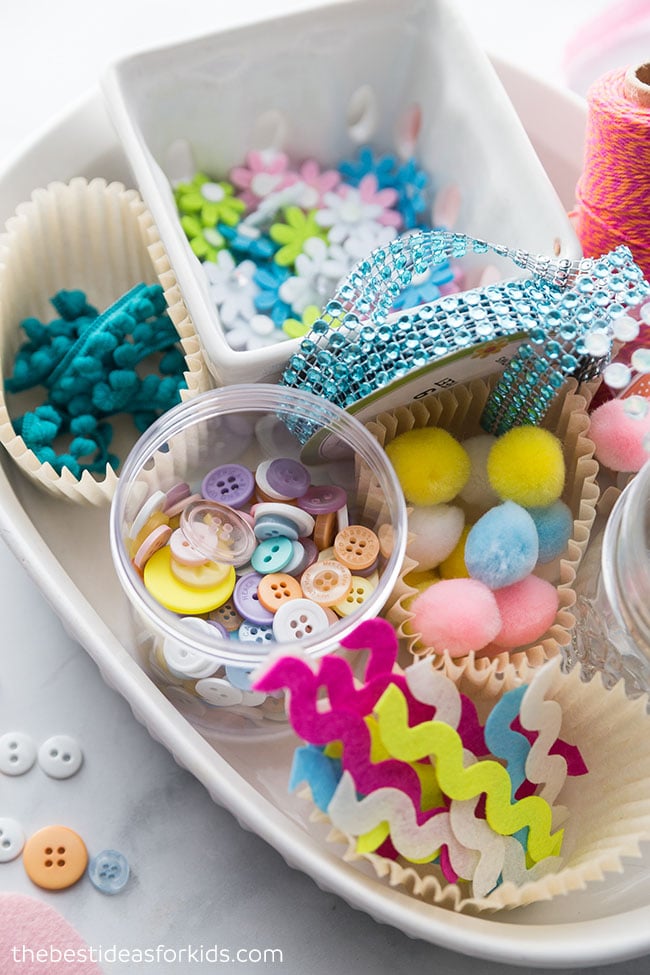 Here are the different supplies we used to make our felt Easter Eggs:
– Buttons
– Felt – you'll want stiff felt for the Easter egg and any other felt embellishments
– Pom Poms
– Rhinestones
– Ribbon
– There are many other options you can use. If you can glue it, put it in the pile for decorating options!
–Easter egg template – get the template by subscribing to our newsletter on the form with the preview of the egg template
Watch the full tutorial video here before you get started!
How to Make Felt Easter Eggs
1. Cut out your Easter eggs from felt.
You may be able to find some felt Easter eggs at your local craft store or dollar store during Easter time. You can also make your own. We recommend stiff felt since it will hold up better and can be picked up easily.
Trace around the Easter egg template on your felt. You can get the template by subscribing to our newsletter on the form with the preview of the template.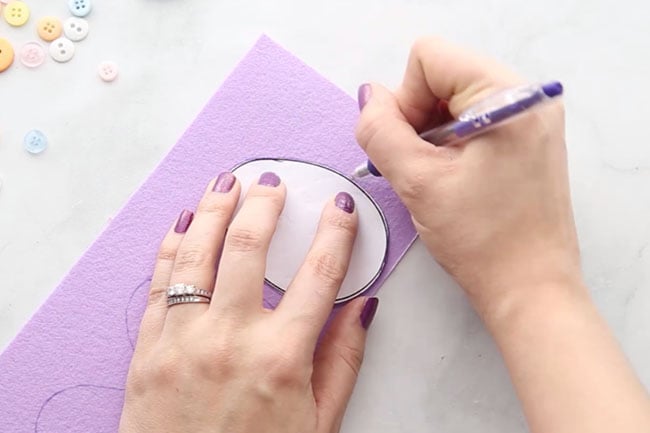 Once you're done tracing, cut out the different Easter eggs.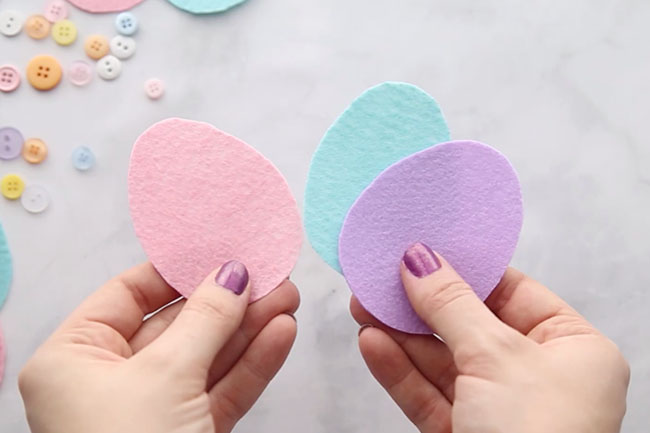 2. Lay out your design first or just have fun gluing on different materials!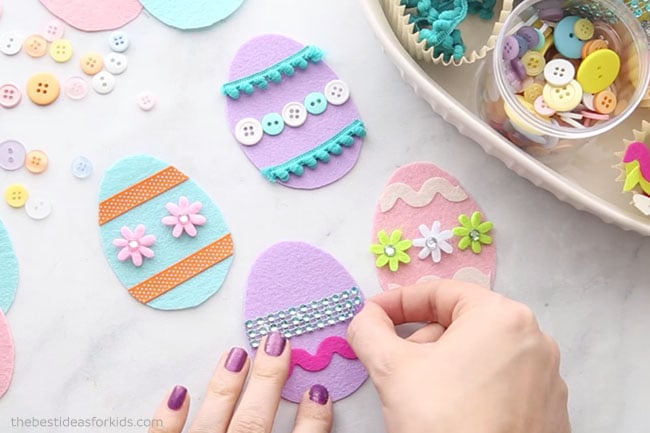 3. Trim any excess ribbon or felt embellishments if you need to.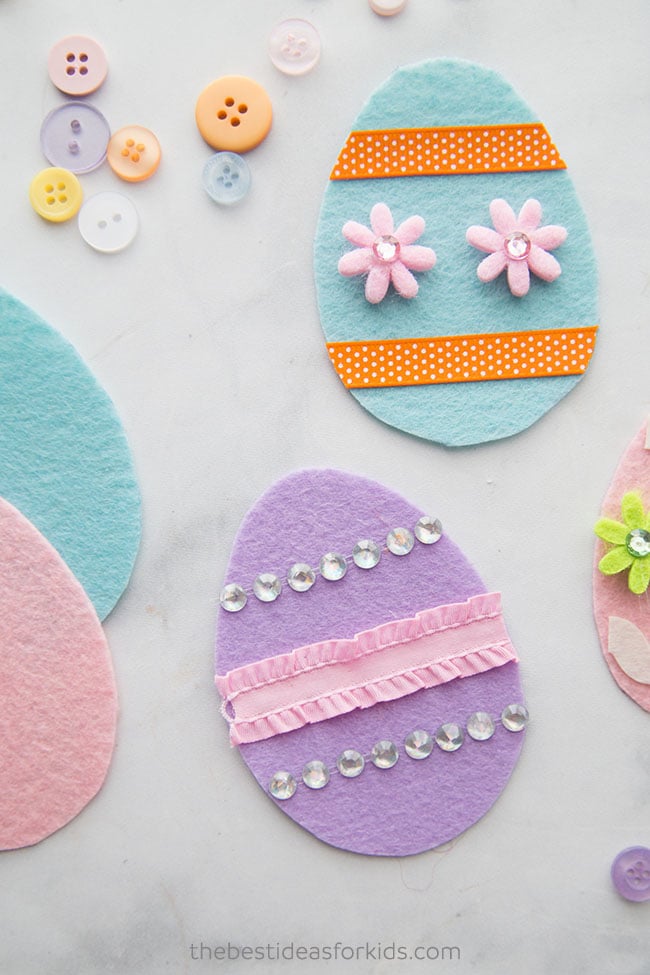 Sign up for our Newsletter and get this Easter Egg Template as a Thank You!
If you are having trouble getting the email confirmation, make sure you check all folders as it can sometimes land in the promotion and junk folders.
More of our favorite Easter projects
More Easter Crafts
See 25+ Easter Crafts for Kids – there is something for everyone in this list!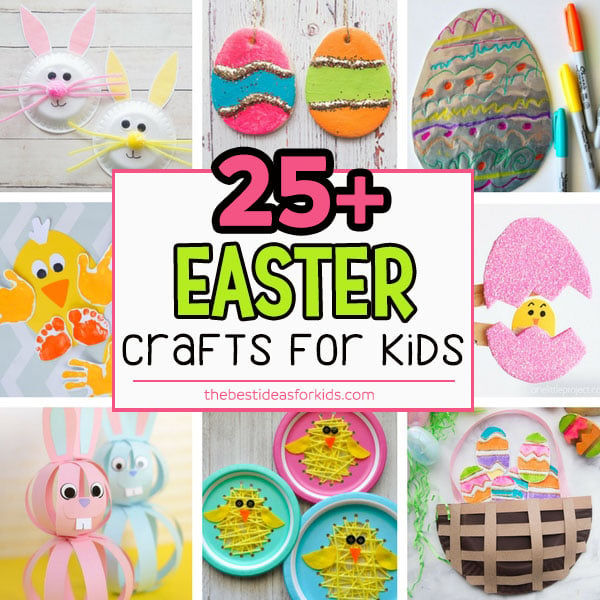 These bunny paper plates are so easy to make!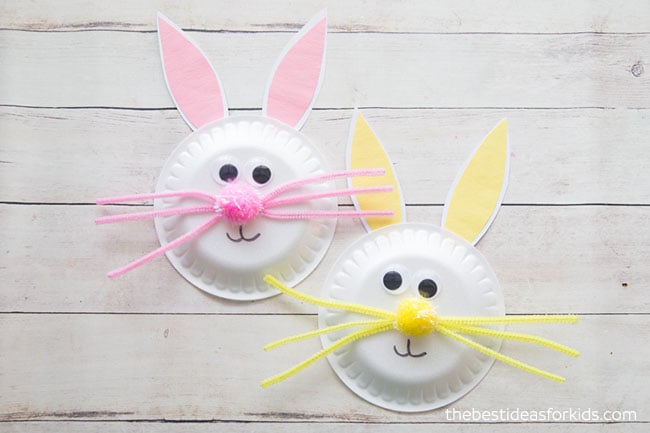 For another handprint Easter card, see these handprint bunny cards!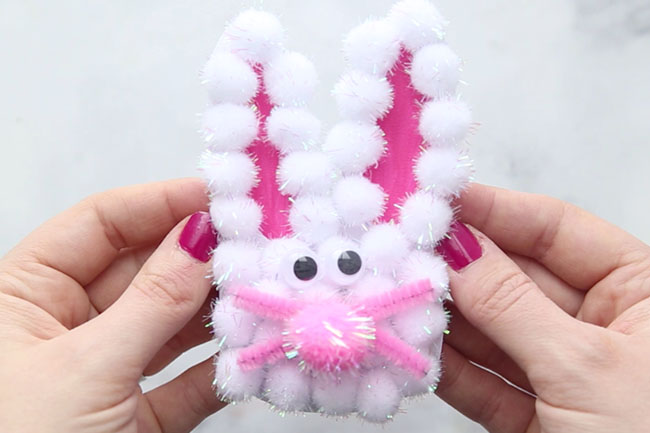 Pin this for later!