If you're looking for easy and low cost Halloween game ideas – we have a list of over 30 ideas! From simple activities to fun crafts there are so many fun party game ideas you can do for Halloween!
RELATED:  Halloween Scavenger Hunt
To make it easy, we have created this list you can save to reference for later.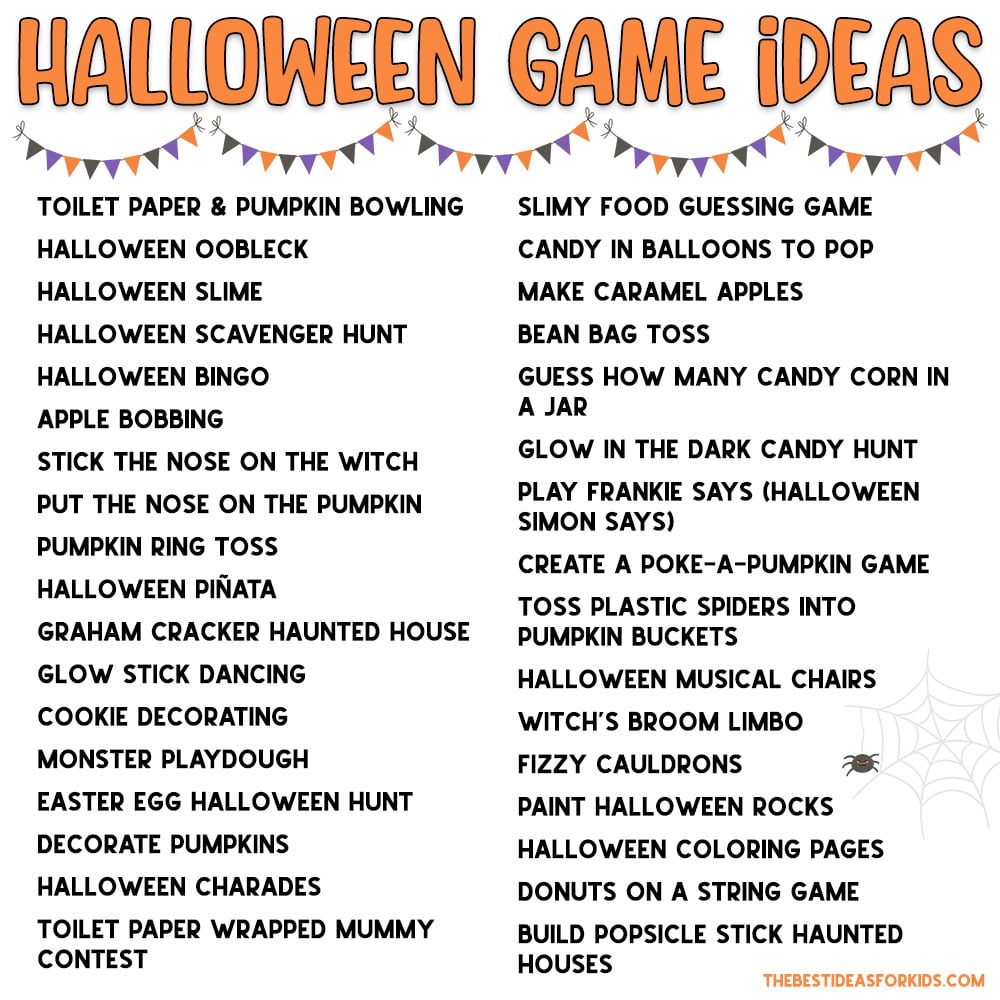 We also have all of the ideas in this post if you need them.  You can copy and paste to create your own printable, or use the one that we have already created for you! We only ask that if you are reprinting in a community newsletter or school newsletter that you credit our website as the source.
Halloween Game Ideas – Over 30 Ideas!
We've organized the ideas by candy, crafts/food, sensory and games.  Hopefully this list will also provide inspiration for you to think of other ideas too!
Candy
Halloween Scavenger Hunt – have kids go on a scavenger hunt around the house to find a big prize at the end or treats along the way. You can get free printable scavenger hunt clue cards HERE.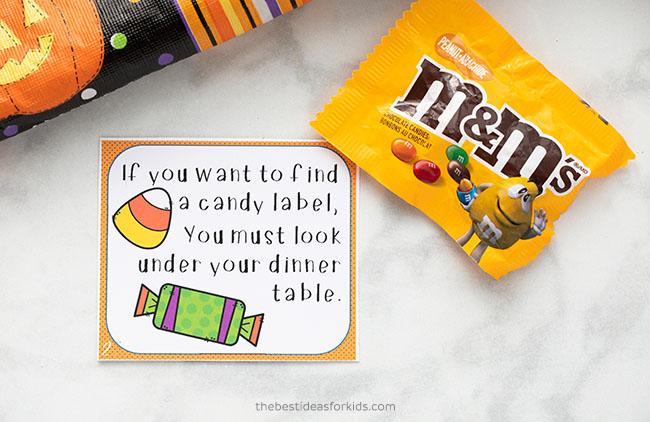 Halloween Piñata  – create your own piñata or buy one and fill with Halloween candy.
Easter Egg Halloween Hunt – add treats inside of Easter eggs. Choose purple and orange eggs for Halloween colors.
Glow in the Dark Candy Hunt – you can do this indoors or outdoors. Use glow sticks to hide treats around the house and kids can use flashlights to find them.
Guess How Many Candy Corn in a Jar – add candy corn inside a jar or another Halloween candy and kids have to guess how many are inside.
Candy in Balloons to Pop – add candy inside balloons for kids to pop. Use orange balloons and decorate the balloons with pumpkin faces.
Create A Poke-a-Pumpkin Game – take cups and fill them with candy. Wrap orange tissue paper on top and then glue the cups together to form a pumpkin shape. Have kids poke the different cups to see what prizes are inside!
Sensory
Monster Playdough – make your own homemade playdough and have kids create monsters out of them! Use pipe cleaners, googly eyes and pom poms to make the monsters. See how to make playdough.
Halloween Oobleck – Make oobleck with cornstarch and water and dye with green food coloring. Add to a large cauldron to make your own Witch's Brew. See how to make oobleck.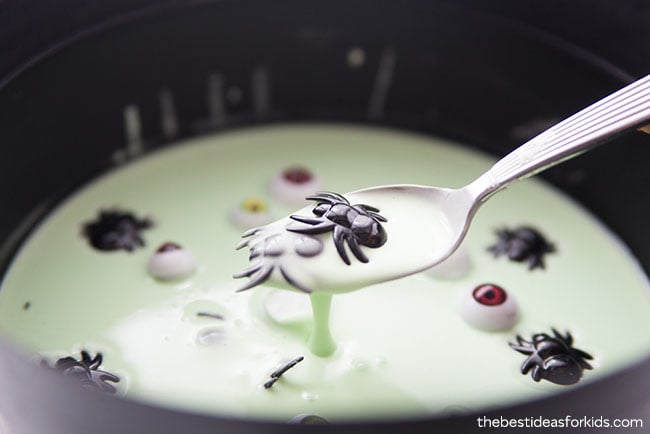 Halloween Slime  – Make your own Halloween slime. You can make Halloween slime jars or fluffy pumpkin slime.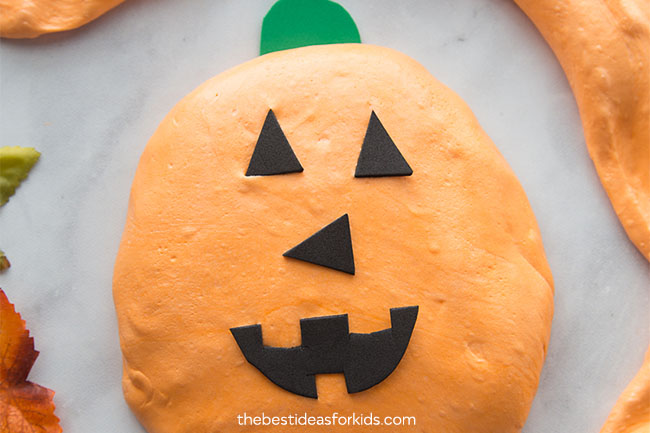 Crafts/Food
Decorate Pumpkins – you can carve them with our free pumpkin templates or paint them.
Make Caramel Apples
Graham Cracker Haunted House – use graham crackers and icing to make your own edible haunted house.
Cookie Decorating
Build Popsicle Stick Haunted Houses – have a station to create your own haunted house from popsicle sticks.
Halloween Coloring Pages – create a coloring station.
Paint Halloween Rocks – have a rock painting station where kids can make their own glow in the dark monster rocks. 
Fizzy Cauldrons – add some baking soda and green food coloring into mini cauldrons. Kids can add vinegar with droppers or squirt bottles and make fizzy cauldrons.
Games
Halloween Bingo – Play some Halloween bingo. Get free printable bingo cards here.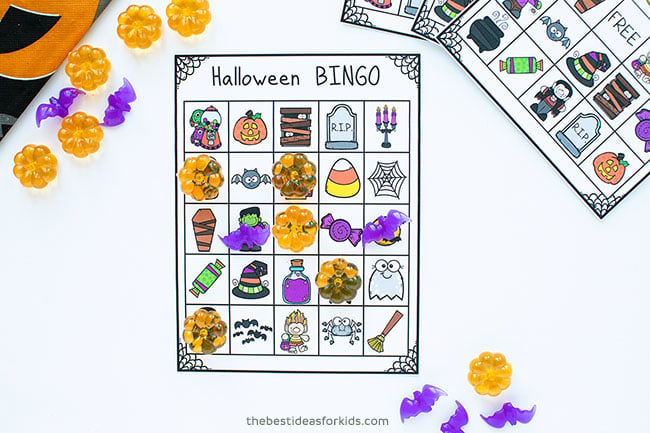 Stick the Nose on the Witch
Put the Nose on the Pumpkin
Pumpkin Ring Toss
Glow Stick Dancing
Apple Bobbing
Toilet Paper & Pumpkin Bowling – you can use full toilet paper rolls and draw pumpkin or ghost faces on them. If you want to make pumpkins, wrap them in tissue paper. Or you can make toilet paper roll Halloween characters. Bowl with a pumpkin!
Play Frankie Says (Halloween Simon Says) – a spin on traditional Simon Says. Instead of saying Simon says, say "Frankie Says". Choose Halloween type actions like howl like a werewolf.
Slimy Food Guessing Game – make eyeballs with grapes, use spaghetti for witch hair or worms, sliced almonds for fingernails, corn for teeth, wet sponge for a brain, etc to have kids try to guess what they are. Put them in a box where you can't see what they are and have kids put their hand inside to feel them.
Toss Plastic Spiders into Pumpkin Buckets
Donuts on a String Game – attach donuts to a string and hang from the ceiling. Have kids see who can eat their donut first without using their hands.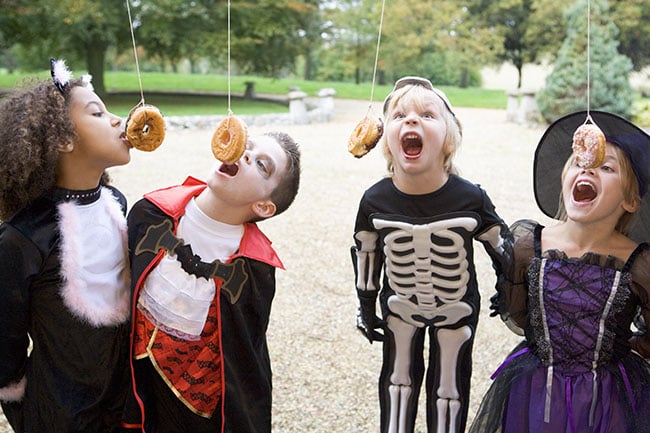 Witch's Broom Limbo – use a broom and play a game of limbo!
Toilet Paper Wrapped Mummy Contest – use toilet paper and see who can wrap up the person to look like a mummy the fastest.
Halloween Charades
Halloween Musical Chairs
Bean Bag Toss – create your own Halloween themed monster or pumpkin from cardboard to toss the bean bags into.
More Halloween Ideas
See 50+ Halloween Crafts for Kids