Making personalized fingerprint heart mugs can be the perfect Valentine's day or Mother's day gift.  You can also give it as a gift to a teacher or loved one and it is such a practical gift they can cherish every day!
RELATED: Fingerprint Butterfly Mugs
DIY Fingerprint Heart Mugs
All you need are a few supplies and an inexpensive white mug to get started on this craft. Make sure to put your child's name and date on the bottom of the mug if you are going to save it as a keepsake. These mugs are such great gifts because they can be enjoyed on a daily basis.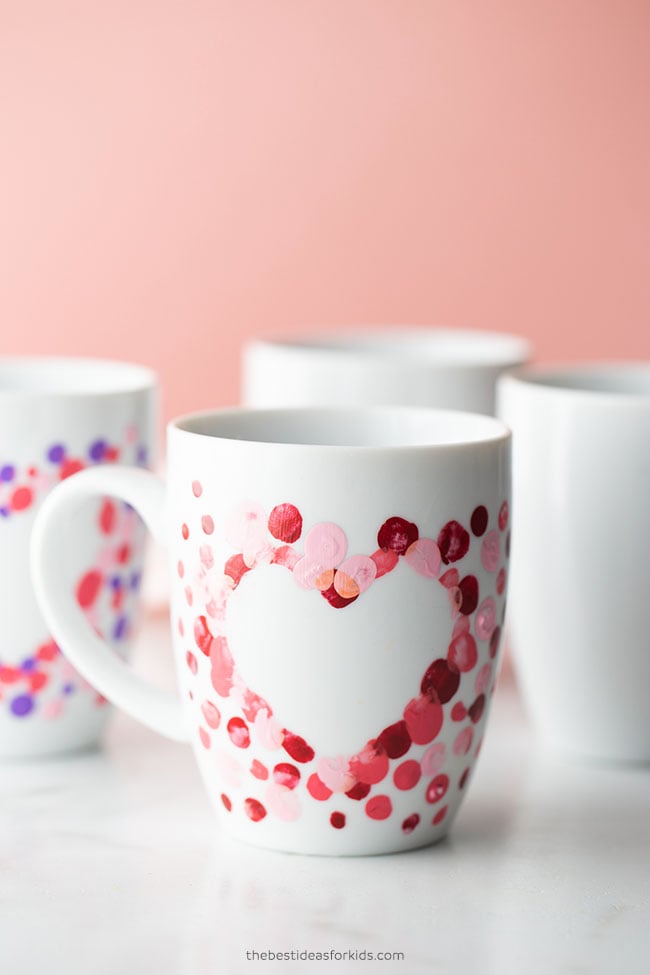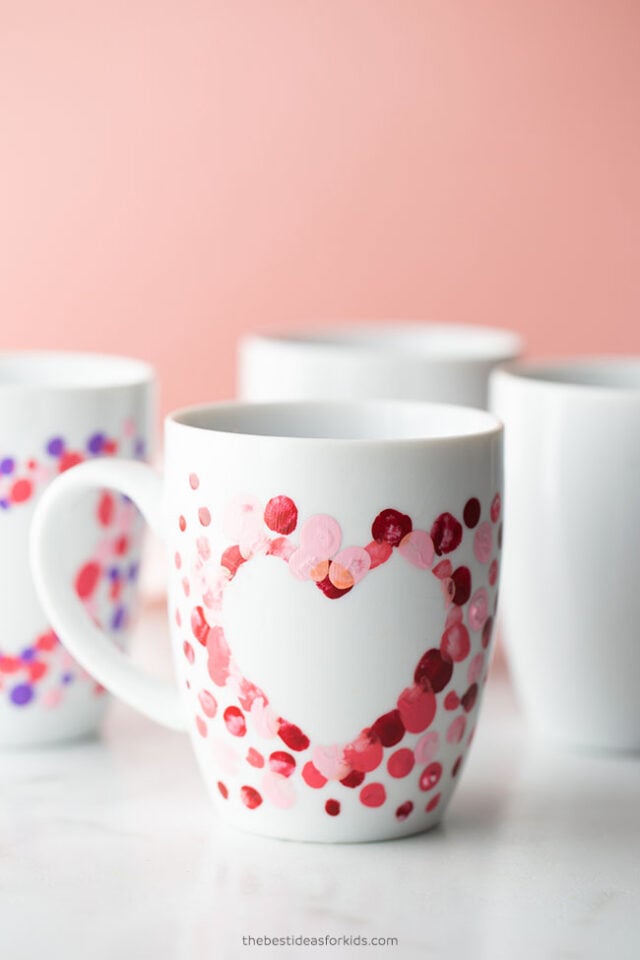 These DIY mugs are so fun and easy to make. Kids of all ages will love using their fingerprints to create these beautiful heart mugs. Get a gift card or packet of tea to stick inside the mugs and give them out as gifts!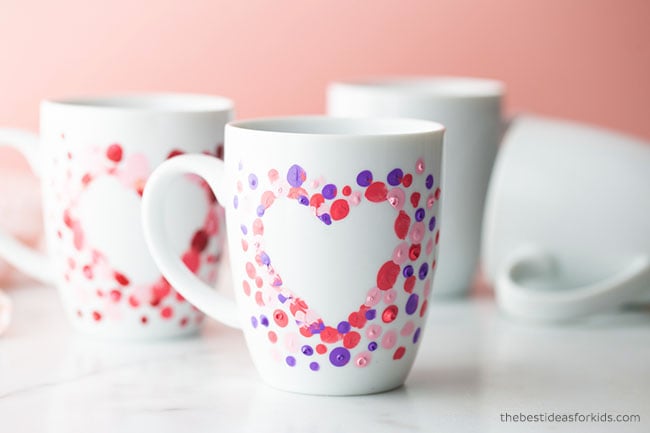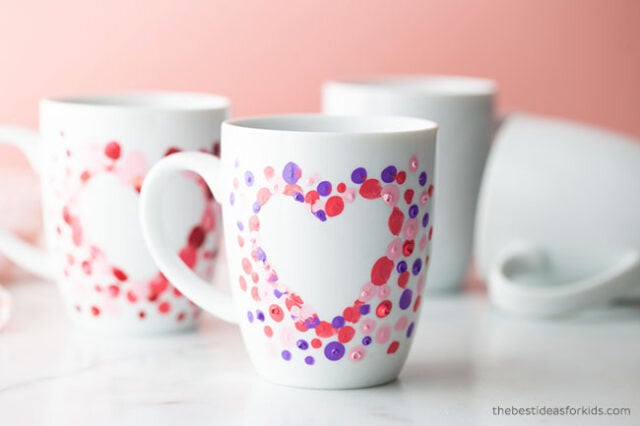 Supplies Needed To Make Fingerprint Heart Mugs
Watch the Video Tutorial Here!
How To Make Fingerprint Heart Mugs
1. Begin by cutting out a small heart out of cardstock.
Tape this to your mug.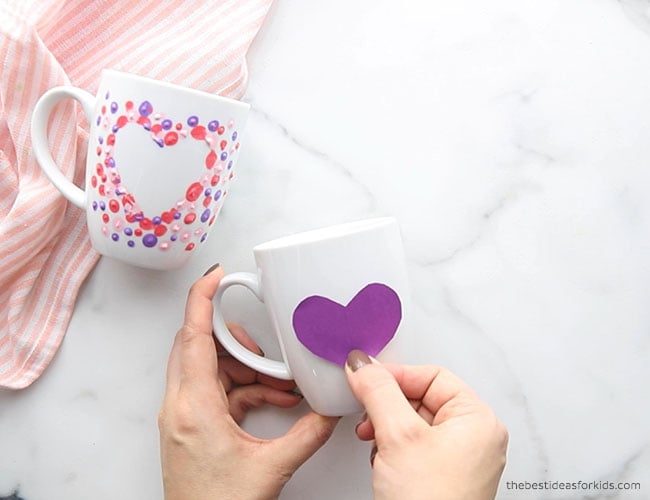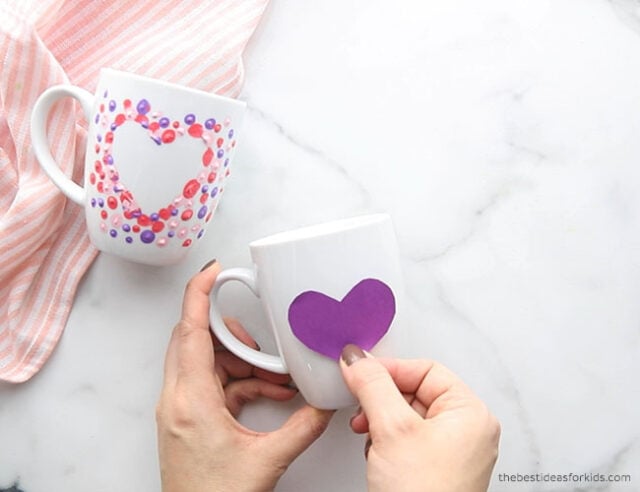 2. Dip your child's finger into paint and make small dots around the heart overlapping the cardstock slightly.
This paint is great because it can be used on both ceramic and glass surfaces.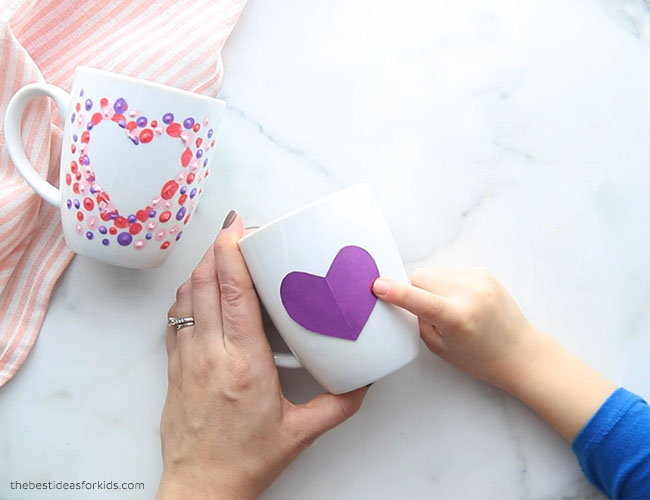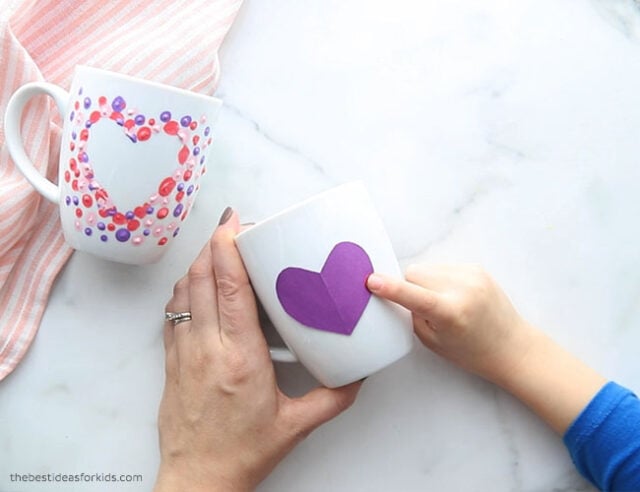 3. Keep adding different colors of paint.
Make sure to stay about 1/2 to 1 inch away from the top of the mug.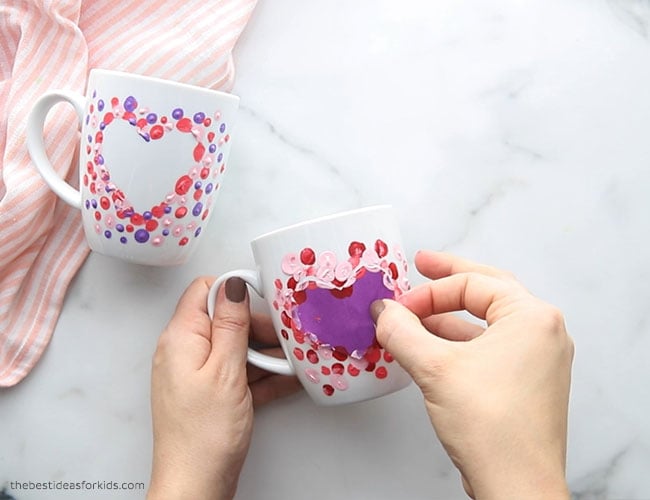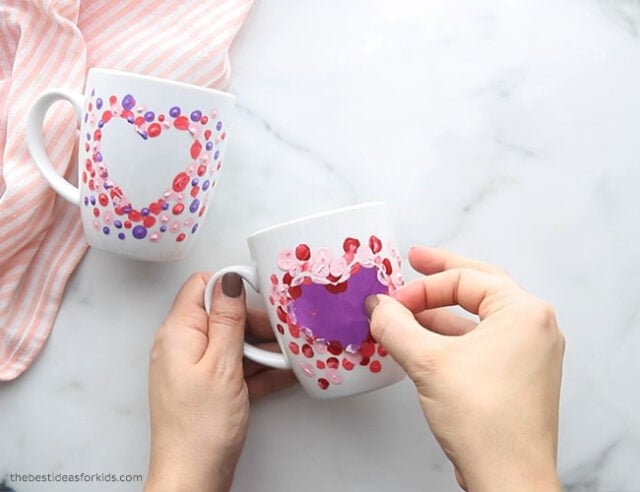 4. Remove the heart and allow the mug to dry.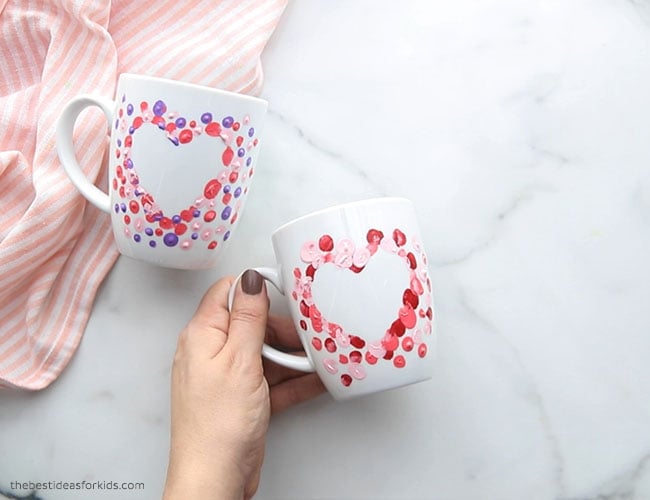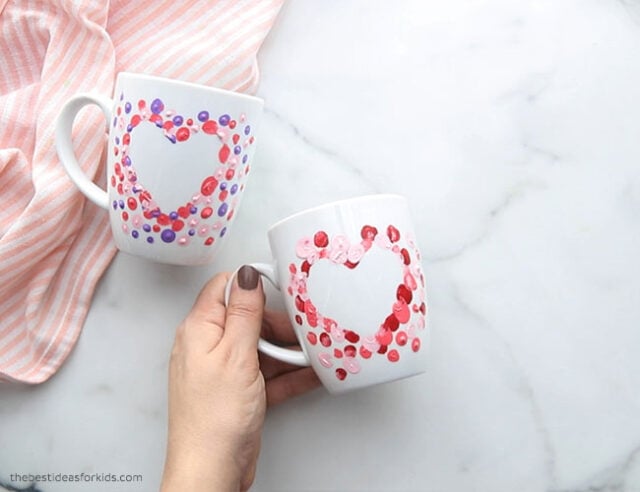 5. Bake the mug at a low temperature according to the enamel acrylic paint directions.
Check your paint directions, some paint requires baking while others do not.
6. For extra protection, use this sealer which will keep the paint from coming off.
It's safe for top rack dishwasher use however to be extra careful we would recommend hand washing these mugs (you wouldn't want to wash away one of those cute fingerprints).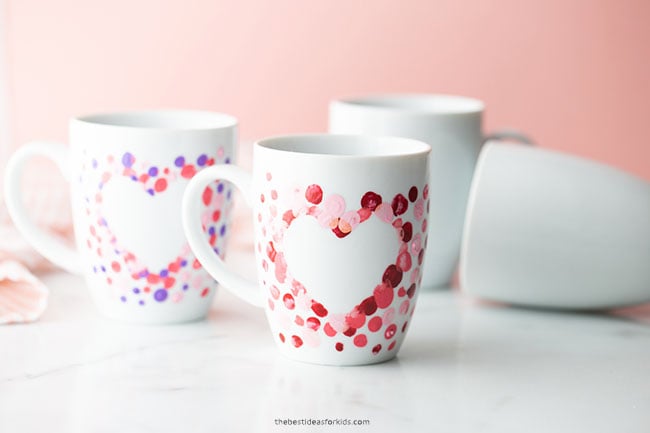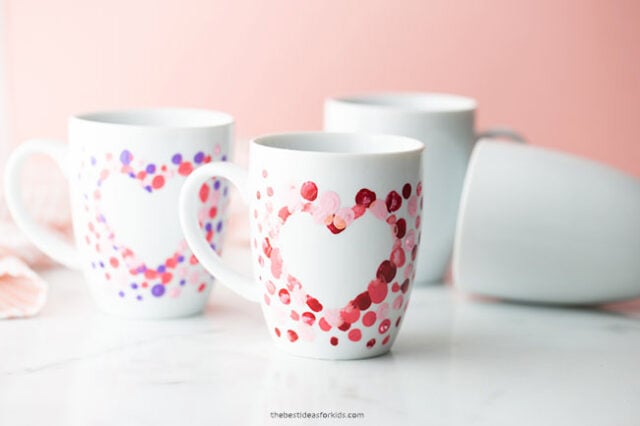 These mugs make such a special keepsake for Valentine's Day, Mother's Day or a birthday!
More Fingerprint Ideas
For another simple fingerprint craft, see these fingerprint heart cards with free template.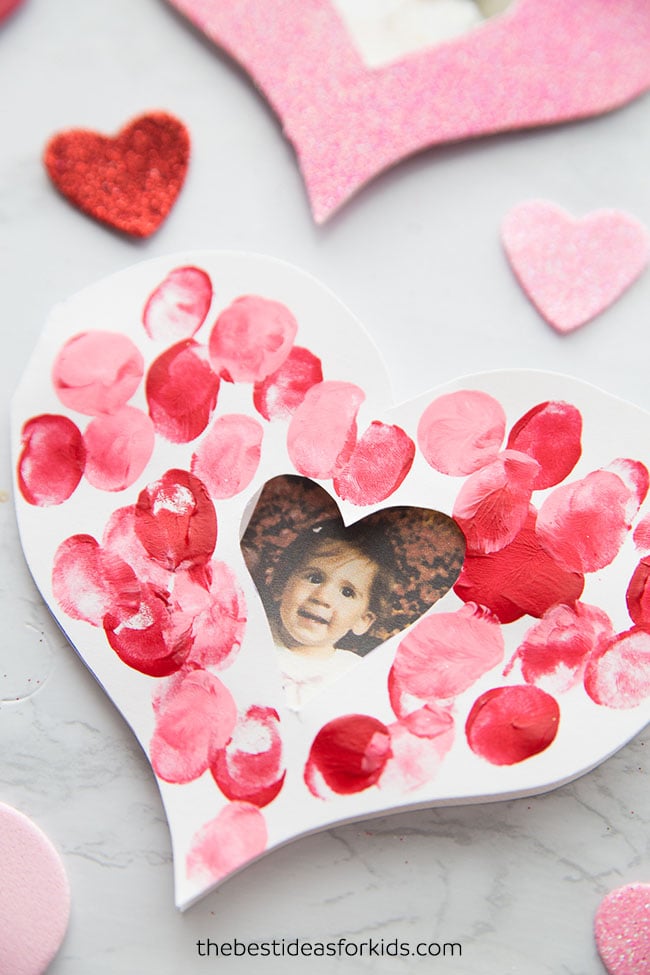 If you love this fingerprint heart mug, see how to make these fingerprint butterfly mugs.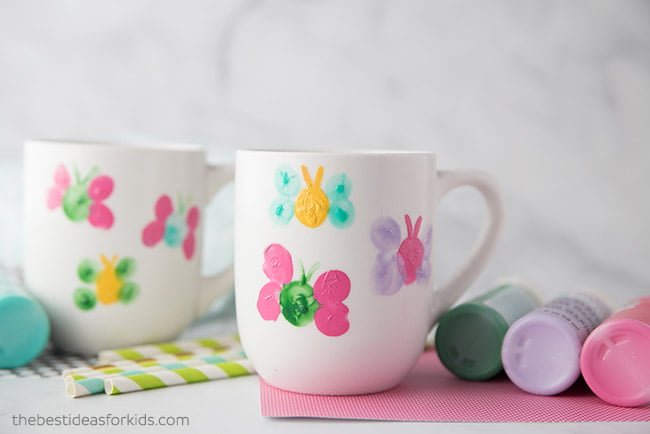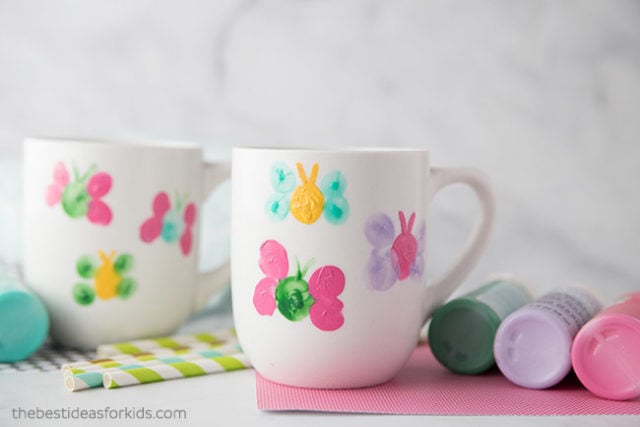 And these fingerprint cards for Valentine's Day are super easy to make!