These crayon resist hearts are a really easy Valentine's day craft! Kids can make all sorts of different designs using this simple technique.
RELATED: Watercolor Heart Art
Crayon Resist Heart Art
This art technique is a really easy one for kids to try out! And they will love to see their designs come through once the watercolors are added. You can even have kids make surprise hearts and give them to friends to paint!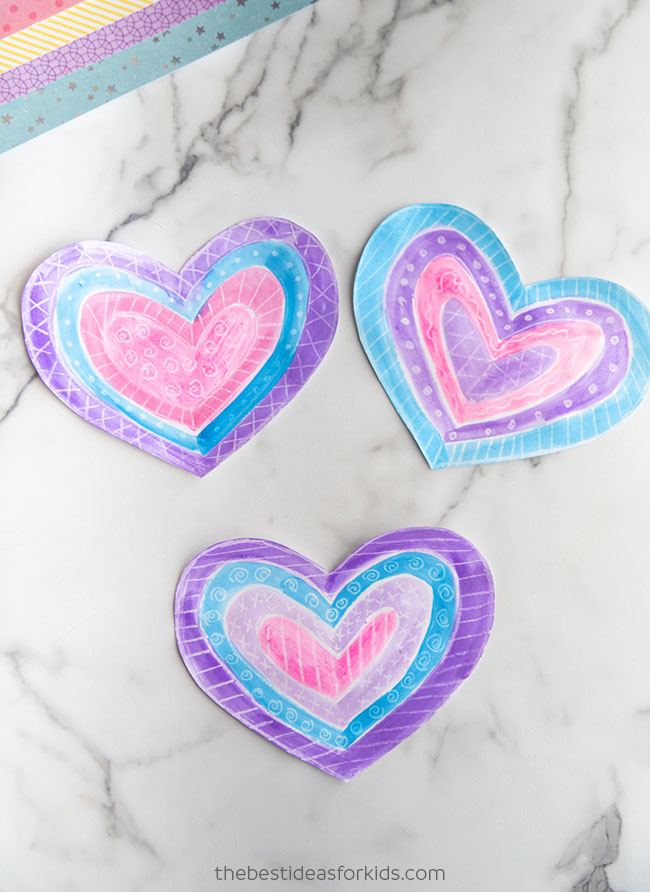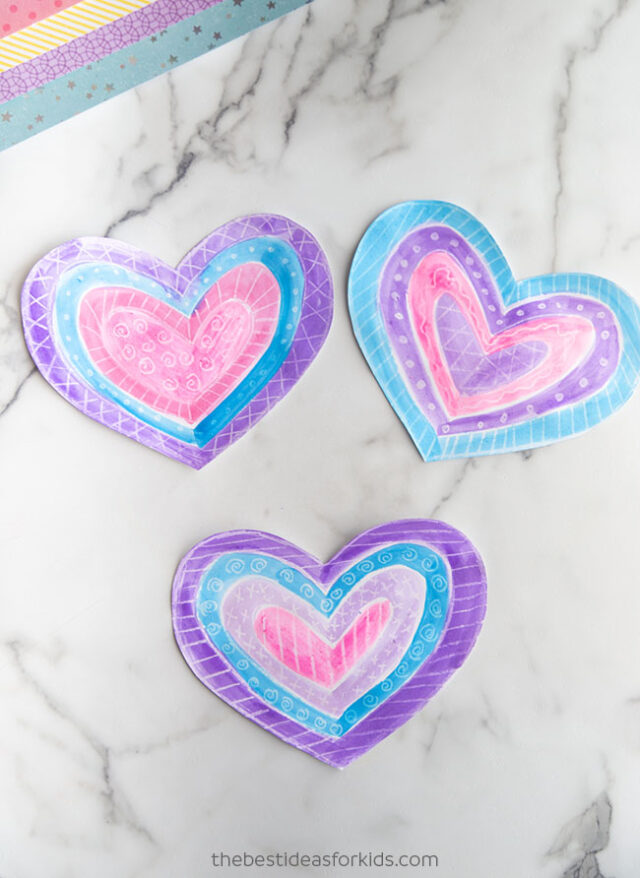 Grab our free printable heart template at the bottom of the post, or kids can draw and cut out their own hearts!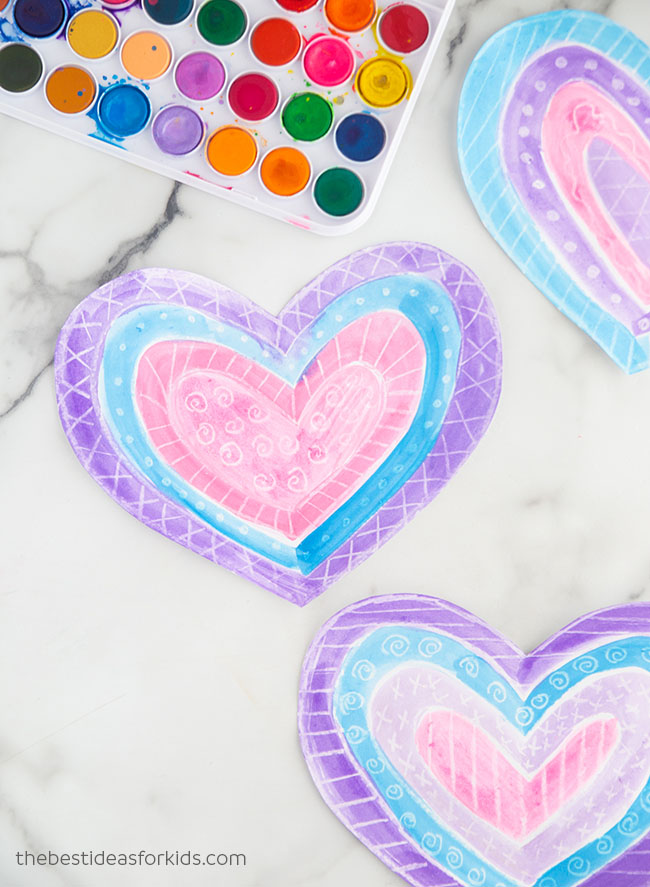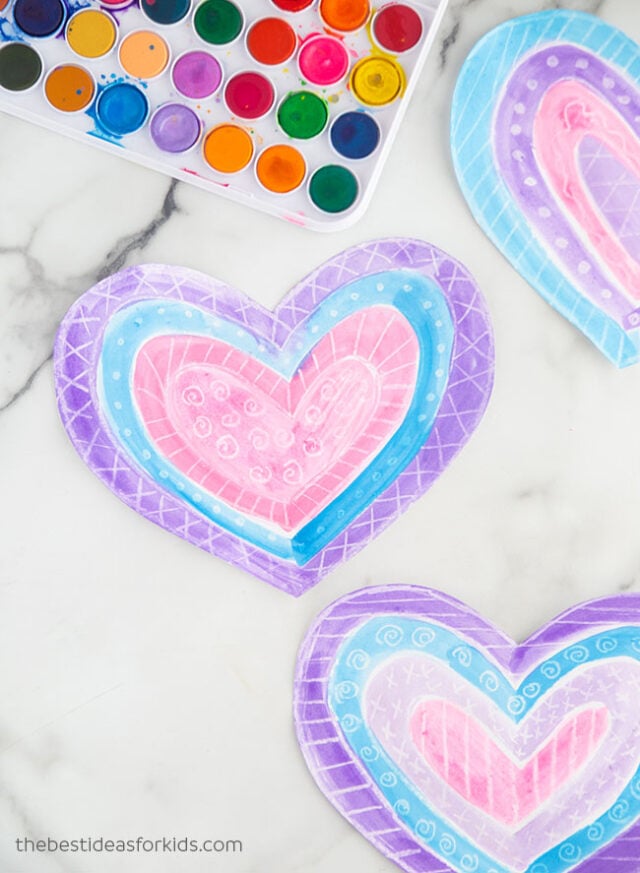 Watch the Video Tutorial!
Supplies Needed To Make Crayon Resist Hearts
– Watercolors – we used this set (but any watercolor set will work)
– White crayon or white oil pastel
– Heart template – you can get the templates on the bottom of the post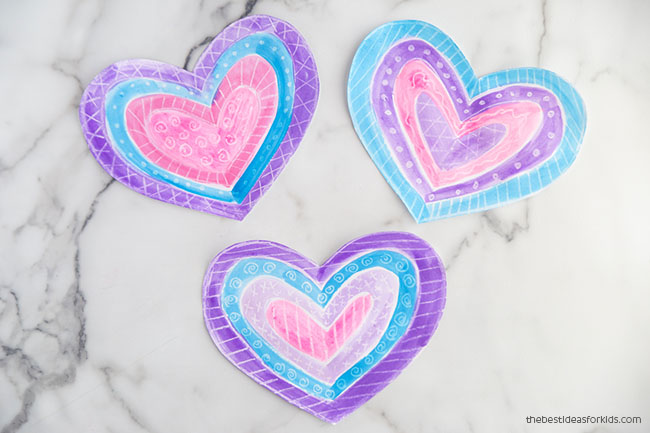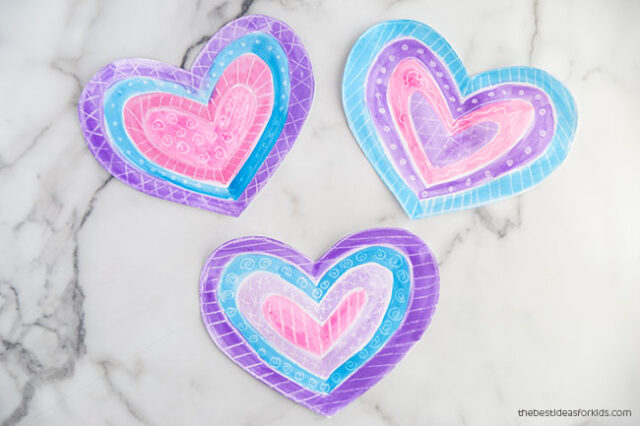 What is Better – Crayon or Oil Pastel?
Personally I like using a white crayon for this project for younger kids. The white crayon is easier to use (a little thinner and less thick) and you're more likely to have it on hand!
For a more thicker outline, an oil pastel will make thicker lines.
How to Make a Crayon Resist Watercolor Heart
1. Start by cutting out a heart shape from white cardstock.
You can use our free template or just draw and cut out your own!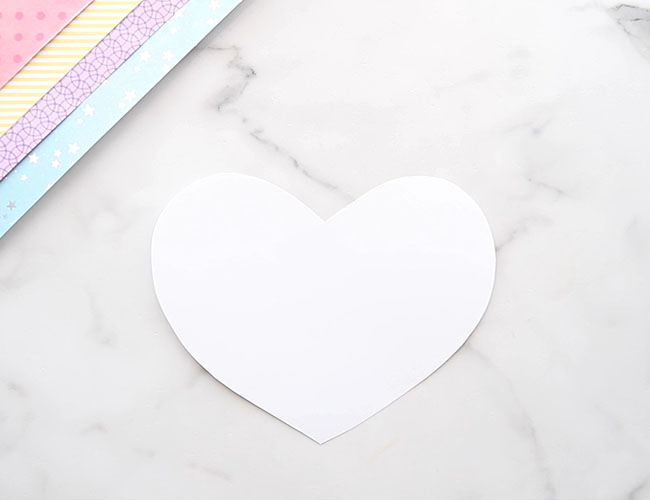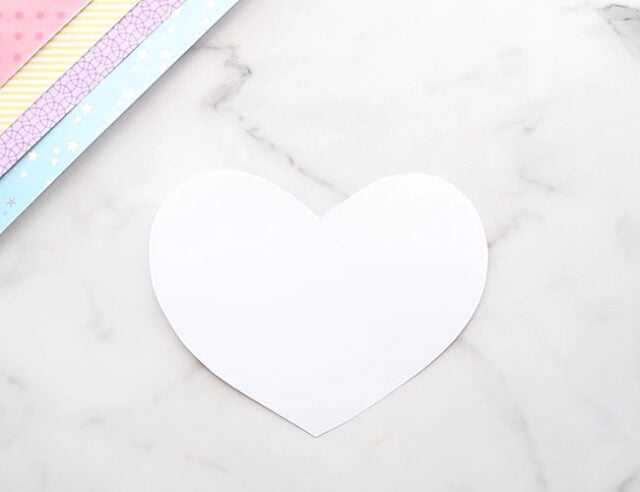 2. Outline the heart shape with the white crayon.
Then continue to add smaller hearts inside the heart shape and designs inside those hearts.
There are so many different design options!
Lines, x's and o's, dots, spirals, diagonal lines, zig zags, squiggle lines etc.
Kids can get really creative with this part!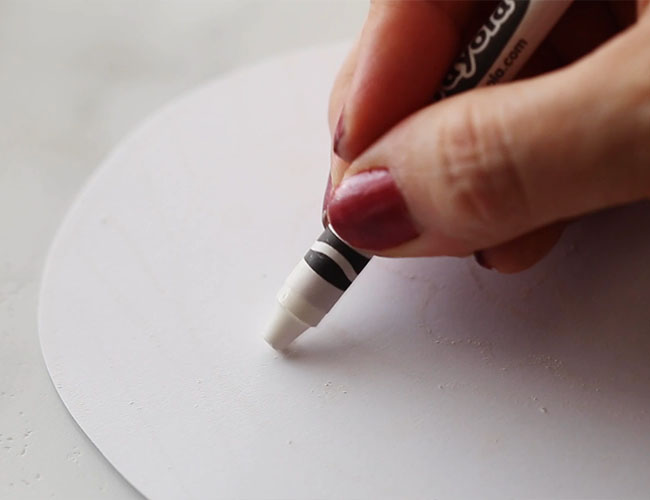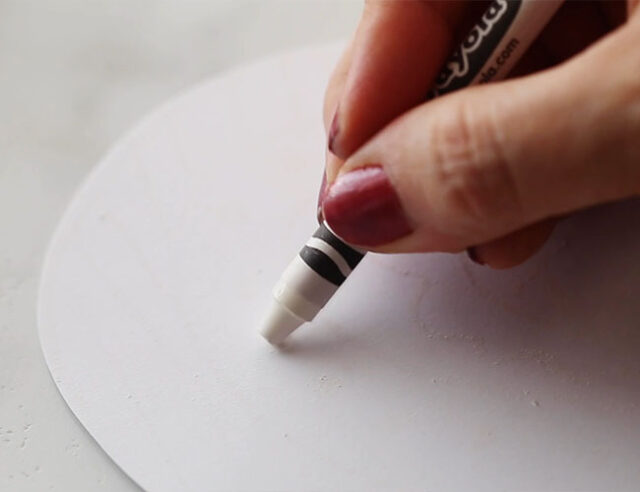 3. Add watercolors around the hearts to reveal the designs.
Start in the center and add new colors as you paint outward.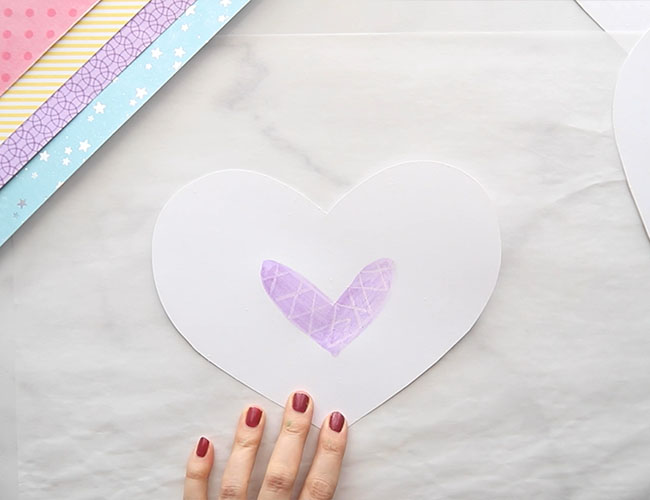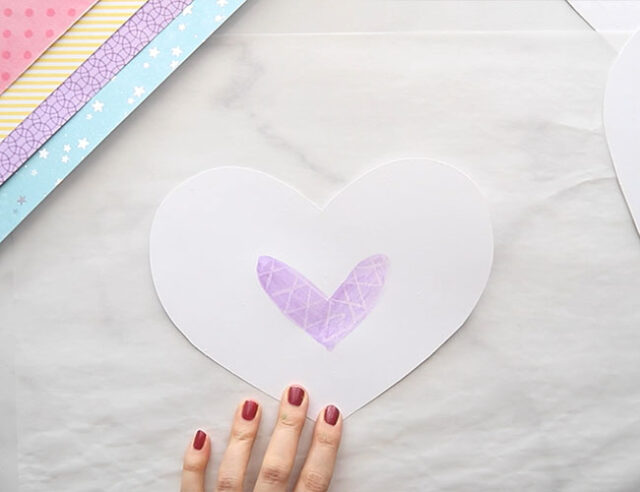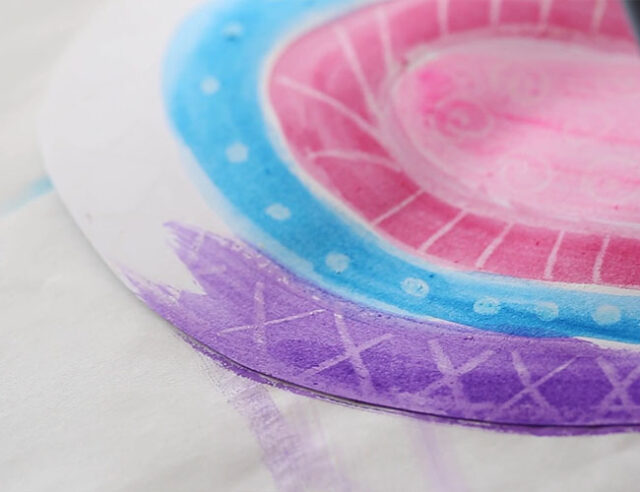 Alternate what colors you use for each heart. Kids can also paint the whole heart one color if they'd like!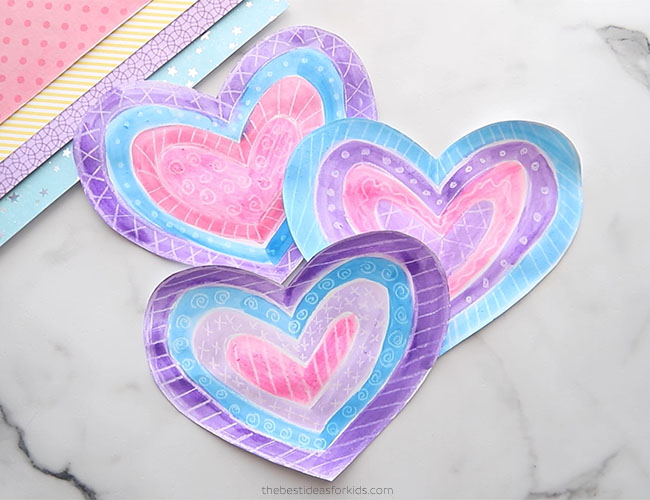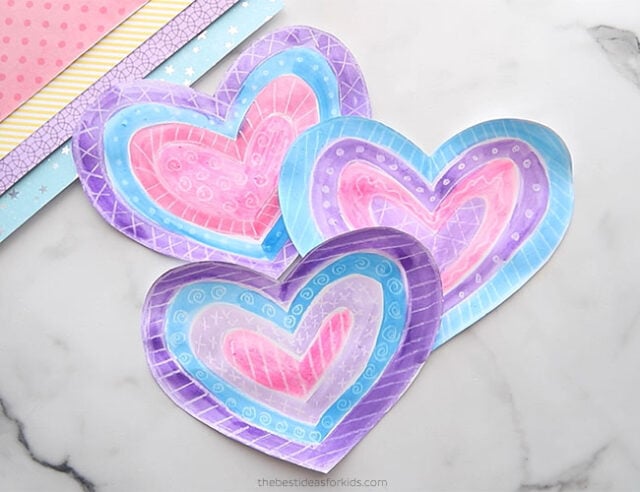 Once all of the watercolor is added, your heart design is now done!
Hang the hearts up on walls, fridges or windows to decorate your space for Valentine's Day!
Grab the free printable heart template below!
For another easy watercolor project for Valentine's Day, see this watercolor heart templates.