Valentine's Day is a perfect holiday to create handmade cards. We like to use handprints or fingerprints since they make great keepsake cards. This fingerprint heart card is so easy to do it's perfect for toddlers and preschoolers (with some cutting help). Parents and grandparents will love to receive this handmade card!
RELATED: Handprint Valentine Card
The fingerprint version of this heart card is an easy Valentine's day card for toddlers to make. Adults will need to help by cutting out the templates and then kids can stamp their fingerprints on the heart card. You could also have kids just color the card with markers or paint. It's an easy one to set-up and a great gift personalized with a photo!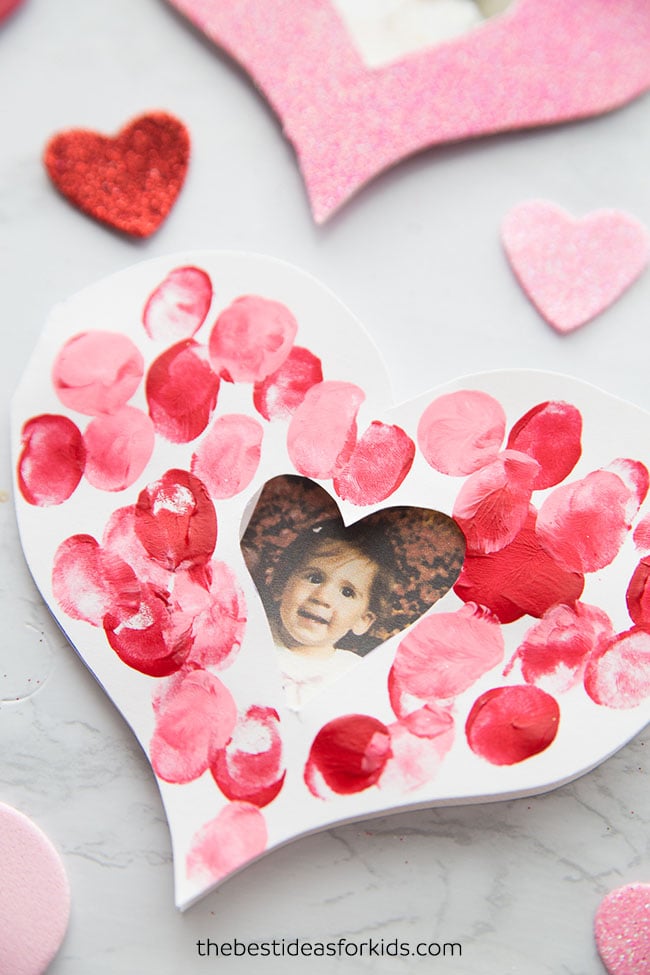 Fingerprint Valentine Heart Card
Here is what you need to make the fingerprint Valentine heart cards: 
Red or pink glitter paper (if you want to make the glitter heart versions)
Scissors
Pictures
Heart template – you can get the template by subscribing to our newsletter on the form with the preview of the heart template.
Watch the full tutorial video here before you get started!
Directions to Make a Valentine Heart Card
1. First print off the heart card template. You can get the template after these directions by subscribing to our newsletter on the form with the preview of the heart template. You can also free-hand draw your hearts or make your own by folding over a piece of paper and drawing half of the heart.
Fold over a piece glitter paper or white cardstock and then trace the template.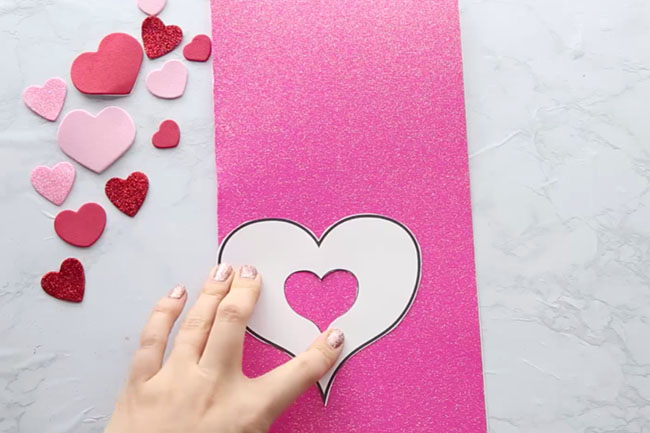 2. Cut out the cards and the inside heart for the photo.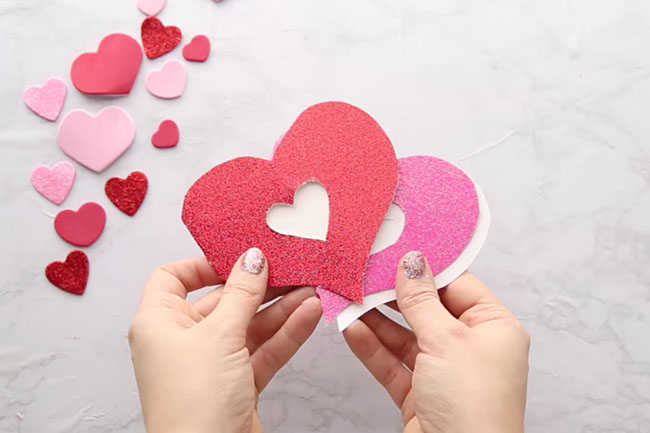 3. Add fingerprints to the white cardstock heart. We used red and pink paint.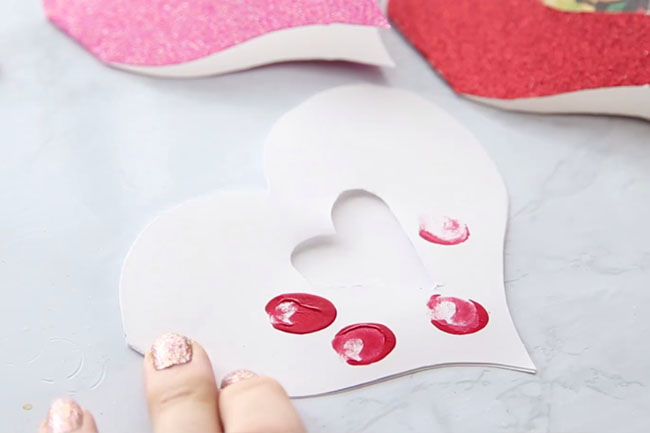 4. Add a photo by taping or gluing the photo on the inside of the card.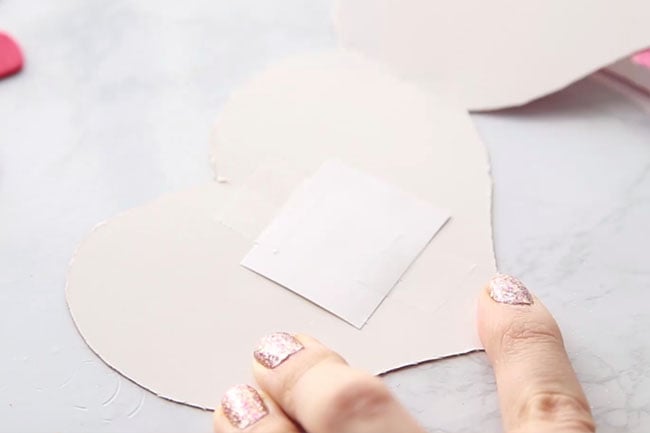 5. Write your special message inside!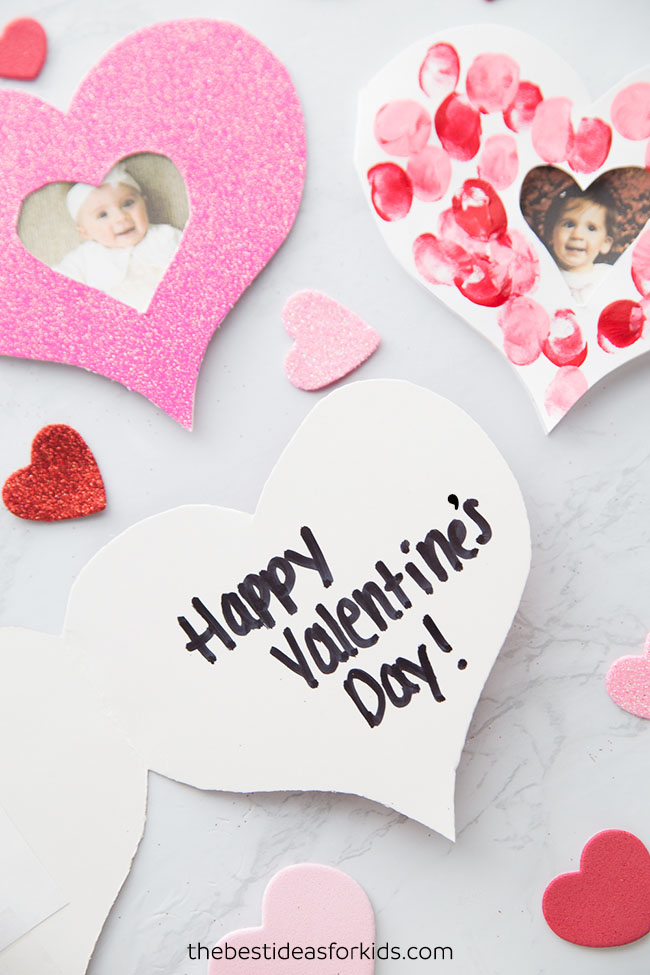 Sign up for our Newsletter and get this Heart Card Template as a Thank You!
If you are having trouble getting the email confirmation, make sure you check all folders as it can sometimes land in the promotion and junk folders.
More Valentine's Day Crafts for Kids
These heart handprint salt dough ornaments are the perfect Valentine's day craft!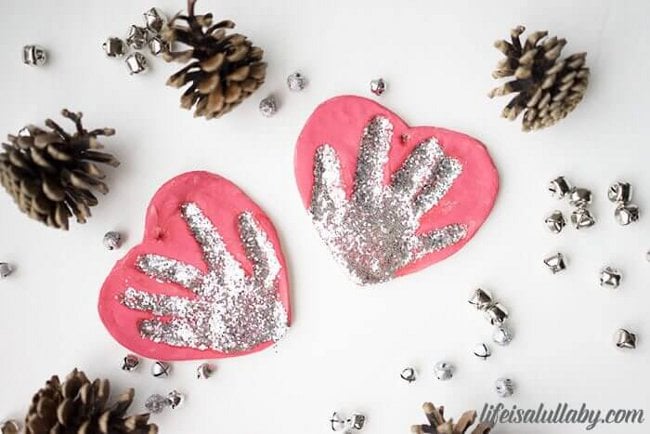 Make a handprint Valentine card with your own personalized heart messages inside. We love how easy this card is to make!
For another handprint card idea – see this handprint suncatcher craft.