We like to do a lot of handprint crafts for holidays and Easter is no exception! This Easter handprint craft is really easy to do. Kids will love making this cute Bunny Handprint card to give away at Easter. We love how this can be turned into a card and kids can write their own special Easter message inside.
RELATED: Easter Bunny Paper Plate
Bunny Handprint
To watch the full craft tutorial be sure to scroll down to the bottom of this post for the tutorial video! It's an easier way to see how to trace the handprint in order to turn this into an Easter card.
You can make this an Easter card and write a special message inside or simply make this as an Easter craft activity. Either way kids will love making this cute Easter bunny. And to go with an Easter bunny theme we also have these other Easter Bunny crafts kids will love: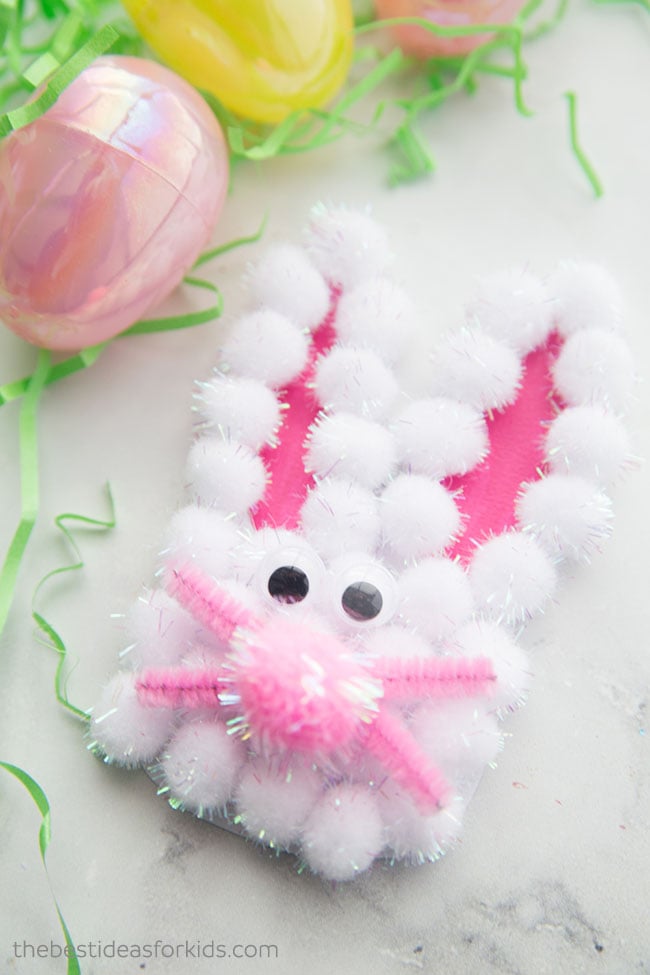 Supplies Needed to Make a Bunny Handprint Card
– Craft glue  – we like this glue because it's stronger and better for gluing on pom poms and pipe cleaners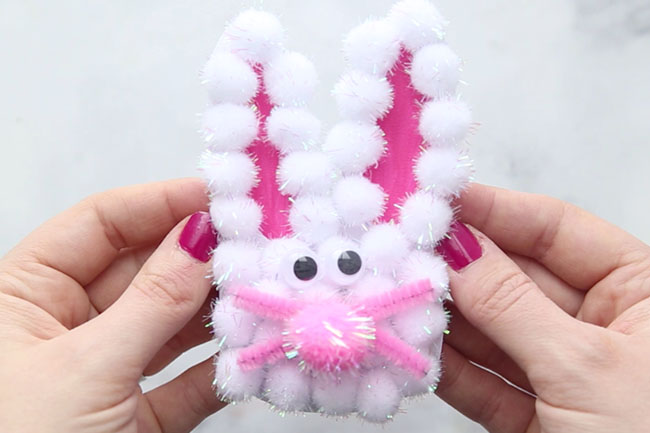 Watch the full tutorial video here before you get started!
Directions to Make an Easter Handprint Bunny Card
1. First fold your cardstock over to trace the hand.
2. Spread your pinky and ring finger together and your middle and index finger together to form the two "ears" of the bunny. Then cut it out so you have a card like this: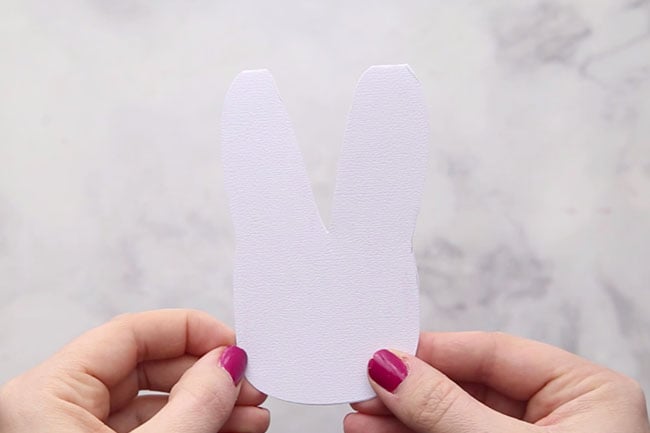 3. Paint the inside of the ears pink and let it dry.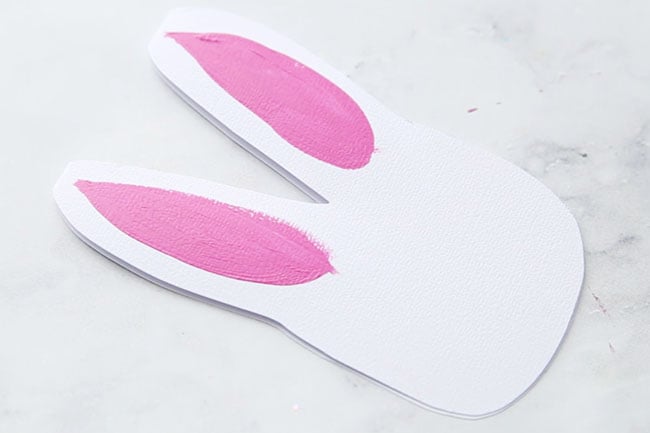 4. Start adding your pom poms by gluing to your card. Fill the space as much as possible. When you are done there will still be some gaps. You can continue to add extra pom poms into those gaps to really fill the whole bunny.
TIP:  We like this glue because it's stronger and better for gluing on pom poms and pipe cleaners. It's also non-toxic and safe.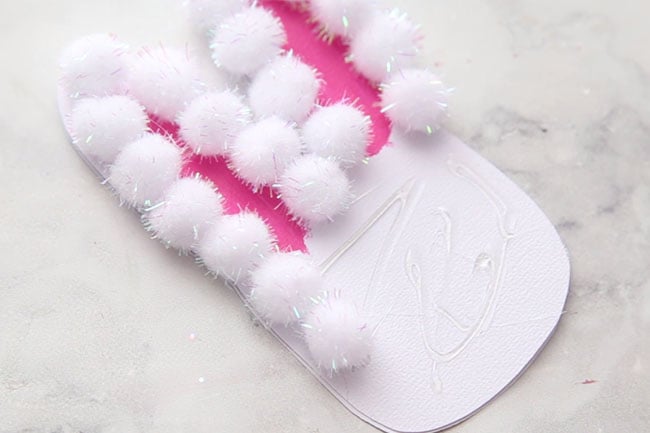 5.  Cut two pieces of pipe cleaner and twist them together to form the whiskers. Then glue to your card. Glue your pink pom pom on top.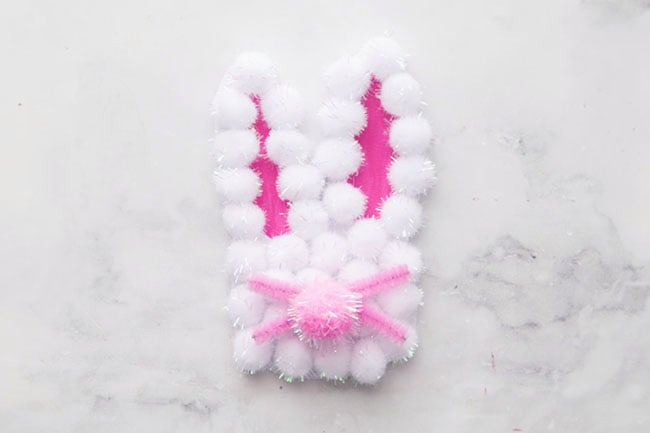 6. Glue your googly eyes on.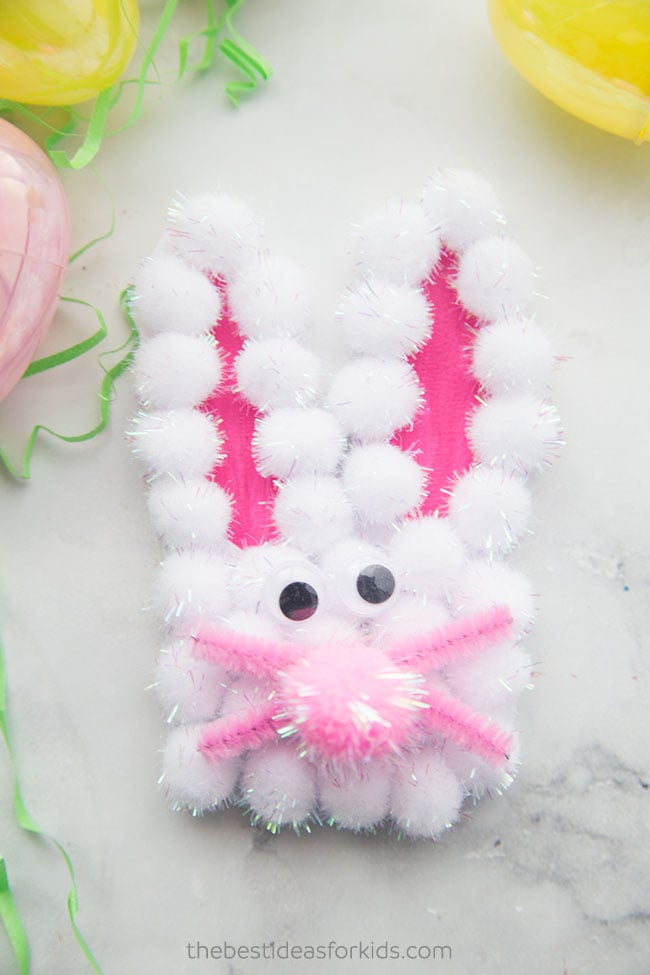 Now your Easter Bunny is done! You can write a simply "Hoppy Easter" inside the card or make it more personalized too!

Pin this post for later!

More Easter Bunny Crafts for Kids
See over 25+ easy Easter Craft Ideas for Kids.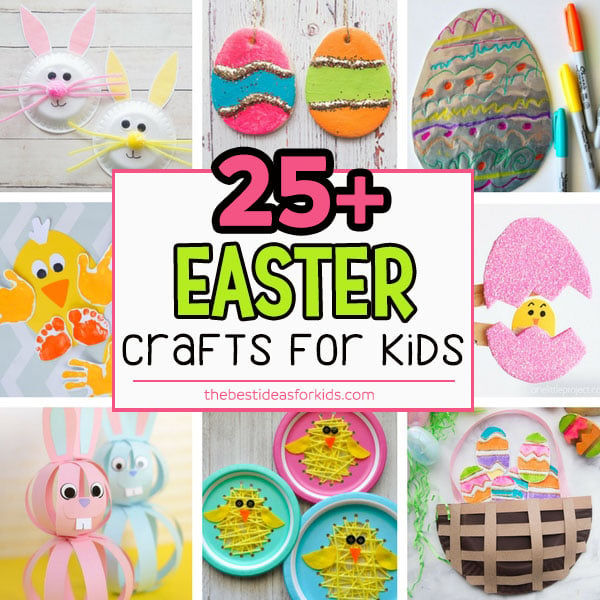 These easy and cute Easter Bunny Paper Plates – are so fun to make!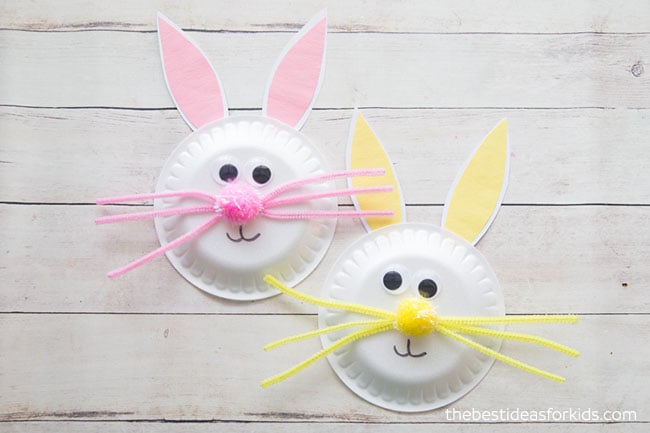 These Egg Carton Easter Bunnies would be great for handing out on Easter morning. They would also be fun to include in an Easter egg hunt. Kids will love making them too!