With Mother's Day and the end of the school year coming up, there are plenty of reasons to give a potted plant as a gift. Why not make it extra special by creating these homemade tin can planters! They are so easy to make and kids will love adding their own personal touch by adding a special message on the can. These little planters are sure to brighten up someone's day this spring!
RELATED:  Mother's Day Crafts for Preschoolers
Tin Can Planters Mother's Day Craft
We love this project because you can customize these tin can planters to say anything you want! They are perfect for Mother's Day but you could make them for many other occasions as well. These would make perfect birthday gifts and we love that they are made from recycled tin cans.
See more of our favorite Mother's Day Craft videos here: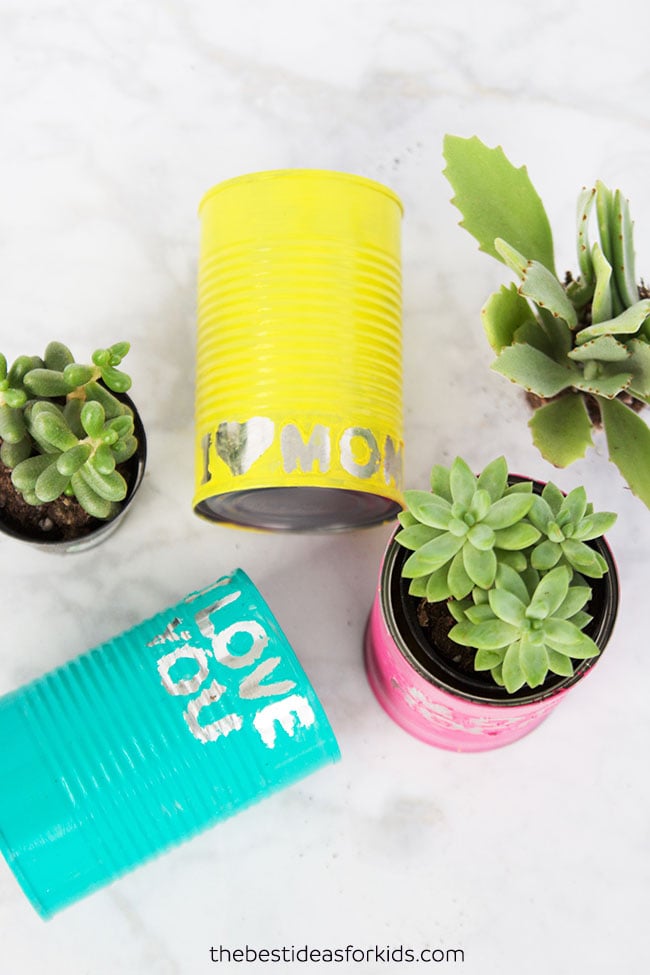 This craft is sure to be a hit since you probably already have most of the materials on hand at home. You can brighten your kitchen or office with these tin can decorations. If you don't want to plant real plants, you can use fake plants too!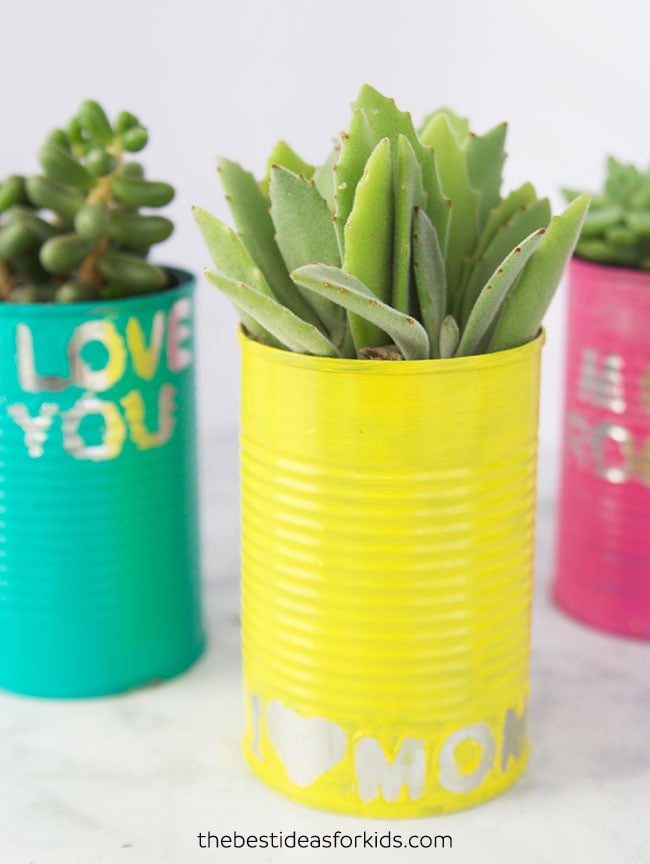 Supplies Needed to Make Tin Can Planters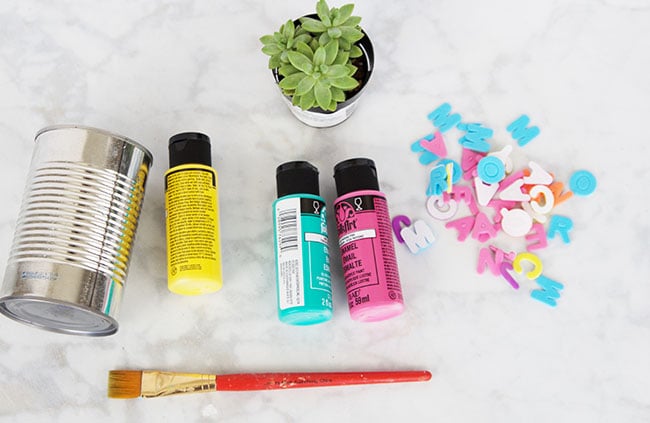 Here's what you will need to make the tin can planters:
Tin Cans – make sure they do not have any rust on them
Acrylic Paint
Succulents
Drill (adults only to use)
Optional: Waterproof sealer
Directions to Make Tin Can Planters
1. First, adults will need to drill a small hole in the bottom of the can to allow proper drainage for a plant.
*Important: You'll also want to make sure the tin can you choose does not have any rough edges and that the can opener used did not leave any sharp points that could cut little fingers while handling.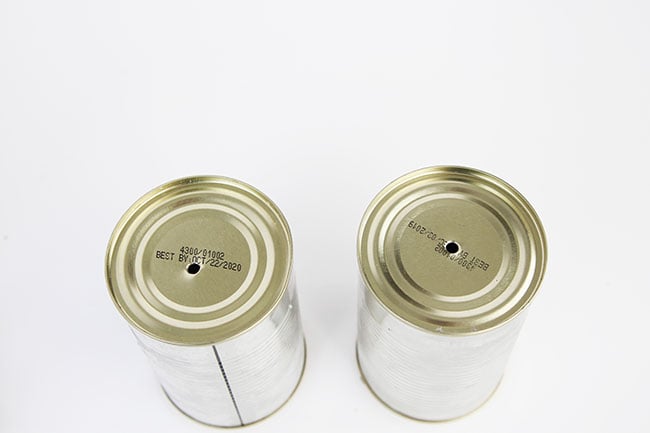 2.  If you plan on wanting to keep the tin can planter for a long time, you may also want to consider sealing the can with a waterproof sealer. This will prevent it from rusting.
Note: due to the potential of the can rusting, we do not recommend food or vegetable plants to be used in the planters.
3.  Place the alphabet stickers on the can, spelling out a word or message of your choice.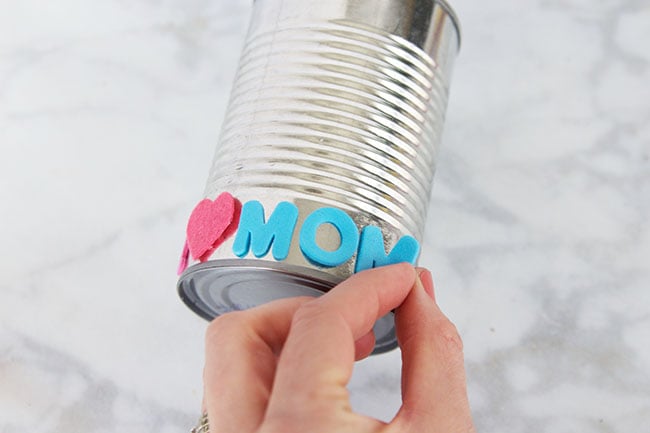 4.  Paint the can, covering the stickers. You may need to apply a few coats of paint.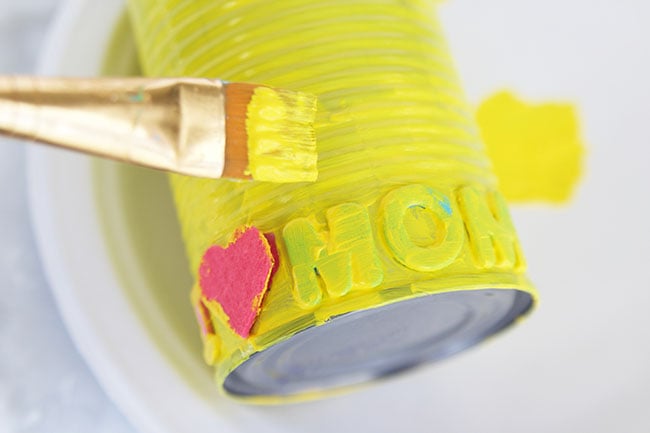 4. Once the paint has dried, peel off the alphabet stickers. If you need to clean up any paint on the inside of the letters, you can use rubbing alcohol and a cotton swab.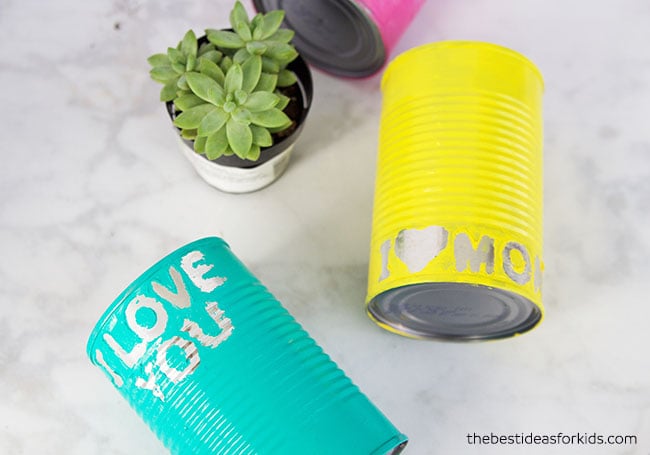 5. Insert soil and a plant in the can.
TIP: Use cacti in the planters because they require less watering.
You will love helping your kids make these fun tin can planters and your kids will adore giving a handmade gift to someone special this spring!
For more Mother's Day craft ideas, also see some of these other craft ideas:
– Salt Dough Handprint Keepsake 
Flower Craft Ideas
Here are a few more of our favorite Flower Craft Ideas.
This flower template is easy to print off and turn into a lovely keepsake gift for Mom on Mother's Day!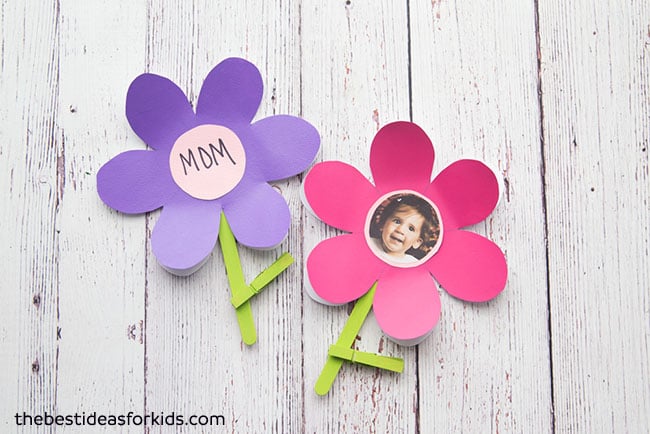 These paper roll flowers are such an easy craft for Spring!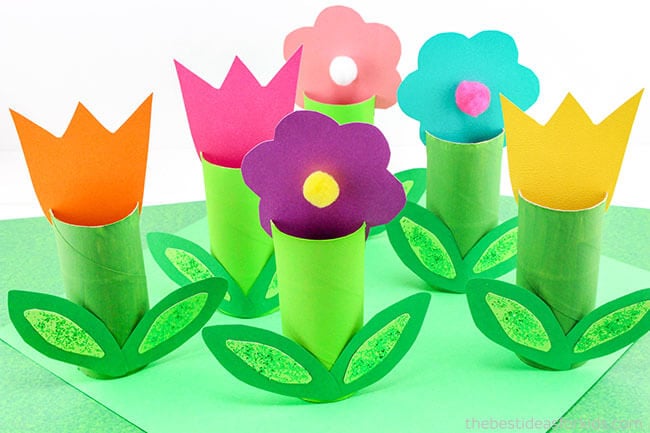 You can even make a handprint flower bouquet! These look great placed in a mason jar!