Making your own spray snow paint is really easy! This is a fun activity for a snow day outside. Kids will also benefit from this fine motor activity using the spray bottles.
RELATED:  How to Make Fake Snow
Snow Paint Recipe
Making your own snow paint only requires 2 ingredients – water and food coloring! It's easy to whip together and the kids will love to help too!
Have kids add the food coloring into the bottles and shake them up.
Then you make different designs and pictures in the snow. We did this after school one day and it snowed overnight and the kids were excited to see their pictures were gone and covered in snow. A new blank canvas is now available to paint again!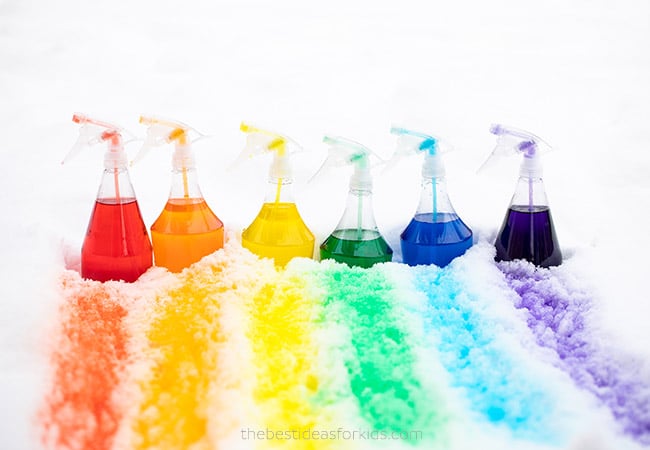 We spent an hour outside making different designs like snowmen, suns, clouds, trees, and abstract art. When using the spray bottles you can adjust the settings to spray narrow or wide. A narrow spray will allow you to make lines. A wider spray will create more of a mist.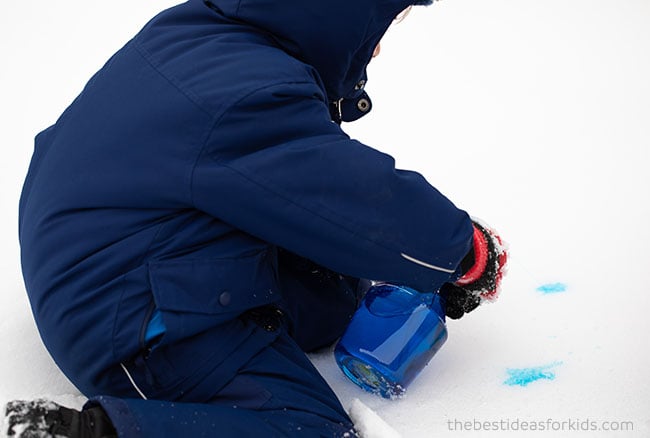 Some things to keep in mind: 
Food coloring can stain hands or clothes. Wash clothes right away to avoid staining. You can also use old mitts. We have done this a few times now with waterproof mitts and the paint does go on the mitts but once the kids play in the snow it usually naturally washes off.
We only had 1 rule while we used the snow paint:
You must only spray on the snow. Not on the fence, house, or each other. With this rule in place we did not have any issues with getting the paint on our clothing.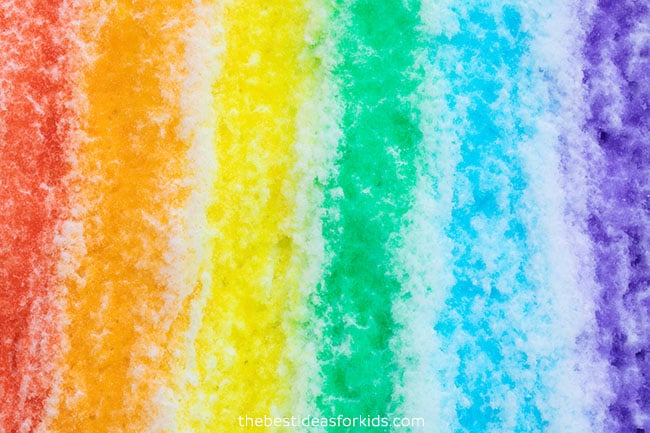 Ingredients to Make Snow Paint
Here's what you'll need to make your own: 
Plastic spray bottles – we got ours at the dollar store for $1 each
Liquid Concentrated Food Coloring – you can use regular food coloring instead, but you'll need to use almost a full bottle. The benefit of the liquid concentrated food coloring that you don't need as much. It also gives much more vibrant colors. You want the kind that comes in the little squeeze bottles which is easier to squirt into the spray bottles.
Water
Instead of plastic spray bottles you could also use plastic squeeze bottles. One thing to note with the squeeze bottles is that the liquid comes out quickly! We recommend using a bottle that has the smallest nozzle possible. We like the spray bottles because they last a lot longer than the squeeze bottles do.
Watch our Video Tutorial Here!
How to Make Snow Paint
First fill your spray bottles with water.
Then add 4-5 drops of concentrated food coloring to each bottle. Shake the bottle to mix the food coloring with the water. You may need more or less depending on the size of the bottle and how much water you use.
It should be concentrated which will give you a more vibrant color when spraying.
If you find the color is coming out a little dull, just add another drop into your bottle. The color in the bottle should be a dark color. If it looks a little light, then you may want to add more food coloring in.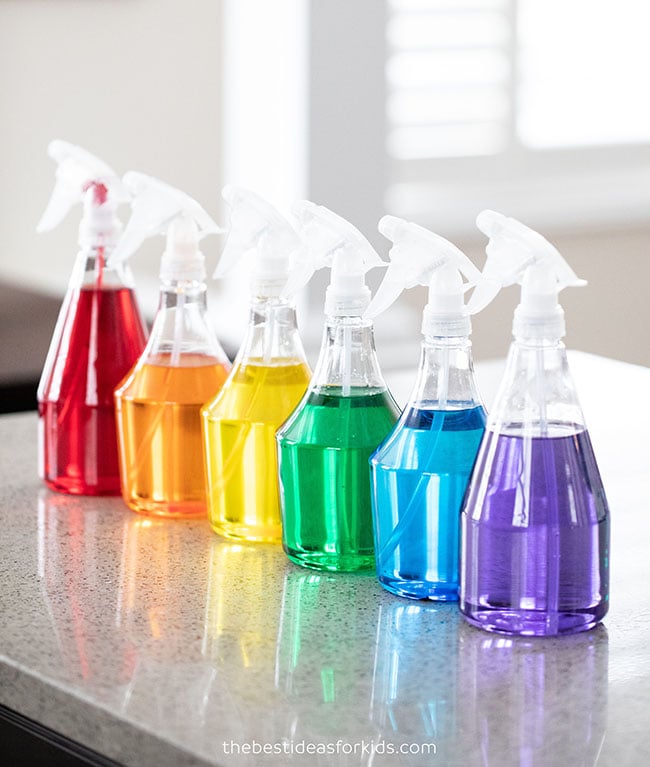 This is such an easy and simple winter activity! And once you have your spray bottles you can do it again and again. Your kids will love making and playing with their own snow paint this winter.
More Winter Activities
Make your own fake snow this winter too!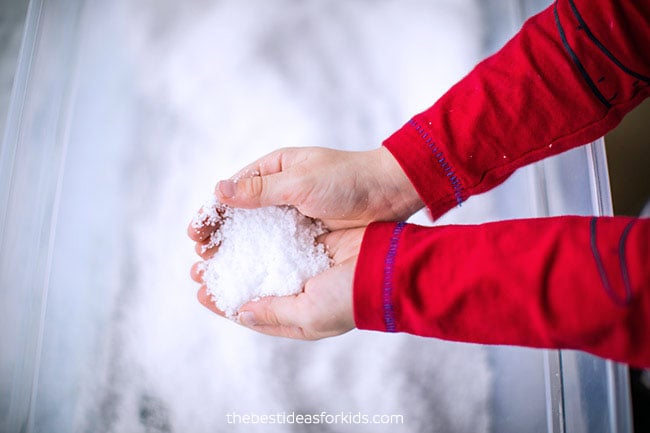 Also try this fun salt painted snowflake activity.