Making a paper plate rainbow is really easy with this torn paper technique!  Kids can practice fine motor skills building their rainbow.  And the best part is that it's mess free too!
RELATED: Paper Plate Snail
Paper Plate Rainbow Craft for Kids
Save up your scrap paper from other craft projects because you can turn those little pieces into torn paper art! This paper plate rainbow is perfect for using up any little odds and ends from leftover paper.
We also have a paper plate snail you can try using the same technique! And if you love recycled projects, check out my book – Fun and Easy Crafting with Recycled Materials.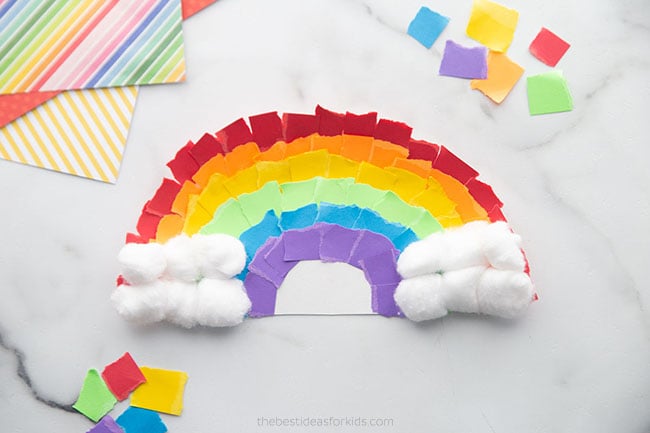 We absolutely love this craft for a number of reasons – building fine motor skills, reusing scrap paper and it's mess free!
As an alternative to torn paper you can also make this paper plate rainbow with paint or puffy paint. Just follow the same steps but have kids paint on their rainbow instead.
Supplies Needed
Paper Plate
Scrap Paper – we used red, orange, yellow, green, blue and purple
Cotton Balls
Glue – we used a glue stick for the paper and extra strong glue for the cotton balls
Watch the Video Tutorial Here
How to Make a Paper Plate Rainbow
1. Start by cutting your paper plate in half. Now you have the perfect semi-circle shape to work with.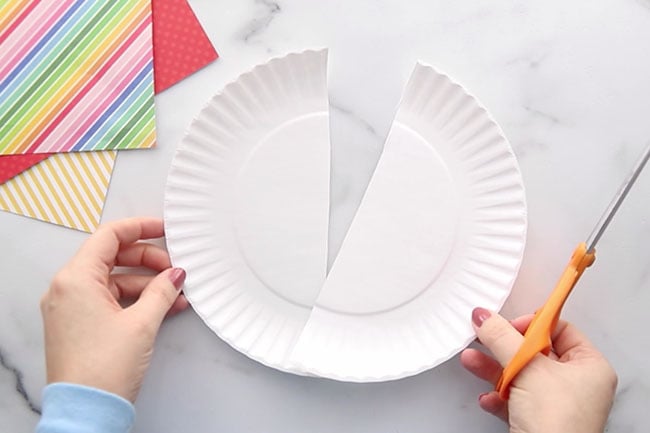 2. Gather all of your scrap paper or cut small pieces up to work with.
Have kids tear the scrap paper into smaller square pieces. The pieces don't have to be perfect and if you have some non-square pieces that's ok too. Once you glue them together you won't notice the difference in shapes.
If you have younger kids, they may need some help with this step.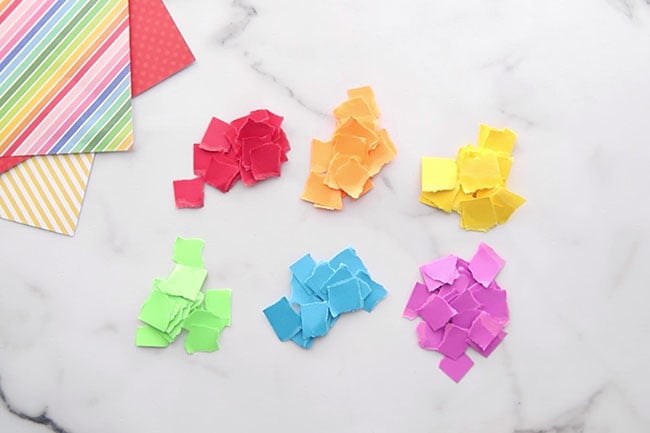 3. Have kids start to glue the torn paper pieces to the paper plate. Start with the red around the outside edge and work your way inwards with the colors.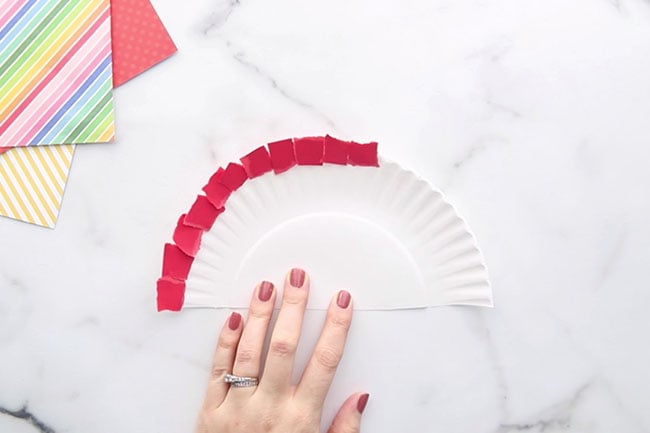 Keep gluing around the paper plate until you have all of the colors finished.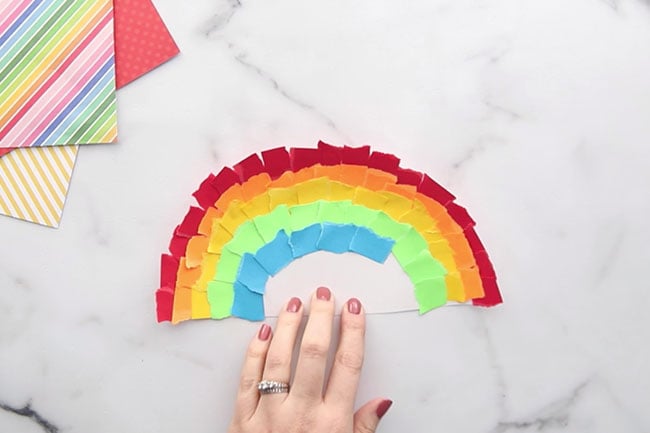 4. Once your torn paper pieces are all done you can add some cotton balls to the sides to make clouds.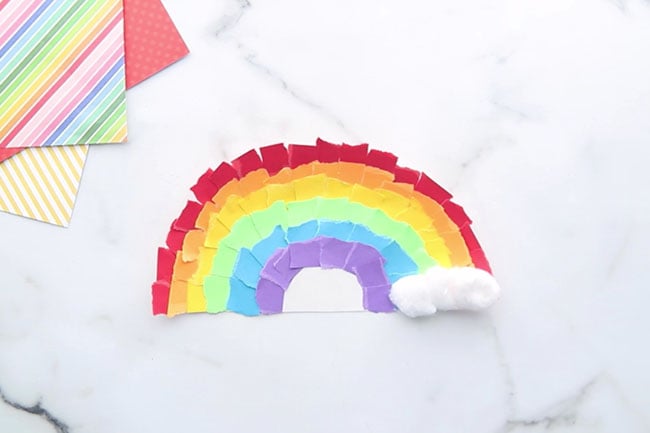 Your paper plate rainbow is now done! These would look fantastic up on a bulletin board. Or you can string a few together to make a large banner in a room.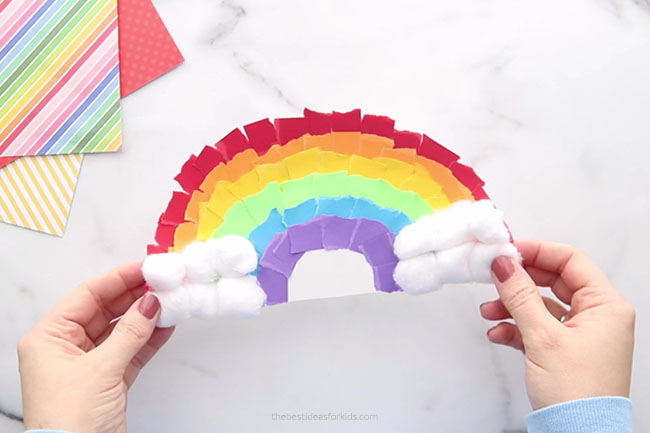 More Rainbow Activities
See this fun rainbow slime. Kids will love building a rainbow out of slime!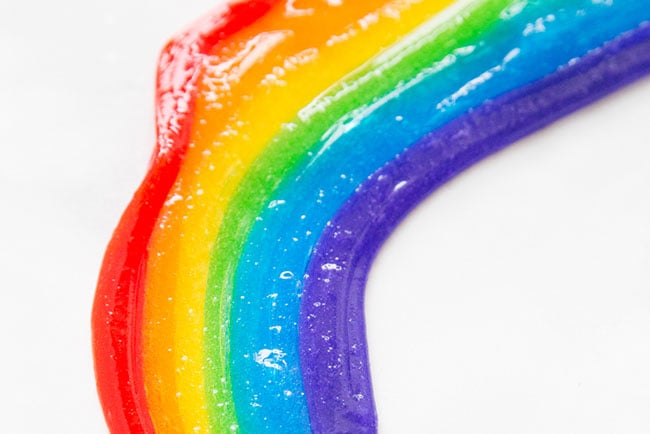 Make some rainbow playdough! This playdough recipe is super soft and lasts for months!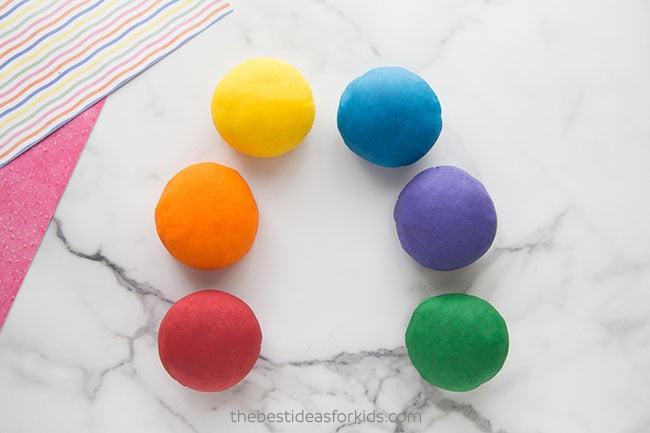 For another fun rainbow activity, this rainbow rice is our favorite sensory bin!