If you're looking for a fun and easy St Patrick's day craft – then you have to try this leprechaun paper plate craft! Paper plate crafts can be an easy craft for kids to do on their own. And they can customize their leprechaun to look however they'd like!
RELATED: St Patrick's Day Crafts for Kids
Paper Plate Leprechaun Craft for Kids
This paper plate leprechaun craft is easy for little leprechauns of all ages to create.  And if you're a teacher, these would look great placed around the classroom for decoration. You can provide a sample of materials to use for the beard also – paper, puffy paint, painted cotton balls, or just orange paint would work well too!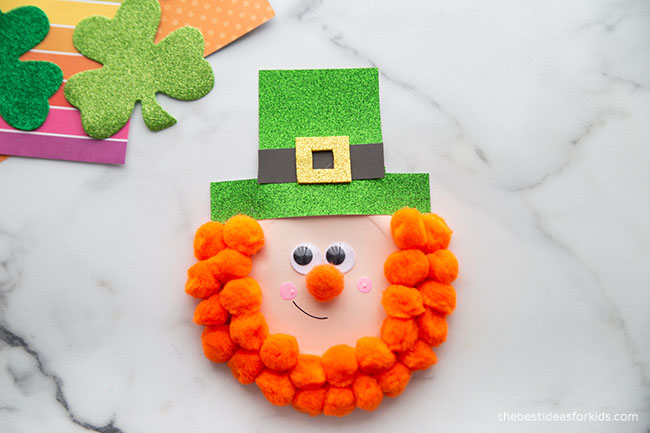 Supplies Needed to Make a Paper Plate Leprechaun
What kind of glue should I use? 
Hot glue will always work best for googly eyes and pom poms (adult supervision required). If you prefer to use a regular white glue, we like to use an extra-strong glue, like this one. Just make sure to allow it to have plenty of time to dry.
Watch the full tutorial video here before you get started!
Steps to Make a St Patrick's Day Paper Plate Craft
1. Paint the paper plate.
Start by painting your paper plate first. Let the paper plate dry.
2. Cut out a hat from the green glitter paper that will fit the size of the top of the paper plate.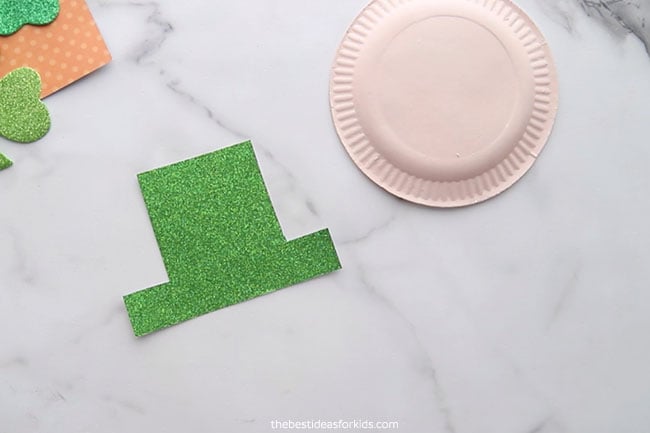 3. Glue a strip of black cardstock to the hat.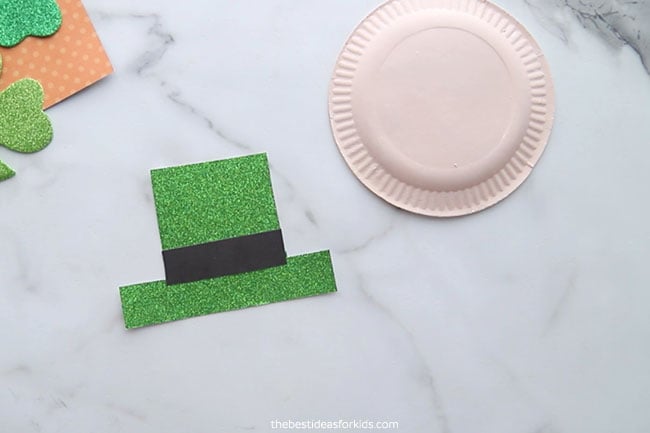 4. Add a gold buckle on top.
Cut out a square, then bend it slightly to make a mark with scissors in the middle so you can cut out the center of the square.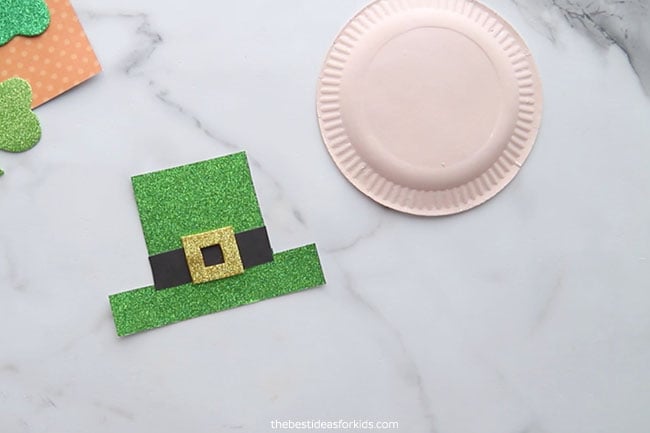 5. Glue the hat to the paper plate.
Now start to glue the orange pom poms around the outside edge of the paper plate.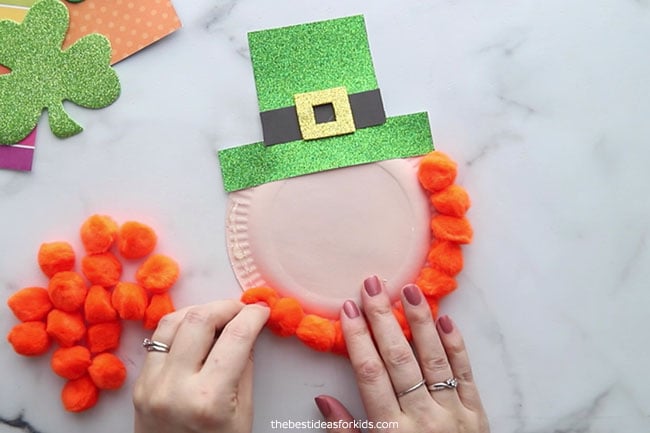 Keep gluing pom poms around the outside of the paper plate until you have 2 rows of them glued on. Instead of pom poms you can also use orange torn paper or orange puffy paint.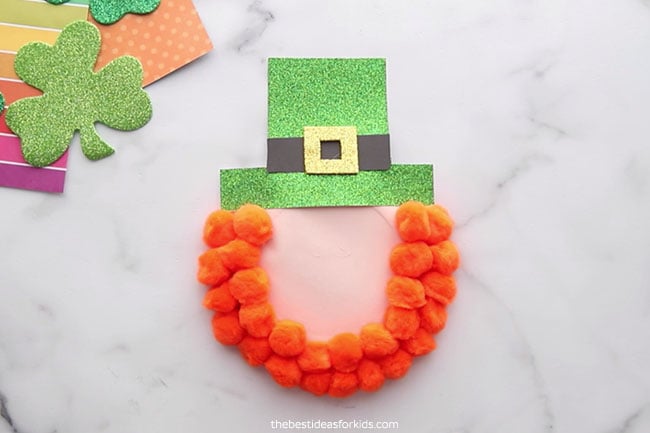 6. Glue 2 googly eyes on.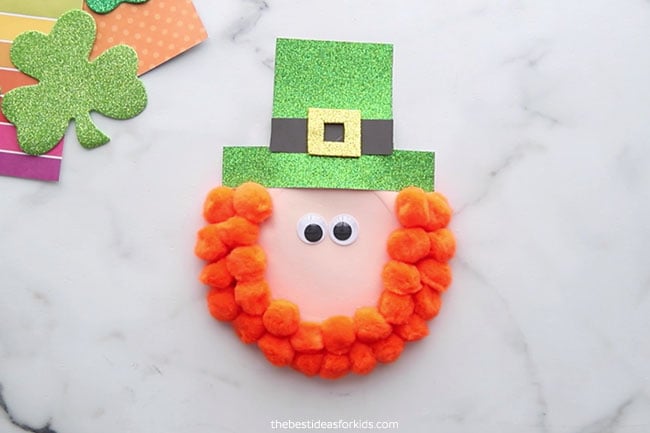 7. Glue on an orange pom pom for the nose.
Using the back of a paintbrush, add two small pink dots for the cheeks.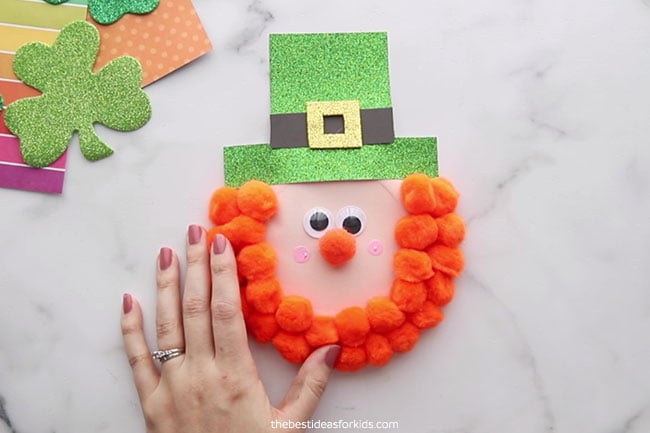 8. Add a smirk with a black marker or sharpie.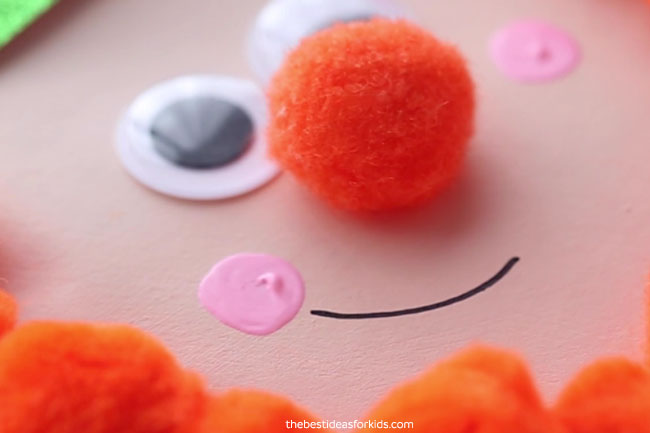 Now your paper plate leprechaun craft is complete! Kids will love playing with their finished leprechaun, or you can put it up on display!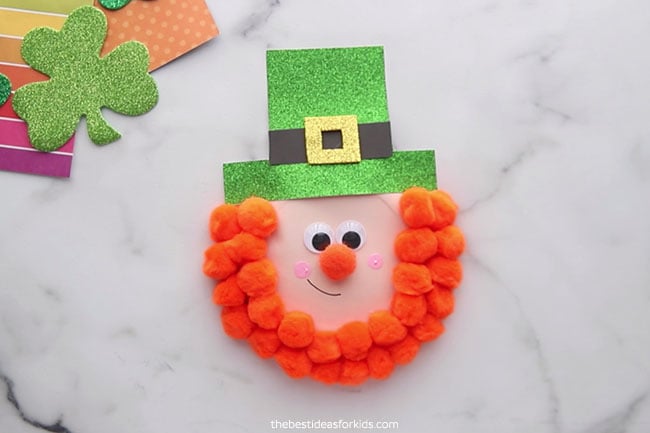 More St Patrick's Day Ideas
See over 25+ St Patrick's Day Crafts for Preschoolers.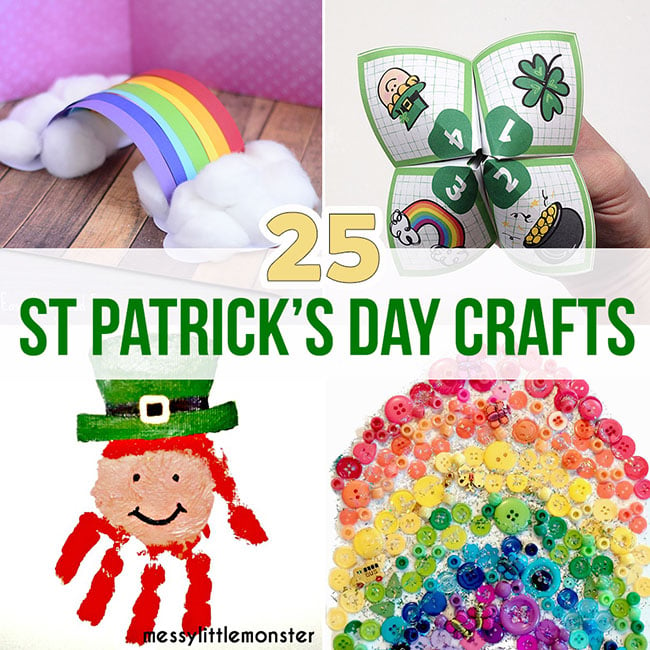 This leprechaun handprint opens up to be a card you can give for St Patrick's Day!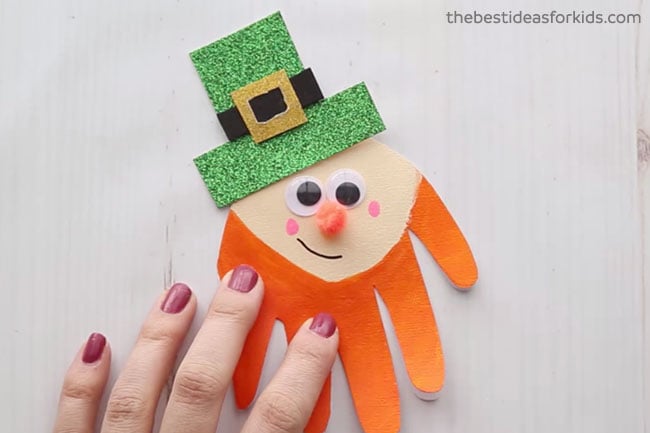 See how to make these toilet paper roll leprechauns!