If you're looking for a St Patrick's day activity – this St Patrick's Day scavenger hunt is a lot of fun for kids! You can give a final St Patrick's Day prize at the end or do candy or non-candy treats with each clue. Grab the free printable scavenger hunt clue cards at the bottom of the post!
RELATED:  St Patrick's Day Bingo
St Patrick's Day Scavenger Hunt For Kids
Your kids will love doing this scavenger hunt for St Patrick's Day! No printer?
You can still write out the clues on paper! Then add some stickers or drawings to them.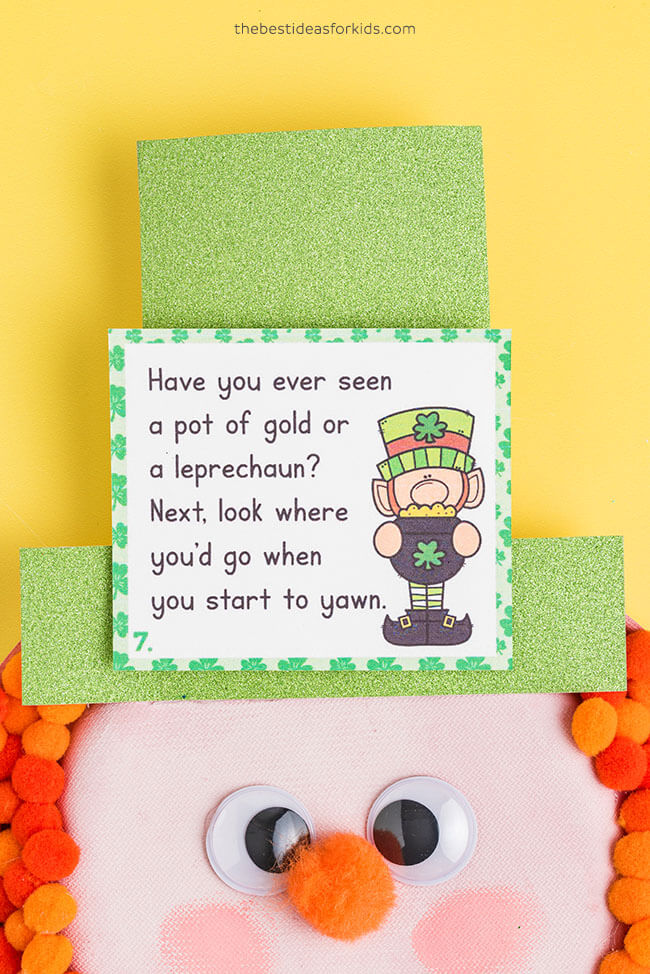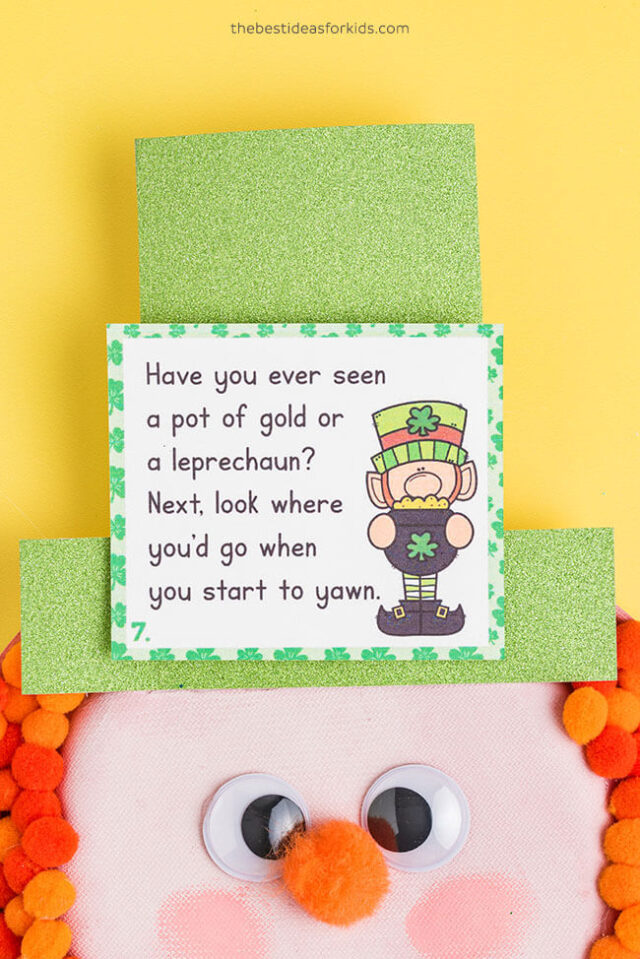 The clue cards print out on 2 pages. There are 12 clues in total.
Each card has a number on it so you know what order to place them in, but you can also change the order if you'd like.
The only cards that matter are the first and last clues. The rest you can mix up if you want to!
You can also add extra ones that you make on your own before the final clue if you want to make it longer.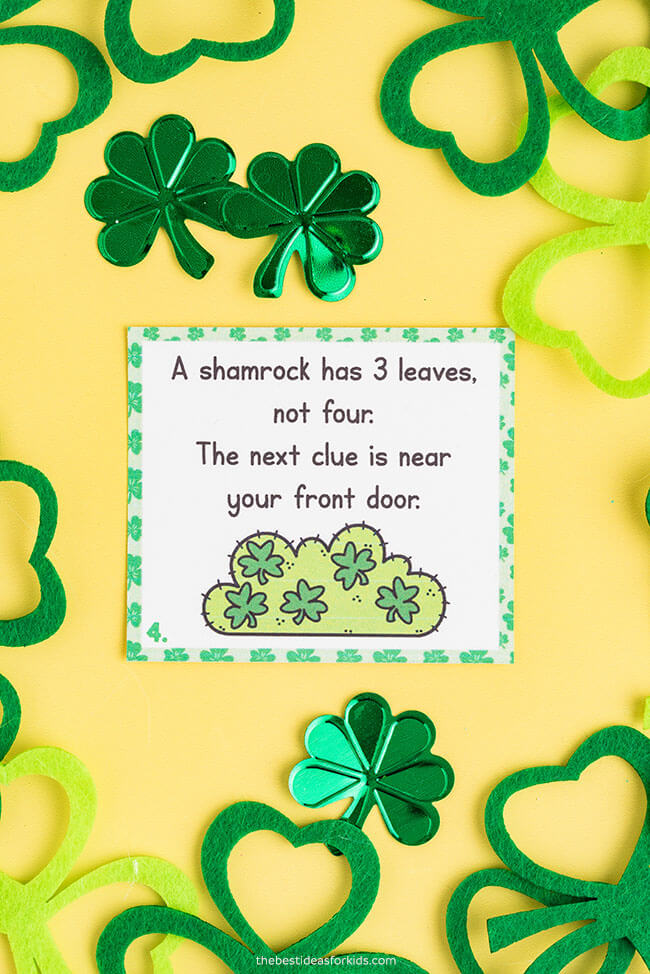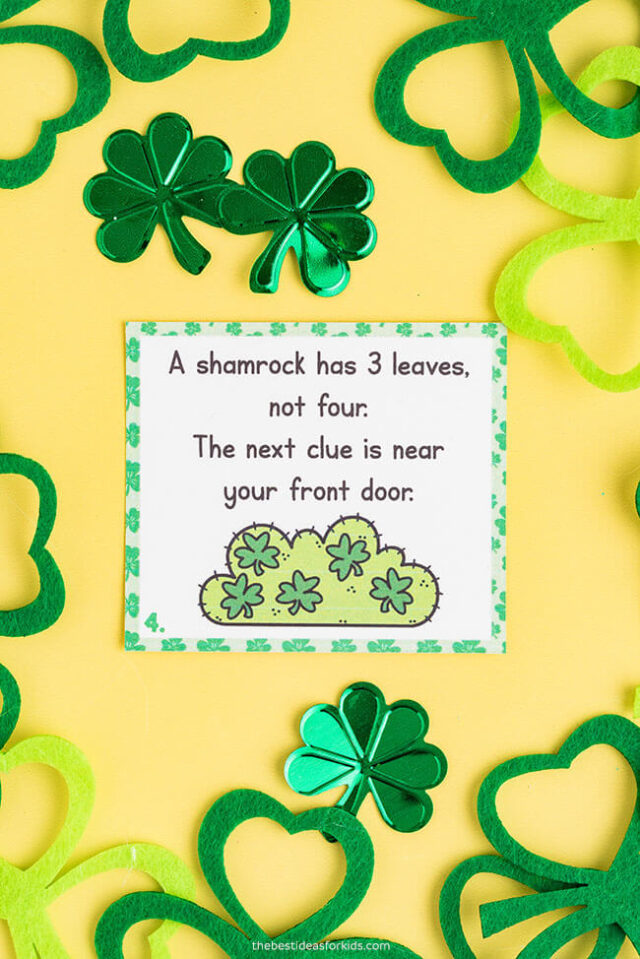 All of these clues are indoor locations. They are also easy for kids to do (they might need a little help depending on the age).
And if your kids love leprechauns, make this cute paper plate leprechaun to go with the scavenger hunt game!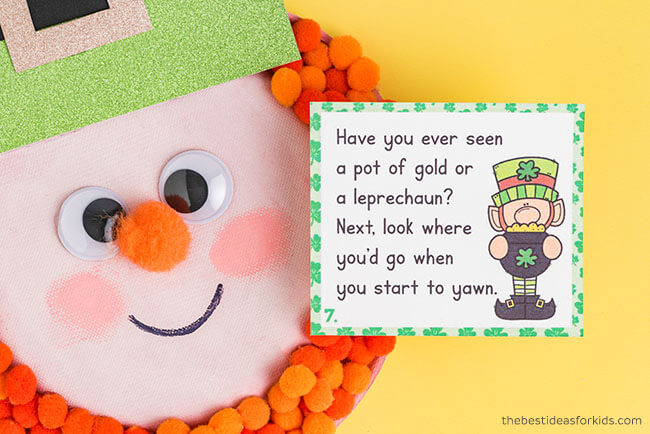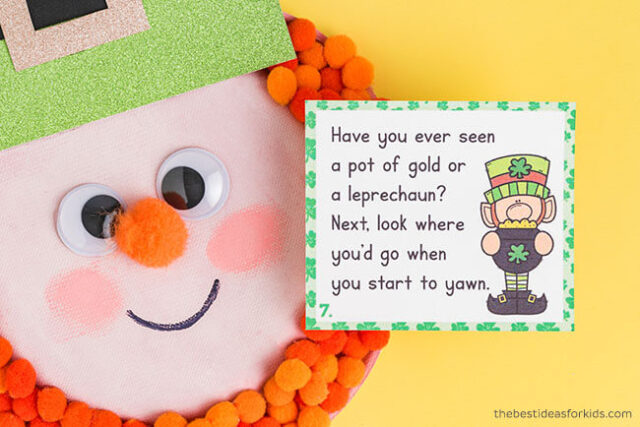 At each clue card you can put a small prize with the card and then do a bigger prize at the end. Alternatively, you can do a large prize at the end. Either way, kids will love doing this scavenger hunt!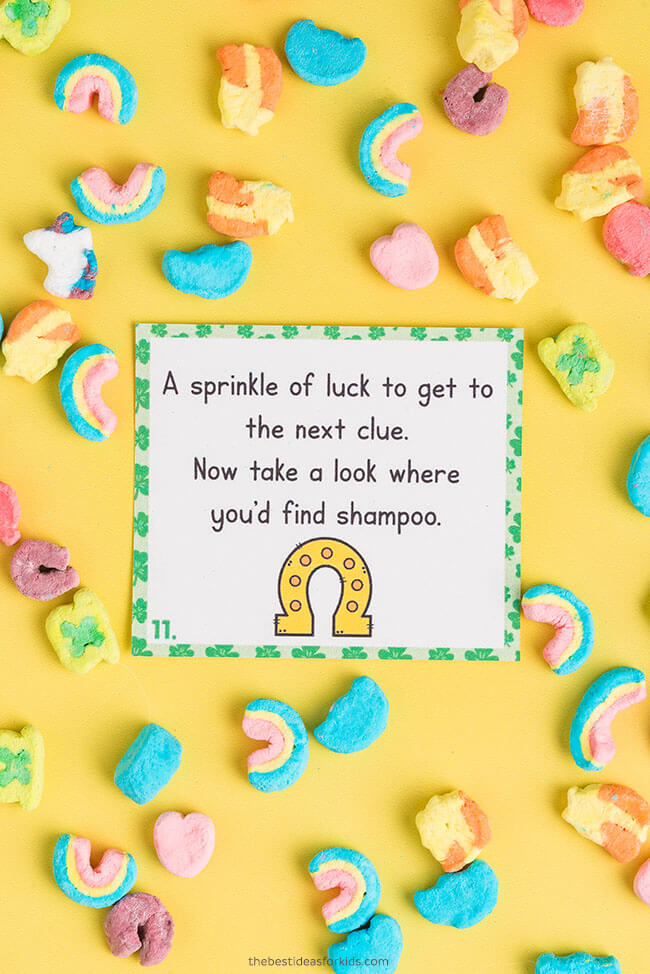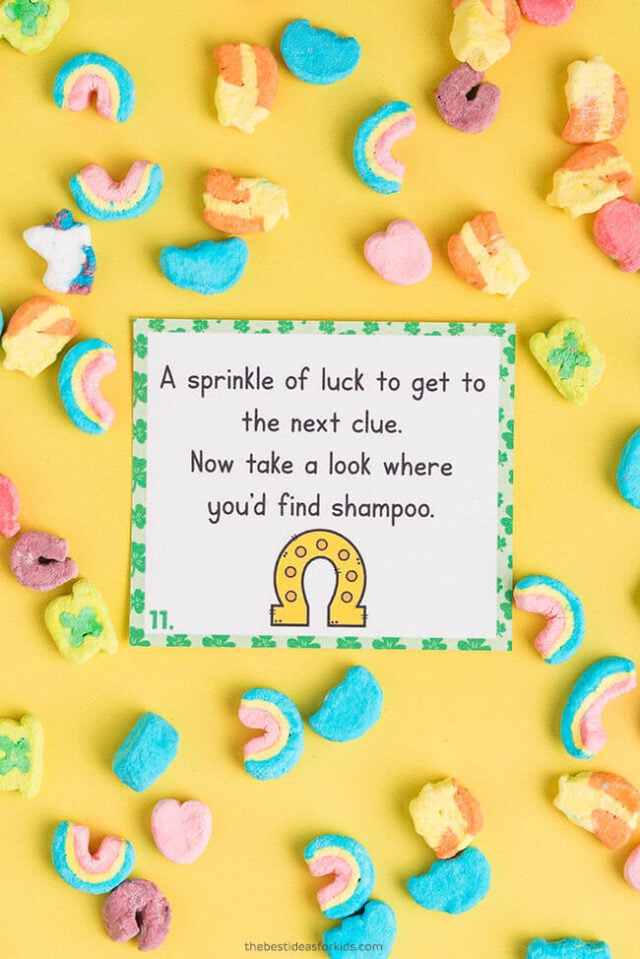 How to Set-Up the St Patrick's Day Scavenger Hunt
First print off the clue cards (the link to the cards is below)
Hide the 2nd clue first in their play area.

Continue to hide all of the clue cards based on the previous clue hints until you are left with the last one.

For the last prize, hide it inside your fridge or snack area.

For clue #7 put this by their pillow. Then for clue #8 hide it under the bed where it won't be initially seen so you don't miss clue #7.

If you want to make the scavenger hunt longer, you can add extra cards of your own before the last clue.

When you're ready to start the hunt, hand the first clue to your kids.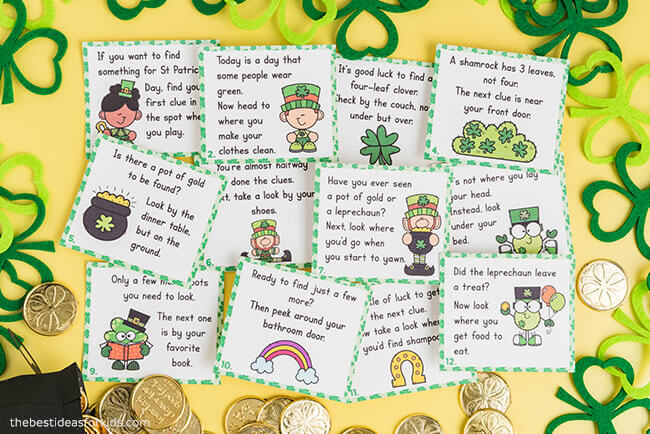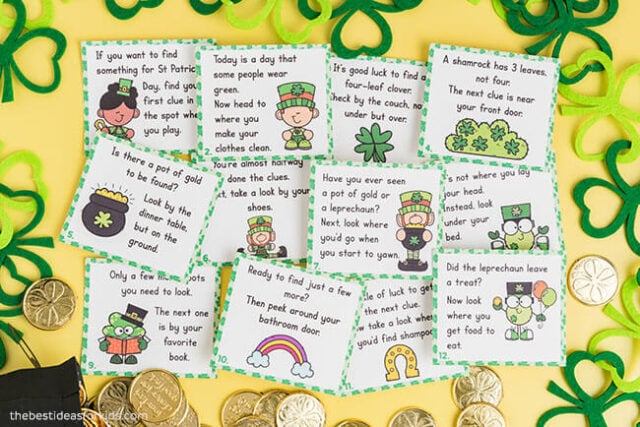 Free Printable St Patrick's Day Scavenger Hunt Clue Cards
If you love our scavenger hunts, then also check out our free printable bingos! We have a St Patrick's Day bingo set. It's another fun activity you can do on St Patrick's Day!
More St Patrick's Day Activities
Grab this free printable St Patrick's Day Bingo set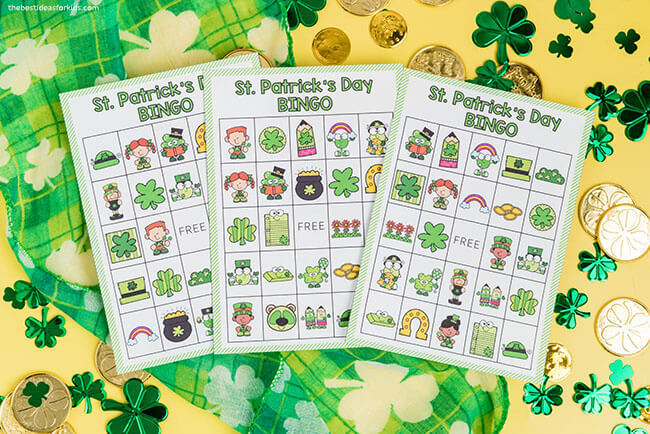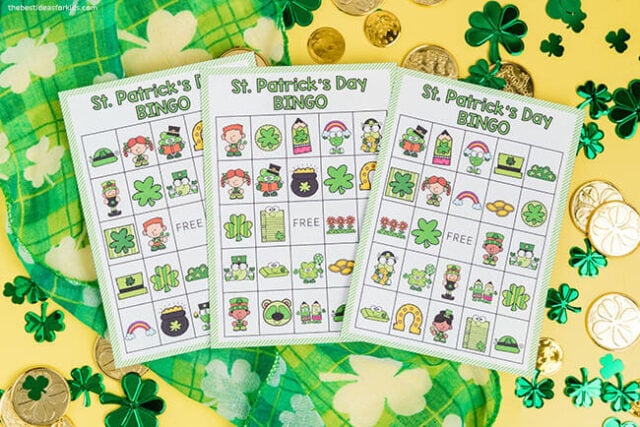 This leprechaun handprint opens up to be a card you can give for St Patrick's Day!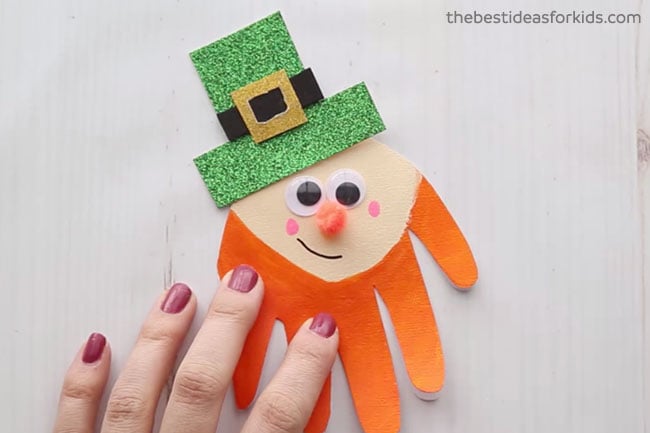 See how to make these toilet paper roll leprechauns!