Looking for some fun process art for St Patrick's Day? Scrape painting is always a favorite art activity in our house. We love that you can mix colors and get a beautiful piece of art when you're done. It's easy for toddlers to do too!
RELATED: St Patrick's Day Crafts for Kids
Shamrock Scrape Painting for St Patrick's Day
This art activity only requires a few materials that you might already have on hand. You only need paint, white cardstock and our free printable shamrock template. You can also draw your own shamrocks too!
Make a green shamrock with two shades of green: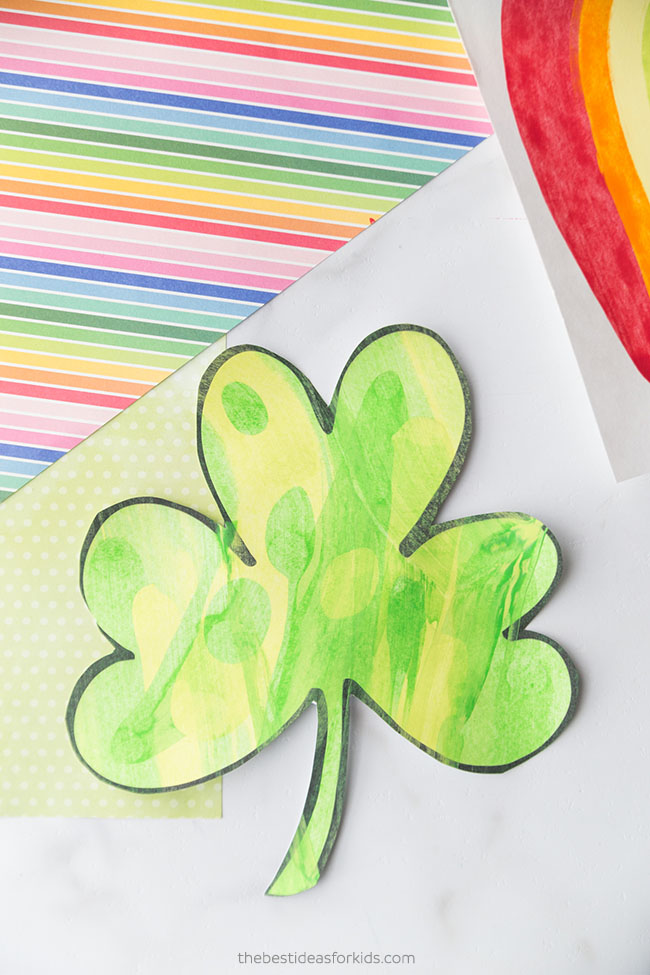 Or make a rainbow version: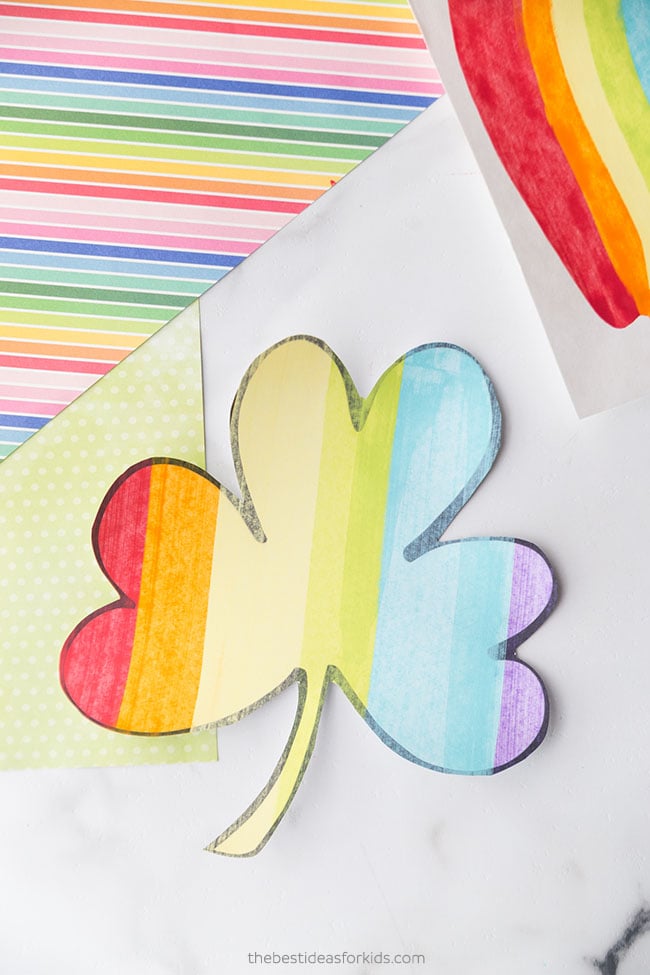 We also made a rainbow using paint and scrape painting. We were inspired to do this after making a version for a book we read, called My Color is Rainbow. 
This book is about kindness, acceptance and openness and pairs perfectly with any rainbow activity. To make a rainbow that fits with the story of the book, first draw out a white arch with a sharpie on white cardstock. Then have kids scrape the rainbow across. They loved this activity and love the book even more!
You can also just have kids scrape the paint across into the shape of a rainbow on plain white cardstock: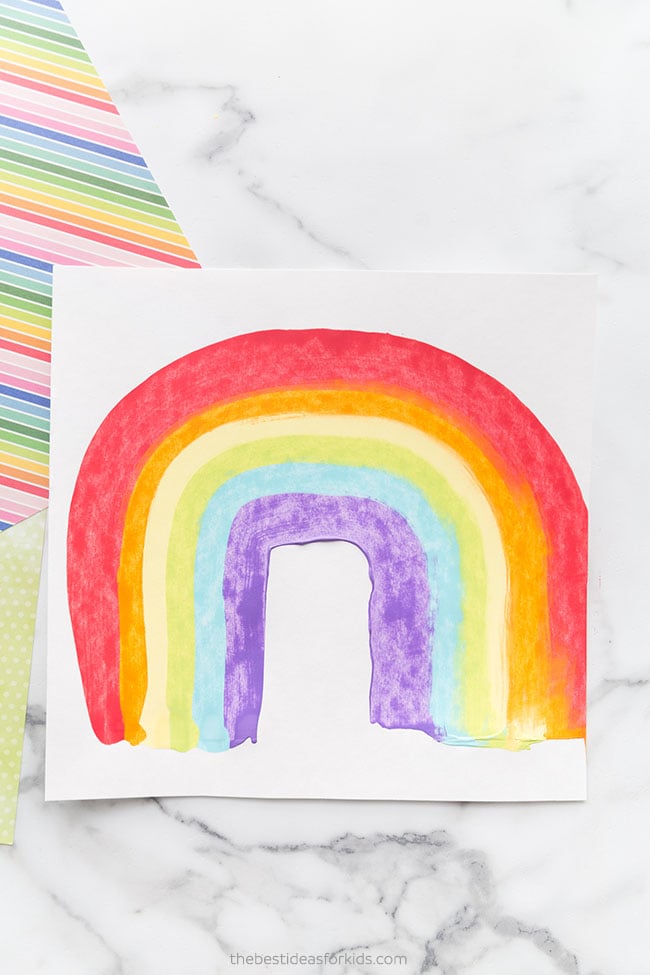 Supplies Needed For Shamrock Scrape Painting
Thick cardboard (for scraping)
Free Printable Template – you can get the template at the bottom of the post on the email form that shows a preview of the template 
Note – to make a large rainbow, we used a 12×12 size of white cardstock. You can still do the same activity on regular-sized paper too!
Watch the video tutorial here!
How to Scrape Paint a Shamrock and Rainbow
1. First, print off the template. You can get the template at the bottom of the post on the email form that shows a preview of the template.
2. To make the rainbow shamrock, first apply paint in the order of the rainbow across the top of the page.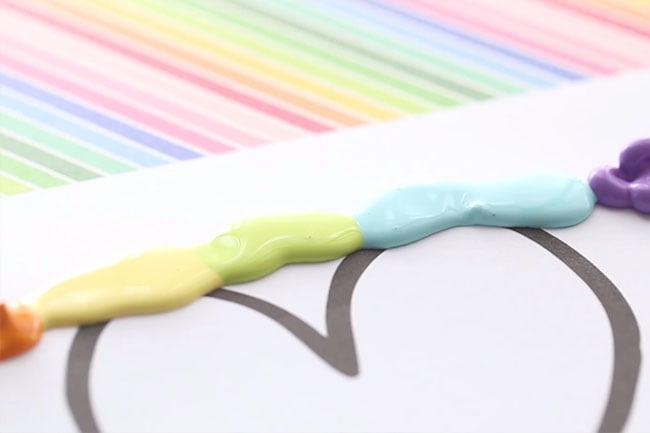 3. Using a long piece of cardboard across the page, apply even pressure on the cardboard and scrape the paint down the page.
Some tips: 
The bottom of your cardboard needs to be flat so that it will evenly scrape the paint down
Your cardboard should be thick so that it does not bend when you use it for scraping
Make sure the paint line goes across the width of the shamrock so you fill the whole space with the paint
Once you're done scraping, allow the paint to dry. Then you can cut out your shamrock shape.
To make the green shamrock you can do a similar pattern as the rainbow, by alternating two different colors of green.
Or you can add little dollops of paint inside the shamrock with two different colors of green: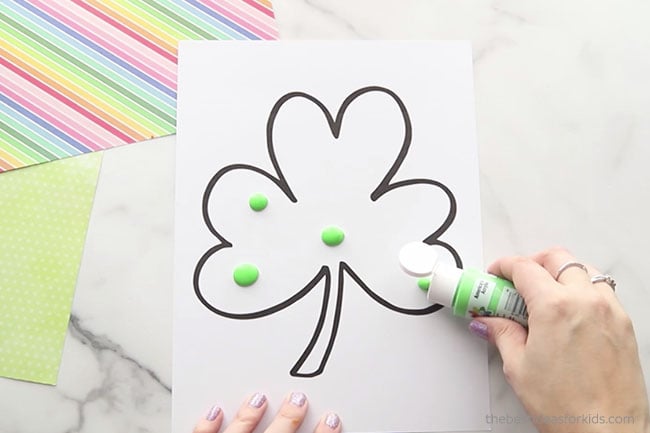 Using a smaller piece of cardboard, you can now scrape the paint into different directions to get a scrape painting effect.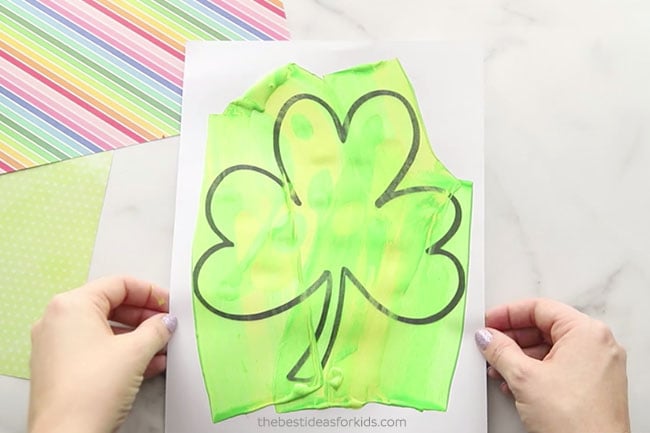 To scrape paint a rainbow, add each color of the rainbow with paint on the left side of the paper. Then using a piece of cardboard, scrape the paint into the shape of a rainbow.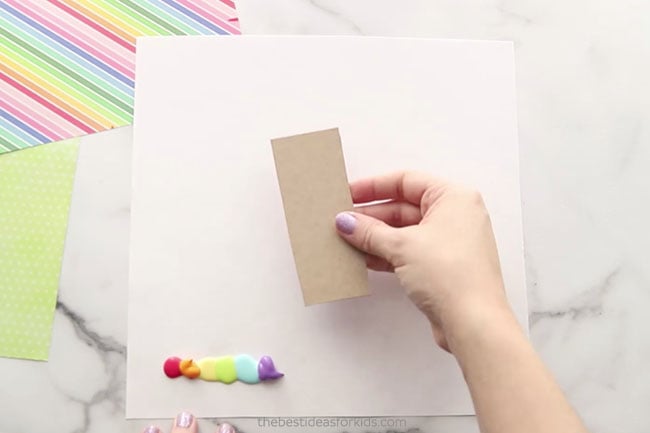 We love how easy this one is for kids to make! They will be delighted with their final results and will want to do it over and over again!
Punch some holes into your shamrocks and you can make a banner to decorate your house or classroom.
To get the template, subscribe below and it will be delivered to your inbox as a free gift. Please make sure to check ALL folders for the confirmation email. 
More St Patrick's Day Ideas
See over 25+ St Patrick's Day Crafts for Preschoolers.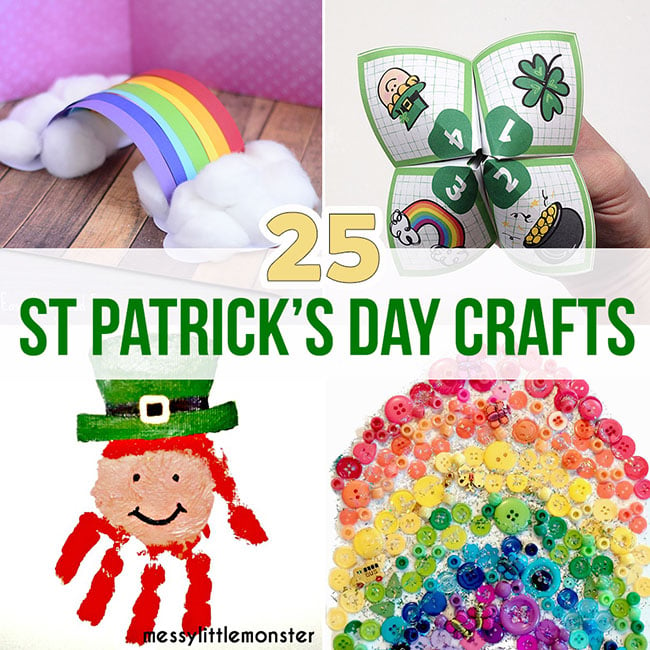 This shamrock suncatcher looks beautiful in the windows! Kids love to make them too!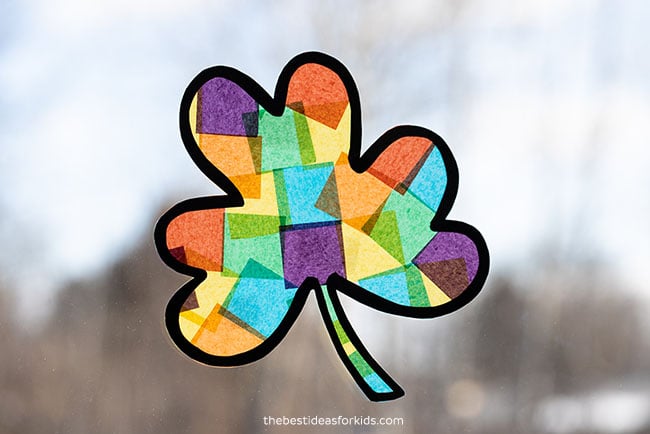 This rainbow slime is really fun to make for St Patrick's Day!