If you find yourself unexpectedly at home the next few weeks – or you want a schedule to keep learning over the summer, this schedule may be right for your family!
RELATED: 100+ Indoor Activities for Kids
Kindergarten Homeschool Schedule
Firstly, I want to say that this schedule is coming from a mom with two kids. This is what is currently working for our family. I do not have a background in education or curriculum. I made this based on the things I know my kids will most likely be interested in, while also balancing learning core subjects that they would be learning in school.
This schedule is a short term schedule. It's meant to be used during school shutdowns or during the summer. This is not meant to be a full-time homeschool curriculum schedule.
Also, I understand a schedule like this may not be realistic for all families. This is just meant to be inspiration for something that might work for your family. Adjust to what suits your family's needs. For us personally, I need a schedule or we will end up watching TV all day.
A few other things I want to mention about the schedule: 
1. I broke the schedule into 1 hour blocks of time to keep things simple. Keeping things in 1 hour blocks will be easier on you since you can quickly remember what each hour block is meant for. You can break things down further but I personally find that complicates things and you may feel rushed going from one activity to the next.
2. Screen time is not listed. If you allow screen time in your family, you can place these during the "Play Time" slots. I have these strategically placed before meal times for a reason. Typically I will allow screen time during these times so that I can focus on making meals. In order to still get free play in your schedule, you can use the extra activity time. Outside time is also free play and when possible, try to encourage learning through play in science and math times as well.
3. There is always flexibility in any schedule! If you miss math one day, don't sweat it. The important thing is that your children are engaged and are learning. If you are doing something that takes longer or shorter, free play can fill the time. At this age, a lot of learning happens with play.
4. I have 2 time slots for outside time. If you are not able to go to public places, it's important to get outside and get fresh air. Go for a walk or play in the backyard.
5. The 3pm-4pm activity time is an open slot. It can be extra creative time or it can be extra outside time. It really just gives flexibility to your afternoons.
6. Adjust to what fits your needs. This is just a sample schedule you can use to get ideas. Adjust or change as you feel necessary.
Here is the schedule at a glance: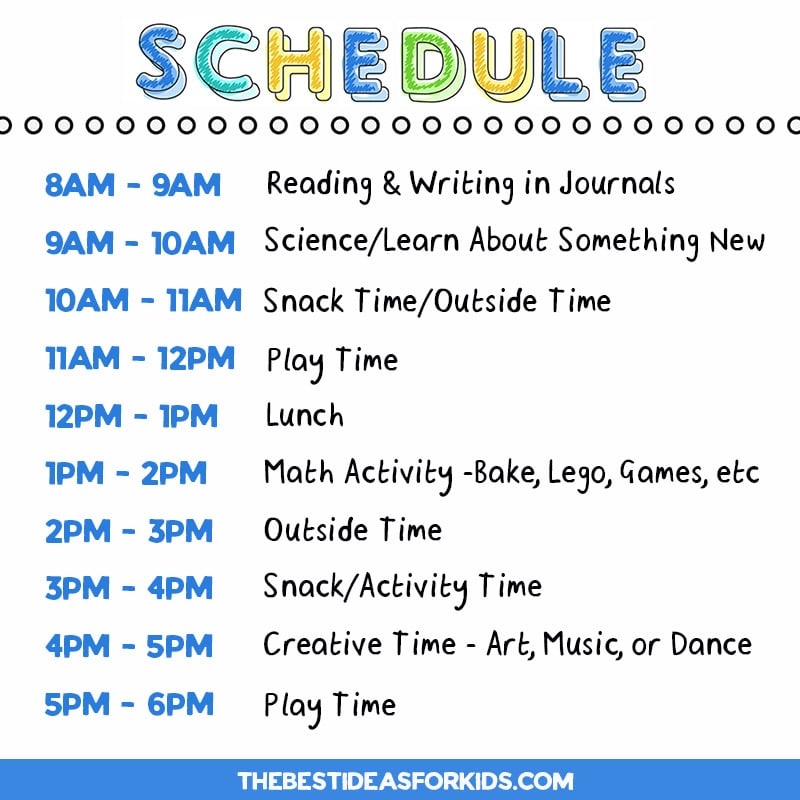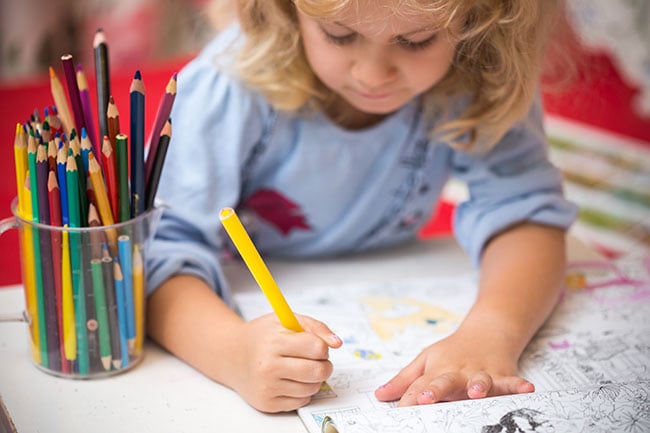 Details on our Kindergarten Homeschool Schedule
Here are more details on what we plan to do with each time slot: 

During our reading and writing in journal time, we'll be reading one of our Scholastic reading books.
The Scholastic reading books start at level A and work their way up to levels E/F. They have been the perfect reading progression program for our family. Over the summer, before my son went into his Year 2 of kindergarten (at age 5) he went from not reading at all, to being able to read the Level B books in this program.
We did a book every morning and night. We will continue this schedule during our part-time homeschool. So after breakfast, we will read one reading book. Then they will do their journals to practice their writing. For my daughter, who is Pre-K, she will do a drawing and practice her letters in her journal each day too.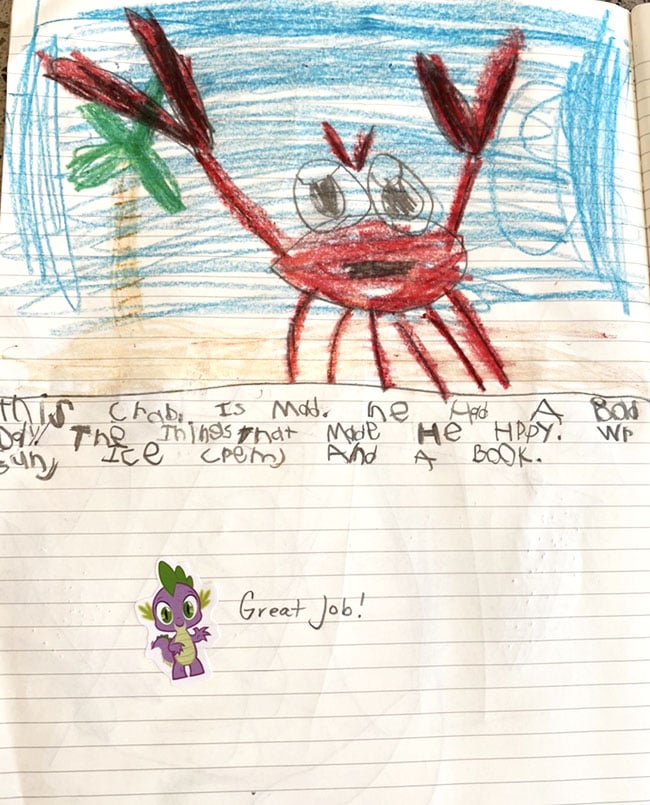 For science or learn something new time, we are going to do a science experiment or learn about a new subject.
We have some educational books on hand already that we will start with. We like the National Geographic for kids books. They have a bug, space, world, ocean, animals and dinosaur version.
One way to extend the learning you read in books is to search for questions about that subject on YouTube. For example, today we learned about bees. So we searched "why do bees make honey" on Youtube and found a few videos we could watch that are educational videos for kids.
Another great program, is the free scholastic learning at home program.
For science experiments we plan on making slime, growing crystals and making oobleck.
3 other favorite science experiments we love to do are magic milk, skittles experiment and baking soda and vinegar. You can see them here. 

A lot of learning happens during play time at this age. Free play is important for children to develop curiosity and creativity. Kids learn through play in many ways – manipulating toys, role play and experimenting.
If you're stuck indoors, there are over 100+ indoor activities here you can use as inspiration for play time. For example, create your own fashion show, set up a store, or build a fort.
If you need to do errands or work yourself, this is a great time to get your own work done. Often times when kids lose interest in their toys they can develop their own creative ideas for play. I love seeing my kids think up new games or ways to play with simple items from around the house! For example, a box became a boat today. Imaginations can flourish during this time.

Math at this age can easily be learned using real world objects. Lego in particular is a great way to learn about fractions. Counting items like toys can be a great way to show addition and subtraction. There are also a lot of ways to make math fun!
Here are a few ideas you can start with: 
Bake something and have the kids help measure out the ingredients
Learn about shapes by going on a shape hunt
Create your own shape puzzles from cardboard
Use bear counters to do addition and subtraction
Sort items or toys
Play store and use a play cash register to count the money.
Use lego to learn about fractions or count how many pieces you need to build something
Build towers and count how many items you used
Use Post-It Notes to solve problems and see how many you can find and solve.
Play a game that includes counting dice. We really like the Enchanted Forest game which has 2 dice and also involves counting spaces to move.
We also have a list of over 35+ Educational Apps for kids including Math ones. You can see them here. 

For the final subject of the day, we are going to dedicate time to doing arts and crafts. Some days this may entail just coloring in coloring books. But most days I will try to do a craft based on the subject we learned about that day. For example, we learned about bees today and and so we made bottle cap bees and a bubble wrap honeycomb from my Recycled Crafts for Kids book.
Here are some creative arts and crafts ideas: 
If you love making crafts with things you have around your home, check out my Recycled Crafts for Kids book. It has 60 crafts for kids with things you can use from around your home and a few other simple supplies.
If your child plays an instrument, this is also a great time to practice the instrument. For dance, you can put on some music and have a dance party. You can also put on some songs on YouTube that have actions you can do with them (like head, shoulders, knees and toes).
For our favorite educational apps for kids – see this list of 35+ best educational apps for kids. 
And if you need more indoor ideas – see our free printable list of over 100+ indoor activities for kids.