If you are always on the hunt for apps that are not only fun for kids, but also educational, then look no further! We have compiled a list of over 35 of the best educational apps. These apps will help your kids improve their skills in a range of areas and subjects. From foreign languages, to science and social studies, we have found learning apps for almost any subject!
Whether you have a preschooler or an older elementary age child, there are sure to be some apps on this list that you might want to try. This list is also a great resource for teachers and Grandparents!
RELATED:  15+ Educational YouTube Channels for Kids
Best Educational Apps For Kids
Some of these apps cost a small amount and some are free. Most free apps do have in-content purchase upgrades. When you think about the cost of a book we think $3-$4 is reasonable for an app that will provide ongoing educational value. Some of these apps also require subscription memberships to gain full access to all of the features – be sure to read the fine print before signing up.
General Educational App

Khan Academy Kids
This fun app is completely free and offers reading and literacy – including phonics, the alphabet, spelling, and early writing. It also has math, language, logic, problem-solving and memory learning activities.
Cost: Free,  Age: 4+
Foreign Language Apps

Duolingo
This fun app offers over 30 foreign languages to choose from. There are a variety of different games to play that will test your writing, speaking and reading skills.
Cost: Free,  Age: 4+

Gus On The Go
You can learn over 20 languages with this fun app. Gus is an owl that takes you on adventures to help learn the languages of your choice through interactive games.
Cost: $3.00,  Age: 4+

Learn Spanish By Mindsnacks
This free app offers lots of different games and activities for learning Spanish. Kids and adults will love this app!
Cost: Free,  Age: 4+

Endless Spanish
This app is perfect for introducing the Spanish language to kids. Animations and puzzles make learning Spanish super fun for kids!
Cost: Free,  Age: 4+  

Dic Dic
Dic Dic offers 3 different levels of difficulty to practice learning spelling, writing and sound letter matching. You can choose to practice Spanish or French in this app!
Cost: $2.99,  Age: 4+

Spanish For Kids – Teacher Amy
This app offers a variety of different ways for kids to practice their Spanish vocabulary, listening and reading skills. There are 13 different fun categories to choose from within this app.
Cost: Free,  Age: 2-7

LinguPinguin
LinguPinguin offers 19 different languages in a fun and colorful app for preschoolers. Linked is the Chinese version, some of the other versions include Spanish, French and German.
Cost: $1.99,  Age: 4+

Little Chatterbox
This language app is unique because it features videos of older children to teach younger children how to form words. It's perfect for kids but adults can benefit from it as well. 8 different languages are offered. 
Cost: Free,  Age: 4+
Math Apps

DragonBox
This fun game teaches algebra concepts to kids as young as 5 years old.
Cost: $4.99,  Age: 5+

Quick  Math
Practice mental math, arithmetic, pre-algebra and even handwriting with this fun and engaging app! Kids and adults both will love this one.
Cost: $1.99, Grade: 1-6

Time, Money and Fractions On Track
Counting money, telling time and understanding fractions can be difficult for young kids. This app uses interactive games for kids to build their skills in these areas!
Cost: $4.99, Grades: 1-2

Thinking Blocks
This game helps children learn to solve word problems. It reinforces addition, subtraction and problem solving skills.
Cost: Free, Age: 6-9

Number Run
Practice your mathematical skills while you chase down the thief Baron Von Count who has stolen 4 mathematical crystals. This is a fun math game for kids and adults!
Cost: $2.99, Age:4+

Math Learning Center
Math Learning Center offers a variety of free apps for learning everything from fractions and geometry to patterns and money.
Cost:Free, Age:4+

Splash Math
Math can be fun and interactive with Splash Math games and activities. Great for a variety of grades and ages!
Cost: Free, Grade: K-5

Math Slide
This is a multi-player game with many different levels to help kids learn tens and ones.
Cost: Free, Age:4+

Moose Math
Moose Math takes kids on mathematical adventures and aligns with Common Core math standards. Kids will learn addition and subtraction as well as geometry and counting.
Cost: Free, Age:3-7

Reflex
This interactive game helps kids recall math facts quickly. Kids will love playing this game to improve their math skills!.
Cost: Free, Grades: 2-8
Mathseeds
These apps are geared towards different grade levels and help kids learn essential math skills.
Cost: Free, Age: 4+

Stack The States
The states come to life in this fun and interactive game. You can also learn about capitals, flags and geography in this educational app!
Cost: $2.99, Age: 4+

Kids World Atlas
Explore the planet through a variety of games that teach about rivers, mountains, deserts, geography and more!
Cost:Free, Age:4+

Social Studies For Kids
This app bundle provides tons of learning activities for geography, cultures, animals, history and more! Included in the bundle is the Kids World Atlas (listed above).
Cost:$9.99, Age:4+
Science Apps

Habitat the Game
Help save different habitats by adopting a polar bear and keeping him alive!
Cost: Free, Age: 4+

Skyview
This app shows and identifies the stars, constellations and satellites that are in view as you stargaze.
Cost: Free, Age: 4+

ExtremeWeather
Learn all about hurricanes, tornadoes, climate change, lightening and more in this engaging and interactive app!
Cost:$3.99, Age:4+

Play and Learn Science
Kids will gain scientific knowledge and improve problem solving skills through games and hands on activities.
Cost: Free, Age: 4+

MarcoPolo Ocean
Kids will love discovering the ocean with this app which includes animated puzzles. They will learn about marine life, ocean landscape and vehicles used in the ocean.
Cost: Free, Age: 4+

MarcoPolo World School
This primarily science app has fun activities and videos related to all sorts of science topics – like weather, dinosaurs, human body and more. This app is primarily a paid subscription but you may be able to get a free 30 day trial.
Cost: Some Free, Subscription for Full Access
Puzzle Apps

Crossword Puzzles For Kids
This app is great for teaching kids about spelling, vocabulary and problem solving!
Cost:$1.99, Age:4+

Winky Think Logic Puzzles
Improve logic skills with over 180 puzzles and games! Kids can advance at their own pace, so this is great for all ages!
Cost:$2.99, Age:4+

ShipAntics
Solve all kinds of puzzles in this adventure filled game!
Cost:Free, Age:4+

Puzzingo Toddler
Kids will learn numbers, letters and vocabulary through over 100 different fun puzzles.
Cost: Free, Age: 4+

Kids' Puzzles
There are over 350 jigsaw puzzles in this fun app!
Cost: Free, Age: 3-9

Thinkrolls 
There are 207 different logic puzzles that teach science concepts in this engaging app!
Cost: $3.99, Age: 3-8
Spelling Apps

Spelling Stage
From Kindergartners to advanced spellers, spelling stage will help kids refine their spelling skills through a series of games
Cost: Free, Age: 4+

Vocabulary Spelling City
Students will strengthen their literary skills through different activities. This app offers 35+ interactive games for all different grade levels!
Cost: Free, Age: 4+

ABC Kids
This app is great for young learners to start practicing their letters, shapes and phonetics.
Cost: Free, Age: 4+
Reading Apps

Epic!
You can have access to over 25,000 books in this digital library for kids. There are also audio books, quizzes and learning games to enhance students' reading skills!
Cost: Free 30 day trial, then $7.99/month, Age: 4+

Learn Sight Words
Students can learn over 300 high frequency sight words through digital flash cards.
Cost: Free, Age: 4+

Reading Comprehension Prep
This app contains 12 different stories to help kids improve their reading comprehension skills.
Cost: Free, Grade: 3-5

Teach Me
Teach Me offers educational apps for K-3rd grade. Students can refine their skills in reading, sight words, math and writing letters through these apps.
Cost: $1.99, Grade: K-3

Endless Alphabet 
Young kids will learn their alphabet and improve vocabulary through fun puzzles and games with this learning app!
Cost: $8.99, Age: 4+

Teach Your Monster To Read
Kids can create their own monster and take it through 3 different games to teach phonics and reading skills.
Cost: Free, Age: 3-6

Reading Eggs
This is a self paced app that helps kids from toddlers through elementary build their reading skills.
Cost: $9.99 for the first kid, $4.99 for each additional child, Age: 4+
For more educational resources, we also have a list of our favorite 15+ Best Educational YouTube Channels for Kids.
More Indoor Activities for Kids
See 100+ Indoor Activities for Kids – everything from crafts to educational games you can play indoors.
Would you rather is a fun game for kids to play – it gets their brains thinking about the alternatives. We have 100 Would You Rather questions for kids and you can grab a free printable to create your own cards.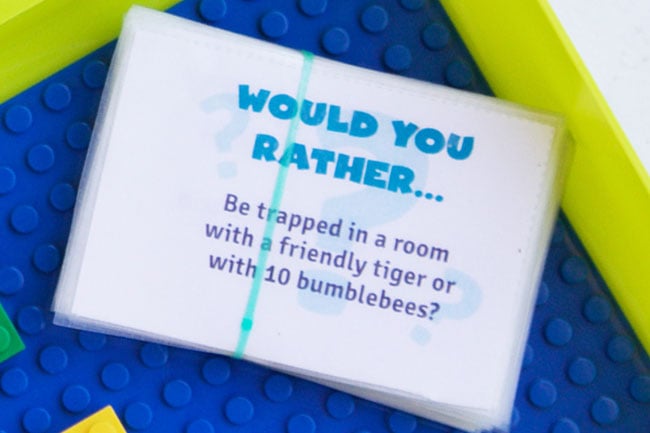 Keep kids busy during the summer with our summer and fall bucket list.