If you like activities that are also educational, then you have to try these Fizzy Christmas Presents. Kids will love making the presents as well as seeing the fizzy science experiment in action! It's also fun for them to discover the little surprise inside the present.
RELATED: Fizzy Dinosaur Eggs
Fizzy Christmas Presents Activity
Not only are these Christmas fizzy presents a great way to incorporate a little bit of STEM into your holiday break, but it's a fun activity for the whole family.
Using the pipette or dropper is also a great way to practice fine motor skills while older kids can help with measuring and mixing. Adult supervision required.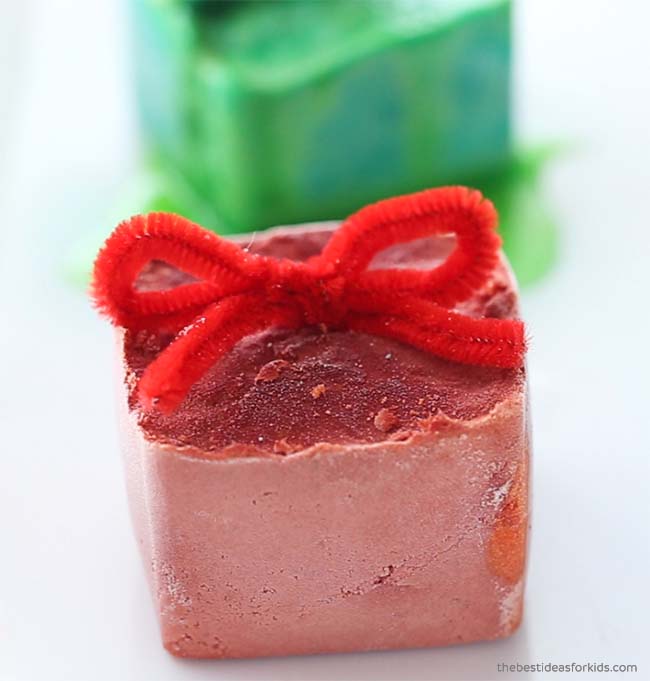 This would be the perfect activity to try during a family Christmas get-together or as a classroom science activity too!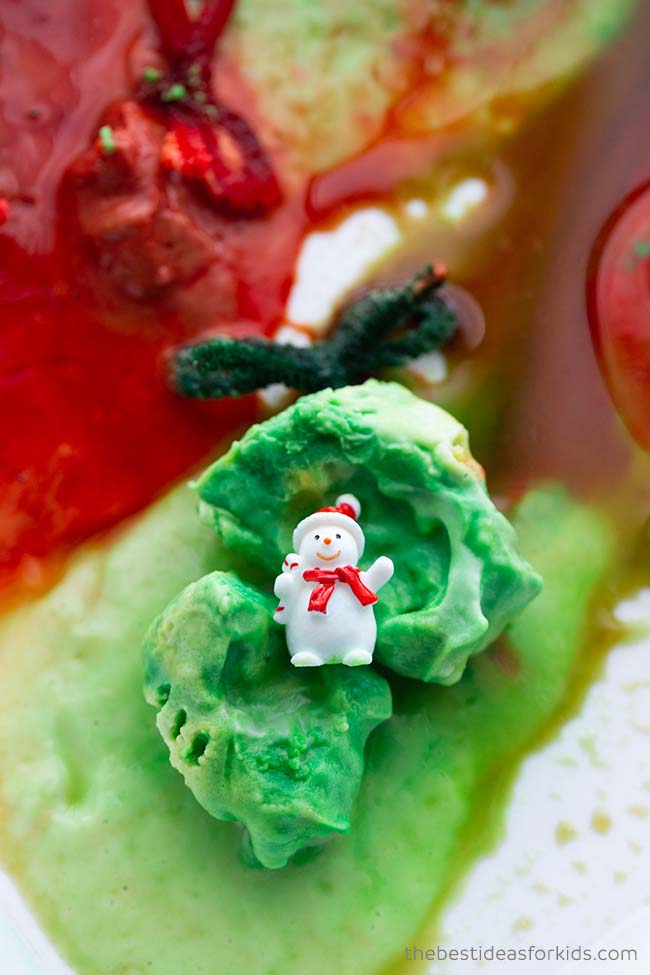 The Science
You see the bubbling and foaming when the vinegar reacts with the baking soda but what is causing this reaction?
The baking soda (sodium bicarbonate) is a base while the vinegar (acetic acid) is an acid and what you are seeing is an acid/base reaction. Initially, the reaction makes carbonic acid which is unstable and breaks down into carbon dioxide (CO2) and water which is what creates all of the fizzing and bubbles as the gas leaves the water.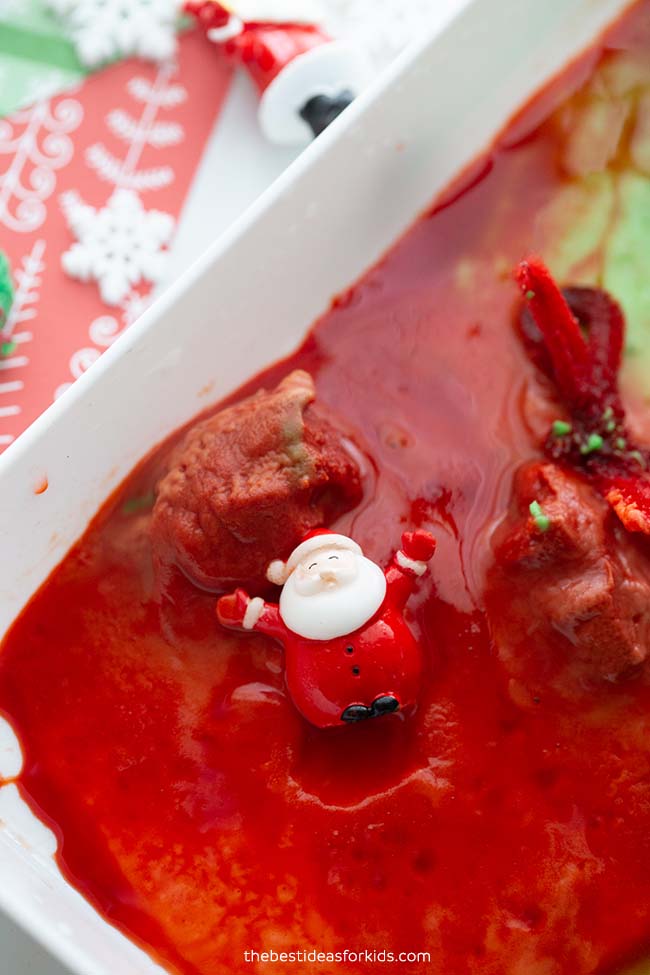 Supplies Needed To Make Fizzy Christmas Presents
Baking Soda – we like this large 5 lb bag for activities
Food Coloring Gel (green and red) – we like to use this liquid food coloring gel since it's concentrated and makes the colors really vibrant
Water
Vinegar
Small Christmas Toys – you can use things you already have on hand too like little Hatchimals, toy cars, etc.  We used some mini Christmas figurines. You can find some on Amazon like these ones, or you can find similar ones at a craft or dollar store.
Pipe Cleaners (green and red)
Silicone Square Ice Cube Tray or Mold – we used this one. An extra large ice cube tray or square mold works great to fit little presents inside but you can also do this without the surprises in a regular ice cube tray or with smaller toys.
How To Make Fizzy Christmas Presents
1. Add 3-4 drops of food coloring to 4 tablespoons of water.
If you do not have concentrated food coloring you will need a lot more drops. The water should look pretty concentrated in order to color the baking soda. You'll need a lot to make it vibrant.
Keep in mind the more coloring you use, the more it might stain. So protect your surfaces and use a tray. Clean the tray after use to prevent the food coloring from staining it.
Make one small bowl with green food coloring and one bowl with red food coloring. Each bowl should have 4 tablespoons of water in it.
Note: Depending on the size of your ice cube tray you may not need as much. If you have a much smaller ice cube tray you can halve the recipe.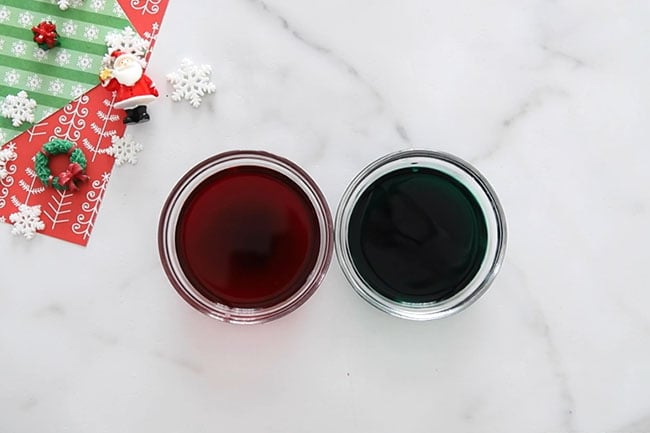 2. Add 1 cup of baking soda to a bowl.
Then add the food colored water to the baking soda and mix. Repeat for the next color.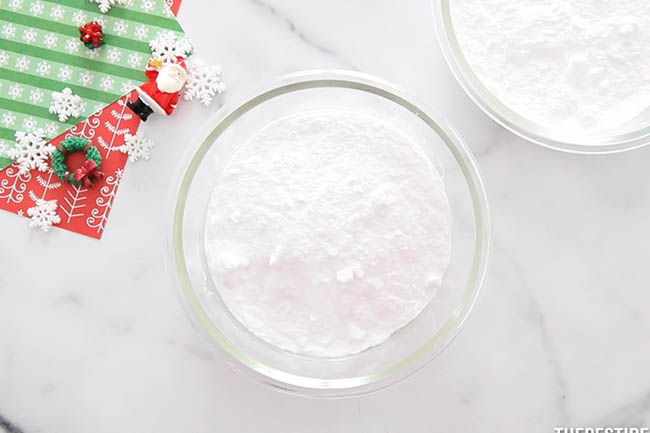 3. Mix the red and green colored water in separate batches.
Mix until it becomes a crumbly texture you can mold. If you find the mixture feels too wet to mold, add a little more baking soda in.
4. Take some of the baking soda mixture and press it into the bottom of your mold or ice cube tray.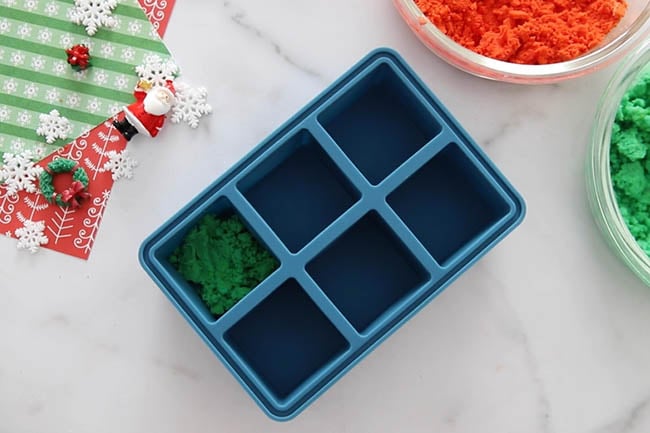 5. Place a small toy on top of the baking soda mixture.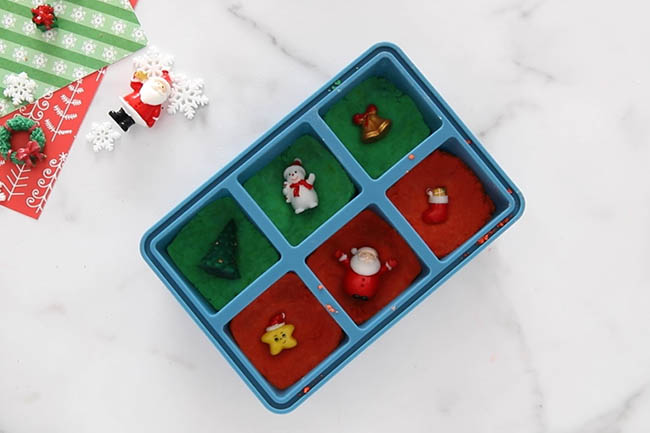 Add more of the mixture on top to hide the toy.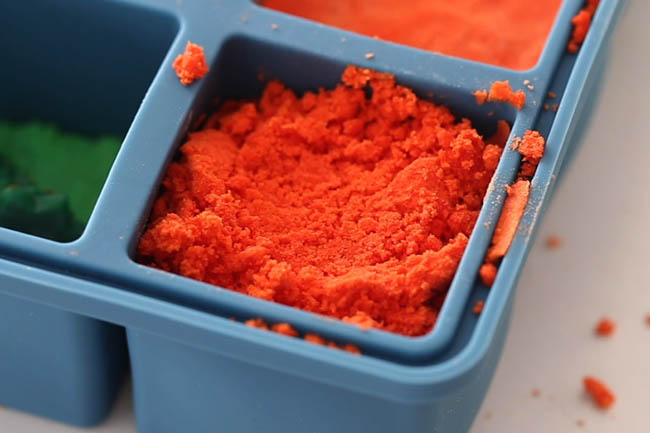 6. Make a small bow out of pipe cleaner. Add an extra piece around the middle so you can stick this into the mixture.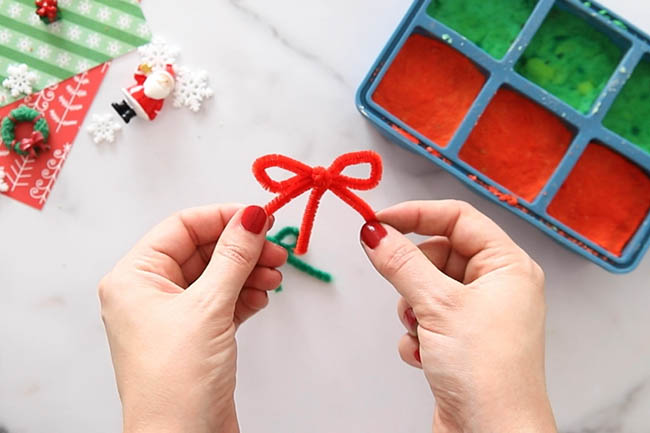 7. Press the straight section of pipe cleaner down into the top of the baking soda mixture so that it sits on top of the square present.
Freeze the mold or tray for 30 minutes or until it feels solid.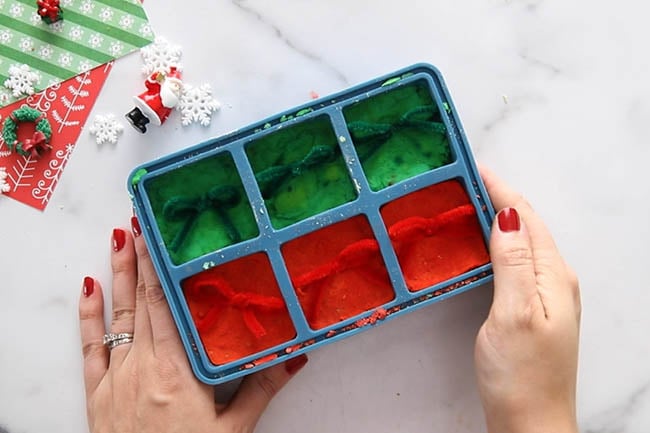 8. Carefully pop the squares out of the mold.
Use the dropper with vinegar and drop the vinegar onto the presents. Continue until it reveals the surprise toy!
Note: If you do not plan to use right away, leave in the freezer until you are ready to use.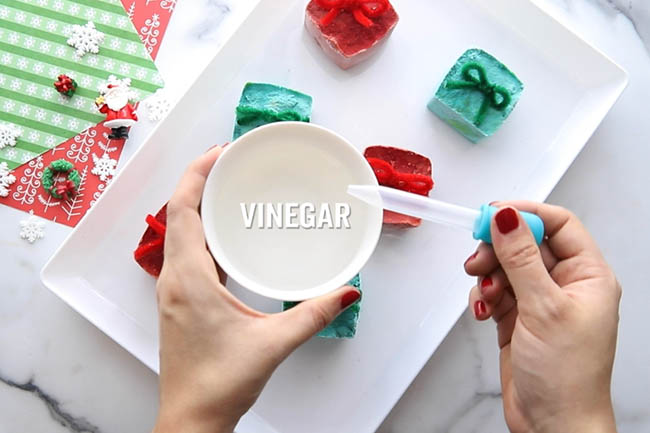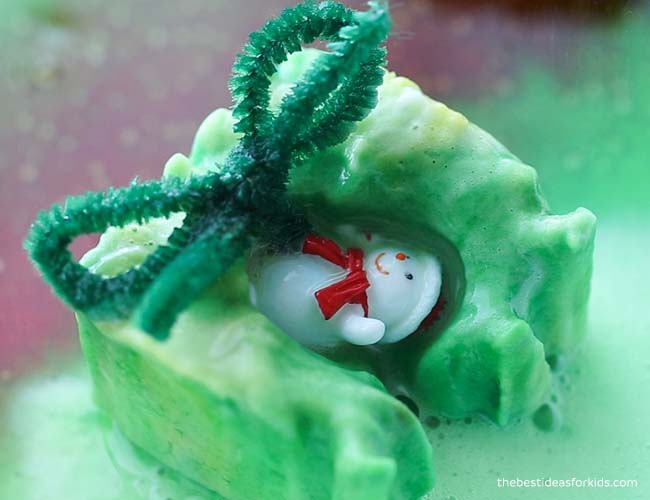 Kids will love this Christmas science experiment. It is a lot of fun to see what surprise they will find in each present.
More Science Activities for Kids
For a similar activity, see these fizzy dinosaur eggs.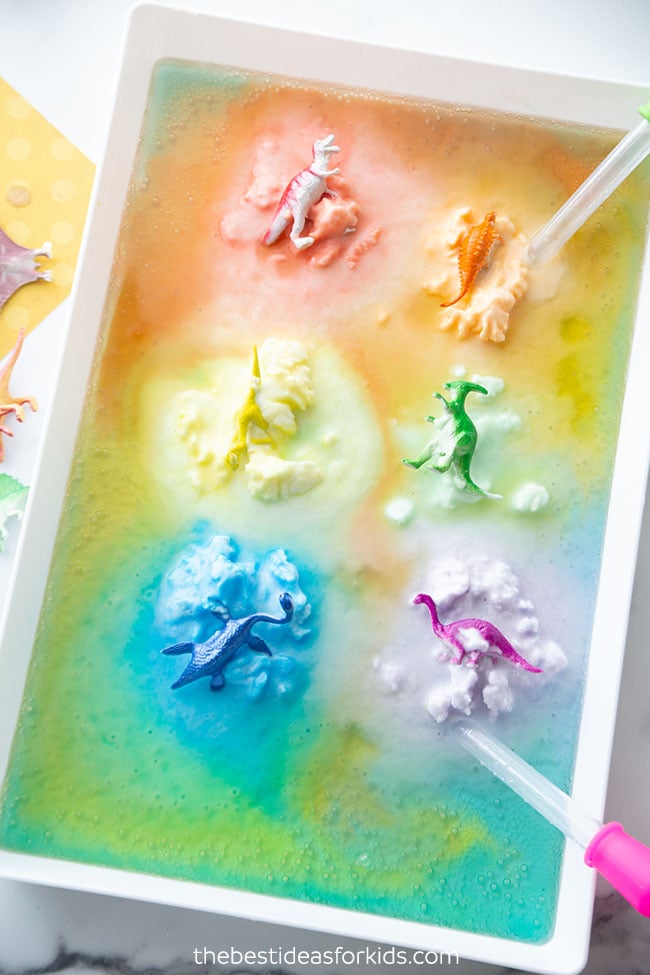 For another fun fizzy science experiment, see this fizzy rainbow experiment.