Looking for a simple, colorful and fun spring craft? These clothespin flowers are just that! You'll love how easy they are to make. And the best part is you can give them as gifts for a birthday or Mother's day!
RELATED:  Toilet Paper Roll Flowers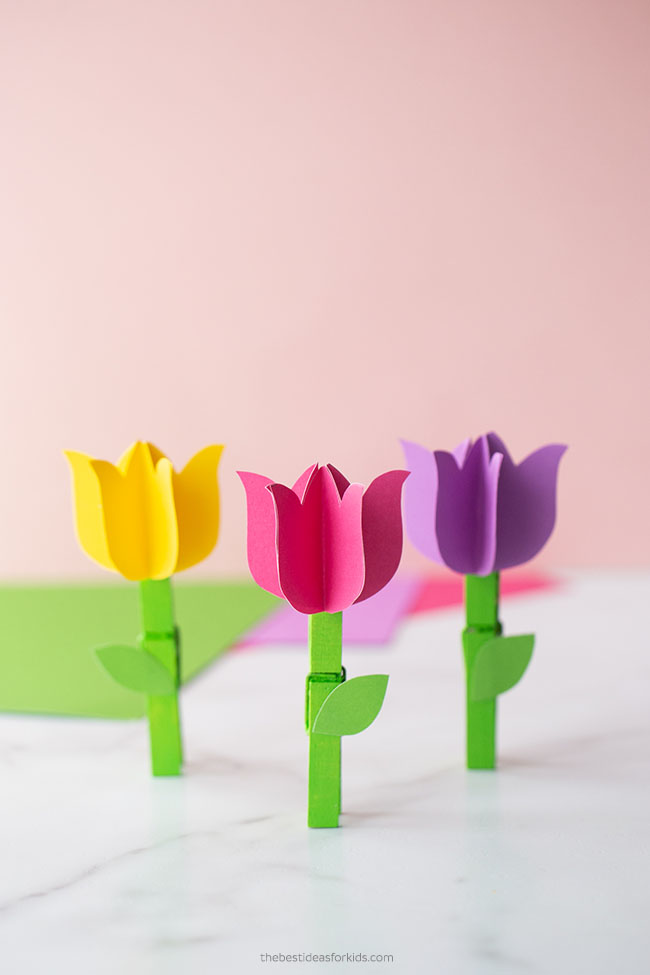 Are tulips one of your favorite spring flowers? They are in my house! If you love making craft flowers – be sure to check out our toilet paper roll flowers too!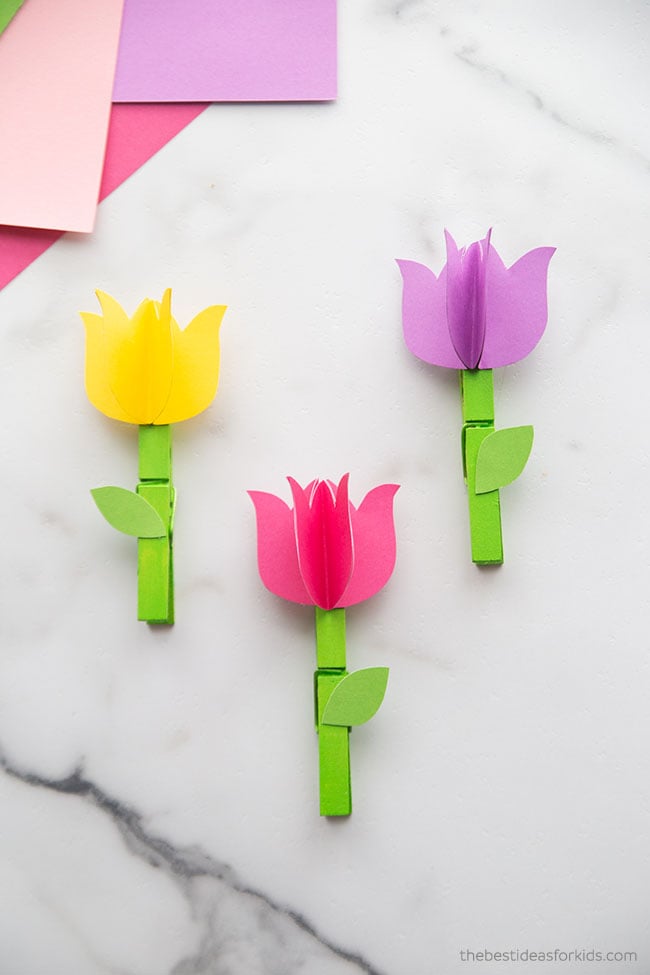 We love that you only need a few supplies to make these! And you can grab the free printable tulip template at the bottom of the post!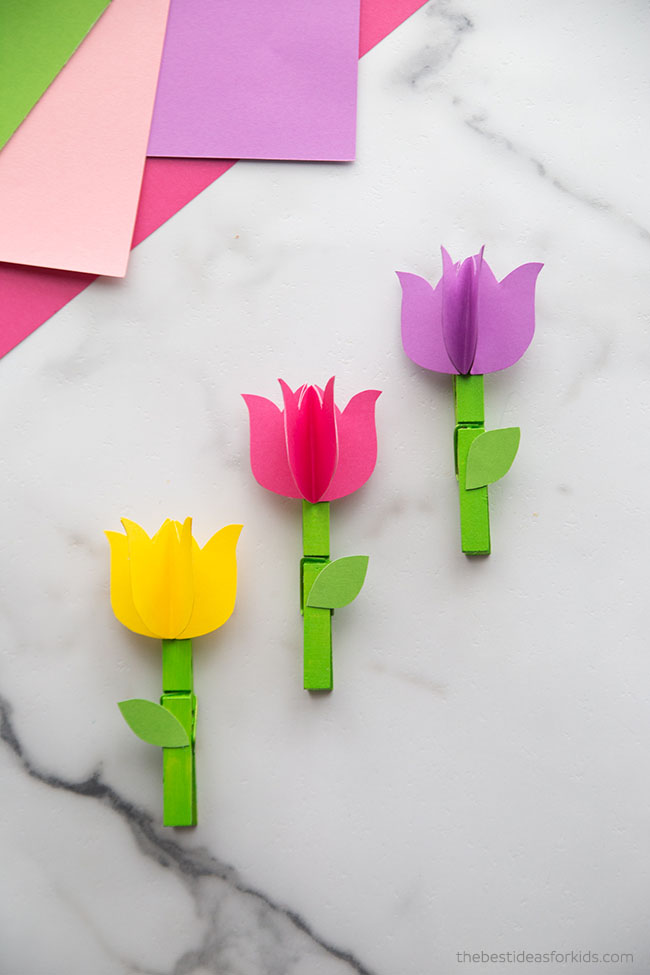 Here are the materials you'll need to make these clothespin flowers: 
Clothespins
Glue – we like an extra strong glue like this one or hot glue
Paper Tulip Template – you can get the template at the bottom of the post!
Watch the full tutorial video here before you get started!
Steps to Make Clothespin Flowers
1. Paint the clothespins using green paint. Allow the clothespins to dry.
I like to use acrylic paint but if you're using washable paint you may need to apply more than 1 coat.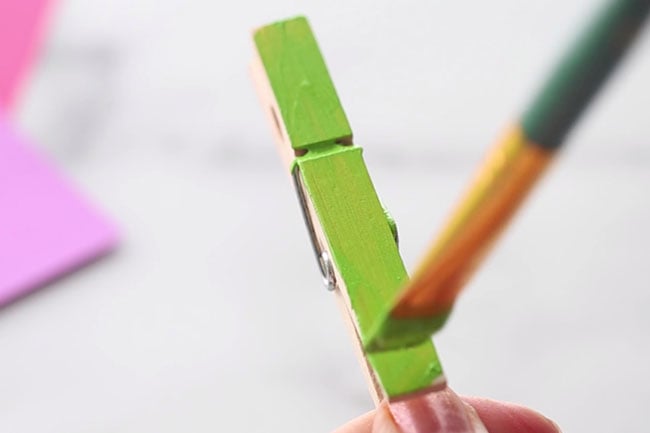 2. Cut out 3 tulip shapes for each clothespin flower you want to make. 
Use our tulip template at the bottom of the post to trace around your paper. You can layer the paper to cut it out to save time too!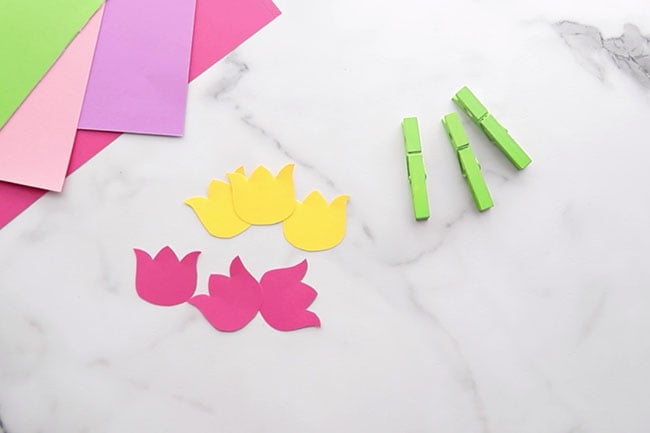 3. Fold the tulip paper shape in half. 
Fold all of your paper shapes in half.
Grab the free printable template to make the tulips down below!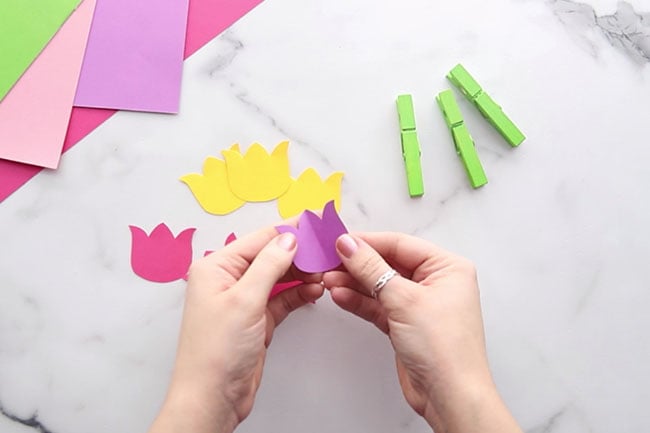 4. Glue the 3 tulip pieces together.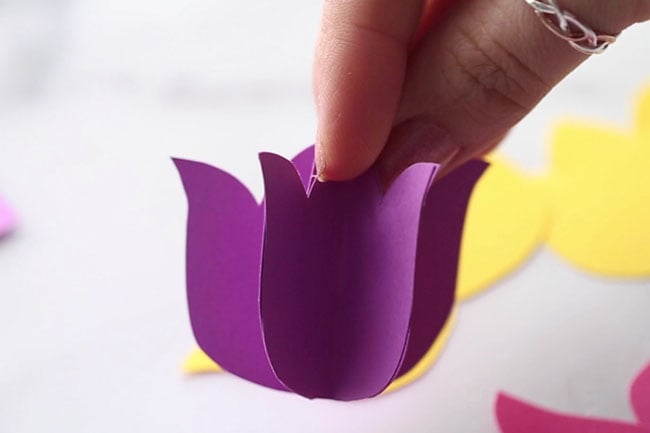 5. Leave one side flat so that you can glue this side to your clothespin.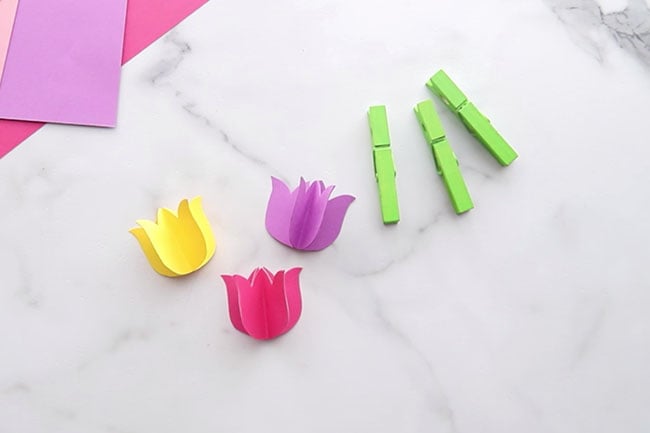 6. Cut out green paper leaves to add to the clothespins and glue to the front.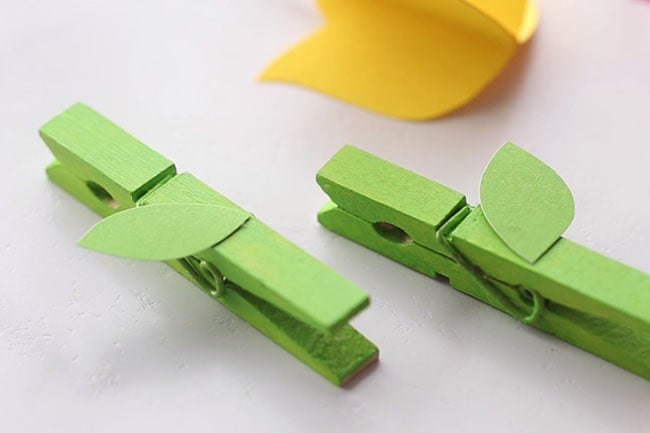 7. Now glue your tulips to the top of the clothespins.
If you're using extra strong glue – make sure to allow time for the tulips to dry before trying to stand them up.
Tips for standing your flowers: when choosing your clothespins make sure to test that they will stand first.
The weight of the tulip flower may be too much if the clothespin does not stand up straight.
If you are still having trouble you can make the same flowers but only glue 1 tulip to the top (do not make them 3D) to help with the weight.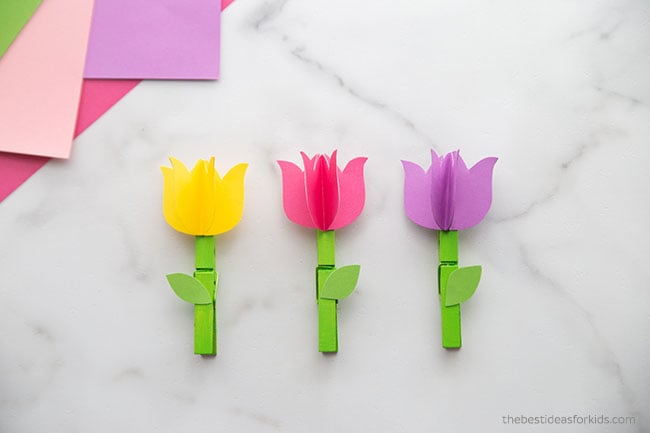 Now place your flowers on display and make your own flower garden with them! These would look lovely on a windowsill. You can even make these for Mother's Day!
Free Printable Tulip Template
Grab the free printable tulip template HERE
Some of our favorite Mother's Day ideas: