For a simple indoor sensory bin for spring, try this easy to make bug sensory bin! Kids will love scooping the rice and playing with the toy buys.
RELATED: Rainbow Rice
Bug Sensory Bin Ideas
This colorful sensory bin is easy to put together for parents – and kids will enjoy playing with this over and over! Use in a reusable bin to store for later, or store all of your supplies in a resealable bag to switch out themes in a plastic tray every week.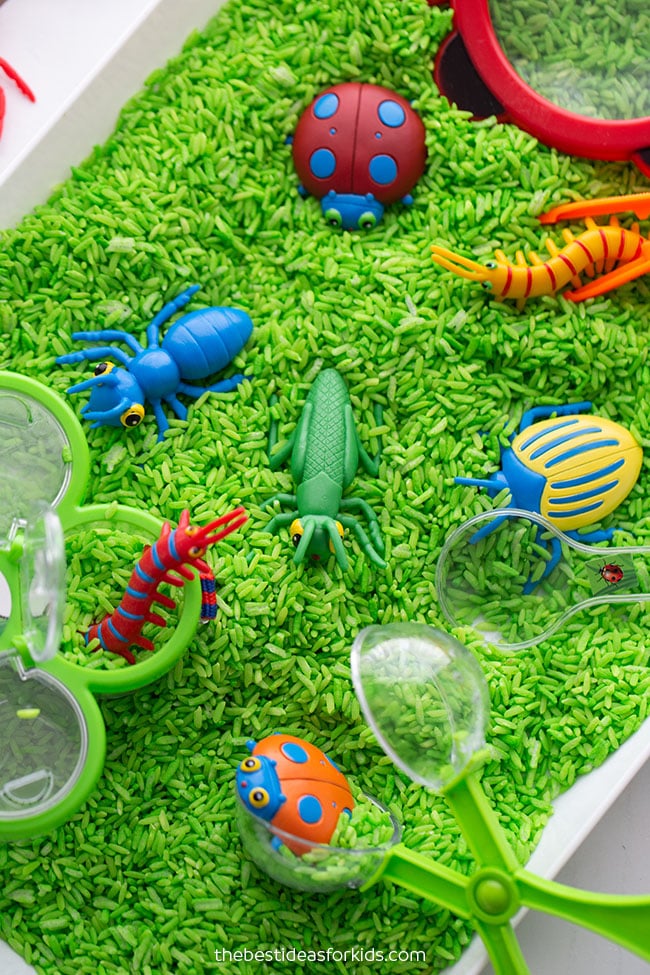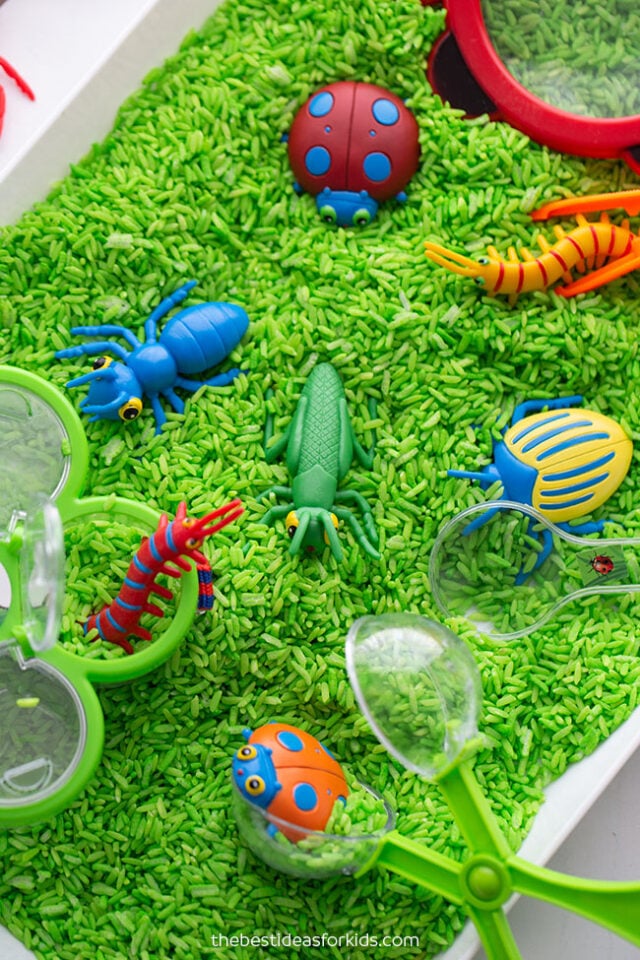 Watch the Video Tutorial!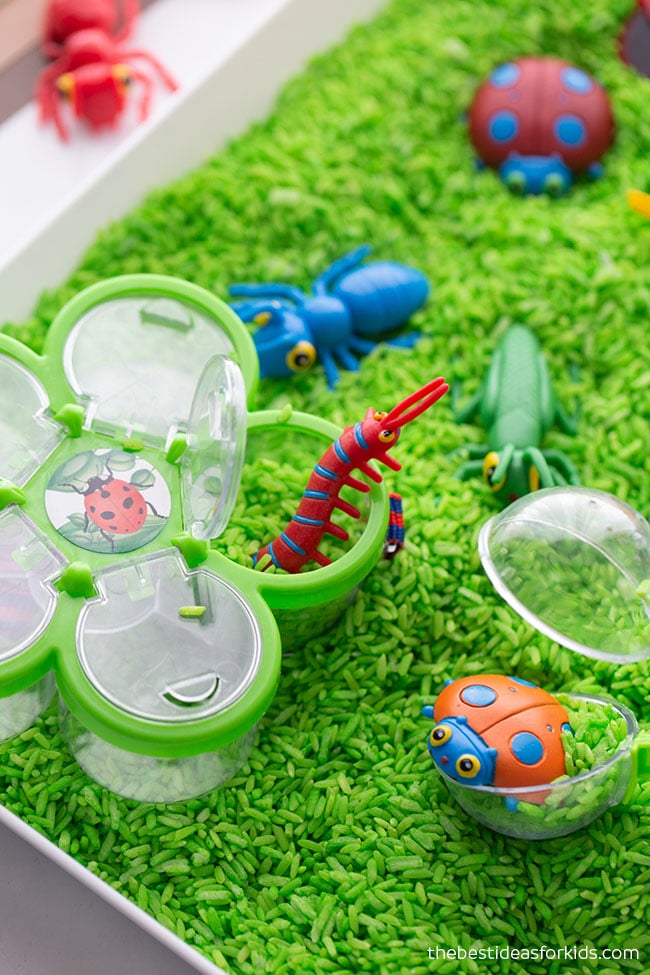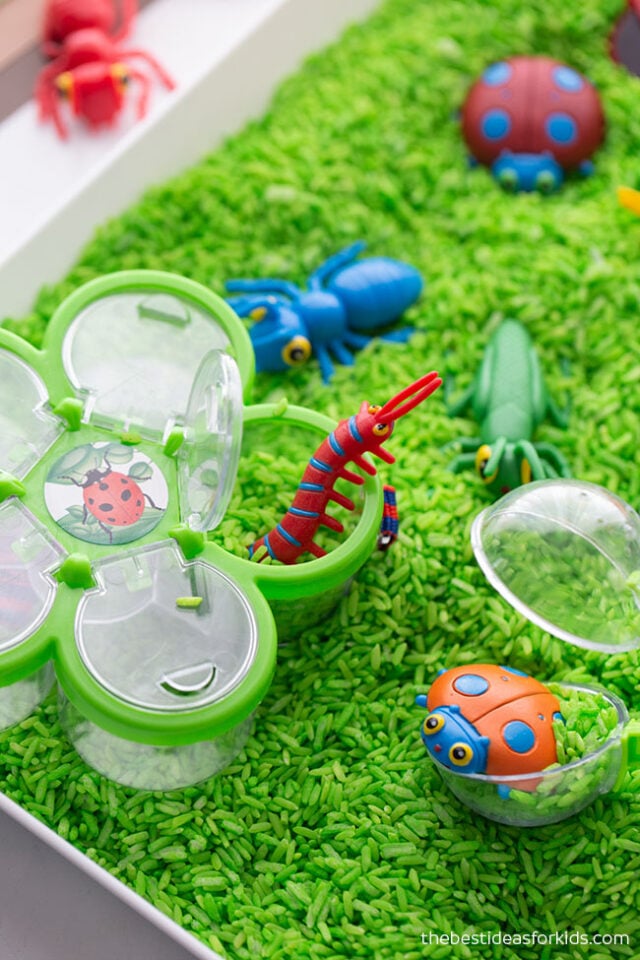 Supplies to Make Your Bug Sensory Bin
Bug discovery kit – there are lots of different kits you can find! We used this kit but any kind of kit that includes some magnifying glass and tongs would work great.
Rice – regular white grain rice
White serving tray or container – these trays are great for small sensory set-ups. You can also use a larger storage bin with a lid.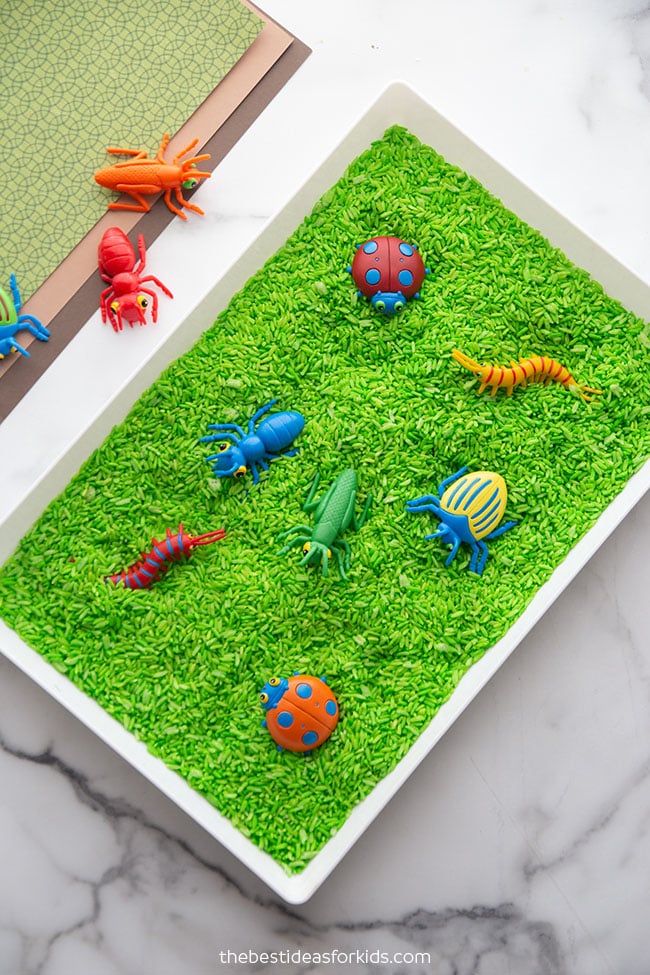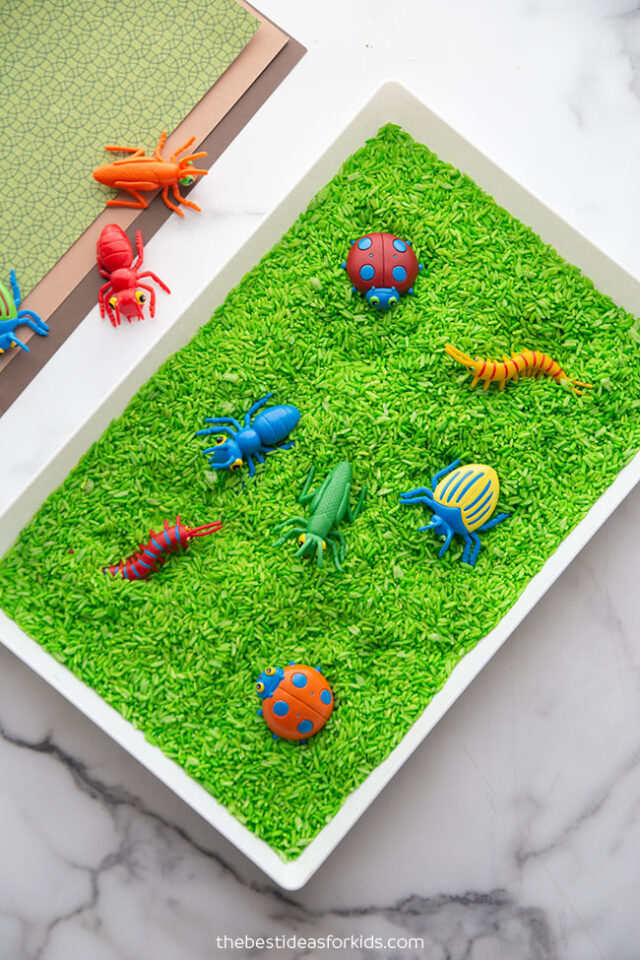 How to Make a Bug Sensory Bin
1. Start by adding in a few cups of rice into a plastic storage bag.
Depending on your size of sensory bin you can measure out how much rice you want in the bin and then add to the bag.
2. Add a few squirts of paint to start into the bag.
If you have more rice, you'll need a bit more paint. Don't add too much in the beginning as you can always add more if it's not enough. Start slow as a little paint goes a long way. You don't want the rice to be wet with paint.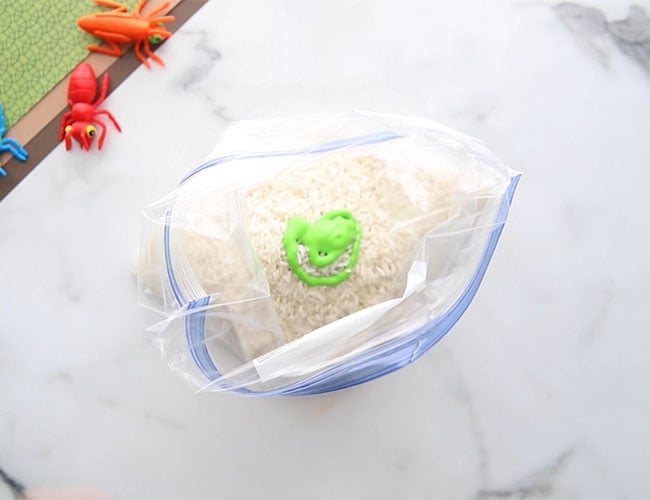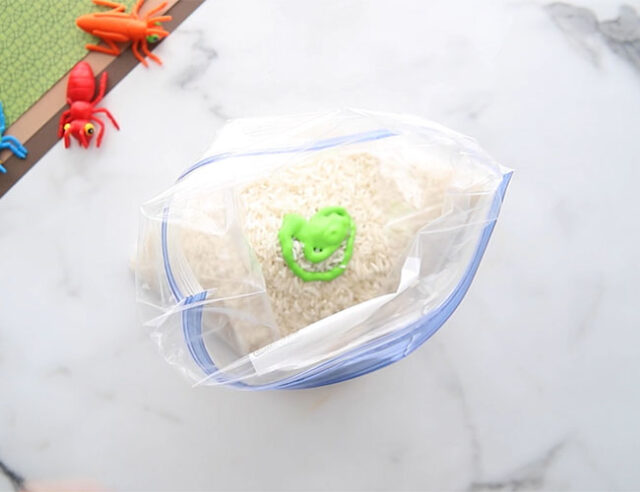 3. The key to dying the rice is to only add a little at a time and mix it all together.
Keep mixing until the rice is fully coated. If you need a little more paint, squirt in a little more at a time and then mix. Let it dry on some parchment paper.
4. Add to the sensory bin once the rice is dry.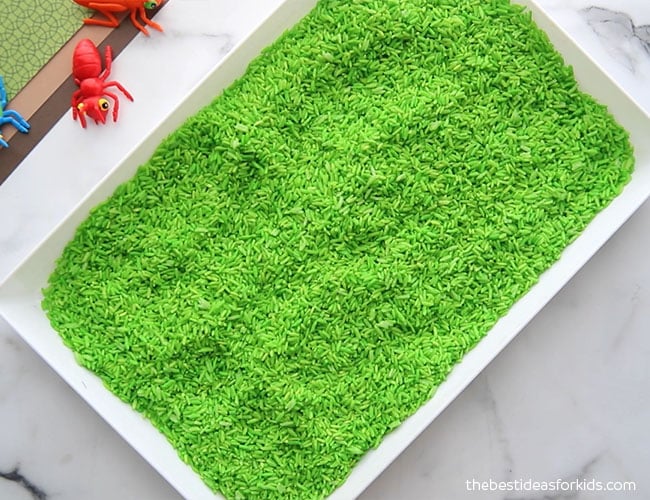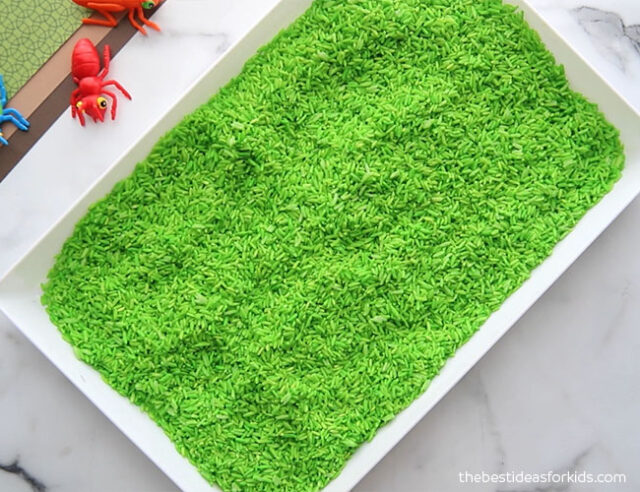 5. Now add your favorite sensory toys.
We used bugs, tongs, a magnifying glass and a bug catching container.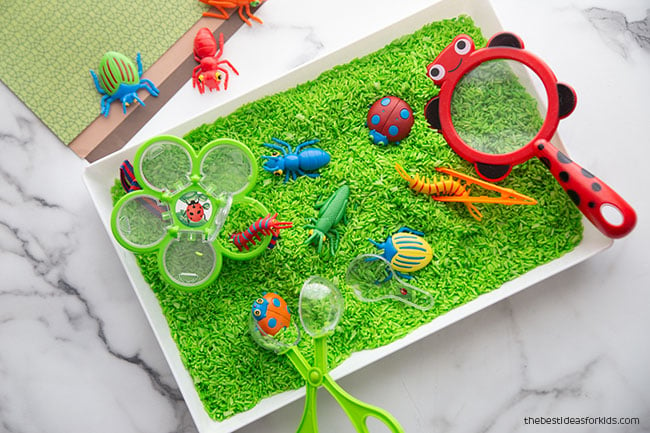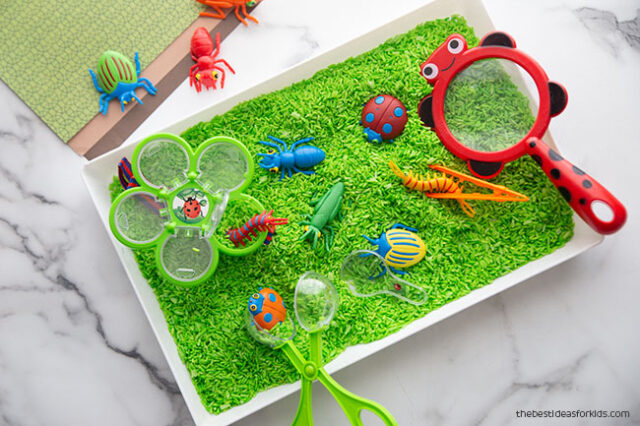 Kids will love to scoop the rice into different containers and pretend to "catch" the bugs. This sensory bin is so easy to make and kids will love playing with it!
How to Play With the Bug Sensory Bin
Some ideas to play with your bug sensory bin:
Practice scooping the rice
Pick up the bugs with the tongs
Put the bugs into the bug catcher
Catch the bugs with a net.
Talk about the different bugs – what they are called and where they live
Inspect the bugs with your magnifying glass
Have fun and just play with the bugs!