We're having a really nice January so far. It almost feels like spring here with above 0 temperatures. Even still, it's hard to spend too much time outdoors because it's still quite windy and cold. And my toddler will go stir crazy inside and will start getting into trouble if I don't keep him occupied. That's why last week we had some fun playing with mud indoors! Today I'm sharing how we set up this fun bug sensory bin. My toddler absolutely LOVES bugs. He loves to play with them, talk about them and learn about them!
Awhile back, I created some educational activity bins. I hope to blog about the contents of the bins next but one of the ones I created was an insect themed activity bin. It included books, activities and even toy bugs. I purchased the toy bugs by Melissa and Doug and they are such great quality. I highly recommend them if you want to do a bug interactive sensory table.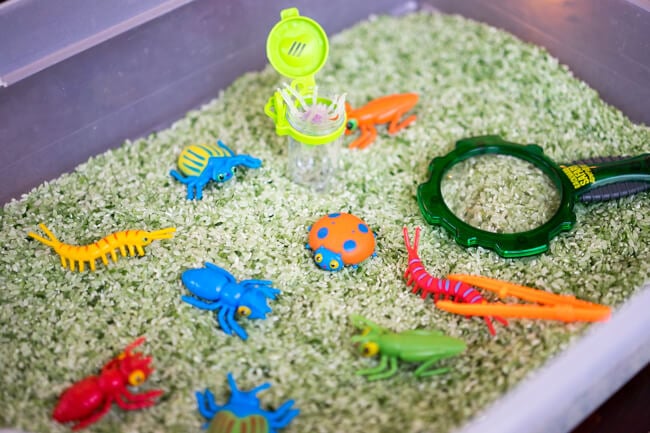 Supplies to Make Your Bug Sensory Bin
-Melissa and Doug Bugs or any other bugs you can find
-Bug discovery kit – there are lots of different kits you can find! My son really loved the small net for pretending to "catch" the bugs and the tongs for picking up the bugs. I found this kit at the dollar store.
-Magnifying glass
-Rice
-Green Icing Gel to dye your rice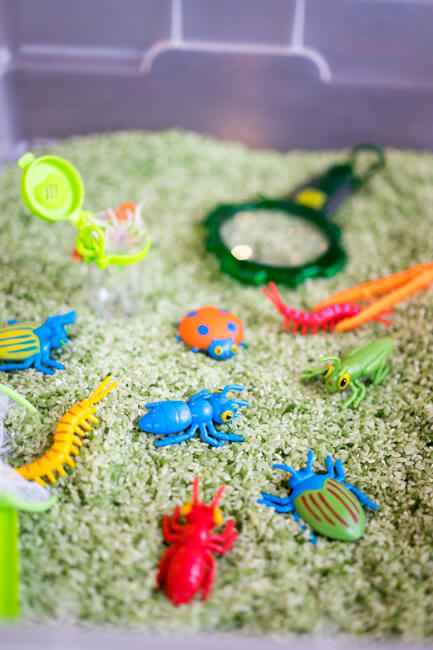 First Make Your Colored Green Rice
Not only did he love to play with the bugs (because he likes to play with them even outside this bug sensory bin). He LOVED the rice. This was the first time I had ever made colored play rice and it was a huge hit. If you haven't done this yet and it's the Winter, DO IT! Your toddler will love it. Mine even said a few times he thought it felt like sand and was playing with it just like he would with his sand box.
To dye the rice, you just need to put 1/2 tsp of vinegar for every cup of rice. Then add your green food coloring or icing gel and shake in a Ziploc bag until your rice is colored to your liking. Then you can let dry for a day but we actually played with it after a few hours. My son's hands got a little dyed from the icing gel but it washed off easily.
Now to Play With the Bug Sensory Bin!
Some ideas to play with your bug sensory table! 
Practice scooping the rice
Pick up the bugs with the tongs
Put the bugs into the bug catcher
Catch the bugs with your net!
Talk about the different bugs – what they are called and where they live
Inspect the bugs with your magnifying glass
Have fun and just play with the bugs!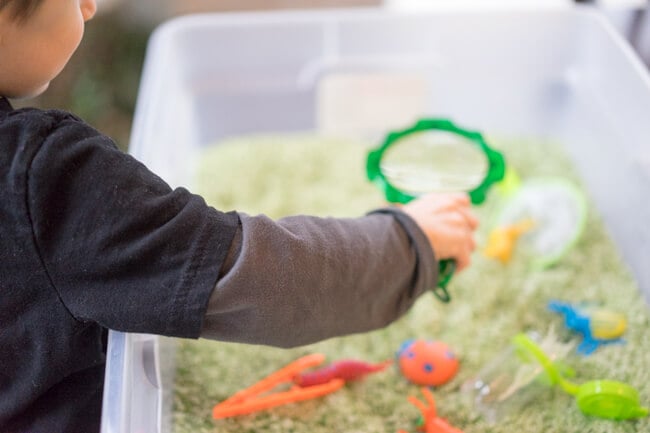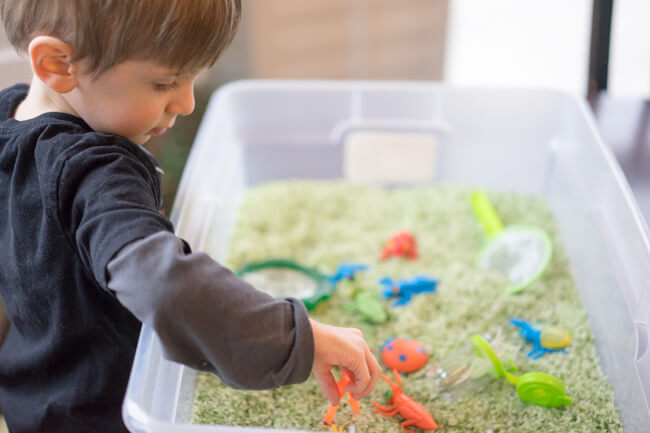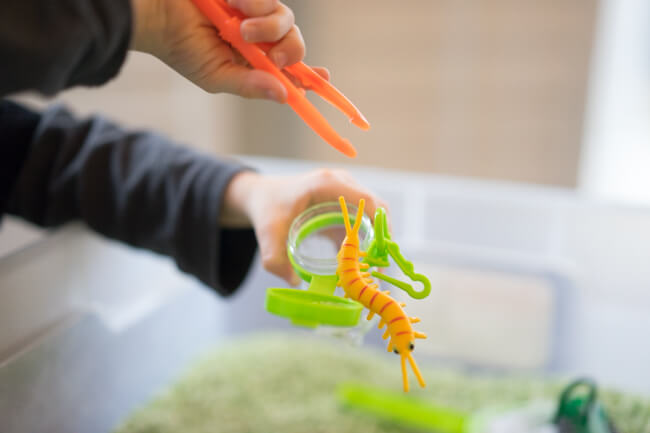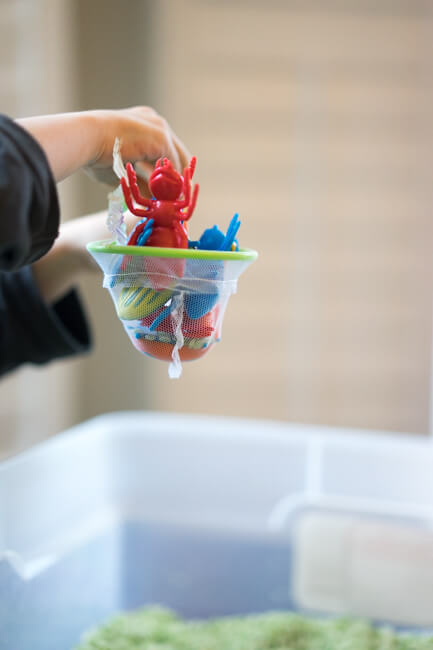 We literally got over 2 hours of play time with this bug sensory table activity. And that won't be the end of it! He already told me this morning he wanted to play with it again. Since we had to go out for an appointment we couldn't, but I promised we would after nap time. Well nap time is almost over so I better get going so we can play with some bugs! Hope you have fun with this activity as much as we did. Tell me in the comments, have you ever set up a sensory table activity before?
Want more sensory play fun? Try these 5 sensory bags made with food!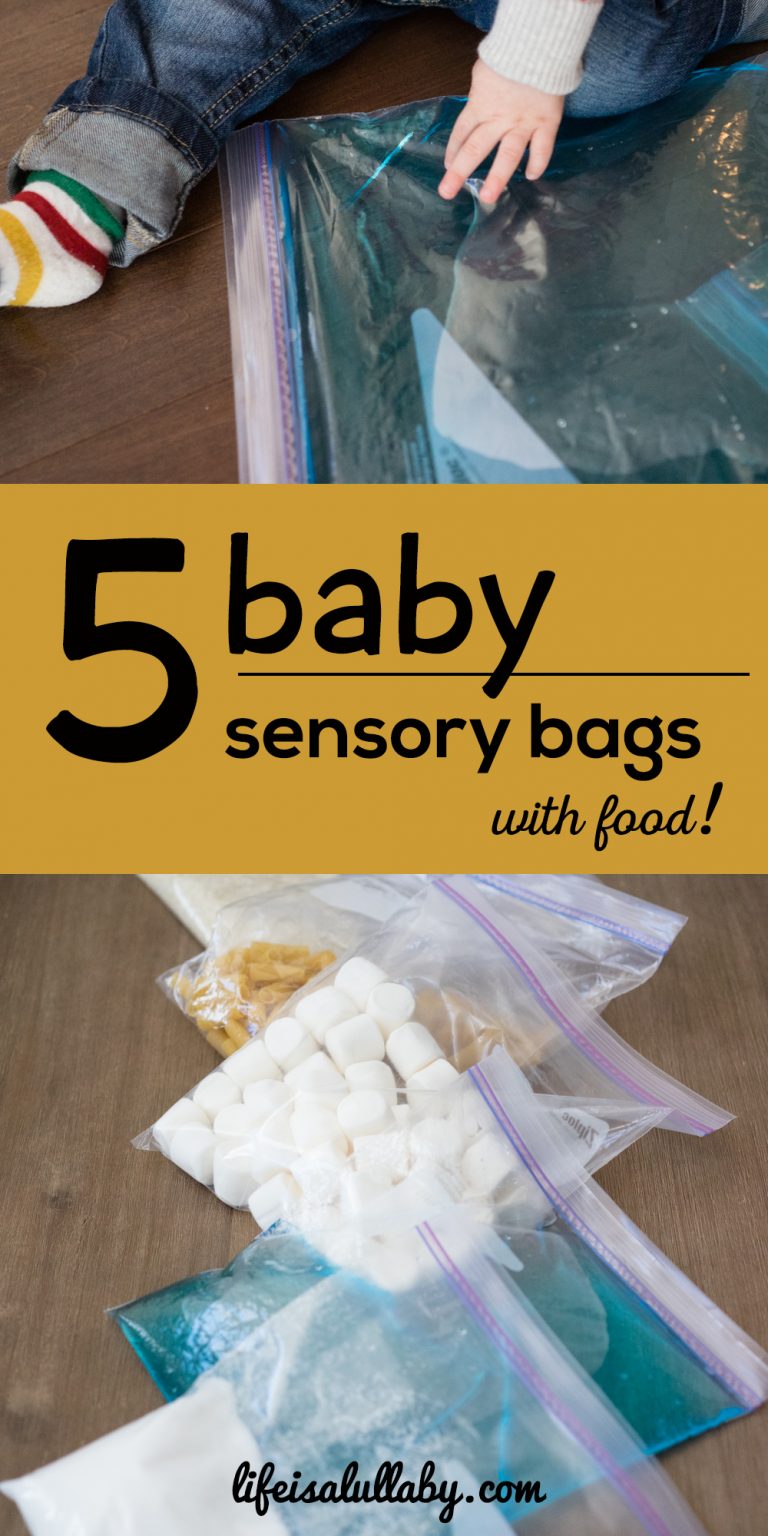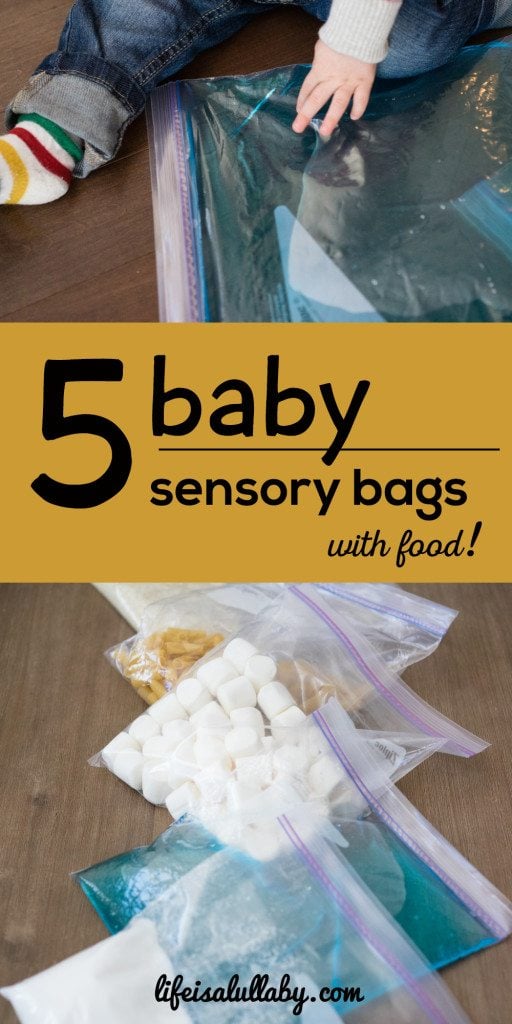 We also had so much fun playing with 'mud'! Learn how to make play mud here!