Freezing different things to thaw is one of our favorite sensory activities. And this frozen flowers sensory play activity is a fun one for kids!  Kids can help find the flowers, create their own displays in the muffin cups and then melt the flowers from the ice.
RELATED: Frozen Dinosaurs 
Frozen Flowers Sensory Play for Kids
These muffin cup frozen flowers are so pretty and really easy to make!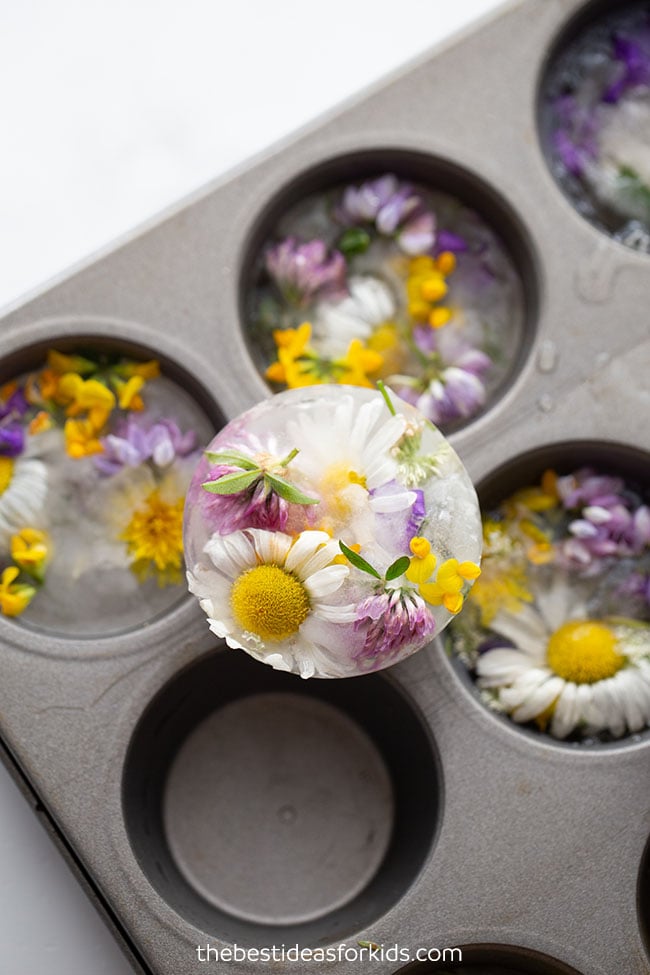 We love how easy this activity is to set up! And kids will love helping at each step too!
Once you have all of the flowers melted you can use them for another sensory activity – like making fairy soup! Add the flower petals to a sensory dish or bowl and then add a few drops of pink or purple food coloring.
Supplies Needed to Make Frozen Flowers
– Muffin Pan – we used a 12 cup muffin pan
– Flowers
– Droppers
– Water
Watch The Video Tutorial Here
How to Make Frozen Flowers
1. Start by collecting some flowers from your backyard. We collected flowers from weeds in the grass and a few from our garden.
2. Arrange the flowers in your muffin pan. We tried to include one of each flower type in each cup.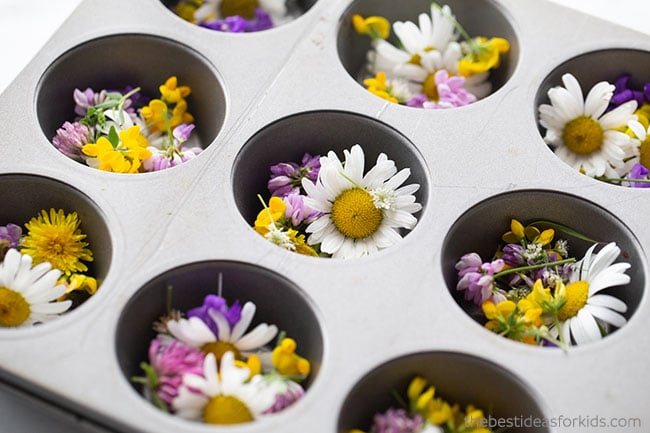 3. Add water to each muffin cup. Fill them up as much as you'd like. The flowers will mostly float to the top. That's okay because they will still set with the water when it freezes.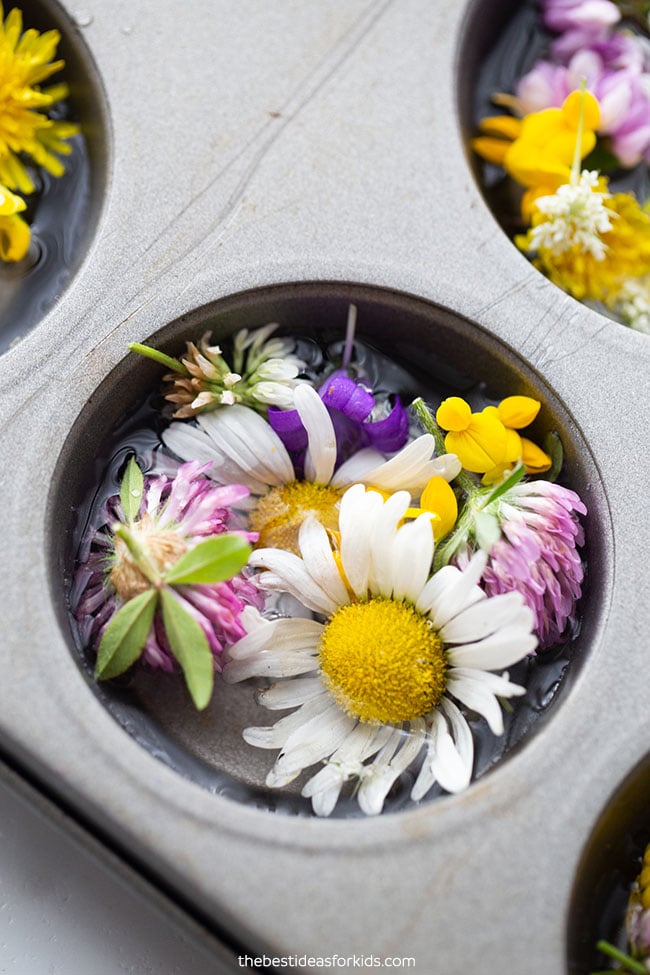 4. Freeze for a few hours until frozen.
5. Once you remove from the freezer, let the muffin pan sit for a few minutes. The frozen flower cups will naturally start to melt and loosen from the muffin pan and you can remove them.
Add some warm water to a small bowl and use droppers to melt the frozen flower cups.
We placed the frozen flowers in a plastic serving tray for melting.  We love these plastic trays for sensory activities since they contain any mess.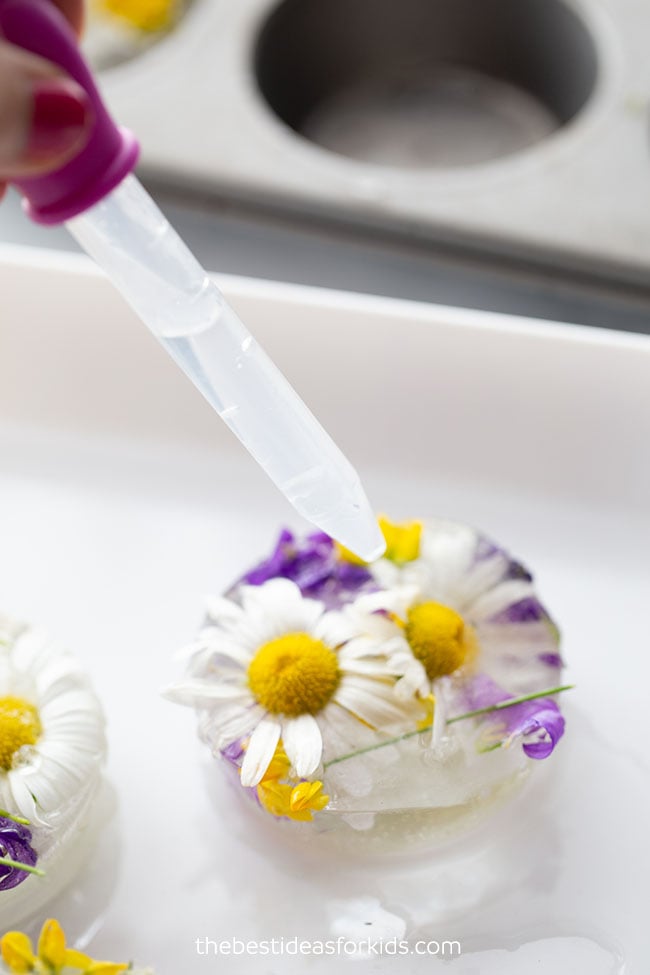 Once you're done melting the flower cups, save the flowers and you can add them into a sensory table or make pretend fairy soup.
This is also a great activity to do outside on a hot day! Bring out some sensory tubs and add them into the tubs or a water table.
More Activities for Kids
See our cloud dough recipe which is made from just 2 ingredients!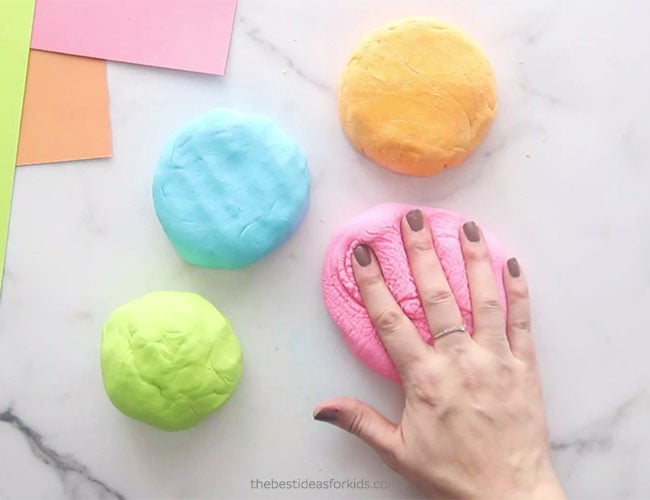 Or try our BEST playdough recipe which is super soft and easy to make.