Create this easy ocean in a bottle for a calming sensory activity for kids. You only need 3 supplies to make this ocean sensory bottle. You can even add ocean toys and seashells to the bottle too!
RELATED: Magnetic Sensory Bottles
Make Your Own Ocean in a Bottle
Kids will love creating their own ocean in a bottle by swirling this sensory bottle to make the bubbles. They can even try and make the fish swim in the bottle if you add a few different fish toys in.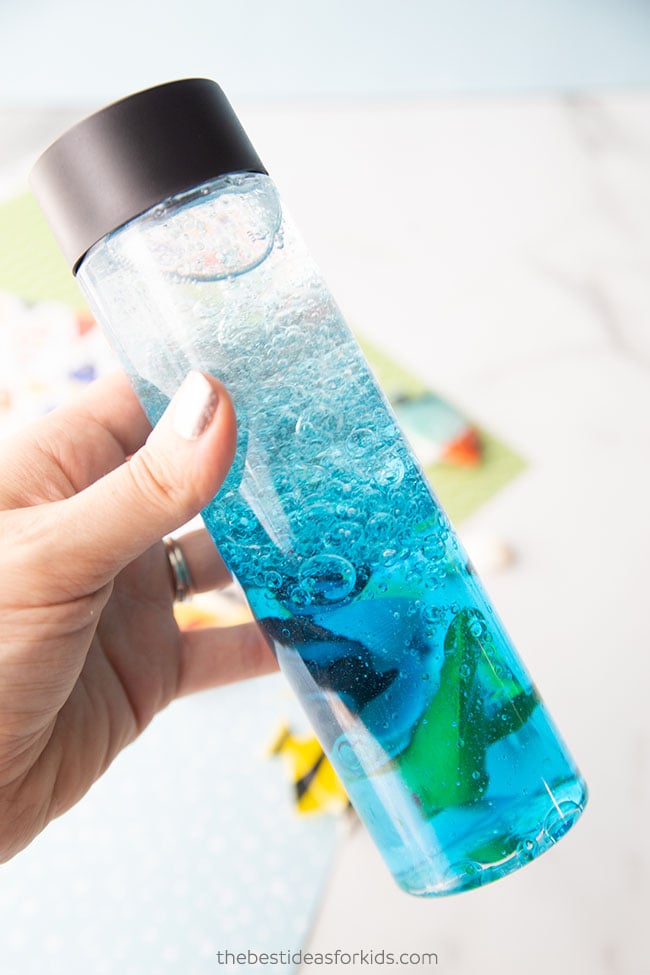 Supplies Needed to Make an Ocean Sensory Bottle
Here is what you need to make your own ocean sensory bottle:
– Water
– Blue Food Coloring
– Baby Oil
– Small fish toys and seashells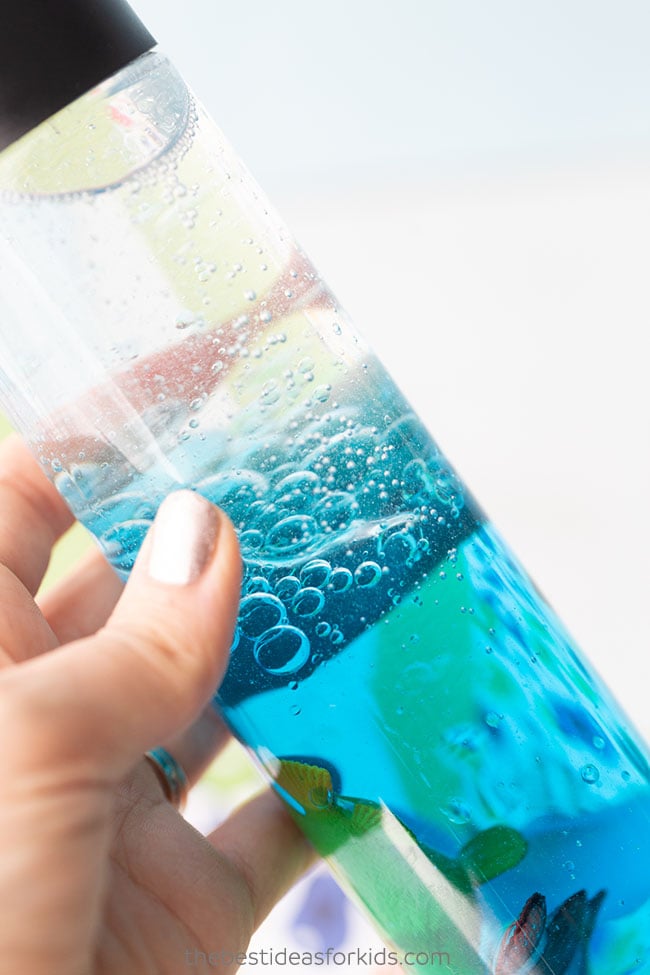 Safety Note About Baby Oil: 
Baby oil should be kept out of children's reach. Ensure the lid is properly sealed and cannot be opened by children by hot gluing the lid on. Always supervise during play.
Learn About Density
This sensory bottle can also be a fun science lesson on density. Oil and water do not mix. Oil is less dense than water and floats on top of the water. Food coloring is water-based so it mixes with the water.
After mixing and turning the bottle upside down you will see bubbles forming in the water. Once you set the bottle down the oil will begin to rise to the surface and settle on top of the water again.
For another oil and water experiment, see our fireworks in a jar experiment.
Watch the Video Tutorial Here
How to Make an Ocean Sensory Bottle
1. Mix blue food coloring with some water until it's a light blue color (make sure it's not too dark or you won't be able to see the shells or toys).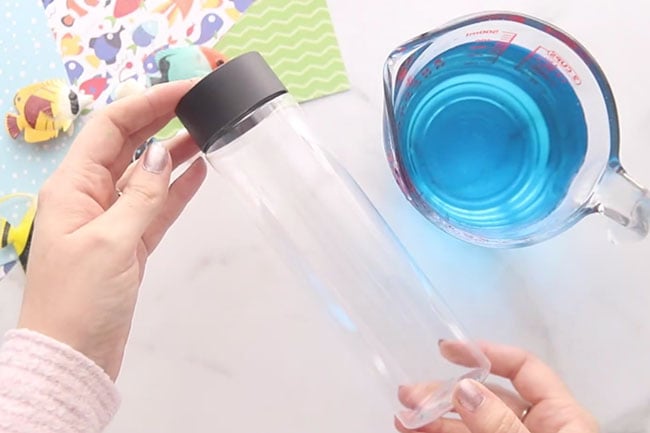 2. Add the water into the sensory bottle until it's halfway full.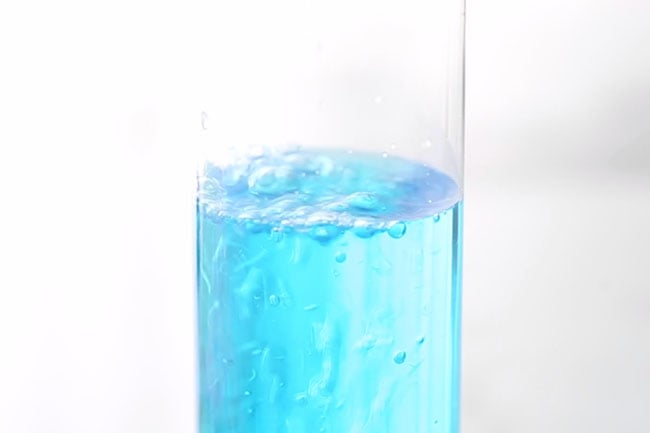 3. Add sea shells and any ocean animal toys into the bottle. Don't add too many items or they will be harder to move around in the bottle.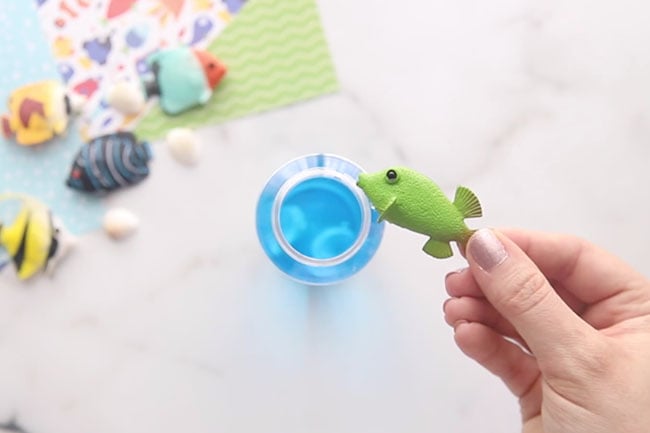 4. Fill the remaining bottle with the baby oil. Do not leave too much air at the top or the air will be trapped in the bottle.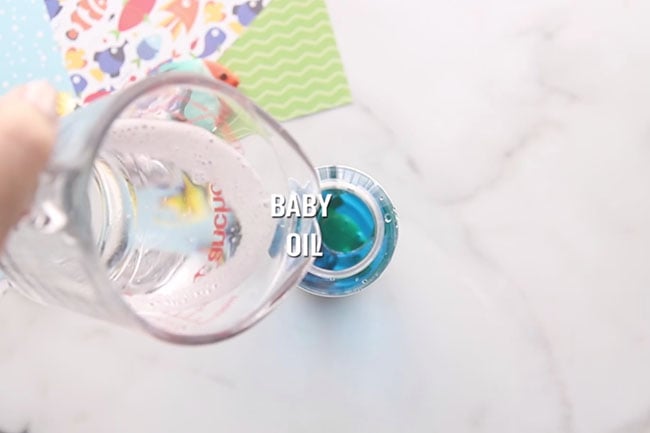 5. Hot glue the top on the inside and then secure the top on.
6. Now you can swirl the bottle back and forth to make the waves and bubbles.
Kids will love making the fish swim around in this ocean in a bottle!
Storage: store upright in a place out of reach of children.
More Sensory Play Recipes
See our cloud dough recipe which is made from just 2 ingredients!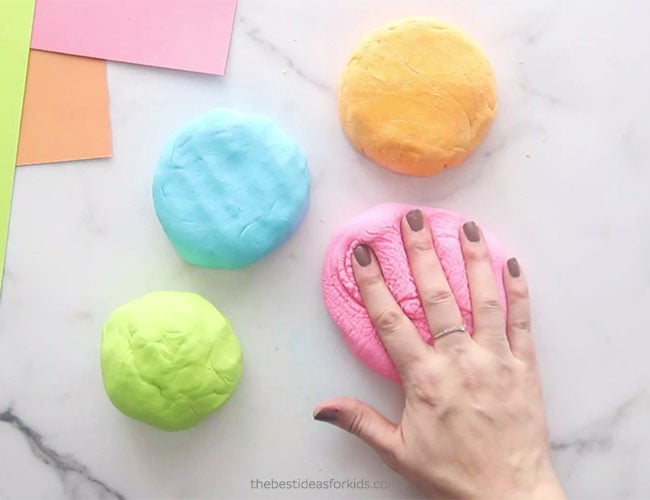 See our Kool-Aid Playdough recipe.